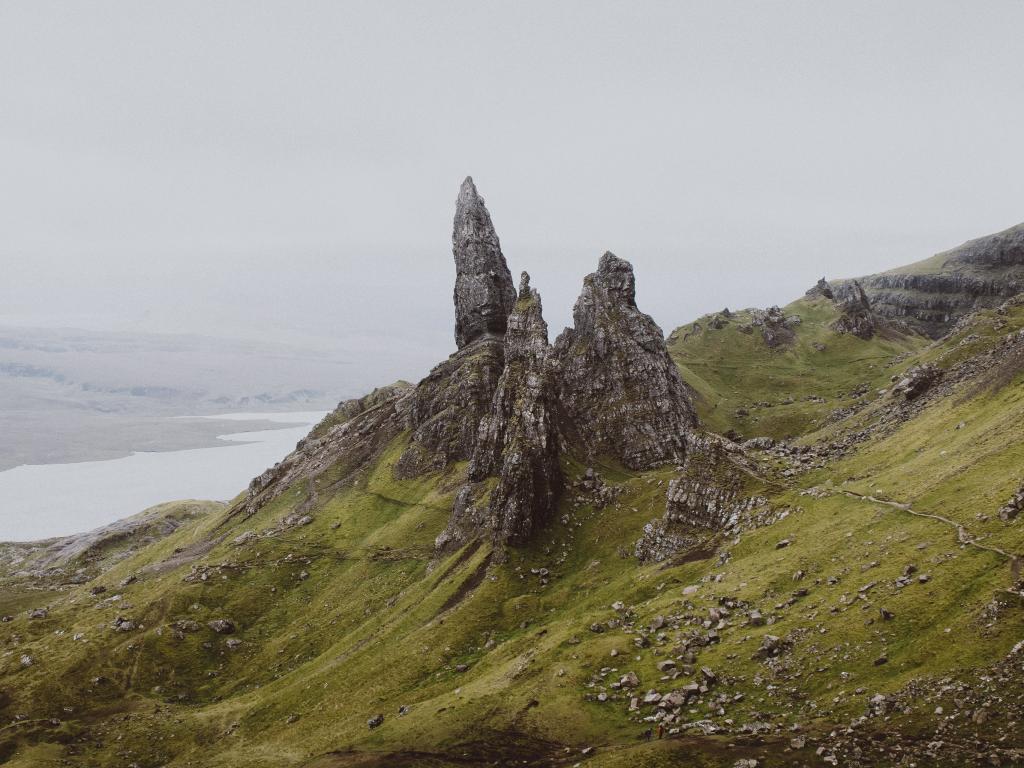 Best time to visit the Scottish Highlands
The answer to this question is not so simple. As the Scottish Highlands cover a wide expanse of land, as well as a variety of terrain and elevation, trail conditions vary and are often dependent on the season. Some trails are not so easily accessed in the wintertime due to snow and fog conditions, and therefore must only be tackled by expert or experienced hikers. Others are hikeable throughout the year, no matter your skill level.

Generally speaking, the Scottish Highlands are an excellent venue for long-distance hiking from May through August. During these months, the days are longer, giving hikers more time in the day to hike, set up camp and unwind while there's still light outside. The weather is also warmer, though it's worth noting that temperatures in these parts average 15 degrees celsius at its warmest. Most businesses are open, so trekkers have access to everything.

However, these months also have their drawbacks – the increase in midge population, for example – so some people might want to consider another option. Here's the breakdown of the different seasons to help you determine which one is best for you.
Scottish Highlands in December through February
As Scotland's coldest months, they are plagued with freezing temperatures, short days, and longer nights, not to mention icy winds and snow. December is mostly clear and has its fair share of sunny days, while January and February are marked with bitter cold and lots of snow. If you plan on hiking during this time, it's best to do it in December, especially if you're not an expert hiker. Remember that layering is key. Bring a compass, in case of fog, and decide on a trail that doesn't require you to hike for longer than 6-8 hours, as you'll be working with shorter days.
Scottish Highlands in March through early June
Springtime sees Scotland slowly thawing, the snow making way for lovely blooms. In March, the lower parts of Scotland awaken from their winter slumber and the days are warmer again, even if higher elevations—the Cairngorms, for example—are still flaunting snow. For a springtime hike, the best times are from May through early June. Not only will you be witness to the Highlands' vast beauty, but you'll also be rewarded with even warmer temperatures and up to 17 hours of sunshine. The Highland Games start in May, so factor that into your itinerary.
Scottish Highlands in Late June through August
During this time, there is a seemingly endless number of festivals across the country. Tourist traffic is at its highest, as is the midge population. Summer in Scotland might just be the best time to hike through the Highlands, but concessions need to be made. For example, do make sure to really protect yourself from a midge bite, as you need only get bitten once to draw a swarm. There are also a lot of tourists, though in the Highlands, it never really feels crowded. However, you might have a harder time securing accommodations if you don't plan to set up camp, so it is best advised to make reservations well in advance.
Scottish Highlands in September, October and November
Though still a busy tourist month, September sees Scotland at its wettest, which means it's not quite ideal for a backpacking trip, especially if you're expecting to camp. Skip this month altogether, unless you have a penchant for hiking in the rain and sleeping on the wet ground.
It's tough to beat the spectacular colours of the autumn months, especially when you're hiking in the Highlands. Layering is key during this time as the weather starts to cool down. If you don't mind the cold, you'll get excellent views and breathtaking photographs during these months. Keep in mind that many places tend to shut down around October so consider this when you're packing your supplies. It would be a good idea to make arrangements in advance so that you don't find yourself hungry with no roof over your head.
Scottish Highlands weather
JAN
FEB
MAR
APR
MAY
JUN
JUL
AUG
SEP
OCT
NOV
DEC
Average °C
3
3
5
7
9
12
14
14
11
8
5
3
Average °F
37
37
41
44
48
53
57
57
51
46
41
37
High °C
5
6
8
10
14
16
18
18
15
11
8
6
High °F
41
42
46
50
57
60
64
64
59
51
46
42
Low °C
0
0
1
3
5
8
10
10
8
5
2
1
Low °F
32
32
33
37
41
46
50
50
46
41
35
33
Rainfall (mm)
170
123
138
86
79
85
92
107
139
162
165
169
Seasonality and Climbing Requirements
The Scottish Highlands routes
West Highland Way. Distance: 154 km, average duration: 6-8 days
Great Glen Way. Distance: 126 km, average duration: 5-6 days
Southern Upland Way. Distance: 341 km, average duration: 10-20 days
Great Trossachs Path. Distance: 48 km, average duration: 1-3 days
Three Lochs Way. Distance: 55 km, average duration: 3-4 days
Cowal Way. Distance: 92 km, average duration: 3-5 days 
The Great Glen Canoe Trail. Distance: 96 km, average duration: 3-5 days 
Scottish Highlands tours & reviews
A TRAVEL MAGAZINE BY TOURRADAR