Train Travel Companies
Compare 64 different train tour operators with more than 390 reviews and find the perfect trip for your next adventure. TourRadar - booking tours made easy.
Travel the World by Rail
Travelling by train offers a timeless and romantic appeal that you won't find on any other type of transportation. Whether it's Switzerland's mountainous landscapes or the expansive Canadian countryside, there's no better way to enjoy the world's most beautiful scenery than from a train window.
Best Train Tour Companies
Not only are these global tour operators considered to be some of the leading brands in the industry, but they also offer an extensive selection of top-rated train tours. G Adventures offers the largest number of rail journeys in Europe, Asia, and Latin America with an average rating of 4.8.
 
Rail Holiday Experts With Outstanding Reviews
Do you strive to support smaller, locally-owned companies when you travel? Our Travel Experts have reviewed and shortlisted local tour operators with outstanding reviews, so you can have the adventure of a lifetime and give back while you're at it.
 
Euroventure Travel, 4.8 - This operator stands out thanks to its authentic, budget-friendly experiences in Europe and excellent reviews across the board.
Meet and Greet Italy, 4.6 - Offering innovative train journeys, this rail holiday expert is working to change the way people travel in Italy.
Sundowners Overland, 4.3 - Crafting pioneering adventures since 1964, this operator is an expert when it comes to Trans Siberian and Silk Road journeys.
Best Train Travel Companies by Destination
If you've already decided where you'd like to go, check out our list of train tours categorised by continent, or take a look at the top-rated operators below.
Top Countries For Train Travel
What You Need to Know About Train Travel
What's the longest train journey in the world?

The longest train ride in the world is the Trans Siberian Railway journey. This six-day train ride spans more than 9,000 kilometres between Moscow and Vladivostok in Russia.

Where will I sleep?

On longer overnight train journeys like the Trans Siberian Railway, you'll have a designated sleeping compartment or carriage. Alternatively, some train tour packages include hotel accommodation in the cities you're travelling through.

How much does train travel cost?

Train travel is notoriously expensive, but the landscape is changing and progress is being made when it comes to pricing. Fares for long-distance rail travel have recently dropped in Germany due to an environmental initiative, and there's no doubt other countries will soon be following suit.

Why should I book with TourRadar?

TourRadar offers the largest selection of travel experiences from trusted operators around the world. Plus, when you book with us, you'll have access to 24/7 customer support, flexible payment options, and thousands of reviews from travellers just like you.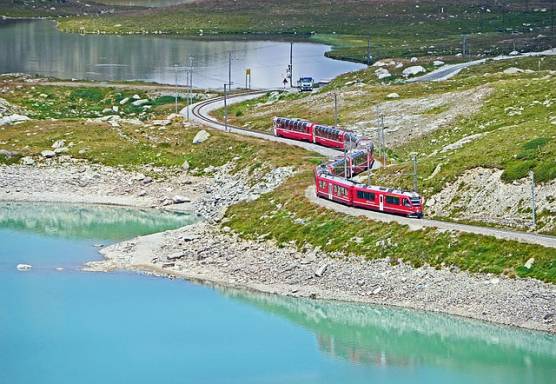 A Top-Rated Train Tour You'll Love
After combing through hundreds of itineraries and traveller reviews, our Travel Experts noticed that one trip stood out from the rest:
Europe by Rail with the Glacier Express
operated by G Adventures
, a 12-day tour visiting Paris, Lausanne (France), Zermatt (Switzerland), Salzburg, Vienna (Austria) and Budapest (Hungary). Not only is it great for travellers of all ages, but it's also an environmentally friendly tour.
Highlights of the tour:
Admire Mona Lisa at the Louvre in Paris
Go for a hike in the heart of the Swiss Alps
Visit the oldest salt mine in the world in Hallstatt
Relax in Budapest's famous thermal baths
Age range:
12 to 99 years
Suitable for
: Travellers of all types   
View Tour