The Highlights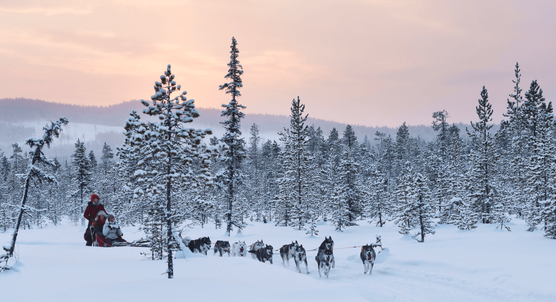 Sweden's Nature & Outdoors
An adventure from north to south and east to west.

Whether you're partial to beaches and nature reserves or vast, diverse terrain with mountains, forests, and rivers, you'll find everything and more in Sweden.

Have you ever dreamt of stepping into a real-life fairy tale? If so, the enchanting Swedish Lapland is perfect for you! Meet the indigenous population, the Sami; enjoy every type of outdoor adventure imaginable (like dog sledding, riding a snowmobile, or visiting a reindeer farm); and let your mind and soul recharge with each breath of fresh mountain air.

Although you could easily spend your whole time in northern Sweden, don't forget about the other regions and their stunning islands, beaches, and historical towns. Outdoor adventures await you around every corner!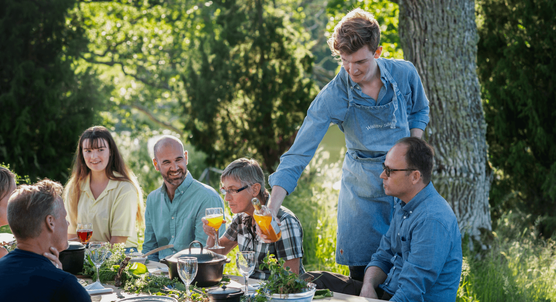 Swedish Food Culture
Pleasing to the palate and good for the body.

Known for its forward-thinking chefs, international flavours, and sustainable restaurants, Sweden has something special for every taste.

You'll find Michelin-starred restaurants and places serving plant-based food or authentic ethnic dishes. Some even have a zero-waste philosophy, while others have adopted the popular farm-to-table movement. However, no matter the concept or cuisine, each was built on the same foundation of tradition, innovation, and sustainability.

In fact, the country's fresh, delicious, and healthy food culture has evolved gracefully with the times – but not at the expense of tradition. The creative and progressive Swedes have always honoured their rich culinary heritage by upholding the old methods and the traditional ingredients.
The Regions
Northern Sweden

From the spectacular Northern Lights to the Midnight Sun, this region is full of outdoor surprises! Experience a once-in-a-lifetime stay at the famous Icehotel in remote Swedish Lapland, learn more about the fascinating Sami culture, and enjoy some of the best cycling routes in the country.

Middle Sweden

Whether it's the exhilarating city life in Stockholm or the fresh, clean mountain air at the world-famous ski resort Åre, this region offers adventures for everyone. Discover why Östersund earned the prestigious UNESCO Creative City of Gastronomy title and try ice fishing or cross country skiing.

Southern Sweden

From picturesque coastlines and sandy beaches to quaint fishing villages and lovely nature reserves, this part of Sweden will leave you speechless. Soak up the history in the medieval town of Visby, enjoy the beautiful contrasts of Malmö, and admire the gorgeous architecture of Kalmar.
The Basics
The Location

Located on the Scandinavian Peninsula, Sweden is a country in northern Europe. It shares a border with Norway on the west and Finland to the east.

Capital City

Built upon numerous islands, Stockholm is one of the most beautiful capital cities in the world.

Main Airport

While Sweden has several airports, the Arlanda International Airport (ARN) near Stockholm is the main airport for international travellers. 

Language Spoken

Although Swedish is the official language, English is widely spoken across the country so travellers will have an easy time conversing with locals.

Currency

The krona (SEK), or plural kronor, is the national currency. However, credit cards are often preferred.

Visas

As part of the Schengen zone, most travellers can visit Sweden without a visa. However, we recommend checking with your local embassy.

Electricity

Because Sweden operates on a 230V/50hz supply voltage, you'll need a converter if your computer or appliance isn't designed for 230 volts.

​​​​​​​Emergency

In case of an emergency, please dial 112 in order to reach the police, ambulance, and rescue service.

Vaccinations

Please check the latest travel restrictions before booking and travelling to Sweden or any transit countries.
When to Visit

Visit Responsibly

Travelling responsibly means respecting the communities, culture, and environment of the places you visit. Keep these helpful tips in mind when travelling to Sweden:

Go green. Be environmentally conscious on the road by taking short showers; turning off the lights in your hotel room when you leave; and resisting the urge to collect any plants, seashells, or other natural flora.

Respect cultural differences. Before travelling, read about the local culture and customs – perhaps even learn a few basic phrases in the local language.

Support local businesses. Enjoy a more authentic experience and directly support the local economy by travelling with a local guide, eating in local restaurants, buying from local artisans, and staying in locally-owned and operated accommodations.

Wherever possible, avoid single-use plastics. Pack reusable items such as your own shopping bags, utensils, and a water bottle.

 

Sustainable Tourism in Sweden

Feel alive in the Swedish outdoors
A world leader in ecotourism, Sweden offers countless outdoor activities which enable people to connect with nature in a responsible way. Go for a swim in one of the many lakes, explore a nature reserve, or forage for mushrooms in the vast forests.

All this and more is possible due to Allemansrätt, or the freedom to roam. Everyone in Sweden can enjoy this precious right as long as they leave everything in the same way that it was found.


Enjoy local, plant-based food
With its fresh, delicious, and healthy food culture, Sweden makes it easy for travellers and locals alike to create a positive impact on the environment. Choose from a variety of plant-based food options throughout the country, and taste the wonderful flavours of Sweden.
 
Also, if you're a traveller who loves to visit the local supermarkets, be sure to look for foods that bear the KRAV label, signifying that they are organically produced.

 
Sweden Tours
A TRAVEL MAGAZINE BY TOURRADAR
Frequently Asked Questions
Do you tip in Sweden?

Tipping in Sweden is appreciated but not expected. If you would like to tip a taxi driver, then you can give a few extra kronor. In terms of tipping at a restaurant, you can simply add 10% to your bill or round it up to the nearest big number. In some cases, a service charge may be added, but it will always be clearly shown on your bill.

Can I use my credit card?

Certainly! In fact, Sweden is possibly the most cashless country in the world with many shops and restaurants only accepting plastic or mobile payments. Contact your credit card provider to see what your fees would be abroad and make sure your card has a chip and PIN (Personal Identification Number), because the magnetic stripe cards won't work.
 

When and where can I see the Northern Lights?

When: September – March
Where: Swedish Lapland
Don't miss your chance to experience the magic of the Northern Lights! 
 

Do I need a visa to visit Sweden?

Because Sweden is part of the Schengen zone, most travellers can visit without a visa. However, if you would like to double-check, we have a helpful link that will enable you to see if you require a visa through our visa partner, Sherpa.

Is travel insurance mandatory?

Not only do we at TourRadar strongly recommend travel insurance, but many of our operators require it. Moreover, if you're planning to travel abroad, comprehensive insurance coverage is now a mandatory entry requirement for some countries.

Is the tap water safe to drink?

Yes! Home to thousands of lakes as well as the common burst of rain and snow, clean drinking water simply comes naturally to Sweden. So, you can skip bottled water and drink the tap water everywhere, even in the bathrooms at restaurants or museums.

Can I book a Sweden adventure on TourRadar?

Of course! With the largest selection of multi-day adventures around the world, TourRadar is the perfect place to find your Sweden adventure. From kayaking and dog sledding to magical Northern Lights encounters, you'll find everything and more!