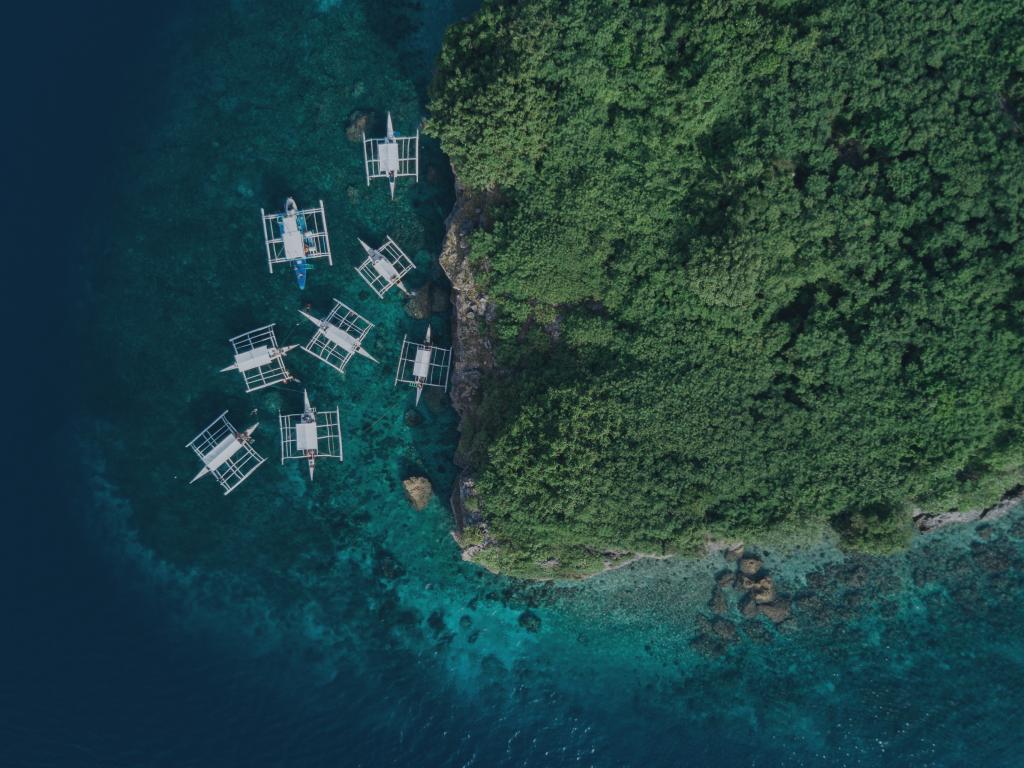 Philippines Travel Guide
Home to 7,107 islands – some bustling with civilisation and some uninhabited provides more than a few reasons to visit the Philippines. As a nation that's proud of its heritage yet possesses a fondness for modernity and Western traditions, it is a true cultural melting pot. Here, you will find sparkling beaches, comforting food, friendly locals and experiences aplenty.
The Highlights


Taal Volcano

As one of the smallest volcanoes in the world, Taal Volcano in the Philippines certainly warrants a visit. However, it is the unique location and awe-inspiring panoramas that make it worth the trip. This tiny, yet active volcano can be found in the heart of Taal Lake in the province of Batangas, and a challenging trek to the top rewards you with picture-perfect views of the surrounding area.

Sagada Hanging Coffins

A famously unique landmark in the Philippines includes the Hanging Coffins of Sagada. To the Igorot tribe that have practised this unique way of laying their dead to rest for more than a thousand years, it's a noble tradition. To the visitors that make a guided trek from the main town into Echo Valley, it's a curious experience and a look into the country's captivating pagan roots.

Mount Pinatubo

Set in the Zambales Mountains in Central Luzon, Mount Pinatubo made headlines when it last erupted back in 1991. Today, it's the destination for many adventurers seeking a memorable climb that meets with the exquisite, lake-filled crater. Take a guided hike to the top, rubbing elbows with locals along the way, and sleep under the stars by the lake.
Bohol

While Panglao Island, the small resort isle that juts out of Bohol's southwestern shore, draws the most tourists, the main island itself boasts the finest sights. The verdant island presents a diverse range of attractions, from rivers fringed with waterfalls and mangroves illuminated with fireflies to a cluster of hills that look like giant Hershey's Kisses.

Puerto Princesa Subterranean River National Park

Make sure you tick off a visit to the Puerto Princesa Subterranean River National Park, a UNESCO World Heritage Site that is home to an important 'mountain-to-sea' ecosystem. The main highlight, of course, is the cave carved underneath a limestone karst. It's home to one of the longest underground rivers in the world and can be explored by boat.

Siquijor

Rumour has it that witches who practice dark magic roam Siquijor. Whether that is true or not is yet to be proven, but it does add to the island's mysticism and appeal. What is true, is that Siquijor is a beautiful land, teeming with terrestrial and aquatic wonders. Take a dip in its blue-hued waters, venture into the caves, visit the many waterfalls or meet a local healer.
The Basics
The Location

The Southeast Asian archipelago is tucked between the Pacific Ocean and the South China Sea, about 1,400 kilometres east of Vietnam. A nonstop flight from Los Angeles is 15h 45m while a nonstop flight from Sydney is 8 hours.

Capital City

The city of Manila, set along the coast of Manila Bay, is the official capital city of the Philippines. The larger metropolitan area of Metro Manila, which encompasses other cities like Quezon City, Makati and Pasay, serves as the capital region.

Main Airport

The Ninoy Aquino International Airport in Metro Manila serves many domestic and international destinations and is the main hub. It's about 11 kilometres from Manila's historic old city, Intramuros, and about five kilometres from Makati City.

Code

MNL

Closest City

Pasay City

Language Spoken

The official language of the Philippines is Filipino, the official name for Tagalog. Different regions have their own dialects; however, most speak and understand Filipino. English is widely understood and spoken, especially in the urban areas.

Currency

The Philippines uses the Philippine peso. The currency code is PHP. While many establishments accept Visa and Mastercard, public transportation, taxis and most small businesses are cash only. ATMs abound in the cities and resorts areas.

Visas

Many countries in the world have a visa-free travel privilege to the Philippines for a set number of days. US, UK, Australian and Canadian citizens as well as those from neighbouring countries may visit the country visa-free for 30 days. Before you travel, always check the visa entry requirements.

Electricity

The Philippines use 220 Volts/60Hz and a flat blade plug. Depending on your country's outlet type and electrical current, you might need a voltage converter and an adapter. Check your appliances, some may be dual voltage and won't need a converter.

Vaccinations

Recommended vaccines for the Philippines are as follows: typhoid, hepatitis A, hepatitis B, rabies, measles, mumps, rubella, cholera, Japanese encephalitis and influenza. Yellow fever vaccination is required if you're arriving from a high-risk country.

Emergency Calls

Like the United States, the Philippines uses 911 as its official national emergency hotline.
When to Visit
Philippines Tours
Sustainable Tourism in the Philippines

Travelling responsibly means respecting the communities, culture and environment of the places you visit. Keep these tips in mind when travelling to the Philippines:

Go green. Be environmentally conscious on the road by taking short showers; turning off the lights in your hotel room when you leave; and resisting the urge to collect any plants, seashells, or other natural flora.

Respect cultural differences. Before travelling, read about the local culture and customs – even just knowing the dress code and a few basic phrases in the local language will go a long way.

Support local businesses. Enjoy a more authentic experience and directly support the local economy by travelling with a local guide, eating in local restaurants, buying from local artisans, and staying in locally-owned and operated accommodations.

Wherever possible, avoid single-use plastics. Pack reusable items such as your own shopping bags, utensils, a water bottle, and a straw. These items are typically lightweight and compact, and will greatly reduce your consumption of plastics.

Be conscious of overtourism. Opt to visit the lesser-known regions of the Philippines or travel outside the peak season – you'll likely even get a better deal and won't have all the crowds!

Sustainable Tourism in the Philippines

Ecotourism-Themed Activities
The Philippines encourage tourists to travel sustainably by offering many incredible activities that are both enjoyable and also having a net-positive effect on the area. These sustainable activities include: kitesurfing, island nature tours, authentic cooking classes, ziplining, and homestays.

"Save Our Spots - SOS"
Launched in 2019 by the Philippines Department of Tourism (DOT), the "Save Our Spots - SOS" campaign strives to teach people how to be better travellers. In fact, it offers 20 helpful and sustainable recommendations that can be applied throughout their stay in the Philippines. Moreover, it shows them how their holiday experiences can be enhanced through these sustainable practices and behaviours.

Save Philippine Seas (SPS)
Consisting of over 7,100 islands surrounded by various bodies of water, it's no surprise that the Philippines relies heavily on the sea. In fact, it serves many purposes ranging from being a source of food to helping fuel the economy. Thus, Save Philippine Seas is a very important organisation. Not only does it engage and educate the community in environmental conversation, but it also empowers them to take action and make positive behavioral changes.
 
FAQs about Philippines
Do you tip in Philippines?

Tipping is generally not expected in the Philippines. However, because of the boom in tourism, it's becoming more common and it is certainly appreciated. A 10% tip in cash for bellhops, tour guides, cab drivers and servers should be enough.

What is the internet access like?

Internet access in the Philippines can be troublesome. While resort areas like Palawan, Bohol and Boracay offer WiFi, you might have to suffer through incredibly slow speeds, not to mention the occasional power outages.

Is the tap water safe to drink?

It really depends on the city or town. In some places like Metro Manila, drinking tap water can make you really sick. Other places –Davao City, for example –pride themselves on having clean tap water. A good rule of thumb is to simply drink bottled water for the entire duration of your visit.

Can I use my credit cards?

Sure! Visa and Mastercard are accepted by many of the bigger businesses. However, smaller establishments and vendors only accept cash so it's best to have that handy at all times during your visit.

What are the public holidays?

Public holidays in the Philippines –alongside Christmas Eve, Christmas Day and New Year's Day – include Good Friday, Labour Day on May 1, Independence Day on June 12, All Saints and All Souls Days on November 1 & 2, Bonifacio Day on November 30 and Immaculate Conception Day on December 8.

What are the toilets like?

The urban areas in the Philippines offer modern toilet facilities, as do some towns and resort areas. However, in many very rural areas, you'll have to deal with squat toilets. It's also worth noting that standing on the toilet seat is still practised by locals so keep sanitary wipes handy.

What is the proper dress code for tourists?

Though the Philippines is a little conservative, locals are relaxed with the dress code. Shorts, skirts, sleeveless tops, and short dresses are more than acceptable. Do note that if you wear more revealing outfits, you might find yourself the recipient of disapproving looks and catcalling.

Is the Philippines safe for travellers?

The government is taking all the necessary measures to protect tourists, and as long as you practise common sense and basic precautions, you should be fine. Take extra care when visiting Manila as pickpocketing is common.
A TRAVEL MAGAZINE BY TOURRADAR