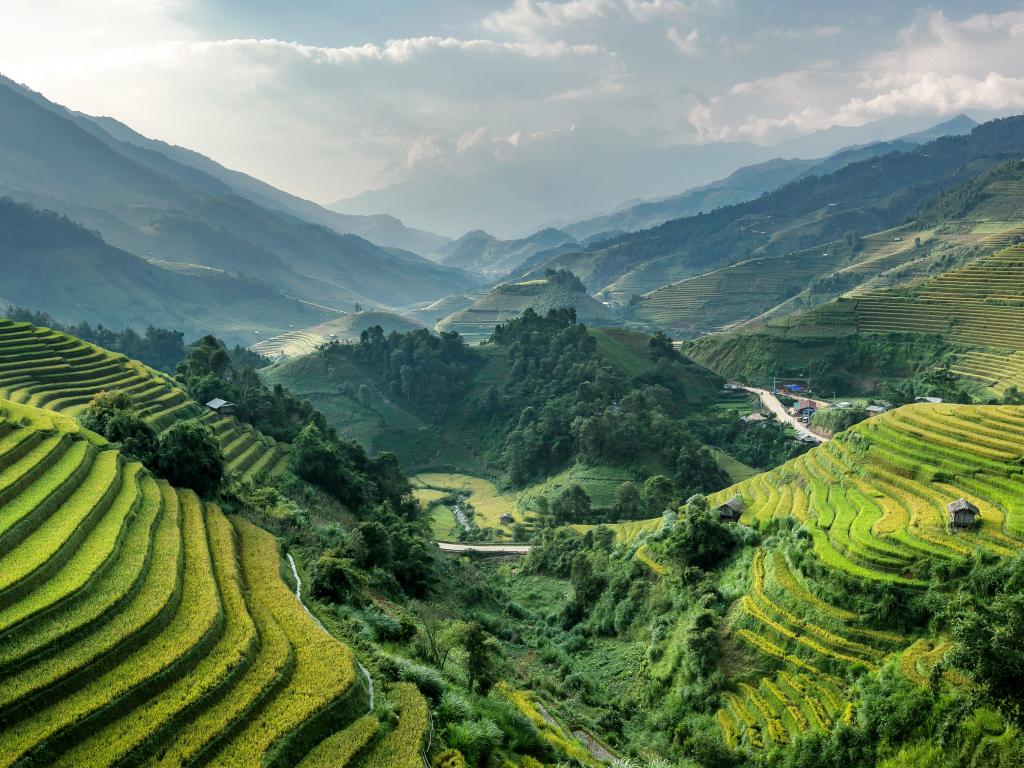 Laos Travel Guide
Laos is the type of place that can project feelings of being transported into another time, a country as exotic as it is utterly intriguing. With its culturally diverse native tribal groups and varied ethnicities, Laos is the destination for you to encounter unique experiences. Most importantly: Lao cuisine is simply delectable. So, what are you waiting for?
The Highlights


Luang Prabang

Luang Prabang is home to many glorious Buddhist monasteries and temples. By day, you can get your fill of local Lao delicacies, enjoy the French-influenced cafe culture and visit the many neighbouring waterfalls. And at night, watch as the town comes alive with a night market that takes up residence on the main street. How you spend your time is completely up to you. 

Vang Vieng

If cycling, yoga and gentle to rigorous hikes are your calling, Vang Vieng will cater to your adventurous side. If you're after a relaxed approach to exploring the area, you can hire a giant rubber tyre to float down the river making stops along the way at cafes or bars. Next: repeat all of the above until the sun goes down. 

Pakse

It's easy to overlook the populous town of Pakse; the gateway to southern Laos but the most important reasons to visit are the many surrounding attractions. Start with a day trip to Champasak, where the ancient Khmer ruins of Wat Phou reside which are in fact, older than the Angkor temples in Cambodia. Make time for the Don Heung Market in Pakse that is known to be the biggest in southern Laos.
Kong Lor Cave

Possibly one of the most compelling sights in Laos, the Kong Lor Cave situated in the Khammouane Province will reward you with a voyage beneath jagged limestone rock facades and beyond. The cave itself is 4.5 miles long and was carved naturally by the river, meaning visitors can take a cruise alongside emerald pools within the cave. 

Vientiane

If we could share only one piece of advice with you: it's that you need to make time to visit Vientiane. This is where travellers can take a break and just take in the city. From Buddhist temples, the historic old quarter, surrounding rice paddies, museums, old French villas dotted around town and historic cafes are a few of the many reasons why Vientiane will impress you. 

Si Phan Don

Si Phan Don translates to Four Thousand Islands where quite literally, thousands of islands make up the archipelago in the Mekong area. And while there isn't much to do here, it's the type of place that you visit simply to mingle with locals, explore local guesthouses and cafes or hire a bike along the Mekong River. You might be surprised to find yourself spending more time here than expected. 
The Basics
The Location

Laos is a country in Southeast Asia and shares borders with China, Myanmar, Thailand, Vietnam, Cambodia. From Sydney, a non-stop flight is 11 hours, and from Dubai, it is roughly 10 hours. 

Capital City

The capital and largest city is Vientiane and sits near the border of Thailand along the Mekong River. Other major cities include Luang Prabang, Savannakhet and Pakse. 

Main Airport

Wattay International Airport is the main hub for international and domestic travel. It is located 3 km outside of the city centre of its capital, Vientiane. 

Code

VTE

Closest City

Vientiane

Language Spoken

The official language of Laos is Lao, however, English is commonly spoken across the country. In areas that are further away from major cities, fluent speakers may be harder to come by. 

Currency

Laos uses the Laos Kip. The currency code is LAK. It is safe to withdraw money from banks or ATMs while you're there, however, the withdrawal limit is quite low (under $100 USD). 

Visas

30-day visas can be obtained on arrival at most entry points into Laos. Visa information can change often and varies from country to country. We recommend checking your country's travel advisories in advance of booking a trip.

Electricity

Electrical current is s 230 V and the frequency is 50 Hz. In Laos the power sockets are of type A, B, C, E and F. The standard voltage in the US is 110 volts, so you may need a surge adaptor. 

Vaccinations

The usual vaccinations of Typhoid, Hepatitis A and B are advised and you may need to prove you have had a yellow fever vaccination if travelling through infected areas. Consult your doctor 6 to 8 weeks before you depart.

Emergency Calls

The phone numbers to call in case of emergency are 191 for the police, 195 for an ambulance and 190 for a fire.
When to Visit
Laos Tours
Visit Responsibly

Travelling responsibly means respecting the communities, culture and environment of the places you visit. Keep these tips in mind when travelling to Laos:

Go green. Be environmentally conscious on the road by taking short showers; turning off the lights in your hotel room when you leave; and resisting the urge to collect any plants, seashells, or other natural flora.

Respect cultural differences. Before travelling, read about the local culture and customs – even just knowing the dress code and a few basic phrases in the local language will go a long way.

Support local businesses. Enjoy a more authentic experience and directly support the local economy by travelling with a local guide, eating in local restaurants, buying from local artisans, and staying in locally-owned and operated accommodations.

Wherever possible, avoid single-use plastics. Pack reusable items such as your own shopping bags, utensils, a water bottle, and a straw. These items are typically lightweight and compact, and will greatly reduce your consumption of plastics.

Be conscious of overtourism. Opt to visit the lesser-known regions of Laos or travel outside the peak season – you'll likely even get a better deal and won't have all the crowds!
 

Sustainable Tourism in Laos

20 National Protected Areas
With 20 nationally protected areas, Laos strives to conserve its beautiful ecosystem – in fact, these designated areas are often said to be the best designed worldwide. Covering almost 14% of Laos, the protected areas include a wide range of wildlife populations, tropical monsoon forests, and much more.

Ecotourism-Themed Activities
Trekking, bird-watching, camping, and kayaking are among the many ecotourism-themed activities available in Laos. In fact, the Lao National Tourism Administration has a website dedicated to eco-friendly activities and accommodations.

Laos Sustainable Development Goals
In connection with the 17 global goals, the Laos government launched their national SDG18, 'Lives Safe from UXO.' These goals address both the key challenges and development priorities.

The Sustainable Agriculture & Environment Development Association (SAEDA)
Formerly the Sustainable Agriculture Forum (SAF), this organization was started in 1991. Its purpose is to help the vulnerable local communities by promoting a variety of sustainable projects focused on agriculture, biodiversity conservation, and the risk reduction of chemical pesticides.
FAQs about Laos
Do you tip in Laos?

There isn't much of a tipping culture in Laos, but it is recommended to leave a tip of 10% in a restaurant, although service charge can already be included on the bill. Of course, it will always be appreciated. 

What is the internet access like?

Internet connection can range in quality, but you should have no problem with day-to-day tasks like emailing or surfing the web when in Laos. WiFi is available in many cafes, hostels and hotels for free, but outside urban areas, this is not as common.

Is the tap water safe to drink?

No. Buy bottled water, or you can boil the tap water or use water purification pills.

Can I use my credit cards?

Yes, credit cards are widely accepted throughout Laos. Please check with your bank about any foreign transaction charges.

What are the public holidays?

Laos celebrates New Year's Day on January 1, Lao New Year between April 16-18, Labour Day May 1, That Luang Festival on November 22 and Lao National Day on December 03. 

What are the toilets like?

Toilets in Laos range from squat toilets to sit down ones, depending on the type of establishment. Mid-range and luxury accommodations, as well as restaurants and top attractions, favour the modern sit down toilets. Carry your own toilet paper.
A TRAVEL MAGAZINE BY TOURRADAR