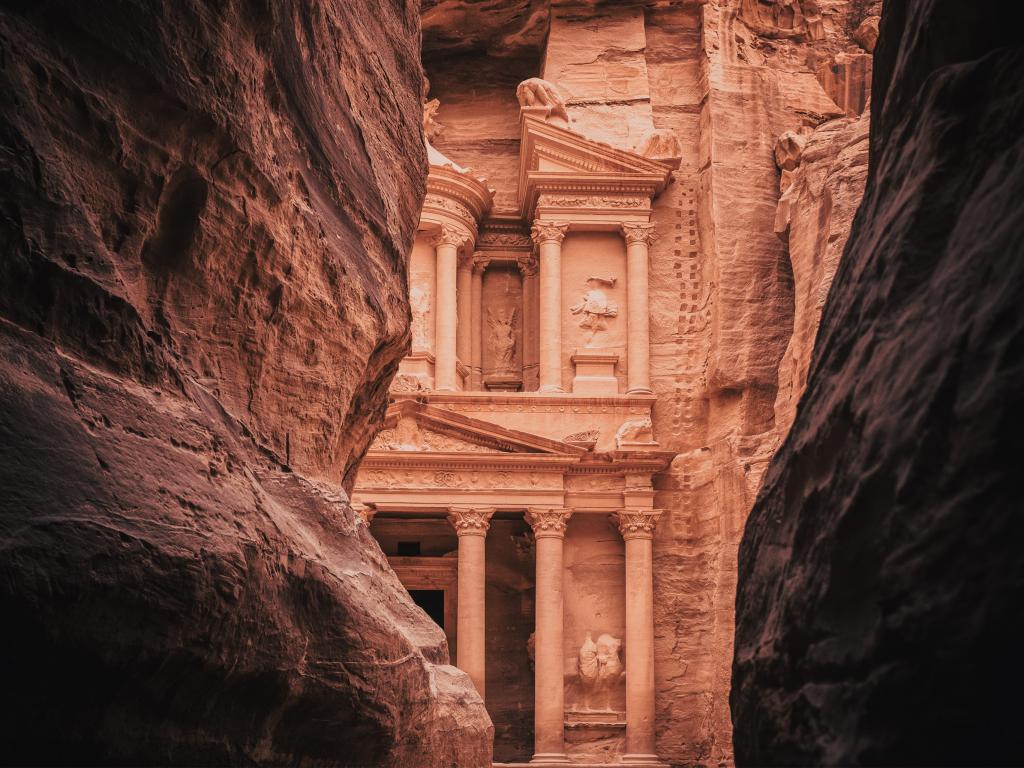 Jordan Travel Guide
There's rarely a traveller that leaves Jordan unimpressed by its sights or unmoved by its people's virtues. Best-known for its centrepiece, the archaeological site of Petra, this Middle Eastern nation is breathtaking in both its golden desert attractions, epic experiences and open hospitality, so much so it often draws visitors back. This is Jordan, and it welcomes you with open arms.
The Highlights


Kerak Castle

Whether or not the history of the Crusades is a particular interest of yours, a visit to the castle of Kerak in Al-Karak is a must to your Jordan experience. This large fortification atop a hill boasts many places to explore – narrow passageways, a church and a palace – and trimmed with views of the neighbouring areas including Wadi Karak, rumoured site of biblical cities Sodom and Gomorrah.

Jerash

Once you've had your fill of Amman and want to experience a slower pace, escape north to Jerash where the remarkable, well-preserved ruins of Gerasa sit. Make your way around this Greco-Roman city where opulent streets, bathhouses, temples, a hippodrome and theatres lay in wait. Make it a day trip and explore the modern town as well. Visit small markets and try your hand at olive picking.

Mount Nebo

You'd be hard-pressed to not run into sacred or religious sites when visiting Jordan, whether it be a church or a mosque. Or better yet, the perch where Moses stood and saw the Promised Land. Mount Nebo is one of Jordan's revered sites, where today travellers and devotees make a pilgrimage to if only to see what Moses would have seen. These include the Dead Sea, Jericho and Bethlehem.
Madaba

While nearby desert explorations are what draw the adventurous to religiously tolerant Madaba, its charismatic, church-paved streets are also worth carving time for. Give yourself at least a day before your adventures in the desert begins. Visit the Archaeological Park and the Church of the Virgin Mary as well as the modest St George's Church and its intricate Mosaic Map, to start.

Shobak Castle

The remote outpost of the Shobak Castle, set atop what was formerly known as the Royal Mountain, is another fortification worth visiting before you head back home. Let King's Highway lead you to the site, which is home to a host of spots worth exploring. There's a reconstructed chapel, secret passageways, catacombs and a watchtower. Come for a visit if you have a day to spare.

Dead Sea

While most assume that floating on the famous Dead Sea is a uniquely Israeli experience, it actually encompasses the borders of Israel, Jordan and the West Bank. So whether you're looking to bask in the desert sun whilst taking a dip in the salty water or bathe in mineral-rich mud, it's a worthy addition to your Jordan itinerary. Stay awhile and see the colours of the sunset on the horizon.
The Basics
The Location

Jordan is a country in the Middle East, bordering Saudi Arabia, Iraq, Syria, Israel and Palestine. From Los Angeles, it is roughly 18 hours with a two-hour stopover. From London, a non-stop flight is only 5 hours.

Capital City

Amman is nestled in north-central Jordan. Though it is one of the world's oldest continuously inhabited cities, it is quickly growing into a bustling metropolis. It's also one of the most liberal cities in the Middle East.

Main Airport

Queen Alia International Airport is the main hub for domestic and international travellers. It is located 35 kilometres south of the city of Amman.

Language Spoken

The official language of Jordan is the Levantine dialect of Arabic. English is spoken widely, especially in the tourist, urban or commercial sectors.

Currency

Jordan uses the Jordanian Dinar. The currency code is JOD. It is advisable to carry cash with you, especially smaller denominations (1 and 4 dinar notes) as most shops have limited change.

Visas

Most visitors will require a visa on arrival and can be purchased for 40 JD for a single entry visa. Note that visas are no longer available at King Hussein/Allenby Bridge so obtain yours beforehand.

Electricity

Electrical current is 220V/50Hz using mainly European round pin sockets. Sometimes Indian and British three-pin, as well as other combination sockets, can be found. Depending on your home country, you may need an adapter and power converter.

Vaccinations

Typhoid, Hepatitis A vaccinations are advised. If you plan on doing outdoor activities, you may also need Rabies. Consult your doctor 4 to 6 weeks before you depart.  

Emergency Calls

The emergency numbers are 911 for the police, for an ambulance and in case of fire.
When to Visit
Jordan Tours
Visit Responsibly

Travelling responsibly means respecting the communities, culture and environment of the places you visit. Keep these tips in mind when travelling to Jordan:

Go green. Be environmentally conscious on the road by taking short showers; turning off the lights in your hotel room when you leave; and resisting the urge to collect any plants, seashells, or other natural flora.

Respect cultural differences. Before travelling, read about the local culture and customs – even just knowing the dress code and a few basic phrases in the local language will go a long way.

Support local businesses. Enjoy a more authentic experience and directly support the local economy by travelling with a local guide, eating in local restaurants, buying from local artisans, and staying in locally-owned and operated accommodations.

Wherever possible, avoid single-use plastics. Pack reusable items such as your own shopping bags, utensils, a water bottle, and a straw. These items are typically lightweight and compact, and will greatly reduce your consumption of plastics.

Be conscious of overtourism. Opt to visit the lesser-known regions of Jordan or travel outside the peak season – you'll likely even get a better deal and won't have all the crowds!

 

Sustainable Tourism in Jordan

As a destination that has recently been growing in popularity because of its rich cultural heritage and impressive desert landscapes, Jordan's tourism experiences are built around supporting traditional culture and sustaining the local land. Visiting Jordan in a sustainable way is a team effort that requires cooperation from you as a visitor. Here are some things being done in Jordan to make it possible to tour sustainably:

Meaningful Travel Map
Jordan has developed a Meaningful Travel Map filled with over 15 community-based tourism experiences across the country. Some of these community projects you can visit on tour include the Bani Hamida women's weaving project, the Iraq Al-Amir women's cooperative Association, Feynan Ecolodge, and Ammarin Bedouin Camp, owned and operated by the local Ammarin tribal cooperative.

Royal Society for the Conservation of Nature
The Royal Society for the Conservation of Nature is an independent national organization devoted to the conservation of Jordan's natural resources. One of the biggest achievements of the organization to date has been the establishment of 10 protected areas within the country, covering 1,200 square kilometers in Jordan.

Future of Tourism Coalition
The Jordan Tourism Board is one of the founding signatories of the Future of Tourism Coalition. The Future of Tourism Coalition consists of global tourism organizations that commit to using tourism to shape a more sustainable, equitable, and responsible future through the Coalition's 13 guiding principles.
 
FAQs about Jordan
Do you tip in Jordan?

Yes, you should tip for services provided by hotel porters, restaurant staff and general service providers. A tip of 10% is standard in almost all circumstances. 

What is the internet access like?

Internet connection, particularly WiFi, is readily available in most hotels, cafes and restaurants. In addition, 4G phones are available to rent.

Is the tap water safe to drink?

Technically the tap water is safe to drink. However, most people recommend buying bottled water or boiling the tap water before drinking.

Can I use my credit cards?

Credit cards are widely used. However, it's advisable to carry cash as not everyone, especially local vendors, accept credit cards.

What are the public holidays?

Along with common public holidays like New Year's Day, Labour Day and Christmas, Muslim holidays such as Eid al-Adha, Ras Assanah Al Hijri (Islamic New Year) and Isra Wal Mi-'raj are celebrated. Jordan also celebrates Independence Day (May 25) and King Abdullah's Accession to the Throne (June 9).

What are the toilets like?

Western-style toilets are widely available in hotels and some restaurants but many of the public toilets are of the squat variety. Typically, they use water for cleaning so toilet paper isn't always readily available in toilets. Dispose of your soiled toilet paper in the bin provided.

Is it a safe place for women to solo travel?

Jordan has an intrinsically respectful culture and a better attitude towards women compared to other parts of the world. Women have travelled solo around Jordan without encountering any aggressive behaviour or harassment. Still, be prepared to politely fend off flirting and proposals of marriage.

Is there a dress code for tourists visiting Jordan?

Though Jordan is a fairly liberal country, showing too much skin is still unseemly and might cause offence especially outside the big cities. Amman is slightly more open to sleeveless and shorter garb yet smaller cities and towns are not. To be safe, pack loose pants, longer skirts and sleeved tops.
A TRAVEL MAGAZINE BY TOURRADAR