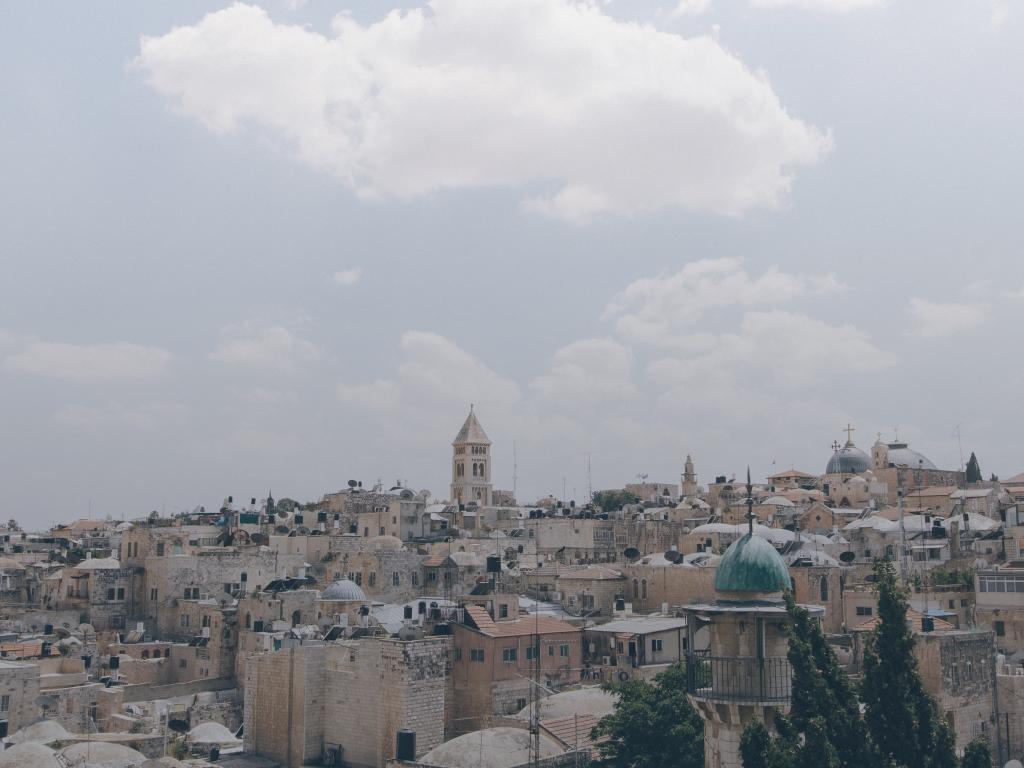 Israel Travel Guide
When people speak of Israel, they do so in breathless tones. It's hard not to gush over the energy of Tel Aviv, the ancient walls of Nazareth and Jerusalem or the golden glow of the deserts and the beaches. Israel is solemn and exciting, splendid and rugged at the same time. It's a destination for spiritual pilgrimages, a paradise for foodies and a playground for adventurers.
The Highlights


Caesarea National Park

Also known as Caesarea Maritima, this beautiful national park is home to the ancient ruins of Caesarea, set on the coast of Mediterranean sea. The historic harbour city served as the headquarters for Pontius Pilate and became the centre of Christianity when Jerusalem burned to the ground. Highlights to tick off the list are a Roman aqueduct, an amphitheatre, a hippodrome, and exquisite columns.

Sea of Galilee

While better known as the setting for many sermons and miracles including supposedly walking on water, the Sea of Galilee is today a venue for many sun-kissed adventures. Whether you prefer to quietly potter along on a cruise or if you favour the more active endeavours like windsurfing, there's plenty of options on hand. Though we'd probably skip attempting to walk on water yourself.

Tel Aviv

Tricked out Tel Aviv is one city you mustn't miss when visiting Israel. A global city, it serves as a base for many of Israel's ambitious tech start-ups and best minds and is home to some elevating experiences. Tour its urban attractions and historic sights, eat your weight in amazing food, and party the night away.
Fortress of Masada

From one of the lowest points to a lofty perch – while in the Dead Sea area, take a scenic ride on a cable car to the top of a rock plateau where Herod the Great built palaces that come with awe-inspiring views. Today, only their ruins are left, but the panoramas at this UNESCO World Heritage Site are just as picture-perfect. The Fortress of Masada is certainly world pulling over for.

Nazareth

Adopt a go-slow lifestyle, if only for a bit. Take in its many colours and myriad of textures. Old Nazareth is home to beautiful places of worship, charming courtyards, excavated ruins, and even an ancient bathhouse. Stay for a couple of days or so, and sleep in an old Arab house. Blaze your own trails, and sample the local dishes at some of the restaurants you'll stumble into.

Beit She'an

Stray off the beaten path and stop at Beit She'an, 27 kilometres south of the Sea of Galilee. It's one of Israel's oldest cities and one of its largest archaeological sites where traces of many different civilisations were found, from the Chalcolithic era to the Ottomans. Come for the ruins and stay for the sound and light show, which showcase how it might have looked during the Roman occupancy.
The Basics
The Location

Israel is a country in the Middle East on the southeastern shore of the Mediterranean Sea. It borders Lebanon, Syria, Jordan, the Palestinian territories and Egypt. From New York, it's about 10h 30m non-stop. From London, it's approximately 5h.

Capital City

Jerusalem is situated between the Mediterranean Sea and the Dead Sea, and Israel's largest city. It's known for being one of the oldest and most spiritually significant cities in the world.

Main Airport

Tel Aviv's Ben-Gurion Airport is Israel's main hub for domestic and international travellers. It is located about 19 kilometres southeast of the city of Tel Aviv.

Code

TLV

Closest City

Tel Aviv

Language Spoken

The official language of Israel is Hebrew and Arab, though Hebrew is the most spoken. English is spoken as a second language by most.

Currency

Israel uses the New Shekel. The currency code is ILS. ATMs are readily available and credit cards are widely used. Note that chip-and-pin cards may only be accepted by Bank Leumi ATMs.

Visas

For Australian, Canadian, UK and US citizens, no prior visa is required however you in some cases you will need to pay an exit tax of US$30. Instead of a passport stamp, you will receive an entry card that must be presented during your stay and when you leave the country.

Electricity

The electric current in Israel is 230V/50Hz using type H and type C plugs. Type H sockets are unique to Israel but can accept type C plugs. The standard voltage in the US is 110V/60hz, so you will need a surge adapter and converter.

Vaccinations

Hepatitis A and B are advised. If you plan to travel to the West Bank and Gaza, you may also need Typhoid. If you plan to travel extensively in the outdoors and remote areas or interact with animals, Rabies is advised.

Emergency Calls

The phone numbers to call in case of emergency are 100 for the police, 101 for an ambulance and 102 for fire & rescue.
When to Visit
Israel Tours
Visit Responsibly

Travelling responsibly means respecting the communities, culture and environment of the places you visit. Keep these tips in mind when travelling to Israel:

Go green. Be environmentally conscious on the road by taking short showers; turning off the lights in your hotel room when you leave; and resisting the urge to collect any plants, seashells, or other natural flora.

Respect cultural differences. Before travelling, read about the local culture and customs – even just knowing the dress code and a few basic phrases in the local language will go a long way.

Support local businesses. Enjoy a more authentic experience and directly support the local economy by travelling with a local guide, eating in local restaurants, buying from local artisans, and staying in locally-owned and operated accommodations.

Wherever possible, avoid single-use plastics. Pack reusable items such as your own shopping bags, utensils, a water bottle, and a straw. These items are typically lightweight and compact, and will greatly reduce your consumption of plastics.

Be conscious of overtourism. Opt to visit the lesser-known regions of Israel or travel outside the peak season – you'll likely even get a better deal and won't have all the crowds!

Sustainable Tourism in Israel

A Sustainable Future
Israel has a number of organisations dedicated to promoting a sustainable future through volunteering and increased social involvement. One such example is the Israeli Council for Volunteering (RA).

The Society for Protection of Nature in Israel (SPNI)
As Israel's oldest environmental non-profit organisation, SPNI is committed to preserving the country's natural resources and landscape. In addition to many successful campaigns over the years (such as the Gazelle Valley, Israel's first urban wildlife reserve) SPNI provides environmental education programs and nature excursions.

Eco and Sustainable Tourism Israel
Founded in 2006, this non-profit organisation is dedicated to helping Israel's tourism industry implement sustainable practices. Eco & Sustainable Tourism Israel highlights wonderful ecotourism options such as organic wineries and ingenious guest accommodations made out of natural materials.

Kibbutzim: A Different Way of Life
Several of Israel's collective communities, known as kibbutzim, focus on organic farming and offer ecotourism programs. For example, Kibbutz Lotan, Yahel, and Ketura offer eco-hikes, birding tours and lectures, opportunities to learn about organic farming and more.
 
FAQs about Israel
Do you tip in Israel?

Tipping servers, bartenders, housekeepers and porters are very much expected. At cafes and restaurants, usually, 10% to 15% of your bill is enough.

What is the internet access like?

Many places in Israel including hotels, restaurants, cafes, airports and terminals offer WiFi for free, and the connections are pretty good.

Is the tap water safe to drink?

Yes, tap water in Israel is safe to drink. However, keep in mind that tap water in Jerusalem and the Dead Sea area might contain particles that could give you stomach problems.

Can I use my credit cards?

Absolutely. Visa, Mastercard and American Express are widely accepted in Israel.

What are the public holidays?

Public holidays in Israel include Passover in March/April, Independence Day in April/May, Rosh Hashanah and Yom Kippur in September, Feast of Tabernacles in September/October, Hanukkah in December, and Christmas.

What are the toilets like?

Toilet facilities in Israel feature sit down, European-style toilets. Public ones are scattered about, but not as common.

Is there a dress code for tourists visiting Israel?

It depends on where you go. Some parts of Israel – Tel Aviv, for example – doesn't really demand a modest dress code. However in some parts of Jerusalem, including religious sites, you are required to wear conservative clothing.

What should I expect at the airport security?

Israel's airport security is uncompromising for good reason, and their checks and interrogations are strict at best. During the initial screening process, you'll receive a sticker that determines how heavily you will be searched and questioned in the second screening.
A TRAVEL MAGAZINE BY TOURRADAR