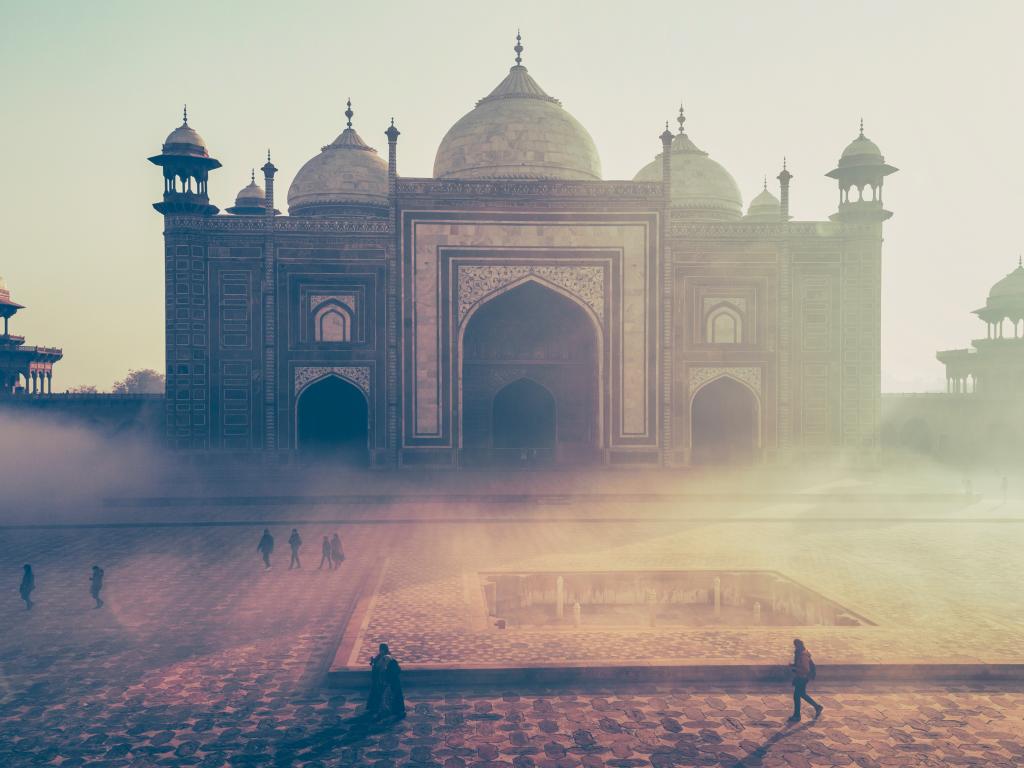 India Travel Guide
A journey to India can most certainly be defined as a life-changing experience. Existing as a destination that will leave you awestruck or enlightened, and maybe even shocked at some points, this bizarre place must really be seen to be believed. Explore majestic temples, treat your eyes to architectural feats and consume as many local dishes as your taste buds can handle.
The Highlights


Hampi

Hampi is one of the most incredible places to visit in the Karnataka region. Surrounded by masses of rock formations and Jurassic Park-style boulders as far as the eye can see, the ancient city of Hampi can be explored on foot, or on a bike. Within the ancient city, there are a number of strikingly beautiful monuments, temples and palaces to please the eyes.

Agra

Do we even need to introduce Agra? Home to three of India's most beautiful icons; the great Taj Mahal, Fatehpur Sikri and Agra Fort, every year the city lures thousands of visitors who come to witness the remnants of the Mughal era at every corner. To further yourself into the cultural depths of Agra, make time to visit the Kinari Bazar where locals sell everything you could possibly imagine.

Varanasi

Varanasi epitomises everything that makes India so special; from it's great spiritual traditions to its vibrant landscapes, an Indian exploration remains incomplete without a sojourn to the northern parts of this country. As the holiest of cities, Varanasi is where pilgrims come to cleanse their sins in the Ganges River or on the other end of the spectrum – to cremate their loved ones.
Goa

As breathtaking as India can be, you might just need a break from the frenzied cities. Enjoy some time to yourself in Goa at the beaches of Anjuna, Palolem and Patnem. Aside from the beaches, you can also take in the traces of Portuguese colonial architecture visiting the many cathedrals and churches.

New Delhi

New Delhi itself is a true icon of India, and the bustling capital makes for one of the most exciting destinations in the country. Teeming with overflowing bazaars, street food to fill your heart's desire and heritage monuments standing tall are there to remind you of it's rich and diverse past. If you want to travel back in time, jump to Old Delhi, then back into New Delhi, and then repeat.

Jaipur

Jaipur tucked away in Rajasthan, is filled with glorious sights and together with Agra and Delhi, the three cities form what many visitors know as the 'Golden Triangle'. Commonly referred to as the 'Pink City,' it was said to have been painted this colour in order to welcome royals from neighbouring areas. Here you will find many aesthetically-pleasing temples, monuments and Rajput forts.
The Basics
The Location

India is located in the southern part of Asia and shares borders with Afghanistan, Pakistan, Bangladesh, Myanmar, China, Tibet, Nepal and Bhutan. From Dubai to Mumbai, the flight is 3 hours, and from London, it is roughly 9 hours.

Capital City

New Dehli is the capital of India and is situated in the northern part of the country.

Main Airport

Indira Gandhi International Airport in Delhi is the busiest airport based on air traffic and is located in Palam, 16 kilometres from New Delhi.

Code

DEL

Closest City

New Delhi

Language Spoken

The official language of India is Hindi, however, English is also widely spoken, especially in major cities.

Currency

India uses the Indian Rupee. The currency code is INR. ATMs are available in most towns but make sure you carry some backup cash.

Visas

Almost all citizens will be required to apply for a visa before arriving in India. Many nationalities can apply for a 30-day visa online and some may be able to receive one on arrival.

Electricity

Electrical current is 230V/50hz using type D or type C plugs. The standard voltage in the US is 110 volts, so you may need a surge adaptor.

Vaccinations

Typhoid, Hepatitis A and B and other boosters are advised however not compulsory to enter India. Consult your doctor 6 to 8 weeks before you depart.

Emergency Calls

The phone numbers to call in case of emergency are 100 for the police, 102 for an ambulance and 101 for a fire.
When to Visit
India Tours
FAQs about India
Do you tip in India?

Tipping is not compulsory in India, however, it will always be appreciated if you round up your bill and leave a few extra rupees. Avoid handing out sweets or money to small children as it encourages begging.

What is the internet access like?

Internet connection can range in quality, but you should have no problem with day-to-day tasks like emailing or surfing the web while in India. WiFi is available in many cafes, hostels and hotels for free, but outside urban areas, this is not as common.

Is the tap water safe to drink?

No. Buy bottled water, or you can boil the tap water or use water purification pills.

Can I use my credit cards?

Yes, credit cards are widely accepted throughout India but it's always good to carry a modest amount of cash at all times. Please check with your bank about any foreign transaction charges.

What are the public holidays?

There are many public holidays celebrated in India based on the Islamic, Buddhist, Hindu, Christian celebrations that can vary between regions. National public holidays include Republic Day on January 26, Independence Day on August 15 and Mahatma Gandhi's birthday on October 2.

What are the toilets like?

Be aware that many Indian toilets are squat toilets. There are not many public restrooms outside restaurants and transportation terminals, and sometimes you may be charged to use one. It is a good idea to carry around spare toilet paper.

Is it safe to travel solo in India?

There is no doubt that travellers can safely travel through India solo, but you do need to make sure some extra precautions are taken. Take note of local emergency numbers, carry a portable charger, buy a local sim-card and avoid unfamiliar neighbourhoods to stay safe in India.

Is it safe for female travellers in India?

Of course, females can travel solo, however, there is an even greater need to take caution while travelling through India can be overwhelming at times. If you're uncertain about a solo venture, you might want to think about joining a group tour for peace of mind.
A TRAVEL MAGAZINE BY TOURRADAR