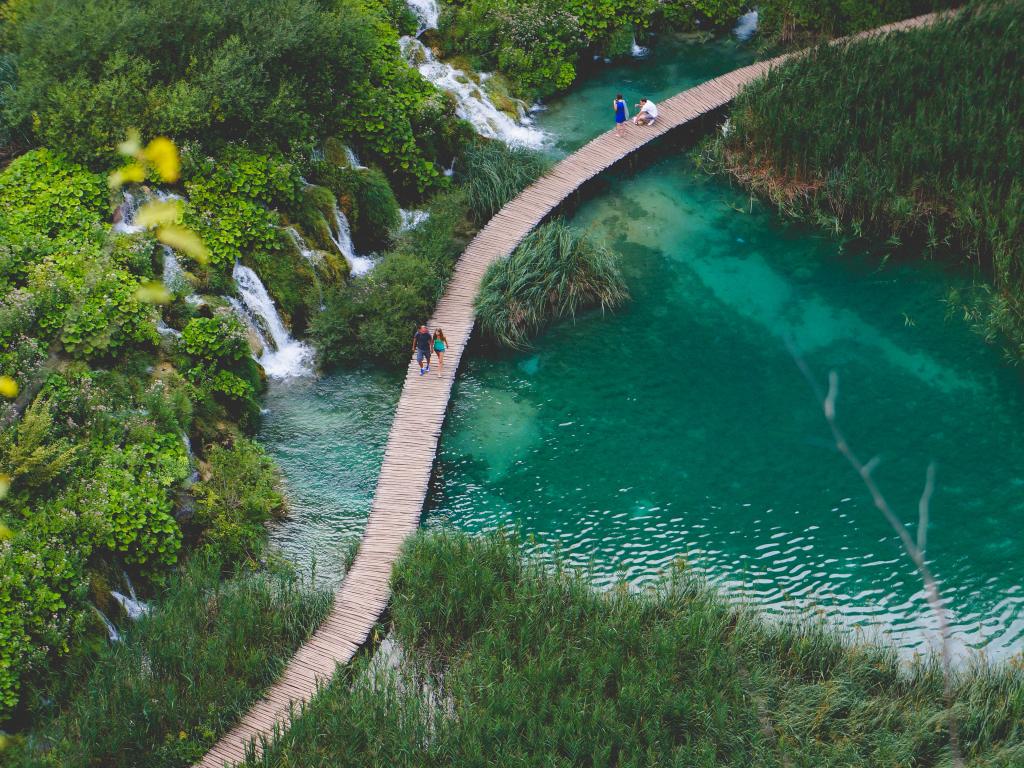 Croatia Travel Guide
Despite its growing popularity, Croatia retains its unique identity and continues to uphold its Mediterranean traditions and laidback way of life. Every summer, visitors flock to the irresistible Adriatic coastline where you can explore the crystal-clear waters and likes of Brač, Hvar or Split. No matter which island piques your interest, you can guarantee each will captivate your attention.
The Highlights


Plitvice Lakes National Park

As one of the oldest and the largest national park in Croatia, this national park is a must-see during your Croatian escapades. Spanning across sixteen lakes, Plitvice Lakes National Park gained the coveted UNESCO World Heritage status and while visitors are banned from swimming in the pristine waters, it is a true sight to behold.

Dubrovnik

Dubrovnik is one of those cities where you can visit time, and time after again, and still find a hidden alleyway or a secret restaurant. You can visit notable sites including the Sponza Palace, the Cathedral of Our Lady and eventually make your way down to the Old Port. Most importantly, a visit to Mount Srd by cable car will reward you with an unforgettable view over the Adriatic.

Hvar

The opulent 13th-century architecture, delicious local cuisine and the vibrant nightlife are just a few of the reasons why Hvar is such a popular destination – and why you should consider spending time here. If you're not much of a partier, you can spend your time at the old town of Stari Grad, or make the trek up to the Spanjola Fortress for the best one of the best views this side of Croatia.
Korcula

Often, people refer to Korcula as "Little Dubrovnik," because of its fortified walls, and it is also said to be the birthplace of Marco Polo. This spellbinding island is covered with olive groves, rolling vineyards and is surrounded by steep mountains. Interestingly enough, it was built in the shape of a fishbone and all streets branch off to shelter the town from the strong ocean breeze.

Split

More than just a starting point for you to launch into the Dalmatian Islands, Split is Croatia's second largest city and has carved a name for itself as a cultural hub. In the heart of the city, you will find the grandiose Diocletian's Palace, a UNESCO World Heritage Site which splits off to the Riva, the Croatian National Theatre while weaving past many restaurants or cafes frequented by locals.

Zagreb

This inland town is everything you would expect from a capital city. Given its distance from the bustling cities of Hvar and Split, Zagreb has formed its own identity as a destination to visit and unlike the coastal towns, it is a year-round city. The best part is the many cafes, museums, restaurants and galleries will be in full swing, and are not limited to operating only during summer.
The Basics
The Location

Croatia is located in Europe and shares land borders with Hungary, Montenegro, Bosnia and Herzegovina, Serbia, Slovenia and Italy. From London, a non-stop flight is approximately 2h 40m.

Capital City

Zagreb is situated in the northwestern part of Croatia and is known for its 18th and 19th-century Austro-Hungarian architecture.

Main Airport

Franjo Tuđman Airport, also known as Zagreb Airport is the main hub for domestic and international travellers. It is located in Zagreb, 10km from the city centre.

Code

ZAG

Closest City

Zagreb

Language Spoken

The official language of Croatia is Croatian. English is commonly spoken, particularly by those who work in tourism along with most of the younger generation.

Currency

Croatia uses the Croatian Kuna. The currency code is HRK. ATMs are available across the country along with many foreign exchange counters and credit cards are accepted in most hotels and restaurants.

Visas

For Australian, Canadian, New Zealand and US citizens, no prior visa is required and you may enter the UK without a visa for up to 6 months. Visa information can change often and varies from country to country. We recommend checking your country's travel advisories in advance of booking a trip.

Electricity

In Croatia, the standard voltage is 230 V and the frequency is 50 Hz. There are two associated plug types, types C and F.

Vaccinations

No specific vaccinations are required for visiting Croatia however it is best advised that you consult your doctor 6 to 8 weeks before you depart.

Emergency Calls

The phone numbers to call in case of emergency are 112 for a general emergency, 192 for the police, 194 for an ambulance and 193 for a fire.
When to Visit
Croatia Tours
FAQs about Croatia
Do you tip in Croatia?

There isn't a formal tipping culture in Croatia, and it is completely discretionary, however, will always be greatly appreciated. In restaurants (and across the tourism industry) it is mostly expected that you leave a 10% gratuity. If the service was great, it's advised to tip 15% of the bill.

What is the internet access like?

The coverage of WiFi in Croatia is constantly improving, and you will be able to easily connect your device when travelling in the larger towns and at almost every cafe or restaurants.

Is the tap water safe to drink?

Is it absolutely safe to drink the tap water in Croatia, however, if you find the taste to be different from back home, bottled water is inexpensive and sold everywhere.

Can I use my credit cards?

Yes, credit cards are widely accepted throughout Croatia. Please check with your bank about any foreign transaction charges.

What are the public holidays?

Along with common public holidays such as New Year's Day, Christmas, Good Friday and Easter Monday, Croatia has Three Kings Day on January 6, May Day on May 1, Corpus Christi on May 31, Statehood Day on June 25, All Saints' Day on November 1 and St Stephen's Day on December 26.

Is Croatia safe to travel around?

Most definitely! Due to the number of visitors that arrive in Croatia every year, you will find there are many safe hostels or hotel where you will meet other solo travellers. Where possible, always keep your wits about you and keep an eye on your belongings.
A TRAVEL MAGAZINE BY TOURRADAR