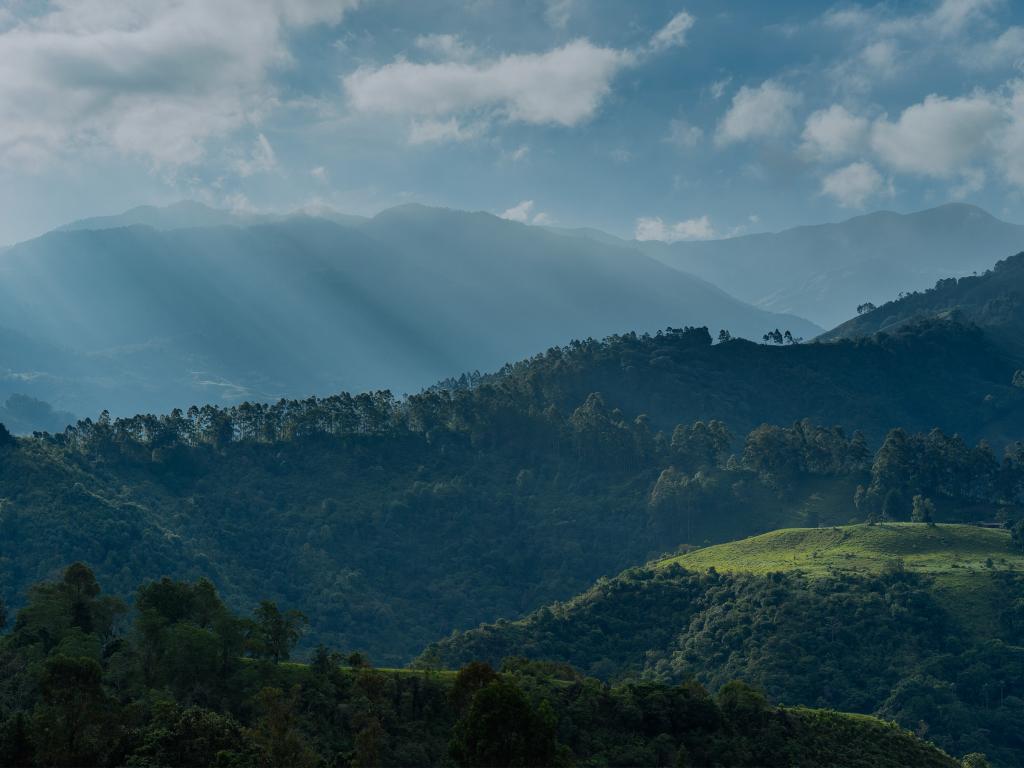 Colombia Travel Guide
In Colombia, verdant jungles dominate the landscape, adrenaline-fuelled adventures can be found at every corner, wildlife is abundant and the brightly coloured architecture will leave you starry-eyed.  While it's no secret that Colombia was home to a troubled past, today it had triumphed as a must-see destination that attracts backpackers, seasoned travellers and everyone else in between. 
The Highlights


Cartagena

Colourful Cartagena city is worth ticking off your list to learn about the history and culture of Colombia, and where better to do so than in one of the most iconic cities? Start your exploration in the walled Old Town – a UNESCO World Heritage site – and get lost in the tangled maze of cobbled alleyways while admiring the bougainvillaea covered buildings and churches. 

The Andes Mountains

There are three separate ranges in Colombia's Andes – the Western, Eastern, and Central Andes, and each offers more than enough hiking trails to satisfy various fitness levels for all travellers. One of the most popular hikes is through the Cocora Valley, near Salento in the Coffee Region or Nevado del Tolima was known as the toughest trek (and should be reserved for those who like a challenge). 

Medellín

Undeniably one of the most popular destinations for travellers in Colombia, there are handfuls of reasons why you need to make time for Medellín. You'll definitely want to explore the Poblado neighbourhood and La Comuna 13, watch a football game, ride the teleférico and make sure you dive into a plate of Bandeja Paisa (a platter typical to the region).
San Gil

San Gil is one for the adventurers, and the city is known as the adrenaline capital of Colombia. The town itself, it might be small, however, you won't be short of things to see or do. There's paragliding. Whitewater rafting. Kayaking. Bungee jumping. Caving. The list goes on, and you will quickly realise you need more time in San Gil than you planned due to the endless number of experiences. 

Minca

This tiny little village tucked in in the foothills of the Sierra Nevada de Santa Marta mountains is the go-to spot for travellers to go hiking in the surrounding jungles and waterfalls. While you're there, you can also visit a cacao or coffee plantation, visit the El Dorado birding lodge and reserve or simply relax in the world's biggest hammock at the backpacker hostel, Casa Elemento. 

Guatape

The brightly coloured walls are enough of a major drawcard and reason for visiting Guatape, but it's the famous Rock of Guatape – also known as Piedra El Peñol located just a short drive away that visitors from around the world have their sights on. The panoramic views from the top are nothing short of spectacular, and you'll soon forget that you trekked up 740 steps to reach the top. 
The Basics
The Location

Colombia is located on the northwestern corner of South America and shares borders with Brazil, Ecuador, Peru, Venezuela. From New York, a non-stop flight is 5h 45m to Bogata, and from London, it is roughly 11 hours.

Capital City

Bogata is the vibrant and historic capital of Colombia, and it is the most populous city in the country. 

Main Airport

Colombia's biggest international airport is Bogotá Aeropuerto Internacional El Dorado and is located 13 kilometres away from the city centre.

Code

BOG

Closest City

Bogata

Language Spoken

The official language of Colombia is Spanish. Most of the younger generation speak fluent English, however, this is not always the case for older residents. Try to pick up a few phrases in Spanish while you are there. 

Currency

Colombia uses the Colombian Peso. The currency code is COP. ATMs are everywhere in Colombia, so you should have no major issues accessing money while you travel. 

Visas

There are a large number of nationalities that do not need a visa, including travellers from Australia, Canada, the UK and the US yet others might be required to pay a small fee. Check your country's travel advisories in advance of booking a trip.

Electricity

Electricity in Colombia is 110V, with a frequency of 60hz. To avoid frying your electronic devices, you may need a surge adaptor. 

Vaccinations

Typhoid, Hepatitis A and B and Rabies vaccinations are advised. Depending on where in Colombia you're visiting, you may also need a Yellow Fever vaccination. Consult your doctor for 6 to 8 weeks before you depart.

Emergency Calls

The phone numbers to call in case of emergency is 123 for the police, ambulance or a fire.
When to Visit
Colombia Tours
Visit Responsibly

Travelling responsibly means respecting the communities, culture and environment of the places you visit. Keep these tips in mind when travelling to Colombia:

Go green. Be environmentally conscious on the road by taking short showers; turning off the lights in your hotel room when you leave; and resisting the urge to collect any plants, seashells, or other natural flora.

Respect cultural differences. Before travelling, read about the local culture and customs – even just knowing the dress code and a few basic phrases in the local language will go a long way.

Support local businesses. Enjoy a more authentic experience and directly support the local economy by travelling with a local guide, eating in local restaurants, buying from local artisans, and staying in locally-owned and operated accommodations.

Wherever possible, avoid single-use plastics. Pack reusable items such as your own shopping bags, utensils, a water bottle, and a straw. These items are typically lightweight and compact, and will greatly reduce your consumption of plastics.

Be conscious of overtourism. Opt to visit the lesser-known regions of Colombia or travel outside the peak season – you'll likely even get a better deal and won't have all the crowds!

Sustainable Tourism in Colombia

Sustainable Tourism in the Law
Since 2020, sustainable tourism has evolved beyond being a practice in Colombia, and has become something written within the country's laws. Law 2068 was enacted by the Congress of Colombia to regulate key aspects of tourism in efforts to ensure that tourism is conducted in an ethical and sustainable manner.

Future of Tourism Coalition
The Future of Tourism Coalition consists of global tourism organizations that commit to using tourism to shape a more sustainable, equitable, and responsible future through the Coalition's 13 guiding principles.

Sustainable Tourism Destinations & Experiences
There are over 25 certified sustainable tourist destinations within Colombia that have developed environmentally sustainable tourism infrastructure, while also creating opportunity and wealth for the local people. In addition, Colombia has developed a Meaningful Travel Map filled with over 15 community-based tourism experiences across the country. Some of these sustainable destinations and community projects you can visit on tour include Cartagena's Walled City, La Candelaria in Bogota, and the Rosario Islands.
FAQs about Colombia
Do you tip in Colombia?

There isn't much of a tipping culture in Colombia, but it is recommended to leave a tip of 10% in a restaurant, although a service charge can already be included on the bill. In smaller, family-run restaurant, tipping is not customary, but a few pesos is perfectly reasonable. 

What is the internet access like?

Internet connection can range in quality, but you should have no problem with day-to-day tasks like emailing or surfing the web in Colombia. WiFi is available in many cafes, hostels and hotels for free, but outside urban areas, this is not as common.

Is the tap water safe to drink?

No. Buy bottled water, or you can boil the tap water or use water purification pills.

Can I use my credit cards?

Yes, credit cards are widely accepted throughout Colombia. Please check with your bank about any foreign transaction charges.

What are the public holidays?

Colombia recognises Epiphany Day January 6, St Joseph March 19, Maundy Thursday, Good Friday and Easter Monday, Labor Day May 1, Independence Day July 20, Battle of Boyacá August 7, Assumption Day  August 15, All Saints' Day November 1 and Christmas Day plus other regional holidays.

What are the toilets like?

Search for the word baño, to find the closest toilet, however, there are few public toilets in Colombia and you should expect to pay a few pesos for each use. Be sure to pack an emergency supply of toilet paper and put any used paper in rubbish bins. 

Is it safe for females to travel solo in Colombia?

Of course, females can travel solo to Colombia however, there is an even greater need to take caution if you are by yourself. If you're uncertain about a solo venture, you might want to think about joining a group tour for peace of mind. 

Is it safe to visit Colombia?

There's no denying that Colombia has faced a troubled past, but today it is a welcoming and mostly safe place. Be alert and walk purposefully as to not look vulnerable to criminals, and be careful when visiting an ATM as criminals watch these closely. Travelling in a group is recommended. 
A TRAVEL MAGAZINE BY TOURRADAR