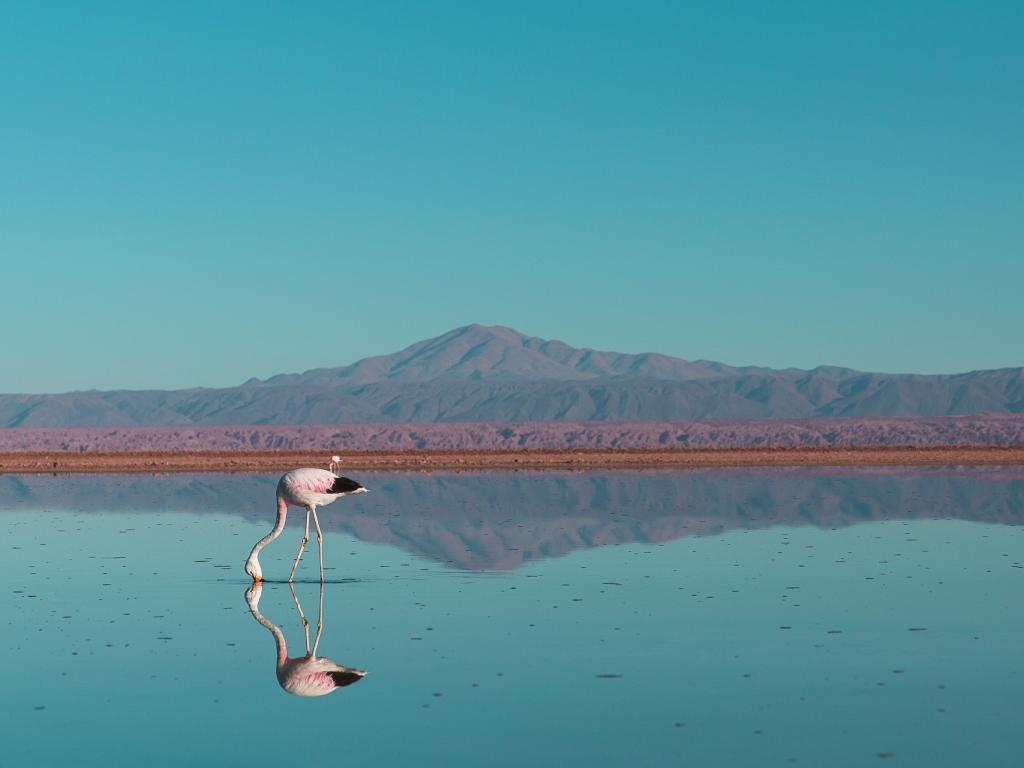 Chile Travel Guide
If you're looking to be dazzled by the wonders of nature, Chile is the place to go. In the south, craggy glaciers that kiss the clouds morph into mountains that pour directly into rivers. In the north, it's a different world altogether: red, rockier, more arid and where one of the world's driest lands lay, evoking images of Mars or out-of-this-world lands waiting to be explored. 
The Highlights


San Pedro de Atacama

A stone's throw away from Bolivia's southernmost border with Chile is San Pedro de Atacama, an oasis set atop a plateau in the Andes. It's a jumping off point to stunning natural sights – geysers, desert land formations, salt flats – but it's also a destination in its own right. Travel along its charming, adobe-paved streets, breathe in its relaxed vibes and refuel in its restaurants.

Santiago

Don't let Chile's wildness fool you. Its capital city, Santiago, is as modern and bustling as they come. Nestled under the keen watch of the rugged Andes, this metropolis' energy is infectious, its history engrossing and its individual neighbourhoods idiosyncratic. Indulge in a pisco sour and dance the night away. In the daytime, visit museums, see its finest architecture and drink Chilean wine.

Chilean Wine Regions

Whether you're travelling by car or giving your legs a good workout by cycling your way through the valleys, Chile's wine regions are your ideal destination. They're not only great for sampling the country's legendary wine varieties, but also a charming venue for much-needed unwinding. Start in Casablanca and head south to Maule, stopping in San Antonio, Maipo and Colchagua along the way.
Elqui Valley

While Elqui Valley is another famous wine region in the country, it's better known for producing Chile's favourite liquor, the pisco brandy. Plus there are other attractions to visit as well. Make your way north from Santiago and visit distilleries for tastings, explore the small town of Vicuña and stop by the observatories in the area. Save Observatorio Cerro Mamalluca for last for stargazing.

Atacama Desert

San Pedro de Atacama isn't the only visit-worthy place in the arid Atacama Desert. The destination offers a myriad of unforgettable diversions. Start your day early as there's much to do. Visit the El Tatio geysers, go sandboarding at Valle de la Muerte, float in the Cejar Lagoon, and see Valle de la Luna or Salar de Atacama at sunset. Finally round out your perfect day with a bit of stargazing. 

Valparaiso

It would be very remiss of you not to visit the UNESCO World Heritage Site of Valparaiso, a colonial port town about two hours northeast of Santiago. Here, the sea meets the hills, and in between are colourful colonial houses, painted staircases and a bohemian flair. Neruda often wrote about it whilst artists roam its streets, painting its walls with some of the best street art in South America.
The Basics
The Location

Chile is a country in South America west of the Andes mountains bordering Peru, Bolivia and Argentina. From New York, a non-stop flight is 10h 40m. From London, it is roughly 17 hours with a layover. 

Capital City

Santiago is in the heart of Chile, close to both the Andes and the Pacific Ocean. It is Chile's cultural and economic capital.

Main Airport

Santiago's Arturo Merino Benítez International Airport is the main hub for domestic and international travellers. It is located in Pudahuel, 15 kilometres northwest of Santiago.

Code

SCL

Closest City

Santiago

Language Spoken

The official language of Chile is Spanish. English is spoken in Santiago and common amongst the younger generations.

Currency

Chile uses the Chilean Peso. The currency code is CLP. ATMs are widely available in most cities, but some have extravagant transaction fees. Bring more than enough cash to more remote areas like Patagonia. Some operators and hotels accept US Dollars.

Visas

For Canadian, UK and US citizens, no prior visa is required and will be issued upon arrival. Australian citizens are required to pay a 'reciprocity fee' upon arrival. Stays of up to 90 days in Chile are allowed in most cases.

Electricity

The electrical current in Chile is 220V/50hz while the European two round pin Type C and Chilean three round pin L are the standard plugs. Find out in advance if you require an adapter and/or a converter.

Vaccinations

Typhoid, Hepatitis A and B, and rabies vaccinations are advised. Consult your doctor 4 to 6 weeks before you depart.

Emergency Calls

The phone numbers to call in case of emergency are 133 for the police, 131 for an ambulance and 131 for a fire.
When to Visit
Chile Tours
Visit Responsibly

Travelling responsibly means respecting the communities, culture and environment of the places you visit. Keep these tips in mind when travelling to Chile:

Go green. Be environmentally conscious on the road by taking short showers; turning off the lights in your hotel room when you leave; and resisting the urge to collect any plants, seashells, or other natural flora.

Respect cultural differences. Before travelling, read about the local culture and customs – even just knowing the dress code and a few basic phrases in the local language will go a long way.

Support local businesses. Enjoy a more authentic experience and directly support the local economy by travelling with a local guide, eating in local restaurants, buying from local artisans, and staying in locally-owned and operated accommodations.

Wherever possible, avoid single-use plastics. Pack reusable items such as your own shopping bags, utensils, a water bottle, and a straw. These items are typically lightweight and compact, and will greatly reduce your consumption of plastics.

Be conscious of overtourism. Opt to visit the lesser-known regions of Chile or travel outside the peak season – you'll likely even get a better deal and won't have all the crowds!

Sustainable Tourism in Chile

Chile encompasses vastly diverse terrains that include the world's driest desert, miles of mountains and coastlines, and glacial fjords. Nature is the essence of Chile, and the country is taking action to ensure its longevity.

Ecotourism and Sustainable Adventure in Chile
There is no shortage of opportunities to immerse oneself in awe-inspiring nature in Chile. From the surreal landscapes and stargazing opportunities in the Atacama desert to the pristine wilderness found in Patagonia, many visitors come to connect with nature through hiking, cycling, rafting, and a variety of other adventure activities.

Chile's Sustainable Development Goals (SDGs)
Chile's dedication to the United Nation's SDGs and Agenda 2030 put them in first place in Latin America in the ranking of the 2020 Sustainable Development Report. The country is taking on a transformation into a low-emission and climate-resilient economy that improves people's quality of life.
FAQs about Chile
Do you tip in Chile?

Though not expected, tipping (or propina) in Chile is very much appreciated. 1000 CLP per day for housekeepers and 600 CLP per bag for porters are satisfactory. At restaurants, top 10% of your bill for great service. For tour guides, 5-10% tip is ideal, and for cab drivers, round-up your fares.

What is the internet access like?

The internet is accessible and reliable, if not always as great in speed especially in the rural and mountainous areas. Free WiFi zones are available in the major cities. Cafes, restaurants, bars, libraries and even gas stations offer them for free as well. Internet cafes abound.

Is the tap water safe to drink?

While tap water in the country is generally safe to drink, it has a high mineral content. Those who are not used to it or have delicate stomachs are better off drinking bottled water or boiling the tap water for 1 to 3 minutes.

Can I use my credit cards?

Visa and MasterCard are widely accepted by many big businesses, though they might charge a 6% fee. Cash is still king.

What are the public holidays?

Besides the usual Christmas, New Year and Easter holidays, Chile also celebrates Navy Day on May 21, Saint Peter and Saint Paul Day on June 29,  Independence Day on September 18, Army Day on September 19 and All Saints Day and November 1.

What are the toilets like?

Sit down toilets are the norm, but the sewage system isn't always reliable and public toilets are not often well-maintained. Remember to bring your toilet paper just in case, throw used ones in the bin, and keep some loose change as there are places that might charge for use.
A TRAVEL MAGAZINE BY TOURRADAR