Save $297 until Jun 27
ends on 27 Jun 2018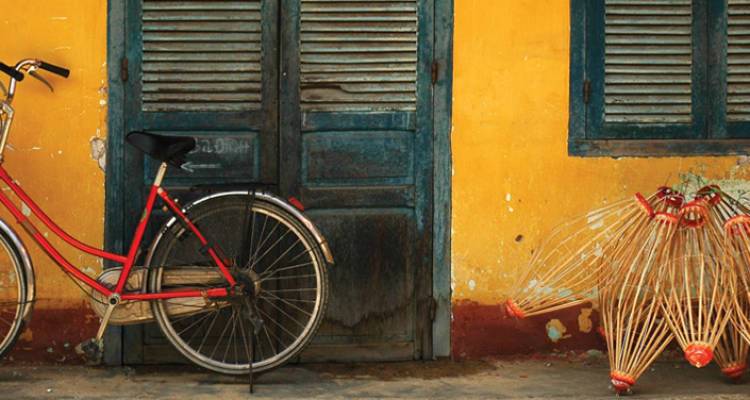 Gayle
"This tour offered so much! Our guide knew everyone and everything - he made our shopping expeditions incredible - we were taken straight to the best spots with the best prices. We tasted all the local produce and met local families. While the tour was fairly action-packed, there was also time to relax and chill out. The small group size meant that there was flexibility in changing the program if ..."
Excellent

6 reviews
Starts

Ho Chi Minh City

+5 Destinations

Ends

Hanoi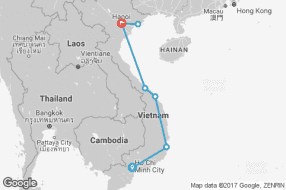 Highlights
Shop for lanters in Hoi An
Visit ancient pagodas and cathedrals
Explore the Forbidden Purple City
Cruise around Halong Bay
Age range

15 to 99 year olds

Accommodation

Hotel, Home-stay, Berth / Cabin, Guesthouse, Sleeper Train

Max Group Size

16

Transportation

Train & Rail, Coach / Bus, Boat, Local Transport, Private Vehicle

Travel style
6 Reviews
Excellent

67%

Good

33%

Average

0%

Rather Poor

0%

Bad

0%
Write a review
Written on February 20, 2018

Our guide Huy NGUYEN (Trip code: TVRN180130) was knowlegable, considerate and always accommodating to our needs. He was flexible and several times we changed plans to accommodate the wishes of the group rather than follow status quo (ie. walking tours vs. Prison Visit and HCMinh Masoleum in Hanoi.) The itinerary was good but left more than ample free time so those prone to sightseeing needed to do research on what to do in that particular location. Huy was always available for helpful suggestions. Hotel accommodations were very good. One less night on the train and at a homestay would have better suited my tastes. There isn't anything to do at the homestays particularly when the weather is cool so we need to get going and return to the cities or next point of interest in the morning. Huy was also very accommodating when these suggestions arose.

Intrepid Travel commented on this review

Hi Brenda, Thank you for sharing your experience in Vietnam with us, sounds like you had a fabulous time. Receiving feedback from our passengers is great as it helps us to know where we're meeting or hopefully even exceeding expectations. We always share positive comments like these with our global team (including our tour leaders), where they are very much appreciated. We're delighted to hear that you had a great time with us and we hope to see you on another trip again soon! Kind regards, Intrepid

Show detailed ratings

Written on April 13, 2016

Great tour! In a short time you see a lot of Vietnam. Wonderful (local) tourguide.

Show detailed ratings

Anna

Written on September 19, 2015

This was a wonderful way to explore Biwtn without pressure we had a couple of nights in each place and travelled by train overnight so there was a wonderful feeling of having plenty of time to enjoy. Phong was a compassionate, knowledgeable and experienced guide who looked after us so well. Some activities were fully organised and some were options so everyone was able to tailor the holiday to their satisfaction. The people in the tour were terrific - a great bunch of new friends I will remember this tour all my life thank you Phuong and Intrrpid you havee a wonderful two weeks to treasure. Anna Laekin. Gippsland, Australia

Show detailed ratings

Kaitlyn

Written on February 20, 2015

This was my first overseas travel and I was super scared and unsure about what to expect. The guide for this tour was lovely, had amazing English and great knowledge of the country. The rooms provided were of good quality for the money spent and were always clean. This trip was an experience I'll never forget and I would 100% recommend intrepid and the Vietnam discovery to anyone

Show detailed ratings

Anonymous

Written on February 13, 2015

Vietnam. Hanoi in particular. A bustling, colourful city. Leaving the windowless room in which we are staying and stepping out on to the street – through the door and down two steps and you are literally on the road – requires some adjustment to acclimatize to the sights and sounds that greet us. Taking one more step onto the road and we would be run down by one of the many bicycles or tuk tuks that travel at least six abreast both directions. Add to that the less frequent cars, the shops and stalls that spill out onto the street, the scooters on the footpaths – when there are footpaths available, and the many people traversing the streets and I amaze myself that I have not yet been hit by something as I attempt to walk down the street or cross the road. It is almost best to simply walk slowly across the road as without giving too much heed to the oncoming traffic and let them weave around you. The cacophony of sounds that greet us as we step out leave me needing a minute to adjust before I can step down into the chaos – albeit, organised chaos. Just as the traffic, both motor and pedestrian, seem to know the unwritten rules about survival on the roads, the shop keepers and street sellers seem to know rules that make this society function. In the early morning we see the street food vendors cooking and selling their wares in any small space they can find. By lunch time they have moved on and someone else has taken their place, with the same occurring in the evening. The cafes that have a regular space have a constant stream of customers who gather on the small plastic stools and often eat from a communal bowl, sharing a steaming bowl of vegetables and meat in a soup full of herbs which send tantalising aromas into the air. And then there are the increasing number of restaurants catering to the tourist with a menu composed of chips and burgers. We welcome the new year tonight in Hanoi and then head off on our intrepid Intrepid journey tomorrow. We are midway through our journey through Vietnam and half way between the north and the south of the country. We've travelled by plane, minibus, pushbike, cyclo (tuk tuk), taxi, overnight train, a coach with recumbent seats and wifi, but mostly, we have walked. Tomorrow we are scheduled to fill in the day with our own activities, but already, Phouc, our guide, has suggested a two hour bike ride to the farms to see the rice paddies and buffalo. Phouc has been an excellent guide for us on this trip. His knowledge of the history of his country is vast and he really seems to enjoy what he is doing. We meet at the appointed hour and he walks us through the back streets to let us witness and experience the 'real' Vietnam before directing us to a small family run restaurant, overcrowded with local patrons, where we experience traditional food of such abundance, variety and taste for the cost of bread roll at home. The food is fresh and wholesome. Huge bowls of green are the centre of every meal, coriander a favourite. Fish wrapped and steamed in banana leaf is often ordered, alongside beef curry presented in the traditional coconut bowl, assorted seafood, duck, beef and chicken, presented in so many ways that it makes menu choice difficult. Food is available from street sellers with their big aluminium pots boiling up all sorts of concoctions and roasting corn over the small coal-fired cookers. Then there are the portable restaurants who set up each night with the small plastic chairs who can move location at will. The small restaurants with laminated tables which stream out onto the street have so far offered us the most authentic meals which are by the far the best tasting meals. Hoi An, an ancient town, is our midway stop for two nights. And we are lucky enough to arrive on the night of the full moon so the celebrations are spectacular. Each shop of family home, most often the same building, set up a table of offerings of incense, candles, fruit and cake which sits in the doorway of the building creating a welcoming sight for those passing by. The electric lights in the street and shops of Hoi An are extinguished at dusk and the place is aglow with candles on tables and colourful lanterns hanging in the streets. Brightly coloured paper baskets with candles are floated down the river with the wishes for good health and long life of those who send the baskets on their journey. The buildings in the Ancient area of Hoi An are a bright yellow, solid brick, and stand two storeys high, all with balconies and double shuttered doorways which stand wide and become a part of the narrow streets and sometimes, when viewing the wares of the shopkeeper, you are also stepping around families having their dinner, A five foot high mark on the wall of many buildings denotes the height of the 2007 floods but the 2010 flood mark is not far below this. The flood from the river that runs through the town seems to be a common occurrence, thus the two storey buildings, which allows the people to simply move upstairs and bring their small boats into the streets Venice style. Hoi An is famous for its tailors and the idea of having clothes made to order seems to appeal to all of our group and the orders for clothes and shoes are made which will be delivered to the hotel the following day is an exciting prospect. The cost of these items is the other appeal, but the thought of one of the major retailors of Hoi An having 300 tailors working at the back of their shop for what one must assume is very low wages and a pressure situation, is reminiscent of sweat shop stories. Is it because the cost of food and necessities is so low and the fact that without tourism there would be more unemployment, that makes the thought of 300 tailors working all night for low wages seem acceptable? The skill of these craftsmen is astounding and the shoes ordered from a quick view of the old pair, followed by a photograph taken, resulted in an excellent replica of the much more expensive pair which had been purchased in Australia. Impressive. Our next destination is the beach for a couple of days with the promise of hot weather. We have spent the last two nights in Nha Trang, a newly favoured destination of Russian tourists who have found the beaches and sun an appealing alternative to their cold weather. Direct flights have encouraged an influx of visitors and resulted in an abundance of signs and tourist paraphernalia bearing the language of the Russian. The hotel instructions and restaurant menus are all printed in English on one side and Russian on the other. The public broadcasts at the famous Waterpark, visited only by ferry or cable car, are in Vietnamese first, Russian second, followed by English as a lowly third place. The dolphin and seal performance now feature Misha, the Russian dolphin and seal trainer who feeds the dolphins fish as a reward for jumping through hoops and pats the seals on the head like you would a dog when they clap their hands and stands on two legs – or flippers I suppose. The hope for Nha Trang is that the Russian visitors will not go the way of the Australians in Bali, and that they will treat the Vietnamese and their country with the respect they deserve and allow them to retain their culture and not succumb to the pressure of the tourist industry. Viewing the scraping back of the trees on Mot Island where we visited today to make way for a new resort, and seeing this repeated several times around the island as new resorts go up seemingly everywhere, makes me wonder what Nha Trang will look like in ten years. The rocky shoreline was replaced by what I am sure were deposits of sand large enough to make a sandy beach for each resort. One on which a palm-fronded umbrella can sit atop the table to hold the cocktails for those who lounge in the chairs provided by the Vietnamese who wait on the beach lovers. The natural environment is disappearing and being replaced by the man-made 'natural' environment, but I wonder at what cost. Vietnam is on the move as a nation in its own right, and it seems that it has been for a while. The stories of the well-known war – the American war as it is known to them – are still significant, but it is the stories of the battles against the Chinese over the last 1,000 years that haunt the people and stir their resilience and see them move forward into this global world at a fast pace. The fear of being conquered is still strong for some, and the story told of the Chinese ships moving into the waters just off Vietnam last July was a story expressing the fear of a people only recently being given the freedom from domination and persecution of an invading country. The Chinese complete their naval drills in these waters annually, but their movement closer to the Vietnam mainland in 2014, was obviously worrying. It is good to hear that the Australians, Americans and Japanese were on standby for defending Vietnam against the Chinese during this time. Each place we have visited has a different story to tell – a different aspect of Vietnam. I have learned much so far and will enjoy learning as the journey continues. Tomorrow we visit the Chi Chi tunnels, built in the Vietnam war by Vietcong as hiding places. 250km long, 3-4 stories in height….. and the following day we travel to the Mekong Delta. The Cu Chi tunnels and the War Remnants museum in Saigon give the visitor Vietnam's perspective on a most controversial war. The damage done to the country side was shocking, and still today the problem of landmines remains, but it is the damage to the innocent people, particularly the children, that is most despicable. The implements of torture found in the jungles, hidden spikes and swinging platforms on which so many were impaled (the sticking trap, the clipping armpit trap, the rolling trap, the window trap, the folding chair trap and the see-saw trap) encourage you to use your imagination to work out what type of handmade trap involving spikes each might be. The fact the tunnel which the tourists are allowed to enter and crawl through for the experience, had to be enlarged to allow the visitor to enter, highlights what those who lived in the tunnels for sometimes up to three years, must have experienced. There was nothing nice about these tunnels apart from the fact that they probably saved the lives of many. At this place you could shoot a gun from the war, and the noise of the guns as the tourists tried their hand at shooting, was so shockingly loud and abrupt that I wondered about the trauma any visitors or staff who had been here before needing to dodge these bullets to stay alive, might be experiencing. There was ingenuity shown, or maybe desperation after so many wars, by the Vietnamese soldiers in their methods of survival. Making rubber sandals from tyres which were meant to be worn backwards so the footprints in the sand looked like the soldiers were going in the opposite direction to where they were going was an interesting concept. The Cu Chi tunnel system highlights how the war was for both sides and reinforces the terror about which I have read, felt by the American (and Australian) soldiers during this war. The War Remnants museum presents quite a negative view of the Americans in Vietnam due to their invasion of Vietnam. The sign for one section is entitled (something along the lines of ) 'The Aggression of the US'. The highlights of this museum would be the section showing the response of the world in supporting Vietnam in stopping the 17 year long war. The posters, news articles and photographs depict the city marches and demonstrations that were held around the world in solidarity with Vietnam. The second highlight, if you can call it that, was the section on Agent Orange and the damaged it has caused and is still causing. Meeting the children, now young adults, of victims of Agent Orange, brought home the wrongness of chemical weaponry in war. The dates on photographs of children born without limbs or so severely twisted or brain damaged, are so close in date to the years that my children were born, and I remember that this war is so recent. It happened in my lifetime, as did the Cambodian terror of The Killing Fields under the reign of Pol Pot. But I will get to Cambodia soon, I need to finish my time in Vietnam, even though I have been in Cambodia for three days now as I write this. So much to see and so much to remember. The stunning scenery of the Mekong Delta and its interesting history (it once belonged to Cambodia apparently), the numerous fruits and drinks on offer to us when passing through – honey tea/wine, ginger tea/wine, coconut tea/wine, rice wine and lastly but not least, cobra and scorpion wine. And yes, of course we all had a taste. How could you not! While on the subject of food and drink, I suppose I should add that the 'best' meal two of group ordered one night was roast chicken. One whole chicken cut in half appeared on each of their plates with a fried half a head, complete with beak and eyes, and one whole fried foot which was passed around the table and used as a back scratcher as it still had its claws/toenails/talons intact. We think that the other foot and half a chook head was eaten by the cook as these are delicacies and we could not find them in the pile of fried chicken bones. An unappetising meal, needless to say. And now, we are nearing the end of the Vietnam journey. Just over a week traversing the country from north to south. A lot seen in a short while, but much unseen as well. A little history of Vietnam has been taught to us, but not nearly enough to understand what the Vietnamese have experienced at the hands of countries who have tried to dominate them. The Chinese for 1,000 years, the French in recent times for 95 years, the Japanese for a short while – 2 years and the Russians, considered allies to the Vietnamese, who are invading the country now in a similar fashion to the Australians who have invaded Bali. (Let's not forget the Americans -21 years - and Australians – and those I have forgotten, who have spent much time in Vietnam, making their stamp on the place and changing the culture just enough to make a difference.

Show detailed ratings

Gayle

Written on October 12, 2012

This tour offered so much! Our guide knew everyone and everything - he made our shopping expeditions incredible - we were taken straight to the best spots with the best prices. We tasted all the local produce and met local families. While the tour was fairly action-packed, there was also time to relax and chill out. The small group size meant that there was flexibility in changing the program if we wanted.

Show detailed ratings
Itinerary
Download PDF Brochure
Introduction

Expand all
Day 1: Ho Chi Minh City
Day 2: Mekong Delta
Day 3: Mekong Delta - Overnight Train
Day 4: Nha Trang
Day 5: Nha Trang - Overnight Train
Day 6: Hoi An
Day 7: Hoi An
Day 8: Hue
Day 9: Hue - Overnight Train
Day 10: Hanoi
Day 11: Da Bac
Day 12: Hanoi
Day 13: Halong Bay
Day 14: Hanoi
Day 15: Hanoi
What's included
Expand all
Accommodation

Rated Good by past passengers

Guide

Rated Excellent by past passengers

Meals

Rated Excellent by past passengers

Transport

Rated Excellent by past passengers
Download PDF Brochure
Videos
Discover Vietnam
Main Page Video
Questions & Answers
Here we have collected and answered the most frequently asked questions about this tour.
July 18, 2016

Which places does this tour visit? What is the maximum number of people on the trip? What grade is the accommodation?

To understand where the tour goes, you can click on the 'Itinerary' tab on the tour page.
You will find there are a maximum of 16 travellers per group. The accommodation on this trip is designed to give you an authentic experience while travelling through Vietnam. This is certainly not a luxury style tour, so please have a look through the detailed description of the accommodation in the relevant section of the attached trip notes too.

July 1, 2016

What is the maximum number of people on this tour?

The maximum group size for an Intrepid trip is 16 people.

July 1, 2016

Do you do private tours?

We do not offer personalised & private tours, however to do this, I would recommend contacting a local travel agent, so they can personalise this for you.
Ask a question
What are people saying about TourRadar?
Availability
NO CREDIT CARD FEES
Vietnam Discovery
Select Departure Month
Upcoming departures
July 2018
August 2018
September 2018
October 2018
November 2018
December 2018
January 2019
February 2019
March 2019
April 2019
May 2019
June 2019
July 2019
August 2019
September 2019
October 2019
November 2019
December 2019
START
END
SEATS LEFT
SAVE NOW
PRICE
Sunday

Jul 1, 2018

from Ho Chi Minh City

Sunday

Jul 15, 2018

to Hanoi

4

seats left

$195

Sunday

Jul 8, 2018

from Ho Chi Minh City

Sunday

Jul 22, 2018

to Hanoi

10+

seats left

$246

Sunday

Jul 15, 2018

from Ho Chi Minh City

Sunday

Jul 29, 2018

to Hanoi

8

seats left

$195

Sunday

Jul 22, 2018

from Ho Chi Minh City

Sunday

Aug 5, 2018

to Hanoi

10+

seats left

$195

Tuesday

Jul 24, 2018

from Ho Chi Minh City

Tuesday

Aug 7, 2018

to Hanoi

10+

seats left

$297

Sunday

Jul 29, 2018

from Ho Chi Minh City

Sunday

Aug 12, 2018

to Hanoi

10+

seats left

$195

Thursday

Aug 2, 2018

from Ho Chi Minh City

Thursday

Aug 16, 2018

to Hanoi

10+

seats left

$297

Sunday

Aug 5, 2018

from Ho Chi Minh City

Sunday

Aug 19, 2018

to Hanoi

10+

seats left

$195

Sunday

Aug 12, 2018

from Ho Chi Minh City

Sunday

Aug 26, 2018

to Hanoi

4

seats left

$195

Sunday

Aug 26, 2018

from Ho Chi Minh City

Sunday

Sep 9, 2018

to Hanoi

$211
Monthly price comparison
About the countries
Useful things to know before you go
---
Currencies
---
Plugs & Adapters
---
Visa
Here is an indication for which countries you might need a visa. Please contact the local embassy for help applying for visas to these places.
---
Vaccinations
These are only indications, so please visit your doctor before you travel to be 100% sure.
Typhoid

Recommended for Vietnam. Ideally 2 weeks before travel.

Hepatitis A

Recommended for Vietnam. Ideally 2 weeks before travel.

Cholera

Recommended for Vietnam. Ideally 2 weeks before travel.

Tuberculosis

Recommended for Vietnam. Ideally 3 months before travel.

Hepatitis B

Recommended for Vietnam. Ideally 2 months before travel.

Rabies

Recommended for Vietnam. Ideally 1 month before travel.

Yellow fever

Certificate of vaccination required if arriving from an area with a risk of yellow fever transmission for Vietnam. Ideally 10 days before travel.

Japanese B encephalitis

Recommended for Vietnam. Ideally 1 month before travel.
---
Policies
Location

Ho Chi Minh City is the starting point and Hanoi is the endpoint.

Hold my space

TourRadar can request Intrepid Travel to hold spaces for you for up to 48 hours without any credit card details.

Deposit

TourRadar only requires a deposit of $400 to confirm this Intrepid Travel booking. The remaining balance is then payable 60 days prior to the departure date. For any tour departing before 24 August 2018 the full payment of $763 is necessary.

Cancellation policy

No additional cancellation fees! You can cancel the tour up to 60 days prior to the departure date and you will not need to pay the full amount of $763 for Vietnam Discovery, but the deposit of $400 is non-refundable.

Credit Cards

The following cards are accepted for Intrepid Travel tours: Visa - Master Card - American Express
Destinations
Covering a total distance of approx 1,632 km.
Ho Chi Minh City (Vietnam)
323 km
Nha Trang (Vietnam)
415 km
Hoi An (Vietnam)
104 km
Hue (Vietnam)
538 km
Hanoi (Vietnam)
126 km
Halong Bay (Vietnam)
126 km
Hanoi (Vietnam)
Why book with TourRadar
Best Price Guarantee

If you book with TourRadar and within 24 hours you find a better price than $763 for the same tour, TourRadar will pay you the difference

Safely book online

All your details are safely protected by a secure connection

4,843 tours in Asia

covered by 224 different operators in Asia

No Cancellation Fee

TourRadar does not charge any additional cancellation fees. You can cancel the tour up to 60 days prior to the departure date.

6 Genuine Reviews

All reviews are verified from travellers who went on Vietnam Discovery
Trip Details
Last modified (date)

Validity

Introduction

Style

Themes

Physical Rating

Joining point

Joining point description

Joining point instructions

Finish point

Finish point description

Finish point instructions

Alternate Finish point

Alternate Finish point description

Alternate Finish point instructions

Alternate Finish point
Safety

Visas

Why we love it

Is this trip right for you

Health

Food and dietary requirements

Money matters

What to take

Climate and seasonal

A couple of rules

Emergency contact

Responsible travel

Travel insurance

Your fellow travellers

Itinerary disclaimer