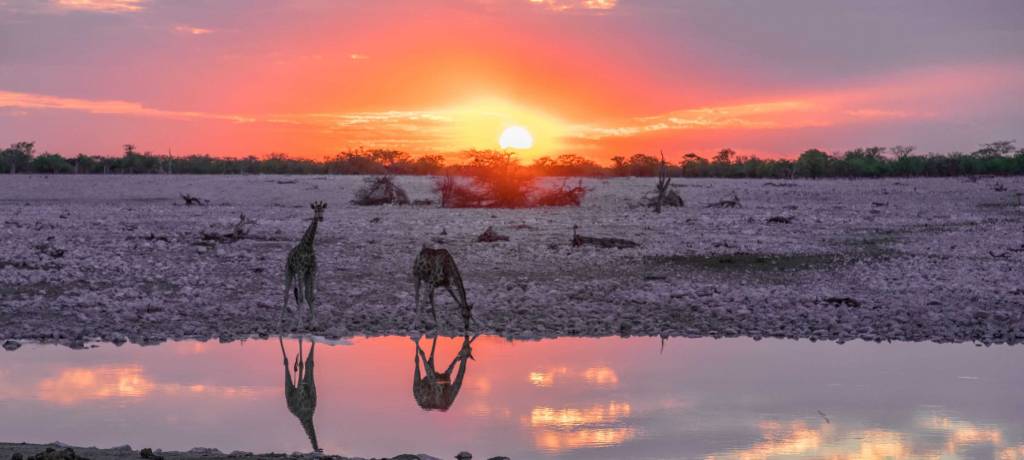 Best time to visit Namibia
If you're after pleasant daytime temperatures and excellent wildlife viewing, the winter season (between April and October) is the best time to travel to Namibia. This is when skies are clear, the chance of rain is low, and game viewing opportunities are at their best. The winter months are also a great time to experience the Namib Desert and Sossusvlei's towering dunes.
See all Namibia tours
Best month to visit Namibia
Best time to visit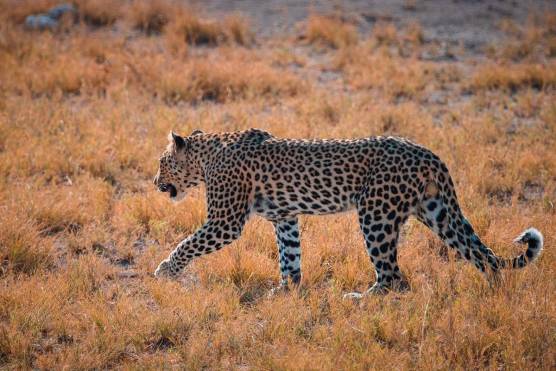 Best time to see wildlife in Namibia
Namibia's dry winter season is the best time to spot wildlife for one main reason: Etosha's arid saltpans offer perfect viewing conditions as animals congregate to drink from limited water sources.
April to October:
Bringing clear blue skies, plenty of sunshine, and pleasant daytime temperatures, the dry winter season (between April and October) is considered to be the best time to spot wildlife in Namibia.  
July to September:
July, August, and September are the driest months and the absolute best time for an
African safari
in Namibia. During this period, vegetation is sparse and large herds of animals gather around rivers and waterholes, making them easier to spot. If big game-viewing is your top priority in Namibia, mark these dates on your calendar!  
November to April:
Wildlife viewing is more challenging during the rainy season, but visiting between November and April still comes with plenty of advantages: flights and tours will be cheaper, there are fewer crowds, and the lush landscapes make it an ideal time for bird watching and seeing young animals taking their first steps in the wild.
Namibia safari tours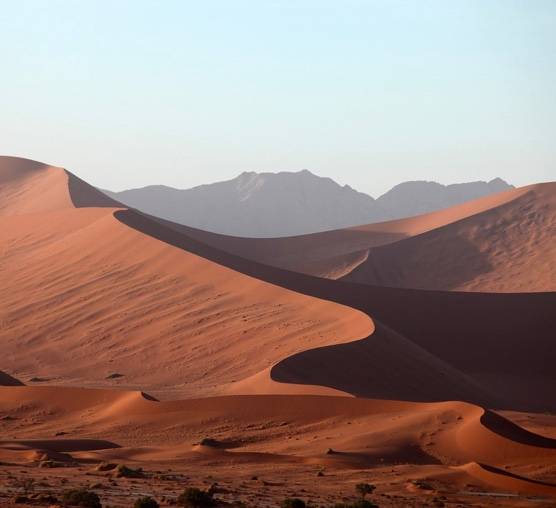 Best time to visit the Namib desert
Since the Namib Desert boasts a predominantly pleasant and dry climate, it's easy to include a visit to both Etosha National Park and Sossusvlei during your Namibia holiday. Spring and autumn are widely regarded as the best time to visit Sossusvlei, but the Namib Desert is very much a year-round destination, so you can make the most of your trip no matter what month you choose!
 
May to October: Daytime temperatures are mild throughout the cooler winter months, and exploring the area will be more enjoyable from May to October. The only downside to visiting during the winter? Gusts of powerful winds sometimes sweep through the area, bringing hot air and coarse dust with it. Remember to pack warm winter clothing if you're visiting in winter as evenings and early mornings are chilly.
 
November to April: If you choose to visit during the summer months, be aware that it can get uncomfortably hot from November to April, with temperatures often hovering around the high 30s and occasionally reaching 40°C. Be sure to pack accordingly and always carry plenty of water.
Sossusvlei tours
Climate in Namibia
Temperatures and rainfall in Namibia
January and February are the hottest months in Namibia; daytime temperatures in the centre of the country typically hover around 30°C, but nights tend to be mild. The winter season runs from May to September, and while daytime temperatures can still hit 25°C, it cools down significantly in the evening. Conditions are warmer from October to April, but early mornings and evenings remain chilly even at the hottest time of the year.

 
JAN
FEB
MAR
APR
MAY
JUN
JUL
AUG
SEP
OCT
NOV
DEC
High°C Day
31° C
30° C
29° C
28° C
26° C
24° C
24° C
27° C
31° C
33° C
32° C
31° C
Min °C Night
18° C
18° C
17° C
15° C
11° C
8° C
8° C
10° C
15° C
18° C
18° C
18° C
Max °F Day
88°F
88°F
84°F
82°F
79°F
75°F
75°F
81°F
88°F
91°F
91°F
88°F
Min °F Night
64°F
64°F
63°F
59°F
52°F
46°F
46°F
50°F
59°F
64°F
64°F
64°F
Chances of rain
High
High
Medium
Medium
Low
-
-
-
-
Low
Medium
Medium
Namibia tour deals
Contact our Travel Experts
+1 844 311 8331
24/7 Support
Our team of experienced tour specialists have travelled to hundreds of countries around the globe and have decades of first-hand travel experience to share. Contact us now to have all of your tour-related questions answered!
A TRAVEL MAGAZINE BY TOURRADAR