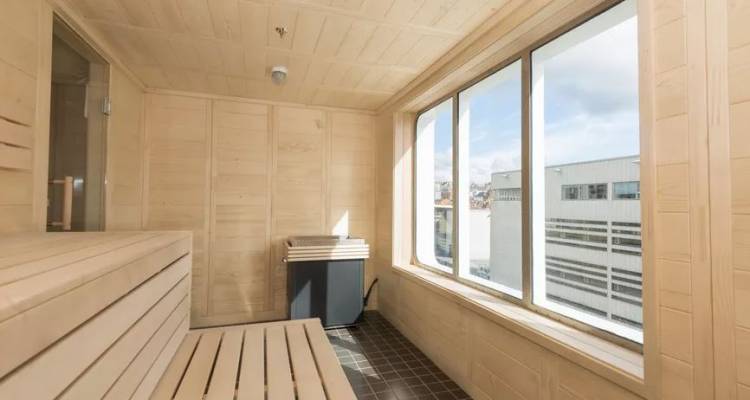 Built

2009 (refurbished in 2016)

Guests

335
Length

100.54 m/ 330 ft

Staterooms

180
Gross Tonnage

7,344 gt

Beam

18.0 m/ 59 ft
Cruising Speed

18 knots

Country Regions
Ship Overview
Our new ship, MS Spitsbergen will take you on a voyage beyond the ordinary.
MS Spitsbergen is named after the crown jewel of Arctic Norway – the Svalbard archipelago and its biggest island, Spitsbergen. Hurtigruten has a long history of travelling to Spitsbergen, beginning in 1896 with the `Sports Route´. MS Spitsbergen cruises along the Norwegian coast from September to May, and becomes part of our global Explorer sailings during the rest of the year.
After complete reconstruction, MS Spitsbergen joined the Hurtigruten fleet in 2016. The ship features high technical standards as well as comfortable, modern public areas and cabins. The vessel´s fresh Scandinavian design reflects a colour palette derived from the sea. She is modern and environmentally progressive, and we plan further improvements that will reduce emissions and fuel consumption even more. The new ship's maneuverability and optimal size make her quite suitable for exploring polar waters.
Expedition team on board
MS Spitsbergen has its own on-board Expedition Team and serves as a university at sea. Interesting lectures inside the ship as well as out on the sun deck make this an exciting and educational journey. Topics depend on the season and the waters we sail in. The Expedition Team host a lecture programme and evening gatherings daily. Out on deck you can participate in live points of interest to learn more about the nature, culture and other phenomena we encounter along the coast. In addition, the Expedition Team will introduce you to the uniquely Norwegian notion of `friluftsliv´ (outdoor life), and encourage you take part in `friluftsliv´ hikes and activities during the journey.
Our dedicated Expedition Teams have one mission: to enhance your experience by engaging you and interpreting the nature, wildlife, and culture you encounter during the voyage.
Expedition Team
Explorer bar
Panoramic lounge – Explorer lounge
Compass Service Centre
Brygga bistro
Shop
Torget main dining
Wi-Fi
Sauna
Fitness room
Lift
Hot tub
Guest launderette
Panoramic deck 8
Outside bar for events, decks 7 & 8
Staterooms / Suites
Expedition Suite Owner's Suite Upper Deck (MX)
Expedition Suite Grand Suite Upper Deck (MG)
Expedition Suite Mini Suite for 2 travelers (Q2)
Arctic Superior Upper Deck (QJ)
Arctic Superior Cabin Outside Cabin (P2)
Arctic Superior Cabin Outside Cabin (U2)
Polar Cabin Inside (K)
Polar Superior Cabin Inside (K4)
Polar Outside Lower Deck (A2)
Polar Outside Middle Deck (AJ)
Polar Outside Middle Deck (J3)
Polar Cabin Outside (O2D)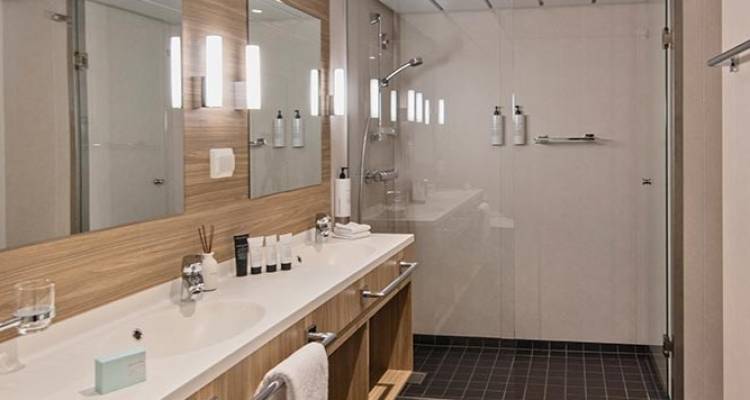 Features
Our Expedition suites are the most luxurious cabins on the ship.
Ensuite Bathroom
Television
Air-conditioning
Large windows
In-room phone
Double bed
Twin beds
In-room safe
Hair dryer
Toiletries
Storage space
Reading lamp
Bottled water
Writing desk
Mini-fridge
Balcony
Sofa
Lounge area
Amazing view
Entertainment system
Towels
Coffee maker
Power Outlets
Outside cabin
Dining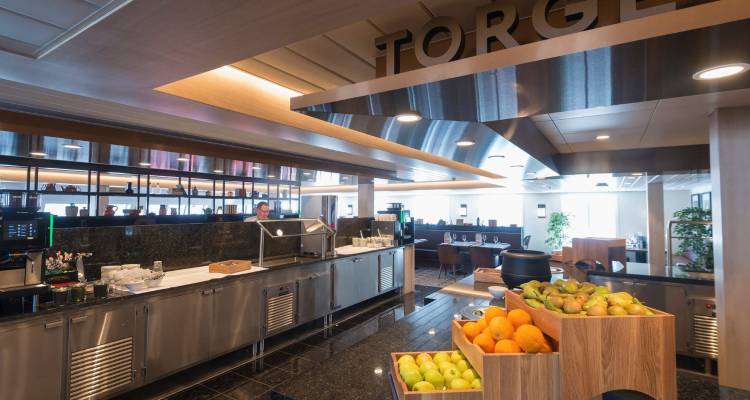 Experience delicious authentic Norwegian cuisine and eat like a true local with Hurtigruten's unique dining concept, Norway's Coastal Kitchen. Guaranteeing seasonal, fresh food from the local area, the talented chefs enjoy telling the story of the local area through their delicious dishes. Breakfast and lunch are catered for with an extensive buffet, while three-course dining is on offer for evening meals.