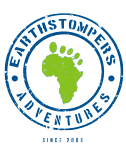 Earthstompers Adventures
Headquarters in Somerset West, South Africa
View all tours
Number of tours

4
Age Range

18-70
Number of reviews

87
Rating

4.9

/5
Response rate

100%
Response time

11 hours
Written on November 4th, 2021

Earthstompers Adventures was AMAZING! Cindy was our guide and was absolutely top notch tour guide. She was fun, knowledgeable, professional and courteous. We h…

Read more

Earthstompers Adventures commented on this review

Thank you for such a great review. We are so glad you had a 10/10 experience on our tour! We are so lucky to have a personality like Cindy on our team, will pass your kind comment on to her! Greetings from the tip of Africa - Hendrik #Stillstomping

Written on March 26th, 2020

Rochelle was the best tour guide! Perfect balance of everything. And our tour group was amazing, couldn't have asked for a better random group.

Written on March 26th, 2020

Our Garden Route Tour was amazing! We loved every minute of it. If you are in South Africa, this tour is a must! Booking process We booked through Tourradar,…

Read more

Elyse

Written on March 24th, 2020

Had an absolutely amazing time with Rochelle and other travellers. So glad I want when I do - before Corona Lockdown. Rochelle is the very best! Everything w…

Read more

James

Written on March 11th, 2020

One of the best experiences I've ever had as a solo traveller, the Earthstompers Garden Route tour is 6 days I won't forget and didn't want to end thanks to the…

Read more

Written on March 5th, 2020

Excelent Tour! I would definitely recommend it!

Earthstompers Adventures commented on this review

Hi Noelia, We appreciate the 5 star rating :D Thank you very much for taking the time to review your experience! We're really happy to hear that you enjoyed the tour so much. Stay safe, Cindy & the Earthstompers Team

Written on February 25th, 2020

Nick was our tour guide and he was knowledgeable, fun and looked after us very well. The back packers' accommodations were very clean and I would rate them as …

Read more

Earthstompers Adventures commented on this review

Hi Stella, Thanks so much for taking the time to give us feedback about your Garden Route experience. We sincerely appreciate it and we're very happy to hear that you enjoyed it so much :) Super cool that you got to see so much on the safari! Thanks for rating our tour 5 stars. Safe Travels, Cindy & the Earthstompers Team

Written on February 23rd, 2020

Great value for money, knowledgable and friendly guide, beautiful scenery and activities - it was the perfect trip!

Earthstompers Adventures commented on this review

Hi Gabriela, Thanks very much for taking the time to review your Earthstompers experience. We're happy to hear that you enjoyed your tour. Thanks for rating us 5 stars! :) Safe Travels, Cindy & the Earthstompers Team

Written on February 19th, 2020

We thoroughly enjoyed our tour with Earthstompers. From the moment we signed up with them they communicated with us on a regular basis. They even arranged a l…

Read more

Earthstompers Adventures commented on this review

Hello Kathy, Thanks for taking the time to review your Garden Route experience with us. We appreciate the feedback very much. We're delighted to hear that you enjoyed the itinerary, meals & activities included in the tour. Thanks for mentioning the Backpacker ensuite option - this really is a great accommodation type for people who enjoy a more social experience. Good point about checking distances in the itinerary. We've specifically outlined this for every day of the tour, as few people realize how big South Africa is. This tour covers a large part of southern South Africa in 6 days. A good option for guests wanting to decrease time spent on the road, is to opt for the 5 day tour. This is a one way tour from Cape Town to Port Elizabeth, ending on a Friday afternoon. There is a domestic airport in Port Elizabeth from where guests can fly back to Cape Town, or their next destination. Thanks again for your feedback and for recommending us to your friends! Safe Travels, Cindy & the Earthstompers Team

Written on February 10th, 2020

we spent an amazing week with the Earthstompers, Christine van Deventer was our guide and she was really great, always with excellent mood, explaining in detai…

Read more

Earthstompers Adventures commented on this review

Hi Mariana, Thanks for the awesome review! We're so happy to hear that you had a great tour with Christine as your guide :) She is a great guide whom we're lucky to have on our team. Thanks for the compliments on the food, accommodation and hospitality - we're glad you enjoyed the places and meals we selected for your tour. It was a pleasure to have you along on tour! Safe Travels, Cindy & the Earthstompers Team
Earthstompers Adventures Tours
Earthstompers Adventures Guides
Questions & Answers
This looks like a great tour! My 5-year-old son would love it!

That's great! Lets book a private tour for you. We do not take children on our group Garden Route tours, out of consideration for the other guests. Our age limit is 18 years old and up. We are willing to consider exceptions on a case-by-case basis, for those who are 16 and up, in consultation with the parent. We are also happy to put together private tours for families traveling with children.

Where do we have dinner?

Guest House guests and Backpackers get together every night for dinner although they are staying at different places. Day 1 you will all get together at the Backpackers and have a traditional potjie, Day 2 at a Beach Bar, Day 3 you have the day off to do dinner wherever you like, Day 4 the Backpackers and Guest House guests stay at the same accommodation establishment and you will have a real farm cooked meal, Day 5 will be farewell at the Backpackers again. (Please note, this might change due to circumstances out of our control). There is a cash bar available at all these venues.

Do I need to bring bedding or towels?

Nope. All the bedding and towels will be provided at both the backpackers and guesthouses on tour. Bring a beach towel.

How do I pay for the optional activities?

All the optional activities are paid directly to the activity operator. In most cases, they can accept credit cards.

I'm not sure which optional activities I want to do. Can I decide while on tour?

For the most part, yes. Your guide will be a good resource to describe what the various activities are like, and help you make decisions. There are two exceptions: the shark cage diving and the whale watching boat trip. We need to know if you'd like to participate in these activities in advance, as they take place on the first day of tour, and we need to make a booking ahead of time. Don't worry about not participating in the optional activities - you won't be left sitting in the van! We have carefully worked out the itinerary so that there is always something to do for everyone. For example, on the first day of tour, we offer both shark cage diving and a whale watching boat trip as optional activities. Those who choose not to do either of these get to drive along the scenic coast of False Bay, stop at Bettie's Bay to see an African Penguin colony, and have time for a leisurely lunch and market shopping in the seaside town of Hermanus.

Who else is booked on my tour?

We get such a great mix of people on our tours. Our average age is 33. Our guests come from all over the world, but the biggest number come from Germany, England, the United States, Canada, Australia, and Europe. 70% of our guests are woman. About 20% of guests opt for the Guest House option and 80% for the Backpacker option. We often get solo travelers, groups of friends, or families, such as a parent and their adult child. One of the consistent highlights of the trip is getting to know the other passengers.

How many people will be on my tour?

Our tours range from a minimum of 3 guests to a maximum of 12 guests. Our vehicles are a Mercedes Vito, which can seat up to 7 passengers, and a Toyota Quantum, which can seat up to 13 passengers. Your tour will be small and personal – no big coaches for our regular weekly departure.
Contact our Travel Experts
+1 844 311 8331
24/7 Support
Our team of experienced tour specialists have travelled to hundreds of countries around the globe and have decades of first-hand travel experience to share. Contact us now to have all of your tour-related questions answered!