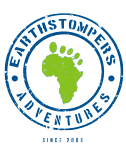 Earthstompers Adventures
Headquarters in Somerset West, South Africa
View all tours
Number of tours

2
Age Range

18-70
Number of reviews

109
Rating

4.9

/5
Response rate

92%
Response time

7 hours
Abby

Written on January 22nd, 2023

This tour was everything that I hoped it would be. Our tour guide Wendy was full of knowledge and really knew how to make sure everyone got the most out of thei…

Read more

Written on January 17th, 2023

We had a beautiful and wonderful week. It surpassed far our expectations. We loved everything this week. The group was lovely. Okay, most of them were much youn…

Read more

Written on January 15th, 2023

Itinerary perfect! Guide perfect! Experience perfect!

Adrienne

Written on December 31st, 2022

Nicely planned tour of Garden Route, no moment wasted. Hit all the highlights and a couple surprises too! Accommodations were great and full of character, as wa…

Read more

Written on December 22nd, 2022

Great tour but it would have benefitted by allowing at least one stay over two nights. It was all very well getting up and going but there was no real time to h…

Read more

Earthstompers Adventures commented on this review

Good day, Annette Thank you so much for taking the time to review your Earthstompers Garden Route tour! We're very happy to hear that overall you had a good time on our tour. Thanks for your comment about leisure time - this is worth mentioning! Our 6 day Garden Route & Addo Group Adventure is a fast-paced tour specifically designed for travellers who want to do and see a lot in limited time. We generally reach accommodations in the late afternoon, after a day of adventuring, and leave again in the early morning after breakfast. We would recommend a private tour for guests looking to stay for a few nights at the same accommodation or if a more leisurely paced tour is preferred. Thank you for joining us and for supporting our business. We hope you will visit South Africa again and perhaps we can host you for a tailored private tour in the future! Best Regards from Cape Town Cindy & the Earthstompers team

Danielle

Written on December 7th, 2022

Our tour was absolutely amazing! The experience made it so hard to leave South Africa and we wanted to stay so much longer. Wendy, our tour guide was SO great …

Read more

Written on November 5th, 2022

A fast paced tour that will take you to some stunning destinations. The accommodation is fantastic and you get to try a range of delicious South African food wh…

Read more

Written on October 27th, 2022

Earthstompers was a great 5 day tour that I truly loved! Great stops (recommend less time in mossel bay for those that don't want to skydive) and more time in h…

Read more

Written on October 19th, 2022

Essen, Unterkünfte, Tourguide (Christine) super, tolle Infos im Vorwege. Eine richtig gute Tour

Written on September 26th, 2022

Great tour. Saw a lot in a short time. Lovely guide.
Earthstompers Adventures Tours
Earthstompers Adventures Guides
Questions & Answers
This looks like a great tour! My 5-year-old son would love it!

That's great! Lets book a private tour for you. We do not take children on our group Garden Route tours, out of consideration for the other guests. Our age limit is 18 years old and up. We are willing to consider exceptions on a case-by-case basis, for those who are 16 and up, in consultation with the parent. We are also happy to put together private tours for families traveling with children.

Where do we have dinner?

Guest House guests and Backpackers get together every night for dinner although they are staying at different places. Day 1 you will all get together at the Backpackers and have a traditional potjie, Day 2 at a Beach Bar, Day 3 you have the day off to do dinner wherever you like, Day 4 the Backpackers and Guest House guests stay at the same accommodation establishment and you will have a real farm cooked meal, Day 5 will be farewell at the Backpackers again. (Please note, this might change due to circumstances out of our control). There is a cash bar available at all these venues.

Do I need to bring bedding or towels?

Nope. All the bedding and towels will be provided at both the backpackers and guesthouses on tour. Bring a beach towel.

How do I pay for the optional activities?

All the optional activities are paid directly to the activity operator. In most cases, they can accept credit cards.

I'm not sure which optional activities I want to do. Can I decide while on tour?

For the most part, yes. Your guide will be a good resource to describe what the various activities are like, and help you make decisions. There are two exceptions: the shark cage diving and the whale watching boat trip. We need to know if you'd like to participate in these activities in advance, as they take place on the first day of tour, and we need to make a booking ahead of time. Don't worry about not participating in the optional activities - you won't be left sitting in the van! We have carefully worked out the itinerary so that there is always something to do for everyone. For example, on the first day of tour, we offer both shark cage diving and a whale watching boat trip as optional activities. Those who choose not to do either of these get to drive along the scenic coast of False Bay, stop at Bettie's Bay to see an African Penguin colony, and have time for a leisurely lunch and market shopping in the seaside town of Hermanus.

Who else is booked on my tour?

We get such a great mix of people on our tours. Our average age is 33. Our guests come from all over the world, but the biggest number come from Germany, England, the United States, Canada, Australia, and Europe. 70% of our guests are woman. About 20% of guests opt for the Guest House option and 80% for the Backpacker option. We often get solo travelers, groups of friends, or families, such as a parent and their adult child. One of the consistent highlights of the trip is getting to know the other passengers.

How many people will be on my tour?

Our tours range from a minimum of 3 guests to a maximum of 12 guests. Our vehicles are a Mercedes Vito, which can seat up to 7 passengers, and a Toyota Quantum, which can seat up to 13 passengers. Your tour will be small and personal – no big coaches for our regular weekly departure.
Contact our Travel Experts
+1 844 311 8331
24/7 Support
Our team of experienced tour specialists have travelled to hundreds of countries around the globe and have decades of first-hand travel experience to share. Contact us now to have all of your tour-related questions answered!