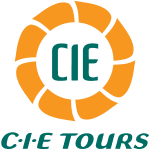 Number of tours

173
Age Range

8-99
Number of reviews

668
Rating

4.4

/5
Response rate

100%
Response time

within 2 days
Dave

Written on May 16th, 2022

We just completed the Best of Britain tour. First of all,the good. Our tour was fast paced and we saw slot of England, Scotland and Wales. Our tour guide, Harry…

Read more

Written on May 15th, 2022

My Mom and I just came back from our tour with PJ O'Brien and it was the best vacation ever. Our group was quite small but the people were amazing. PJ was exc…

Read more

Lots of fun. Good people, great food and sights, unique activities. Wonderful tour guide. Wish it was longer so we could keep enjoying the different destination…

Read more

Pamela

Written on April 29th, 2022

DO NOT WASTE YOUR TIME/MONEY WITH CIE! I gave this return 1 star only because that's the lowest possible option, otherwise they would receive 0 stars!!! I had a…

Read more

Written on April 27th, 2022

The guides were so much fun and we saw incredible things that I would never have even thought of going to had I planned the trip myself. I loved having local gu…

Read more

Written on April 22nd, 2022

Great tour. Brian kept us moving and we covered a great bit of Ireland in a few days.

2020 Taste of Ireland (Tour A)- 7 Days/6 Nights

Written on April 22nd, 2022

We loved our tour guide Dermot.

Anonymous

Written on March 31st, 2022

Half the tour goers including me got the Kungflu and had to end the tour early with no help from CIE Tours. I call it the Scottish Nightmare Tour.

Written on March 17th, 2022

Just because I rated it "Excellent" doesn't necessarily mean we fully enjoyed the tour. Despite being billed as "for everyone 9 to 99", we found it to be fast-…

Read more

Written on November 23rd, 2021

I had such a great time. Brian is a wonderful tour guide and clearly has such great pride in Ireland.
CIE Tours Videos
What makes CIE Tours unique?
Coach Touring & Sightseeing
We have created balanced and varied days of included sightseeing on our coach tours with plenty of stops for taking photos, shopping, lunch, snacks and bathrooms. You never travel for longer than two hours without getting off the coach. There is a variety of attractions on every tour for an interesting travel experience, and admission costs are included in the tour price so that you don't waste time paying in destination.

History & Geography
People who choose to travel in Ireland and Britain usually have an interest in the long history of the region while visiting ancient cities, churches and castles. All of our tour directors are well trained in the background information of the places and incorporate this history into their narratives in a manner that is fun and easy to digest. Similarly they are able to give you facts on the geography of the regions you travel through, giving you an insight into climate, farming, weather and other topics.

Leisure & Spa Facilities
Most of the hotels we use offer wonderful leisure facilities and spas. When you travel on a coach tour, you will have some free time most days and may like to enjoy some relaxation and spa serenity! So be sure to pack a swimsuit and workout clothes.

Guaranteed Departures & Prices
We guarantee most of our land tour departures. Furthermore, we guarantee land tour costs will not increase once you have paid your tour deposit, to protect you against international currency fluctuations.
Health & Safety
Before You Arrive

Because rules and guidelines vary from country to country and are continually changing, before you travel, we will provide you with the most up-to-date information to ensure you are informed about protocols in your destination.
Most airlines have announced new procedures including requiring flight attendants to wear masks, sanitizing all surfaces between flights and having seating configurations that allow for physical distancing. We recommend visiting your airline's website for specific information on their policies.
On the Road
For guests who elect to go on a group tour, the majority of our departures will be small groups, with a number of empty seats on coaches to allow guests to space out for a more comfortable experience. For those who prefer an even smaller group and more independence, we have an extensive offering of private driver and self-drive options. While specific protocols will vary from location to location, some general guidelines will be followed:
The interiors of our coaches will be sanitized daily, including regular cleaning of high-touch areas and surfaces. Scheduled stops will facilitate frequent hand washing and hand sanitizer will be available at all times.
At hotels, guest rooms will be disinfected thoroughly between stays and common areas such as lobbies, elevators, restaurants and fitness centers will be cleaned continuously throughout each day.
When visiting attractions, all appropriate local safety precautions will be followed, and guests may be rotated in smaller sub-groups when necessary.
Social distancing will be incorporated in some form in most activities and visits. Teams are working hard to make this as seamless as possible, ensuring your comfort and security.


Our Team

Our Tour Directors are not only local experts but are also trained to handle a variety of unexpected situations - including illnesses and emergencies. They will be thoroughly trained on enhanced hygiene and physical distancing procedures, and will ensure that guests know what to expect every step of the way.  If any issues arise, we have systems and protocols in place and the Tours Directors also have extensive local support to assist.
Our in-country operations and logistics team is on call 24/7. In Ireland alone, we have 30 back-office operations staff, who have accumulated over 500 years of experience with CIE Tours. This team, based in our Dublin operations office, is always ready to assist our Tour Directors in the event of an emergency. Having this local support has allowed CIE Tours to become the largest coach tour operator to Ireland and Scotland from the USA. We have weathered many challenges during our nearly nine decades in business, and I myself have been with CIE for 20 of those years.
Questions & Answers
What is the weather like?

Ireland and Britain have an unpredictable climate with many people saying that all four seasons can be experienced in one day! The climate tends to be moderate – never blisteringly hot in summer and never bitterly cold in winter. Average summer temperatures range from 15 – 24°C, spring and autumn temperatures are in the 10s°C and winter averages 0 – 5°C with no huge day/night differences. For extensive information on weather visit the following sites – www.met.ie for Ireland www.metoffice.gov.uk for Britain

What are the hotels like?

CIE Tours uses three classes of hotels – these are first class (3 star), superior first class (4 star, which include castle properties) or deluxe (5 star, which include castle properties). First class hotels (3 star) feature a dining room, lounge, bar and comfortable guest rooms. Many have leisure facilities. Superior first class hotels (4 star) offer the same amenities with higher standards and many have leisure and spa facilities. Deluxe hotels (5 star) offer luxurious features and are often in unique settings. We choose hotels either in central locations or scenic regions, depending on location, and we name all hotels we use on each tour. Our website contains photos and detailed descriptions for all featured hotels.

What are the hotel bedding options?

For your hotel room you can choose to have a Twin (2 separate single beds) or a Double (usually Queen size). Hotel bedding options - Twin or Double Please note that bedding is subject to each hotel's discretion and availability. If there are three people sharing a room then a triple room will usually have a double and one twin bed (total 2 beds). Please note there is no reduction in cost for a third person sharing a room with two others. For comfort, we suggest that three adults take two separate rooms. No more than three people can share a hotel room on our escorted tours.

Do you offer room sharing for solo travellers?

To ensure the comfort of all our passengers, we do not offer the option of sharing service for solo traveling passengers. We do, however, offer a single supplement whereby you will have the privacy of your own room. Our single supplements can be found at the bottom of the list of dates and pricing on each tour page on the CIE Tour website and brochure. We often have special departures where this supplement is reduced. Visit our solo traveller pagefor more information.

Are there free days for activities?

All of our tours offer included sightseeing every day to maximise your time. If you want to take a day out to play golf, ride or simply relax and browse around, you may choose not to travel on a day tour when you are staying in the same hotel for two nights.

What documents do I need to travel to Britain or Ireland?

You will need a valid passport. Check that yours is valid, preferably until six months past your travel date and with blank pages so that officials can stamp entry/exit details. Non-EU citizens should check visa requirements with their nearest Irish or British embassy or consulate well in advance of your planned trip. More information on visa requirements for Ireland can be found on the Irish Department of Foreign Affairs website. For visa requirements for the UK please visit gov.uk/check-uk-visa If you are hiring a car in Ireland, you need a current driver's license which is valid under the car rental company's terms and conditions of rental. A credit card imprint is always needed for car rental bookings.

When will I receive my documents?

You will receive your travel documents electronically approximately 21 days prior to your tour departure date provided that full payment has been received. This includes the vouchers for the coach tour and other services, an itinerary, hotel list and our Get Ready Get Set Go booklet in PDF format. The following will be provided to you in person at the first hotel of your tour: deluxe backpack, document wallets, luggage straps and tags. You have paid for tour vouchers so treat them as you would money as they are non-refundable. You will need to present the relevant voucher in return for services such as hop-on, hop-off bus tours.

What clothing should I pack

Generally the dress code for our tours is very comfortable and casual. Our supreme tours will require that men wear a dinner jacket, however this will not be required for any other tours. Dressing in layers provides most comfort as you can shed and add items when the temperatures fluctuate. Consider packing the following items: Comfortable walking shoes An all-weather coat with removable lining Comfortable clothing that can be easily layered

How much luggage can I bring?

On coach tours, you are permitted one piece of luggage and one carry-on bag per person. Porterage between the coach and your hotel room is included. Self-drive clients need to consider the limited trunk capacity, and that soft-sided luggage is easier to stow. Airlines have their own regulations and some carriers charge for checked baggage.

How much money do I need to carry and what is the currency?

As most components of your Ireland and/or Britain tour have been prepaid, you will only need money for lunch each day and dinners when you have an evening at leisure. If you are an avid shopper, or enjoy a cocktail in the evening these costs are incurred at your own expense. Also, it is customary to tip your guide and driver at the end of the tour (please see the question on tipping guidelines for more information). Use credit cards and ATMs to avoid carrying large sums of cash. High denomination bills are not readily accepted for exchange, even in banks, so it is better to carry smaller denominations. The Republic of Ireland uses the Euro (€), while in Britain and Northern Ireland the Pound Sterling (£) is used. The two currencies are not interchangeable. In Ireland there are seven euro notes in denominations of €5 to €500 and eight euro coins including a one euro and two euro coin. In Britain and Northern Ireland sterling pound notes are issued in denominations of £5 to £100 with eight coins including £1 and £2.

How early can I check into a hotel on day 1?

Check-in time varies between 12:00 noon and 3:00pm depending on the individual hotel. If you arrive in the early part of the day, this can mean a wait at the hotel. Many hotels offer a left luggage area so you may enjoy this time by taking a walk, having a snack or doing some exploring.

Will I need a power adapter?

A 3-prong adapter for use in both Ireland and Britain can be purchased in most homeware stores. Hotels provide a shaver outlet in the bathroom and most hotels have a hair dryer and iron in the room or will supply them on request. More information can be found in your Get Ready Get Set Go booklet which is sent with your travel documents.

What is a day on the coach like?

We want you to see as much of the country you are visiting as possible, without spending all your time on the coach. We generally incorporate a sightseeing feature each morning and afternoon. There are breaks at two hour intervals or less so that you get a chance to stretch your legs, purchase a snack or lunch, take photos, have a cigarette or use a restroom. On all tours, seats are rotated on a daily basis to allow all passengers an opportunity to sit towards the front of the coach. The tour director assigns seats for all clients. Seats belts must be worn when the coach is in motion. If you suffer from motion sickness bring medication with you.

What are the typical travel times?

Morning departure time depends on the itinerary to be covered on any particular day. In Britain the tour day begins between 8.00am to 8.30am, while in Ireland the day usually begins between 8.30am and 9.00am. Arrival back to the hotel/ or at the next hotel is usually between 4.00pm and 5.00pm. Our coaches make frequent stops for sightseeing, smoking, lunches, snacks and bathroom breaks. You will have breaks at least every two hours or less.

Will I be able to take walks or exercise?

Many of our tours incorporate walking tours in interesting places such as Derry, Cobh, York and Edinburgh; these are leisurely paced guided walks. You will have free time when you arrive at a hotel in the afternoon, so you may like to take a walk on your own or use the hotel's leisure or spa facilities. Pack comfortable shoes with non-slip soles as many historic places have uneven paving.

Do hotels have leisure or spa facilities?

Most of the hotels on your tour have wonderful leisure facilities and spas. You have some free time most days and may like to enjoy some relaxation and spa serenity, so be sure to pack a swimsuit and workout clothes.

Will there be opportunities to do laundry?

Most hotels feature laundry and dry cleaning services and can be used when you stay in the same property for two nights. However, they do not offer self-service facilities. Check with the hotels to see exactly what services they offer.

Will my room have washcloths, hairdryers etc.?

Many hotels in Ireland and Britain do not provide washcloths so it is a good idea to bring some with you. Guest rooms have TVs and hairdryers; some also offer an iron and ironing board. Hotels also provide a shaver outlet in the bathroom. For exact information please check the hotel's website.

Can I bring my medication?

If you need to bring insulin please be sure to bring a box to store it in together with freezable ice packs. Hotels can store the insulin for you and can freeze the icepacks to keep it cold when traveling on the coach. If you take prescription drugs, ensure that you have an ample supply for the duration of your trip and always keep them with you. Any medication must be in its labelled container when going through airport security and customs.

Will my tour director be local?

CIE Tours could not exist without our great locally employed tour directors – they are the envy of the travel industry. From the moment you land in Ireland or Britain, your tour director is there to welcome you, handle your luggage, drive you from place to place and give you daily commentaries. Tour directors make history and culture come alive and create a superb experience with daily doses of humor, information and assistance.

Who will handle my luggage?

Once you meet your tour director, you don't have to handle your luggage! At every hotel your suitcase is delivered to your bedroom door and collected before departure. However, luggage is restricted to one suitcase and one piece of carry-on baggage per person.

How and Where do I meet the group?

The documents you receive prior to departure will tell you which transfer option you will be taking. More information is provided in your Get Ready Get Set Go booklet. CIE Group Transfer: You will meet the tour in the arrivals hall of the airport. A CIE representative will be holding a CIE Tours sign and will direct you to the coach. You will then meet the tour in the hotel lobby at the designated time on the tour start date, as shown on the tour itinerary. Taxi Transfer in Dublin: In lieu of a CIE Group transfer you may have received a taxi voucher within your documents. Call the number on the voucher and the taxi will take you to your hotel. You will then meet the tour in the hotel lobby at the designated time and day as shown on the tour itinerary. City Transfer in London: A representative from City Transfers will be awaiting your arrival in London with a City Transfers sign. They will direct you to the vehicle where you will be transferred to your first hotel. You will then meet the tour in the hotel lobby at the designated time and day as shown on the tour itinerary. Scotlinks Transfer in Scotland: A representative from Scotlinks will be awaiting your arrival in Scotland with a Scotlinks sign. They will direct you to the vehicle where you will be transferred to your first hotel. You will then meet the tour in the hotel lobby at the designated time and day as shown on the tour itinerary. In order to book transfers, we must receive complete arrival and departure details at time of purchase. Without your airline information, we are unable to book transfers.

What happens if my flight is delayed and I am late to join the tour?

If you have access to phone or internet, please contact our office. Call +353-1-7031888 or email helpdesk@cietours.ie and advise us of approximately when you will be arriving. We will alert our personnel in Ireland or Britain to ensure they are aware. If you are scheduled to take our group transfer and you miss it, we recommend that you take a cab from the airport to the first hotel where you will meet the tour. If you are delayed longer than a day, you should make your way to the relevant hotel on the tour. A cab or public transport may be most suitable method of getting to the next hotel which may be a distance from your arrival airport. Any additional expenses for transportation or accommodation to catch up with the tour will be at your own expense. We regret that we cannot issue any refunds or credits for any missed portions of the tour.

How can I contact friends and family at home?

Free WI-FI aboard coaches enables you to keep in contact, browse and share your travels with friends and family back home. Most hotels will offer internet services, some in guest rooms and some in lobby only. As some hotels charge for WI-FI, you should check rates with the front desk in your hotel. Share your photos and videos with us while on tour. It's easy – upload the photo or video to your own social media account. Hashtag it with #MYCIETOUR and let us know where the photo or video is from and which tour you are on. We will choose photos regularly to feature on our CIE Tours social media pages. If there are people in your image, make sure you have their permission to post the photo or video before hashtagging it. If you carry a mobile phone, check usage rates with your provider before departing and remember to switch off roaming. In Ireland and Britain, pre-paid calling cards offer excellent rates and are on sale in many stores. You can also buy a simple mobile phone with pre-paid minutes. In some parts of Ireland and Britain you may experience poor mobile phone signals.

Can you arrange airport transfers?

We can pre-book your seat on a group transfer on the first and last morning of each tour. First we need you to send us flight details for each booking. If flight details are not provided at time of booking (or in the latest instance, 70 days prior to travel) transfers are not included. Note that most Dublin arrival transfers are timed to depart T2 at Dublin Airport for 7:00 am; 9:00 am or 12 noon (sharp). Remember to allow time for passport control, luggage reclaim and movement between terminals if your airline arrives to T1. Departure transfers are generally timed to get you to the airport between 6:00 am and 12:00 noon. For Glasgow, transfers are only provided to/from Glasgow Airport and London, transfers are only provided to/from London Heathrow.

Why should I select CIE Tours?

Because you get – Large selection of tour programs Strong buying power with suppliers Great commission structure Generous tour conductor policy Strong focus on quality Fully inclusive tours with no optional extras Expert assistance with promoting and selling Client satisfaction which converts to repeat business for you

What about optional extras?

No optional extras – no hidden costs. We include all the necessary ingredients for a successful tour – many competitors charge additional for sightseeing and dinner/shows which can add up to an additional $550 per person Great hotel accommodations All breakfasts Most dinners Special evenings with entertainment Admission fees to attractions Expert tour escorts and local guides

What's included in a tour?

All the components for a great vacation. We use quality accommodations – mainly superior first class hotel (4-star). Breakfast (full in Ireland and Britain and buffet in Europe) is included every morning. Dinner is served most evenings and some of these dinners are special banquets or cabaret-style entertainment. Every day a fun sightseeing program enables visitors to see highlights and yet enjoy free time for independent activities.
Contact our Travel Experts
+1 844 311 8331
24/7 Support
Our team of experienced tour specialists have travelled to hundreds of countries around the globe and have decades of first-hand travel experience to share. Contact us now to have all of your tour-related questions answered!