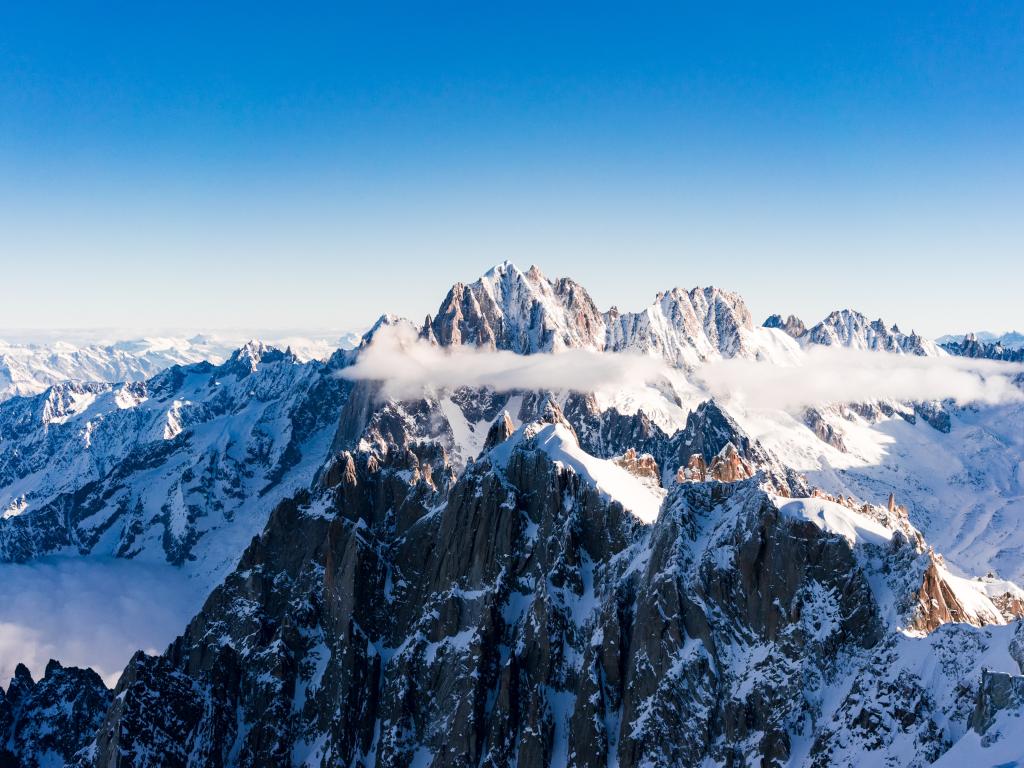 Do I Need a Guide to Climb Mont Blanc?
Technically, you do not need a guide to climb Mont Blanc. However, there are plenty of reasons why you should consider hiring a guide. For starters, the only people who should be considering climbing Mont Blanc without a guide are very experienced climbers with years of alpine climbing experience. It may also be worth considering tackling another, smaller mountain in the region or elsewhere before entertaining the idea of climbing Mont Blanc. 

How to choose the right guide 

The common misconception is that your guide merely helps navigate the route of the mountain, but a good guide is much more than that. When choosing a guide, you'll want to see if they have a certification from the IFMGA (International Federation of Mountain Guides Association). Furthermore, a single guide should typically only be aiding two climbers at a time, and no more. 

What your guide will be responsible for 

Beyond guiding you up the mountain, a quality guide is going to help you get used to the altitude and acclimatize prior to your ascent. The guide will also be tasked with preparing your route and carefully reviewing it with you to ensure you fully understand the risks. Any guide worth their weight will spend the time to learn your abilities and limits. 

You should also expect that your guide will book the huts that you'll be staying in along the way, which is actually a more difficult task than it seems, due to the extensive demand for huts on Mont Blanc during the high season. 

The most important aspect of the guide is in regards to the element of safety. Your guide will know the mountain and surrounding climate intimately. They will be able to identify signs of inclement weather and respond quickly and intelligently. In no uncertain terms, your guide's number one job is to ensure that you safely reach the summit but, also, know when to turn back and bare down for the night. 

Ultimately, your guide is being hired to know everything that you don't and share that with you when the time comes. This sharing of knowledge will happen both before and during, so you want to make sure that your guide is someone who you can trust and have an open line of communication with.
How to climb Mont Blanc
How do I prepare for Mont Blanc?

Successfully reaching the summit of Mont Blanc requires a high degree of preparation in both your route planning as well as your fitness levels. This is not a mountain which can be climbed on a whim, especially if you lack climbing and hiking experience. 

When should I climb Mont Blanc?

Mont Blanc is located in the northern hemisphere, which means the best time to climb is in the summer. June to September is the safest time to climb, but if you desire fewer crowds and you've got an impressive climbing resume, then the spring and fall is also an option. Learn more. 
 

What permits do I need?

Despite recent environmental concerns, as well as worries about popular routes facing overcrowding, there is currently no official permit required to climb Mont Blanc. Learn more.

Do I need a guide to climb?

Mont Blanc is the most dangerous mountain in the region and, as such, a guide is strongly recommended - but not required. It's strongly suggested that first-timers and inexperienced alpine hikers hire a guide.

How do I get to Mont Blanc?

Mont Blanc is actually quite accessible, as it can be reached via road, rail, or air. Fly into Geneva, Lyon, or Haute-Savoie Mont Blanc Airport with Geneva providing closest access (just under 90km away). Otherwise, drive to Chamonix, or catch a train from London. Learn more.

What should I pack/what equipment do I need?

Mont Blanc is one of the world's tallest mountains and, as such, you're going to need to bring an array of gear to enable a successful climb. You'll need an ice axe, helmet, crampons, trekking poles, gaiters, as well as the appropriate clothing to reach the summit. Learn more.
How to get to Mont Blanc
Mont Blanc is easier to get to than many famous mountains, and that's largely because of its proximity to well connected and highly industrialized European cities. The views of the mountain, as well as from the summit, are considered some of the world's best and, thankfully, there's infrastructure to ensure you'll have the opportunity to get to see them. 

Getting to Mont Blanc via air 

If you've decided to take the plunge and travel from nations such as Australia, Canada or America, your best bet is likely going to be try to nab a flight to London, as there are frequent, relatively inexpensive flights available. From London, there's a direct flight to Haute-Savoie Mont Blanc Airport, which is about an hour's drive from Mont Blanc. 

Conversely, you might find that's it's easier to fly into an airport in France such as Charles de Gaulle Airport, or Lyon–Saint-Exupéry Airport which is just over 200 kilometres away. Another option could be to fly into Geneva, which, surprisingly is the closest major airport to Mont Blanc. In fact, it should be noted that the Geneva Airport is actually closer than the much smaller Haute-Savoie Mont Blanc Airport, which quite literally has the name of the mountain in the airport's name. Before booking a flight, it makes sense to compare flights to cities within a reasonable distance of Mont Blanc in countries such as France, Italy, and Switzerland. 

Getting to Mont Blanc via rail

If you're looking to take a train, you've got a number of options depending on where you're starting from. Wherever you're arriving, there are two train stations which cater to those who are coming to climb Mont Blanc. The train station that you aim for is largely going to depend on where you're coming from. Wherever you're coming from it's likely that you'll have to, at some point, go through either Paris or Geneva.

If you're taking a train, it's going to be easiest for you to go from Geneva. You'll want to head towards the Chamonix-Mont Blanc Train Station, and it'll take roughly 3 hours. You'll most likely have two stops along the way in Martigly and Vallorcine.

Another option to consider is getting from Paris to Chamonix. The journey would take closer to 6 hours, assuming you're able to get on a speed train, and it usually involves switching to a regional train as you get closer to Chamonix. When thinking of routes, it's also worth considering getting trains to St. Gervais - Le Fayet Railway Station. It's a little farther from Mont Blanc in general, but not by much, and if you have a more direct route to St. Gervais - Le Fayet Railway Station that might make more sense than heading to Chamonix. 

Getting to Mont Blanc via bus
    
Buses leave from most major cities in Europe towards Chamonix and the region at large, it might just take you more time than you thought. You may have to get to a more major metropolitan city such as Paris, Lyon, or Geneva and then get a bus which specifically heads to the region but, generally speaking, it's not all that difficult. 

Geneva actually offers a bus directly from the Geneva Airport which heads to Chamonix and, at last check, was called the Alpybus which costs around 25 euros.  

Getting to Mont Blanc via car

Lastly, you can also drive to Mont Blanc. In many cases, it's worth exploring renting a car or driving from your location rather than taking a train (and it's also easier to bring your gear) as the drive from Geneva can be done in about half the time. It's also worth noting that driving does give you some flexibility if you realize that you need to make a last minute run for any additional supplies. Just be sure that you've arranged a place for you to park your vehicle for the duration of your climb.