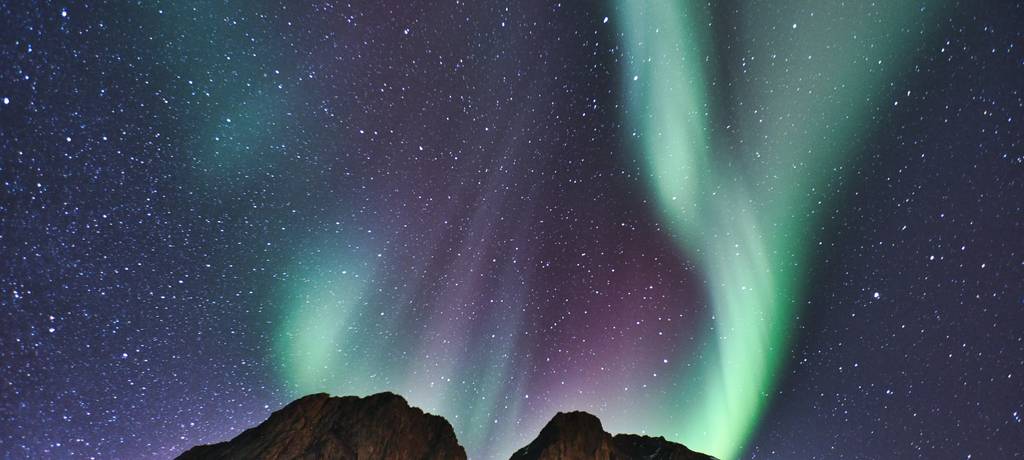 Arctic Cruises & Tours
For the truly adventurous traveller who wants to spend their next trip crossing the Arctic Circle, a polar cruise or tour to the Arctic makes for the perfect getaway! As a wide-spanning region, a trip to the top of the world is certain to be a high-energy experience you won't soon forget.
See all Arctic cruises & tours
Crossing the Arctic Circle
Want to go whale watching and see other native species like Arctic foxes and reindeer? How about skiing down pristine mountains, or kayaking amongst massive icebergs? Whatever your dream trip looks like, you'll find it in the Arctic.

As the Arctic Circle covers several countries and regions at the top of the earth, there are many options for travellers looking to visit this part of the world. Visit Svalbard, one of the world's northernmost inhabited cities located in Norway, where polar bears outnumber people; explore Iceland's glaciers and lagoons; go dog-sledding in Finland; go whale watching in Greenland; or spend time in Russia's vast north. You can even take the Northwest Passage, a historic sea route that connects the Atlantic and Pacific oceans, on the northern coasts of Canada and Alaska. 
When to visit
Places to visit in the Arctic Circle
The Arctic Circle encompasses eight countries, so if you're planning a visit to this remote destination, the first question you'll have to answer is: where do you want to go? Think carefully about the kind of activities you'd like to do and the animals and sights you'd like to see in order to make the best decision for you.
Wildlife
Polar bears

Polar bears can be found in Alaska, northern Canada, Greenland, and Svalbard. The best time to see polar bears is in the summer when some of the Arctic ice has melted away and the bears spend most of their time on shore. Polar bears in the wild are an incredible sight to behold, but make sure you always listen to your guide's advice and practise reasonable safety precautions when you're anywhere near them.

Reindeer

There are 15 subspecies of reindeer, and most of them live above the treeline (the point after which trees cannot grow) in the Arctic. You'll find these famous animals in places like Norway, Alaska, Sweden, Iceland, Finland, and Russia.

Narwhals

These mysterious and strange creatures live only in the coldest waters, extremely up north where the Arctic ice meets the sea. You'll have the best chance of seeing narwhals in the summer, in northern Canada and Thule, in Greenland's north.

Arctic foxes

Look closely if you want to spot these adorable creatures! In the winter, their grey fur turns pure white, allowing them to seamlessly blend in with the snow around them. The Arctic fox is the only mammal native to Iceland, and visitors can even explore the Arctic Fox Centre in Sudavik, home to two live Arctic foxes rescued as pups in 2015.

Muskox

Visitors looking to see this impressive animal should head to the north of Canada, Alaska, Greenland, and Russia, with a small population in Scandinavia. They are one of the few large mammals able to live in the Arctic year-round! If you'd like to see calfs, they'll appear in late April or May.

Walruses

A smaller species of Atlantic walrus can be found in Svalbard and Greenland, as well as certain regions of northern Canada. However, the world's largest species of walrus can be found in the Pacific, in Alaska and Russia's east. You'll find walruses relaxing on the beach when the sun is out, so try to time your visit with the midnight sun!
Things to do in the Arctic
Polar bear watching

While polar bears can be fiercely territorial, seeing these magnificent animals up close in the wild is an experience that will stay with you forever. Some of the best places to go polar bear watching include Svalbard in Norway; Churchill, Manitoba; Greenland; and Kaktovik, Alaska. Just make sure to always listen to your guide and follow any extra safety precautions they suggest.

Kayaking

A peaceful way to get up close and personal with the Arctic, kayaking is a popular activity for visitors and locals alike. Imagine cutting through crisp, clear water, paddling alongside a massive iceberg, or even having a whale swim beside you! Note that kayaking can only be done in the summer months, when some of the Arctic ice has melted and it's safe to travel through the water.

Hiking

From dormant volcanoes to black sand beaches to jaw-dropping mountains, hiking in the Arctic is as unique as it is rewarding. Another activity best done in the summer, make sure you follow any posted signs, and, as always, follow the recommendation of your guide to make sure your hike is safely away from any danger.

Camping

While this activity can be seen as a bit extreme, there are dozens of options for camping and glamping in the Arctic. From sleeping under the stars in Iceland to cosying up in a cabin under the northern lights in Finland, there are plenty of ways to get your camping fix in the Arctic!

Dog sledding

In the far north, the season for dog sledding tends to be from mid-November until late April. However, some operators will have options for even further into the month: after all, when there's always snow on the ground, there's no bad time for snowy activities!

Northern lights

From mid-April until mid-August, the northern lights are unable to be seen, as they need complete darkness to appear and this is the period of midnight sun throughout the Arctic. Visitors dreaming of catching a glimpse of this natural phenomenon are encouraged to visit in the autumn and winter.

Photography

There are plenty of amazing photo opportunities in the Arctic, from polar bears and their cubs to massive Viking warships to the Northern Lights, there are sure to be plenty of sights you'll want to remember forever. Do your research to determine the best way to keep your equipment safe in extreme temperatures, and in protected areas, ask before taking photos.

Sailing

Polar cruising has become increasingly popular recently, and with good reason. This travel style combines the luxury and fun of a cruise with the heart-racing adventure that comes with exploring the Arctic. Take a cruise to various locations, or charter a boat and hop from island to glacier to iceberg.

Skiing

A quintessential Arctic activity, there are plenty of opportunities for skiing in the Arctic. In more populated areas, such as Norway, for example, there are ski resorts that cater to every age and ability level, so whether it's your first slope or you hundredth, you'll be able to enjoy yourself.

Zodiac cruising

A zodiac is a small, inflatable motorboat with a very low centre of gravity which allows it to quickly weave between blocks of ice so visitors can get a closer, more intimate look at everything there is to see on the waters of the Arctic. This exhilarating adventure is not to be missed by those looking to explore the region in-depth! Learn more about zodiac cruising.
Choose your Arctic cruise
Start your journey from...
FAQ
What is a fly and cruise tour?

Fly and cruise tours allow you to discover Arctic in different ways. Given the nature of exploring this region, in some instances, you will fly to a region and then sail to a sightseeing destination. Some tours will give you the option to save on sailing time with a flight option one way and a cruise option the other. It all depends on the type of tour you pick.

How much does an Arctic cruise cost?

Depending on your budget and desired experience (including things such as preferred destination, time, and activities), an Arctic cruise can vary in price. At TourRadar, prices can begin at under $1,000 USD and can go on to exceed $30,000 USD.

How risky is polar travel?

Weather and ice can cause problems on shore and on the ship but cruise operators will always prioritize the safety of their guests and crew, eliminate most if not all of the risk. The ships are designed and built for the polar region, equipped with GPS and other necessary technology, and are manned by a highly experienced crew. Arctic cruises are scheduled during the summer to ensure a successful expedition.

Do I have to be in good shape for a polar tour?

To enjoy the trip in full, you should be in good general health and able to walk reasonable distances, sometimes over uneven terrain, and be able to get in and out of a zodiac with ease. For those who are seeking more adventure, some cruise operators offer one or more activities such as sea kayaking, cross-country skiing, camping, snowshoeing, mountaineering, or diving. A higher level of fitness is required depending on the activity but you are always welcome to stay on board if you prefer.

What is there to do on the ship?

There are plenty of activities to choose from while sailing to the polar regions. Depending on the selected itinerary and cruise operator, you will be able to learn about the history and environment by attending on-board lectures conducted by regional experts. There are also other activities available, such as board games to play in the lounges and fully-stocked libraries.

What documents must I provide in order to join the expedition?

Forms may differ depending on the tour operator and destination. Generally, you will need to sign a cruise contract and fill out medical forms. Your tour operator might also ask for your flight information to arrange a pickup. Keep in mind to always check visa requirements before your departure.

Can I extend my stay in the disembarkation city?

An extension of stay is usually possible, but it can vary depending on the tour operator. If you wish to have extra time exploring the disembarkation city, contact your tour operator and ask for possible options.

What additional major expenses will I incur?

In most cases, you will have to arrange transportation to the embarkation and disembarkation point. If you wish to extend your trip you will also have to cover any additional cost of accommodation. You might also have to purchase outdoor clothing suitable for polar conditions. Some tours will include a complimentary parka, so double-check with your tour operator beforehand.

Are single travellers welcomed?

Single travellers are welcome on Arctic cruises and tours! You will be assigned a room with a traveller the same gender as you, or, if you prefer to travel alone, you may also be allowed to pay extra for a single room. Solo travel to an exciting destination such as Arctic Circle is a great way to meet like-minded travellers!

Are there family polar tours?

Although children are not discouraged from taking a polar trip, some cruise operators won't accept passengers who are under 6, 12 or 18. Please check with your TourRadar Polar Specialist for cruise operators who offer family expeditions.

How far in advance should I start planning my trip?

When it comes to cruises, we recommend travellers book their tour 12-18 months in advance. Booking in advance allows you to secure your preferred cabin size and choose any additional activities you may wish to take part in. Depending on the cruise, you might opt to kayak, camp, or hike. Keep in mind that the Arctic is accessible only between late June to August, with each month offering different highlights. Plan in advance to be able to enjoy your dream cruise.
Contact our Travel Experts
+1 844 311 8331
24/7 Support
Our team of experienced tour specialists have travelled to hundreds of countries around the globe and have decades of first-hand travel experience to share. Contact us now to have all of your tour-related questions answered!
A TRAVEL MAGAZINE BY TOURRADAR
Choose your preferred duration