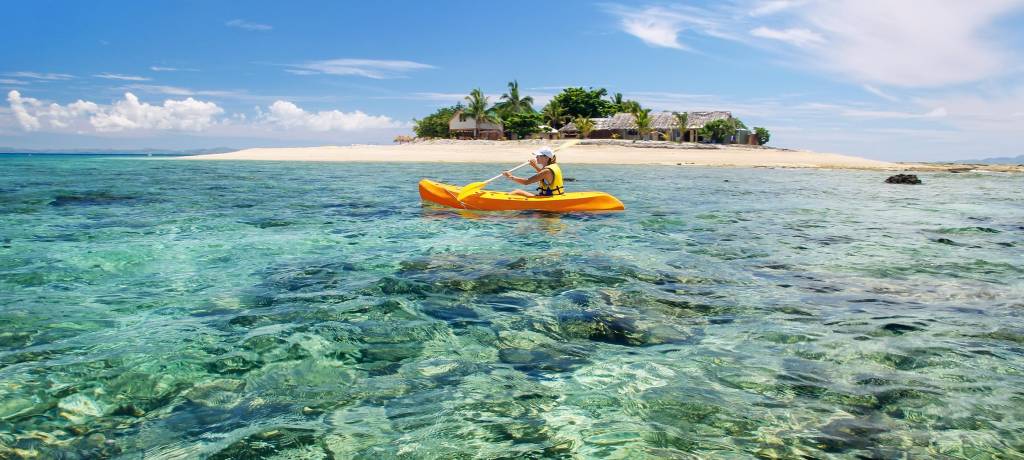 Find the Best Fiji Vacations
Beach vacation, natural expedition, or grand adventure? Fiji has it all! Get your search started below and easily compare and book your perfect Fiji vacation today. 
Places Recommended by Our Travel Experts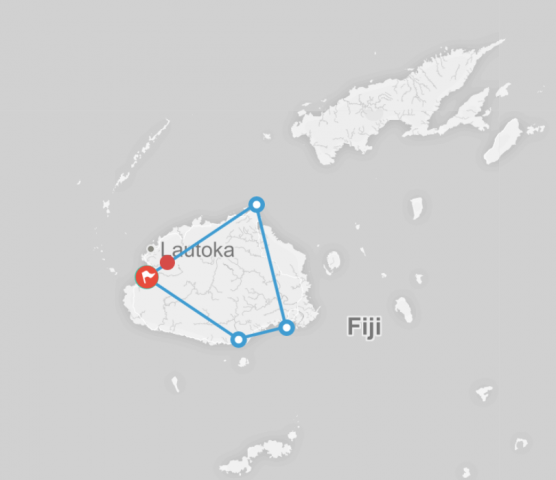 Packages Recommended by Our Travel Experts
Fiji Adventure Vacation Packages
To make finding your perfect vacation to Fiji even easier, our travel experts reviewed all of the travel packages on TourRadar. Based on inclusions, traveller feedback, and much more, here are just a few of the best Fiji vacation packages.  
Wanderlands Fiji. This 8-day tour with Wanderlands Travel takes travellers to 4 destinations from $1,067 USD. 
Fiji Island Hopping Adventure. Enjoy 4 different destinations with Bamba Experience during this 9 day tour, from $1,322 USD. 
Fiji Expedition. Spend an amazing 9 days with Intrepid Travel exploring 4 destinations from $2,925 USD. 
Click below to see all Fiji tours, select your 
must-see destinations 
and narrow down your selection.  
View All Packages
Your Fiji Bucket List
Watch the sunset from a kayak

Go for a short kayak excursion in the Blue Lagoon and watch the sunset while relaxing on a palm-fringed beach in the stunning Yasawa Island Chain.

Explore hidden caves

Explore hidden saltwater caves and sharp limestone peaks at Sawa-I-Lau and then kick back at a social kava party hosted by the village chief.

Relax in a mud pool

Swim, snorkel, or dive at Mantaray Island and Viti Levu Island and enjoy thermal hot pools and healing mud pools to relax at the end of the day - what could be better?

Participate in a local ceremony

Enjoy a scrumptious continental breakfast on Beachcomber Island and then head for a village visit, a jungle trek, or participate in a sevusevu ceremony.

Help protect the environment

Volunteer for a marine conservation expedition, conduct underwater surveys, and visit idyllic Fijian villages to help create Marine Protected Areas in the region.

Go island-hopping

Go island-hopping between the Mamanuca and Yasawa Islands and enjoy breathtaking island scenery and delicious local cuisine.
People Also Ask
How much does an average Fiji vacation cost?

Fiji has a reputation as an expensive destination, but that doesn't have to be the case! On TourRadar, prices start at $80 USD per day. Our most popular tours cost around $120 USD per day per person. On average, a one-week Fiji vacation will cost you approximately $1,000 USD per person.

What is the cheapest month for a vacation in Fiji?

The cheapest month to fly to Fiji is April. In general, look for bargains to Fiji during the low season from November to April. The best time for a cheap Fiji vacation is outside of school holidays in July, August, and December, when resorts and beaches are way less crowded. 

What is the ideal Fiji itinerary for 7 days?

A typical one-week Fiji itinerary involves spending time on one island. Most people choose to visit Viti Levu if they're visiting Fiji for 7 days, as this is known as the "main island" where much of Fiji's population, industry, and cultural attractions can be found. 

What is the ideal itinerary for 14 days?

If you have 14 days you're able to visit multiple islands! Begin in Viti Levu to orient yourself, and then choose to either embark on an island-hopping adventure across several of Fiji's incredible islands, or slow it down and experience the local way of life across a more select group of islands. 

What is the best tour company for Fiji?

We've got a good selection of different tour operators: From big brands like Intrepid to small local operators like Feejee Experience, the most important thing to consider when selecting your tour company is the type of experience you'd like to have. Beach vacation, extreme sports, or something in between? Compare prices and reviews of all Fiji tour operators here.

How can I book a Fiji vacation on TourRadar?

Simply use our filters to find the tours that go to your must-see cities and will allow you to travel in your preferred travel style, and book directly online. Need an extra hand? Our Travel Experts are available 24/7 to help you every step of the way. For more information, check out our Why Touring page!

Do people speak English in Fiji?

Fiji has three official languages. To greatly oversimplify, the Fijians speak Fijian, the country's Indian population speaks Hindi, and they all speak English to each other. Schoolchildren are taught in their native language until they are proficient (but not necessarily fluent) in English, which thereafter is the medium of instruction.

Is Fiji safe to visit?

Fiji is a very safe place for travellers and common sense is all you really need to ensure a safe and happy holiday. That said, Fiji isn't immune to crime just like everywhere else! It's important to be aware of your surroundings and be wary of scammers, pick-pocketers, and other forms of petty crime often found in busy tourist areas. 
Contact our Travel Experts
+1 844 311 8331
24/7 Support
Our team of experienced tour specialists have travelled to hundreds of countries around the globe and have decades of first-hand travel experience to share. Contact us now to have all of your tour-related questions answered!
A TRAVEL MAGAZINE BY TOURRADAR