Why touring
For travellers that are looking for an easy but inspired way to experience the world, touring is the perfect option. So the real question is why not?
Start exploring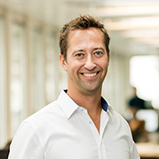 Travis Pittman, CEO
With getting time away from work and your 'normal' life becoming more and more difficult, your time off is more valuable and precious than it's ever been. Absolutely nobody has time for mediocre experiences and modern-day touring has adapted to fit these requirements. Nowadays group tours can be anything and everything: what you do, depends solely on you.

Looking to trek alongside local sherpas to reach Everest Base Camp? We've got a tour for that. Prefer to spend ten days in Basque country learning to surf and savouring the seafood? Just filter our search menu by Spain! The point is, modern-day group travel has evolved to provide you with the kind of authentic life-enriching experiences you deserve. And at TourRadar, we consider it our primary mission to connect you to these one-of-a-kind experiences. After all, there's never been a better time to #gotouring. 
Six reasons to go touring
Local guides

A guide is your personal historian, therapist, accountant, event manager, a foreign currency expert and professional friend. Tour guides are the very definition of "going the extra mile." Whether you have a free evening in Paris or are trying to decide between sandboarding or skydiving in Mossel Bay, your guide is there to offer unique recommendations and insights that only a local would know.

Hassle-free travel

Booking a tour takes the hassle out of planning since every detail is sorted out before you even arrive in your starting city. With transportation, accommodation, most meals and sightseeing included, there's very little left to coordinate and plan. You'll enjoy effortlessly moving from point A to B, without having to worry how far away the next gas station is or if you just took a wrong turn.

No dull moments

When you travel on your own, you often find yourself face deep in maps and guidebooks. If you've rented a car then you're spending time in an office comparing rates and sorting out foreign insurance plans. But why spend a moment of your vacation on the tedious bits? Tours come designed to make even the most routine elements, like a bus journey, valuable experiences thanks to your guide's stories. 

Meet fellow travellers

With group tours, travellers can enjoy a built-in group of friends; sharing experiences with like-minded individuals is a major highlight of touring! For travellers setting out on a private tour, there are still plenty of opportunities to make connections with other visitors and locals alike - striking up conversations and forging bonds is easier when you're sharing similar experiences!

Plenty of free time

Any tour operator worth their weight in brochures will provide an itinerary that accommodates your individuality and free time. In fact, many tours often have full free days for travellers to discover a new destination on their own and do things that may not be included on the itinerary. You'll find unique experiences that have the perfect blend of flexibility and structure.

Budgeting made simple

No matter if you're looking to invest some serious money in your next trip or you're more of a backpacker, booking a tour creates a simple budgeting experience. Consult the itinerary to check the inclusions and you'll know exactly how much that trip will cost you. Depending on the tour you can typically expect transportation, accommodation, meals and local experiences to be included in the price.
Find your inspiration
A TRAVEL MAGAZINE BY TOURRADAR