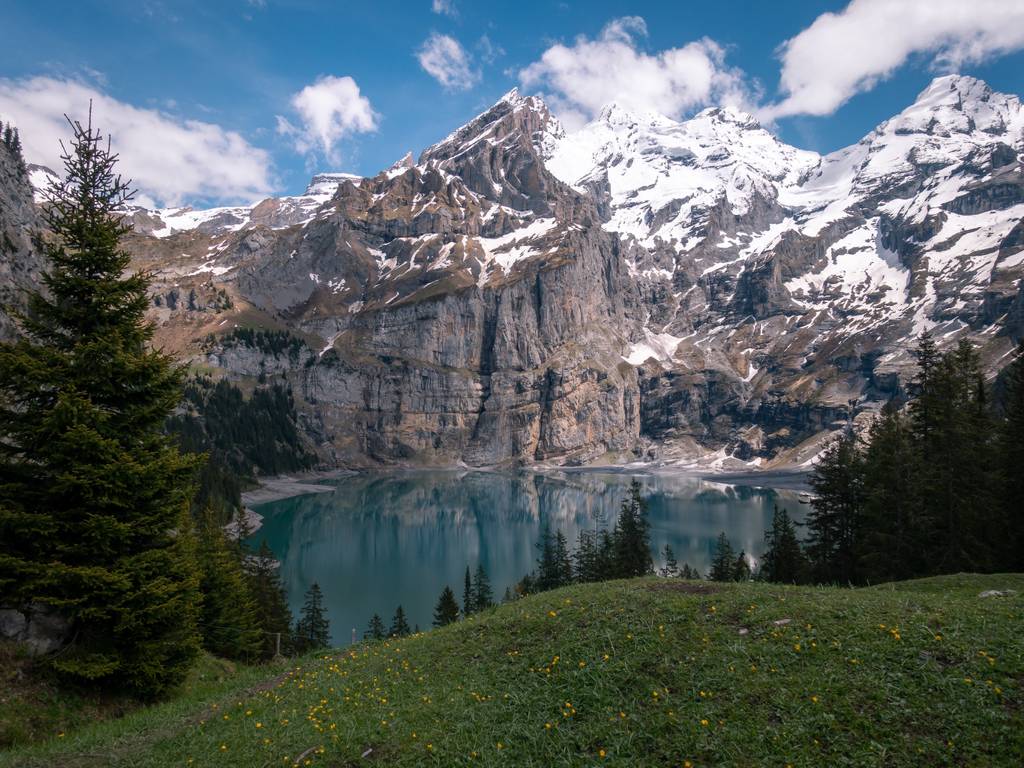 Switzerland Travel Guide
Where a view of the awe-inspiring Alps awaits around every corner, the quaint yet cultured towns imprint a lasting impression, and the staggering natural beauty impresses even the most seasoned travellers. It doesn't matter if you're after a romantic European escape, a fast-paced, adrenaline-packed experience, or a family-friendly holiday destination, Switzerland will deliver.
The Highlights


Zurich

The largest city in Switzerland flaunts a myriad of assorted restaurants, beautiful seabirds, parks, and of course the impressive Lake Zurich. This town was built around Lake Zurich and is a perfect base location whilst travelling throughout the country. With a hint of romance, this city is an exceptionally perfect escape for couples with a Love Lock Bridge centred over the lake.

Geneva

Geneva is bursting with activities and attractions! Located at the southern tip of the great Lake Geneva, travellers can hire a paddle boat for the day and bask in the views of the dramatic Mont Blanc region! This city, in particular, is both luxurious and relaxing, making it another great location to start or end your Switzerland adventure. In summer, locals (and tourists) have the opportunity to bathe in the Bains des Pâquis in Lake Geneva, and in winter, the pools are turned into saunas.

Lucerne

Beautiful for a day trip, or to base yourself for a few nights - Lucerne is a must for all travelling to Switzerland. This town is particularly appealing for tourists as there are many restaurants, markets and walkable sightseeing areas to explore. Not to mention the sensational Kapellbrücke is located right in the middle of town!
Basel

Home to the Museum Tinguely, Historisches Museum Basel, Dreiländermuseum and many, many more, Basel is a must-visit for those looking to take a deep-dive into Switzerland's fascinating history. Additionally, Basel's medieval Old Town is one of the best-preserved of its kind in Europe! Close to the country's borders with France and Germany, Basel is a perfect stop for those continuing to travel through Western Europe.

Bern

The capital city of Switzerland is largely medieval and has been recognised by UNESCO as a Cultural World Heritage Site. Bern is home to 114 Swiss heritage sites of national significance, therefore a must-see for those itching to experience a true Swiss adventure. Bustling with artistic entertainment, film festivals and musical events are scheduled all year round.

Lausanne

 Hugging the border of France and Switzerland, Lausanne offers the amenities of a modern city with a spectacular natural setting and easy access to the great outdoors. The entire old city of Lausanne and the Vernand-Dessus region are listed in the Inventory of Swiss Heritage Sites with over 40 buildings/sights of national significance. Additionally — for a panoramic view of the city, Lake Léman, and the surrounding countryside — Sauvabelin Tower is a must.
The Basics
The Location

Switzerland is considered a landlocked nation surrounded by France, Germany, Austria and Italy – which makes this country a perfect getaway for those who want to visit several destinations in one trip. Travelling internationally from Switzerland is possible by almost every form of transportation: plane, train, bus, and car.

Capital City

Set in the heart of Switzerland and characterised by its Unesco World Heritage–listed Old Town, Bern is the country's postcard-perfect capital city. 

Main Airport

Serving as the main hub for Swiss International Airline and offering scheduled flights to roughly 195 destinations, Zurich airport is the largest international and busiest airport in Switzerland.

Languages Spoken

French, Italian, German and Romansh are the main languages spoken in this country. The Swiss-German region of this country is the largest - however small towns in the Alps will most often speak French. We encourage travellers to search the language spoken in the specific locations they plan to visit.

Currency

The main currency for Switzerland is Swiss Franc, however, Euros are commonly accepted especially in cities dedicated to tourism. Exchange services are accessible in the tourist areas of Switzerland; depending on your bank provider, withdrawing cash may save you money in the long run.

Visas

Depending on the purpose of your travel to Switzerland, there are different types of Swiss visas that will apply to the occasion. Whether you are planning to go on a short-term holiday, study abroad, or work and reside in Switzerland permanently, you will have to apply for a different Swiss visa accordingly. You can find additional information here.

Electricity

The voltage in Switzerland, as in most of Europe, is 230V/50 Hz. Switzerland uses type C (2-pin) and Type J (3-pin) plugs.

Vaccinations

The CDC and WHO recommend the following vaccinations for Switzerland: hepatitis A, hepatitis B, rabies, meningitis, polio, measles, mumps and rubella (MMR), Tdap (tetanus, diphtheria and pertussis), chickenpox, shingles, pneumonia and influenza. However, it is necessary to consult with your local GP regarding vaccinations.

Transport

All public transport is efficient, on time, and easy to use. The most popular form of transportation is the train. Commonly the signs in stations are in Swiss-German, however, rest assured knowing you can ask any staff member at a station for help getting to your desired platform. We recommend the app 'City Mappers' for a user-friendly guide throughout the main cities. 
When to Visit
Switzerland Tours
Visit Responsibly

Travelling responsibly means respecting the communities, culture and environment of the places you visit. Keep these tips in mind when travelling to Switzerland:

Go green. Be environmentally conscious on the road by taking short showers; turning off the lights in your hotel room when you leave; and resisting the urge to collect any plants, seashells, or other natural flora.

Respect cultural differences. Before travelling, read about the local culture and customs – even just knowing the dress code and a few basic phrases in the local language will go a long way.

Support local businesses. Enjoy a more authentic experience and directly support the local economy by travelling with a local guide, eating in local restaurants, buying from local artisans, and staying in locally-owned and operated accommodations.

Wherever possible, avoid single-use plastics. Pack reusable items such as your own shopping bags, utensils, a water bottle, and a straw. These items are typically lightweight and compact, and will greatly reduce your consumption of plastics.

Be conscious of overtourism. Opt to visit the lesser-known regions of Switzerland or travel outside the peak season – you'll likely even get a better deal and won't have all the crowds!

Sustainable Tourism in Switzerland

Swiss Goals
Ranked among the top five nations most on schedule to meet the Sustainable Development Goals established in 2015, Switzerland continues to be a global leader in sustainability. In fact, Switzerland strives to become carbon neutral by 2050.

Sustainable Skiing
Located in Switzerland's Safien Valley is something incredible: the world's first solar-powered ski lift! This wonderful ski lift produces more than twice the energy needed for a whole winter of skiing. Not only does it transport up to 800 skiers per hour up the mountain, but it simultaneously produces solar power through its integrated solar panels. In the springtime, this innovative ski lift transforms into a solar power plant.

Swisstainable Travel
Swisstainable Travel is a multi-stage sustainability program that aims to make Switzerland the most sustainable tourist destination in the world. Aligned with the Swiss Tourism Association STV, Swisstainable encourages tourists to authentically experience the local culture, enjoy nature up close, consume regional products, and stay longer so they can delve deeper and explore areas more thoroughly.
FAQs about Switzerland
Do you tip in Switzerland?

Tipping in Switzerland is easy-going as this is generally included in the price. If you feel as though the service you received was exceptionally great, you can always put a smile on someone's face by adding a few extra francs to your bill.

What is the internet access like?

You will find most hotels, restaurants, and even pubs will have access to free Wi-Fi. 

Is the tap water safe to drink?

Switzerland's tap water is safe to drink at any time. Tap water is closely monitored on the national level and meets the highest standards of hygiene and safety.

Can I use my credit cards?

Major credit and debit cards are widely accepted in Switzerland, including Visa, Mastercard, Maestro, and Cirrus. American Express cards aren't as widely accepted but can be used in many places. It is encouraged to withdraw cash to avoid any international charge fees (this will depend on your bank provider).

What are the public holidays?

Some of the major public holidays in Switzerland include Swiss National Day (August 1st), Ascension Day (May 21st), and New Year's Day (January 1st).

What are the toilets like in Switzerland?

Switzerland's public amenities are incredibly clean and their hygiene standards are constantly being maintained. It is important to note that in some areas there may be a small fee, so be sure to carry loose change on you.
A TRAVEL MAGAZINE BY TOURRADAR
When to travel
March til December
What to see & do
Lions are cool! They stroll around being all cool and awesome it's such a great sight to see and you wont regret it :) They're mainly at Serengeti National Park