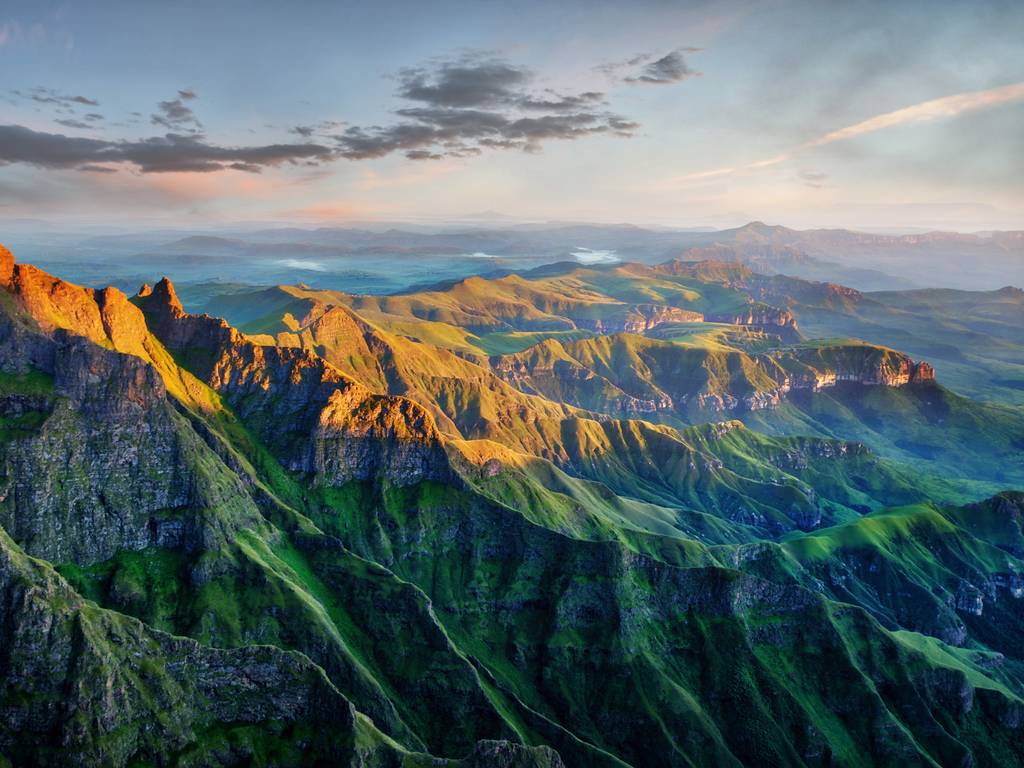 South Africa Travel Guide
The word staggering comes to mind when you think of South Africa. Here, a formidable yet beautiful land plays host to exciting cities, wild coasts, captivating landscapes and wildlife sightings you would be hard-pressed to forget. It's one massive playground for thrill seekers, outdoor lovers and even urbanites who enjoy their modern luxuries. One thing is for sure: you'll never want to leave.
The Highlights


Garden Route

It's impossible not to fall in love with the Garden Route, the 300-kilometre legendary stretch where rugged, flora-carpeted cliffs meet the thunderous ocean, lagoons and lofty perches with the dreamiest views. Watch marine animals in action, hit the surf in Victoria Bay and squeeze in some ziplining in Tsitsikamma. Afterwards, watch the setting sun paint the landscape gold.

Addo Elephant National Park

One of the country's Holy Trinity of national parks, Addo Elephant National Park is an essential stop on any South African holiday. It's home to untold species of plants, several of which are endemic, and animals including black rhinos and buffaloes, drawing visitors from all over the world. Yet there's one beloved animal that takes centre stage. Here, elephants are the kings of the jungle.

Oudtshoorn

Don't let the town of Oudtshoorn fool you as it's got a few aces up its sleeves. Not only is it the ostrich capital of the world, which only means many opportunities for encounters with the freaky-looking birds. It's also home to Cango Caves and the Cango Endangered Wildlife Ranch where you might pet a cheetah or go cage diving in crocodile-infested waters.
Cape Town

Very few major cities could leave travellers astonished as Cape Town. The South African capital, adorned by the iconic peaks of Table Mountain National Park and the blue-green waves of the South Atlantic, has it all: wine, food, architecture, art and culture, history, beaches, hikes and even caves. What more could you ask for?

Johannesburg

It's hard to find fault in Johannesburg, with its busy city skyline, easy-going vibe, and rapidly developing neighbourhoods. It's got ways to go, but that's exactly why it's a must visit as it currently sits on the precipice of an urban overhaul. There are a few attractions to visit here, but the most important of all is the Apartheid Museum and the Mandela House.

Augrabies Falls National Park

You never know what you'll get at Augrabies Falls. On drier days, there are only a couple of waterfalls. During the wetter season, however, the "place of big noises" is spectacular, flowing at several overhangs and thundering, giving a whole new meaning to the phrase "when it rains, it pours." Whatever you get, it's impressive. As a perk, you might even spot some wildlife roaming about.
The Basics
The Location

South Africa is an African country with Namibia, Botswana, Zimbabwe and Mozambique bordering it to the north. It's a 22h 38m flight with a layover from New York, and an 11h 5m nonstop flight from London.

Capital City

The coastal and port city of Cape Town serves as South Africa's capital. It's renowned for its beauty as well as its glistening coast and wine country.

Main Airport

The O.R. Tambo International Airport is South Africa's busiest airport and one of its main hubs for international arrivals. It sits right outside Johannesburg, only 20 kilometres from the city.

Code

JNB

Closest City

Johannesburg

Language Spoken

The official languages of South Africa are Afrikaans, English, Ndebele, Northern Sotho, Sotho, Swazi, Tsonga, Tswana, Venda, Xhosa and Zulu. English is one of the most common languages understood and spoken in the country.

Currency

South Africa uses the South African Rand. The currency code is ZAR. It is advisable to take some rands with you as well as obtain a prepaid Unique Rand Card during your visit. There are, however, ATMs everywhere, even in the more rural areas.

Visas

Citizens of 48 countries and territories including Australia, Canada, the US and the United Kingdom may travel to South Africa for up to 90 days without a visa, while citizens of other nations may travel up to 30 days visa-free. 

Electricity

Electrical current is 220/230V 50Hz using a round three-pin plug. Before you go, be sure to check if you require an adapter and a converter. 

Vaccinations

The following vaccines are recommended before your visit: Yellow Fever, Typhoid, Hepatitis A, Hepatitis B and Rabies. The risk for Malaria, Dengue and Chikungunya is high so take the necessary precautions.

Emergency Calls

For the national emergency response, call 10111, and for the ambulance, call 10177. For cell phone emergencies, call 112.
When to Visit
South Africa Adventures
Visit Responsibly

Travelling responsibly means respecting the communities, culture and environment of the places you visit. Keep these tips in mind when travelling to South Africa:

Go green. Be environmentally conscious on the road by taking short showers; turning off the lights in your hotel room when you leave; and resisting the urge to collect any plants, seashells, or other natural flora.

Respect cultural differences. Before travelling, read about the local culture and customs – even just knowing the dress code and a few basic phrases in the local language will go a long way.

Support local businesses. Enjoy a more authentic experience and directly support the local economy by travelling with a local guide, eating in local restaurants, buying from local artisans, and staying in locally-owned and operated accommodations.

Wherever possible, avoid single-use plastics. Pack reusable items such as your own shopping bags, utensils, a water bottle, and a straw. These items are typically lightweight and compact, and will greatly reduce your consumption of plastics.

Be conscious of overtourism. Opt to visit the lesser-known regions of South Africa or travel outside the peak season – you'll likely even get a better deal and won't have all the crowds!

Sustainable Tourism in South Africa

South Africa: Leading the Way
Did you know that in 1996, South Africa made its mark on the world by becoming the first country to add responsible tourism as an official policy? A few years later, the 2002 Cape Town Declaration defined Responsible Tourism and paved the way for the WTM (World Travel Market) World Responsible Tourism Awards.

A Variety of Ecotourism Destinations
As some of the most gorgeous ecotourism sites in the world, South Africa's natural areas are divided into UNESCO World Heritage sites, national parks, and nature reserves. One example is the Kgalagadi Transfrontier Park. Located in Botswana and South Africa, this vast, stunning landscape serves as both a peace park and a conservation project. Another example is the Addo Elephant National Park found just outside Port Elizabeth. Home to the Big 7, it's South Africa's third largest national park after Kruger National Park and the Kgalagadi Transfrontier Park.

Green Accommodations
With an emphasis on offering quality and environmentally-friendly service, South Africa has an impressive number of green accommodations. One example is the self-sufficient Teniqua Treetops. Located in the Garden Route, this ecolodge is solar-powered and utilizes a dry toilet system.
 
FAQs about South Africa
Do you tip in South Africa?

Tipping is practised in South Africa. However, it's not quite as exorbitant as in countries like the US. A tip of 10-15% of your bill or fare for restaurants and cab drivers is plenty while R10-15 per day for housekeepers and US$10 per day for tour guides are enough.

What is the internet access like?

Internet access is available in all the cities as well as many rural areas. Free WiFi is offered at cafes and some fast food chains. Many hotels and lodges offer them as well, for free or for a fee.

Is the tap water safe to drink?

Absolutely. South Africa boasts some of the cleanest tap water in the world.

Can I use my credit cards?

Yes, major credit cards are accepted at most establishments. However, keep some cash and a prepaid Unique Rand Card handy just in case. Also, be ready to present an ID when making credit card transactions.

What are the public holidays?

Major public holidays in South Africa include Human Rights Day on March 21, Good Friday, Freedom Day April 27, National Women's Day on August 9, Heritage Day on September 24 and Day of Reconciliation on December 16, as well as Christmas and New Year's Day.

What are the toilets like?

Modern, sit-down toilets are typically on hand and easy to find. There aren't a lot of public toilets. However, tourism offices, restaurants and malls are often nice enough to let travellers use their facilities.

Is South Africa a safe destination?

It's generally safe. However, there are some unsafe areas and even routes. It's best to avoid deserted areas at night, ask your guide or hotel concierge which routes to avoid and keep your belongings secure.

What should I pack for a trip to South Africa?

Throughout the high season, and depending on which regions you'll be travelling to, pack a broken-in pair of hiking shoes, sunscreen, sunglasses, a wide-brimmed hat, a lightweight waterproof jacket and light, cotton clothing in light tones. 
SOUTH AFRICA TRAVEL INSPIRATION BY TOURRADAR