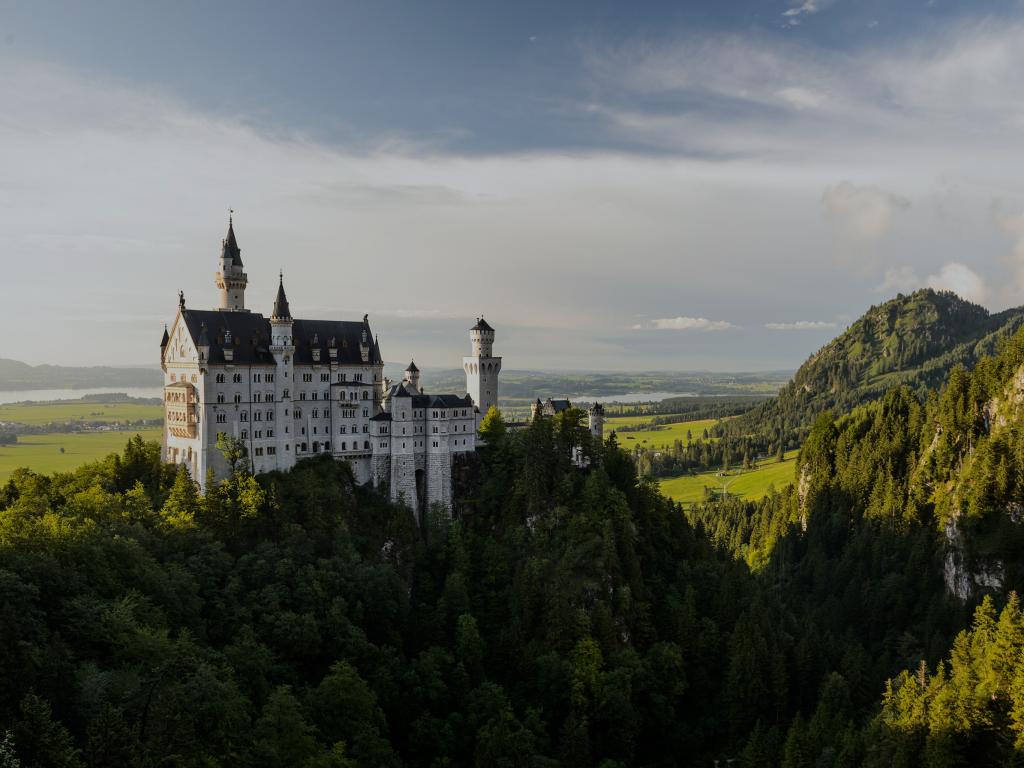 Germany Travel Guide
Germany is a destination filled with marvelous contrasts. Start with a visit to the romantic countryside dotted with fairytale castles. Then, you can explore the trendy, yet grungy capital where all-night parties rule the streets. Later, don't forget to visit the powerful museums and monuments dedicated to the events of the 20th-century. It's time to experience Germany. 
The Highlights


Berlin

In Berlin, the number of experiences and historic sites to visit is seemingly endless. There's the East Side Gallery, the Topography of Terror, the Memorial to Murdered Jews, the Jewish Museum, Mauerpark, the Reichstag Building and the TV Tower just to name a few. It's the combination of astounding architecture, incredible nightlife and delicious food. In Berlin, you're bound to have a ball. 

Cologne

As one of Germany's oldest cities, visitors can get lost amongst many Gothic churches and Roman towers that stand tall against modern buildings that dominate the skyline to create a sense of both old and new all in the one town. Notable points of interest include the Schokoladenmuseum (Chocolate Museum), the trendy district of the Belgian Quarter, and Cologne's very own 'love lock' bridge. 

Dresden

Historic Dresden, a city virtually destroyed in WWII and then rebuilt, is rich in culture and is a must-visit during your travels. Architecture enthusiasts will appreciate the baroque-style buildings as the small town is surrounded by inspiring towers and domes belonging to palaces and churches along with the many museums including the Grünes Gewölbe and Gemäldegalerie Alte Meister museums. 
Hamburg

Divert your attention to the many canals and waterways of Hamburg, and you'll soon find out why some travellers refer to this city as the "Venice of the North". Along with its traditional-style architecture, this vibrant metropolis is the home to the architecturally bold Elbphilharmonie, a major concert hall that you should carve some time out of your day to visit. Note: it's truly breathtaking.

Neuschwanstein Castle

Tucked away in the Bavarian Alps, you will find one of the most impressive structures in Germany, the Neuschwanstein Castle. For a regal and romantic setting for anyone who feels entitled to their own kingdom, a visit to this fairytale castle is a must-do. Dating back to the 19th-century, the panoramic views of the surrounding hills are one-of-a-kind. 

Romantic Road

Fairytale towns, wide open roads and snow-capped Bavarian Als mean we must be talking about the Romantic Road. How you travel through the area is completely up to you, but it is best to do so with a generous amount of time as it's impossible not to stop every few minutes to enjoy the views. Be sure to visit Görlitz, a town that survived major bombing during WWII, and still remains intact.
The Basics
The Location

Germany is located in Europe and shares borders with Denmark, Poland, Czech Republic, Austria, Switzerland, France, Luxembourg, Belgium and the Netherlands. From New York, a non-stop flight is 8h 10m, and from London, it is roughly 1h 20m.  

Capital City

Berlin is the capital of Germany and is located in the northeastern section of the country and is home to over 3.5 million people. 

Main Airport

Frankfurt Airport is the busiest airport in Germany and serves both domestic and international passengers. The airport is located 12 kilometres from central Frankfurt. 

Code

FRA

Closest City

Frankfurt

Language Spoken

The official language of Germany is German, however, English is widely spoken across the country. 

Currency

Germany uses the euro. The currency code is EUR. There are ATMs available everywhere across the country, and you should have no issues accessing your funds. Make sure to check with your financial institution regarding transaction fees abroad. 

Visas

As part of the Schengen zone, most travellers can enter for up to 90 days without a visa. Some nationalities need a Schengen visa. EU citizens can travel freely to Germany. We recommend checking your country's travel advisories before you travel. 

Electricity

Electrical current is 230V/50Hz using two round pins. The standard voltage in the US is 120 volts, so to avoid frying your electronics, you may need a surge adaptor.

Vaccinations

There are no required vaccinations for you to travel to Germany, however, it is recommended that you consult your doctor with your itinerary 6 to 8 weeks before you depart.

Emergency Calls

The phone numbers to call in case of emergency are 110 for the police, 112 for an ambulance or fire.
When to Visit
Germany Tours
Visit Responsibly

Travelling responsibly means respecting the communities, culture and environment of the places you visit. Keep these tips in mind when travelling to Germany:

Go green. Be environmentally conscious on the road by taking short showers; turning off the lights in your hotel room when you leave; and resisting the urge to collect any plants, seashells, or other natural flora.

Respect cultural differences. Before travelling, read about the local culture and customs – even just knowing the dress code and a few basic phrases in the local language will go a long way.

Support local businesses. Enjoy a more authentic experience and directly support the local economy by travelling with a local guide, eating in local restaurants, buying from local artisans, and staying in locally-owned and operated accommodations.

Wherever possible, avoid single-use plastics. Pack reusable items such as your own shopping bags, utensils, a water bottle, and a straw. These items are typically lightweight and compact, and will greatly reduce your consumption of plastics.

Be conscious of overtourism. Opt to visit the lesser-known regions of Germany or travel outside the peak season – you'll likely even get a better deal and won't have all the crowds!

Sustainable Tourism in Germany

Bio Hotels and Ecotourism
Due to the rising demand for ecotourism and sustainable travel in Germany, there are many wonderful eco-friendly accommodation options for tourists. For example, bio hotels (which maintain the highest standards in various areas ranging from serving organic food to only using natural cosmetics) are located all over the country and even some organic farms offer holiday rooms.

Alternative Modes of Transportation
With more than 200 long-distance bicycle paths and public transportation at every corner, Germany is making strides in encouraging fossil fuel independence. In addition to the bike paths and public transportation, Germany also focuses on making the vehicles on the road more efficient. In fact, in 2015 the German government passed the Elektromobilitätsgesetz, which aimed to increase the use of e-cars by giving them special privileges.

High Emphasis on Recycling
In Germany, recycling is taken seriously. Household trash is sorted into different coloured bins - for example, blue bins are for paper products. Moreover, you can even get money back when you return some cans and plastic bottles to the supermarket.
 
FAQs about Germany
Do you tip in Germany?

There isn't a formal tipping culture in Germany, however, it is suggested to round up the amount of your restaurant bill or add 10-15%, generally ending with a full Euro amount. Tipping in hotels is expected and tipping the porter at least 1-2 euros per bag is acceptable. 

What is the internet access like?

Internet connection can range in quality, but you should have no problem with day-to-day tasks like emailing or surfing the web in Germany. WiFi is available in many cafes, hostels and hotels for free, but outside urban areas, this is not as common.

Is the tap water safe to drink?

Tap water in Germany is most certainly drinkable, however, if you do not enjoy the taste, you can boil it or buy bottled water. 

Can I use my credit cards?

Yes, credit cards are widely accepted throughout Germany. Please check with your bank about any foreign transaction charges.

What are the public holidays?

Along with common public holidays such as New Year's Day, Christmas and Good Friday, Germany has Ascension Day 40 days after Easter, Labour Day on May 1, Whit Monday 50 days after Easter and Day of German Unity on October 3. 

Is it safe to visit Germany?

Germany is known as one of the safest places to visit in the world, however, that doesn't mean you should drop your guard at any time. Pickpocketing is a frequent occurrence, so it is best to keep your wits about you and pay attention to your surroundings. 
A TRAVEL MAGAZINE BY TOURRADAR