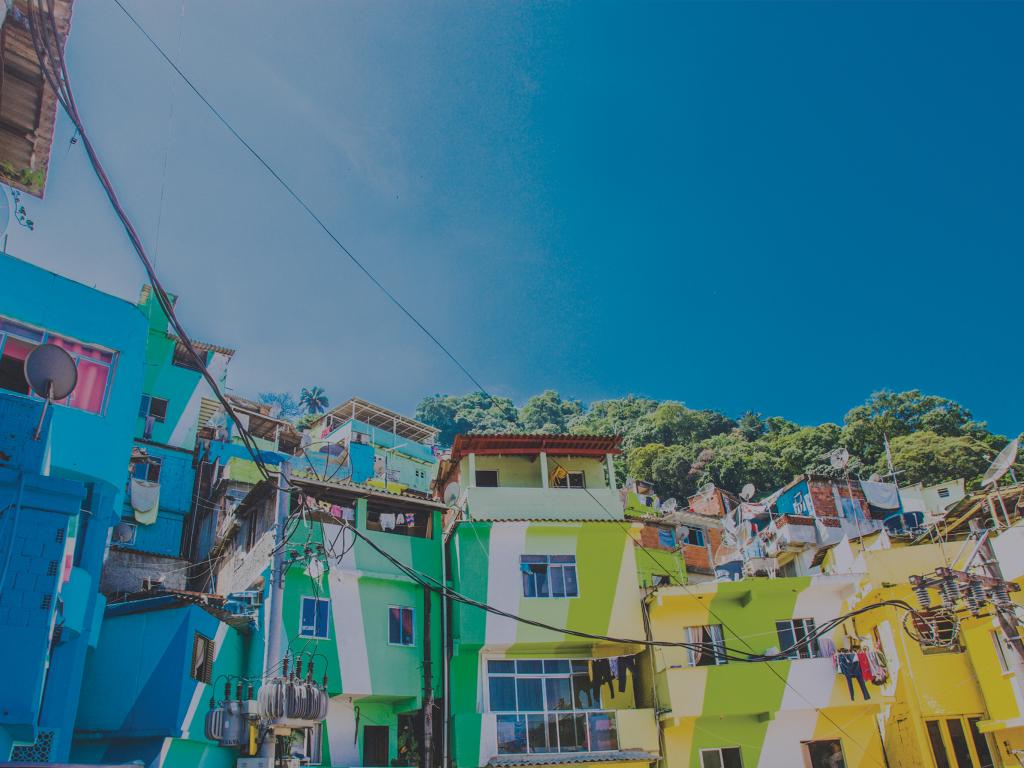 Brazil Travel Guide
Brazil is nothing short of incredible, and we challenge you to name a more vibrant or colourful country in the world. Here, the world's greatest celebration – Carnival – is celebrated just a stone's throw away from the mighty Amazon with beautiful beaches that can be enjoyed along the way. There are also the spirited locals who are proud to share their culture with you. Need we say more? 
The Highlights


Rio de Janeiro

Rio de Janeiro is glamorous, exciting, and an essential stop in Brazil. Start your day at Copacabana beach and arm yourself with as many Caipirinhas as you can carry. Then, join a game of beach volleyball (a favourite local pastime) and marvel at the phenomenal mountains behind you. Next, set your sights toward Corcovado Mountain and visit the statue of Christ the Redeemer. Next: party all night. 

Salvador

Inherently colourful, vibrant, and rich in African-Caribbean culture, Salvador was once the epicentre of the slave trade but today it is one of the fascinating cities on offer. Why? Because of the sounds of the Olodum drummers and powerful rhythms can be heard everywhere through the streets, and all-night festivities are not hard to come by.

São Paulo

At first glance, São Paulo might seem like a concrete jungle as it is home to almost 13 million people, but tucked between the towering buildings is a vibrant cosmopolitan city where the finest museums and cultural experiences can be found. As for the foodies, São Paulo is known for some of the best cuisines in the country and there are endless street food haunts serving local dishes. 
Iguazu Falls

It's no secret we all love a good waterfall and the thunderous roar of the Iguazu Falls will leave you speechless. Composed of 250 mini waterfalls, you can spend hours walking unguided along the edge of the falls. On the Brazilian side, the best-known falls include Benjamin Constant, Deodoro and Floriano, so make sure you take your camera to get up close and personal with Iguazu Falls.

Olinda

Located just 6 kilometres from Recife, Olinda is the picturesque hilltop town surrounded by dozens of trees and is best known for its breathtaking 18th-century architecture, baroque churches and colourful houses. Notable points of interest worthy of your time and Instagrams include the Alto da Sé, Museu do Mamulengo, Museu Regional de Olinda and the Convent of San Francisco. 

The Amazon

Naturally, any mention of the Amazon conjures images of toucans and other creatures sitting in huge trees – and in real life, it's even more incredible than you could picture. For your Amazon adventure, head to Manaus, the gateway to the Amazon basin. Then, you can simply jump into a riverboat and cruise along the Amazon River into the depths of the verdant rainforest – the biggest in the world. 
The Basics
The Location

Brazil is a country in South America and is the fourth largest country in the world. From New York, a non-stop flight is 9h 45m, and from Sydney, it is roughly 18h 15m, with a stopover. 

Capital City

Brasília is the capital city of Brazil and is located in the country's centre-western region.

Main Airport

São Paulo International Airport is the main hub for domestic and international travellers. It is located 25 kilometres from downtown São Paulo.

Code

GRU

Closest City

São Paulo

Language Spoken

The official language of Brazil is Portuguese. Not many Brazilians speak fluent English, particularly outside Rio de Janeiro or São Paulo, so you might want to learn a few phrases before you travel. 

Currency

Brazil uses the Brazilian Real. The currency code is BRL and ATMs are widely available in Brazil. Check with your bank for foreign fees. 

Visas

Visas are required for some nationalities, including Australians, Canadians and Americans, whereas some nationalities can enter without a visa. We recommend checking your country's travel advisories in advance of booking a trip. It can take weeks to process visa applications.

Electricity

In Brazil, the voltage varies greatly and can be almost anywhere between 110V and 220V. The standard voltage in the US is 110 volts, so to avoid frying your electronics, you may need a surge adaptor. 

Vaccinations

Typhoid, Hepatitis A and B vaccinations are advised for travel to Brazil, however, are not compulsory. Yellow Fever is also recommended depending on where in Brazil you will be travelling. Consult your doctor 6 to 8 weeks before you depart.

Emergency Calls

The phone numbers to call in case of emergency are 192 for an ambulance, 194 for the police and 193 for a fire.
When to Visit
Brazil Tours
FAQs about Brazil
Do you tip in Brazil?

Tipping in Brazil is customary and is always appreciated, however, 10% for most services is acceptable. While taxi drivers are not usually tipped, it is best to round up the fare. 

What is the internet access like?

Internet connection can range in quality, but you should have no problem with day-to-day tasks like emailing or surfing the web when in Brazil WiFi is available in many cafes, hostels and hotels for free, but outside urban areas, this is not as common.

Is the tape water safe to drink?

Yes, you can drink tap water in Brazil however you may not enjoy the taste. If this is the case, buy bottled water, or you can boil the tap water or use water purification pills.

Can I use my credit cards?

Yes, credit cards are widely accepted throughout Brazil. Please check with your bank about any foreign transaction charges.

What are the public holidays?

Brazil has Carnival (before Ash Wednesday), Tiradentes Day on April 21, Labor Day on May 1, Corpus Christi 60 days after Easter, Independence Day on September 7, Day of NS de Aparecida on October 12, All Souls' Day on November 2 and Proclamation of the Republic on November 15. 

What are the toilets like?

Toilets in Brazil are mostly of the sit-down type, however, you must not flush the toilet paper and there will be a bin provided to dispose of toilet paper. It is a good idea to carry around spare toilet paper as this is often not provided – and you might find yourself in some trouble without it. 

Is it safe to visit Brazil?

There's no denying that Brazil has a high crime rate, but if you are careful and practice due to caution you can reduce the chance of any troubles. Be alert and walk purposefully as to not look vulnerable to criminals, and be careful when visiting an ATM as criminals watch these closely. 

Is it safe to visit as a solo female traveller?

As mentioned, Brazil is known for its crime rates, but if you are comfortable in busy places and are a confident traveller then go for it. Be wary of distraction tactics and scams employed by street thieves and maybe consider a group tour for safety, and to meet other solo like-minded travellers. 
A TRAVEL MAGAZINE BY TOURRADAR