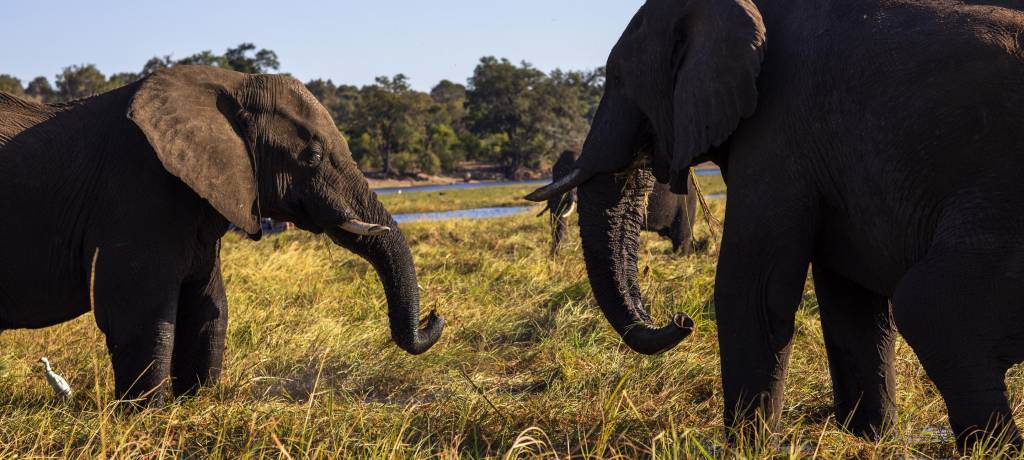 Unique Honeymoon Safari Experiences
Tanzania, Kenya, South Africa, or Botswana — no matter what African destination you choose, a honeymoon safari makes for an action-packed trip you'll never forget. Even better? This continent is home to some of the most incredible beaches on the planet, so if you need a little downtime after your adventures in the bush, a honeymoon safari and beach holiday is the perfect combination.
Honeymoon safari packages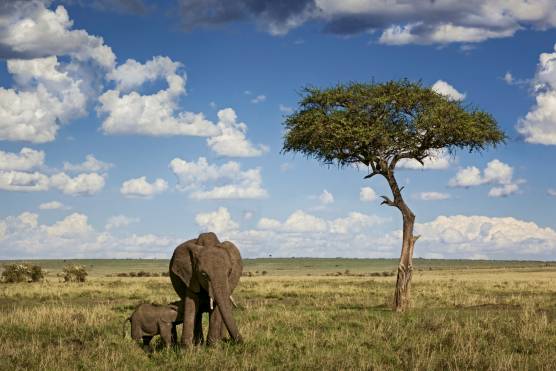 Tanzania
Why Tanzania?

Incredible wildlife, world-renowned natural attractions, stunningly beautiful landscapes, and pristine beaches — Tanzania is a destination that truly has it all. The country's premier national park, the Serengeti, sets the stage for one of the most sensational wildlife spectacles in the world: the Great Migration, but there's so much more to experience here. Set off in search of the Big Five in the Ngorongoro Conservation Area or attempt to scale Mount Kilimanjaro, the highest peak in Africa. After you've seen the mainland's top sights, hop on a quick flight to the exotic spice island of Zanzibar, where heavenly beaches await.

Perfect for: A honeymoon safari and beach holiday 

When to go: Game viewing is typically at its best during the dry season (June to October), but you'll need to travel to the Serengeti between November and August if you'd like to see the Great Migration.
 
See all Tanzania safaris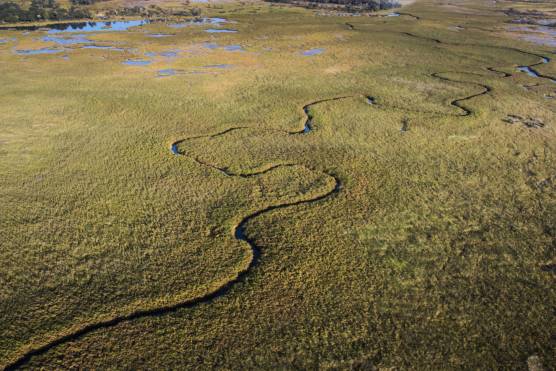 Botswana
Why Botswana?

If luxurious accommodation, mesmerizing, one-of-a-kind landscapes, and abundant wildlife sound like your perfect idea of a honeymoon safari, Botswana should be at the top of your list. The Okavango Delta is easily one of the country's most romantic destinations; you'll never forget the feeling of gliding silently through its never-ending labyrinth of waterways, spotting everything from frogs to hippos, giraffe and more. Chobe National Park is home to Africa's largest elephant population, and it also offers great lion and leopard sightings. There's even more amazing wildlife to be found at Kalahari Game Reserve, one of the largest and most remote game reserves on the continent. 

Perfect for: Luxury, privacy, and unrivalled wildlife viewing 

When to go: Between May and October (during the dry winter season) Botswana is at its peak when it comes to game viewing.
 
See all Botswana safaris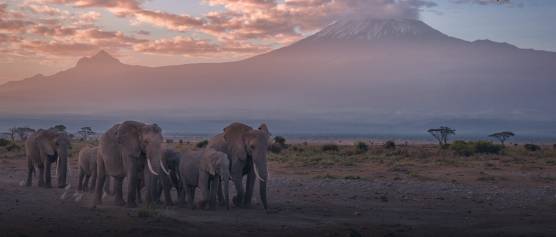 Kenya
Why Kenya?

A honeymoon safari in Kenya means you'll spend your days exploring the wild plains of the Masai Mara and Amboseli National Park — two must-visit destinations renowned for their breathtaking vistas and impeccable wildlife sightings. In the evenings, you can retreat to your lodge to enjoy sundowners by campfire and private candle-lit dinners in your room. If you visit between July and November, you can enjoy a front-row seat to the Great Migration in the Masai Mara — a once-in-a-lifetime experience that's sure to be the highlight of your holiday. End your honeymoon along Kenya's coastline, where you can spend a few blissful days decompressing and reminiscing about all your safari adventures.

Perfect for: A quintessential safari experience and a bush and beach honeymoon 

When to go: Kenya is a year-round destination, but the best months for wildlife viewing are during the dry season from June to October. The Great Migration typically reaches the Masai Mara in July and remains until October.
 
See all Kenya safaris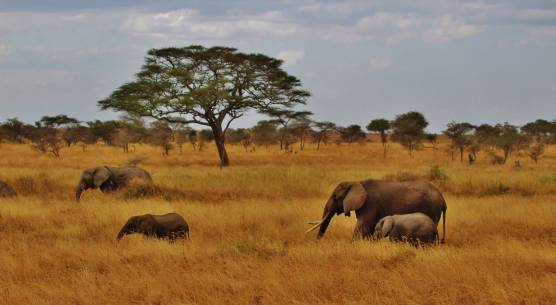 South Africa
Why South Africa?

If you're the type of couple that wants a diverse honeymoon destination filled with rugged wilderness, vibrant cities, and endless natural beauty, few countries can rival South Africa. Start your holiday in the country's most famous national park, Kruger, where your chances of spotting the Big Five — along with species like the cheetah, wild dog, and hyena — is extremely high. By the time your thrilling bush adventures are through, you'll be longing for some much-needed R&R — and that's where Cape Town comes in. Kick back and relax on one of the city's many postcard-perfect beaches, explore world-class vineyards, and indulge at some of the top restaurants in Southern Africa. 

Perfect for: Adventurous couples and budget travellers

When to go: Safari hotspots like Kruger National Park are best visited during the dry season (which runs from June to October), but this period happens to be Cape Town's rainy season. If you're planning to book a honeymoon safari package to South Africa, be sure to keep these opposing seasons in mind.
 
See all South Africa safaris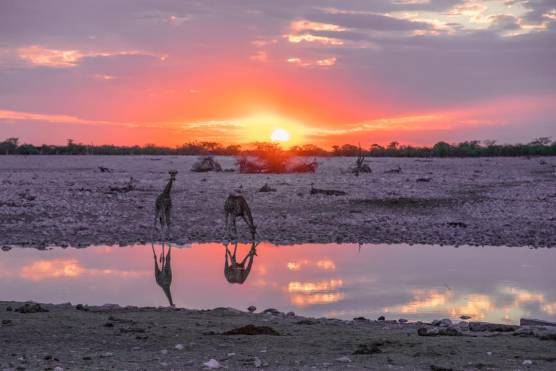 Namibia
Why Namibia?

Relaxing in luxurious lodges, watching the sunset over the savannah from your private deck, and sipping coffee in bed while giraffe and zebra graze right outside your room — these are only a few of the romantic moments you can expect to share on a honeymoon safari in Namibia. From the otherworldly sand dunes of Sossusvlei to the staggeringly beautiful scenery of the Skeleton Coast, Namibia's enchanting landscapes are the perfect backdrop for connection and reflection. Plus, the wildlife viewing here is second to none; Etosha National Park offers the opportunity to see four of the Big Five, along with cheetah, hyena, and loads more.

Perfect for: Couples who want to get away from it all

When to go: In terms of wildlife viewing, it's best to visit Namibia in the dry season between June and October.
 
See all Namibia safaris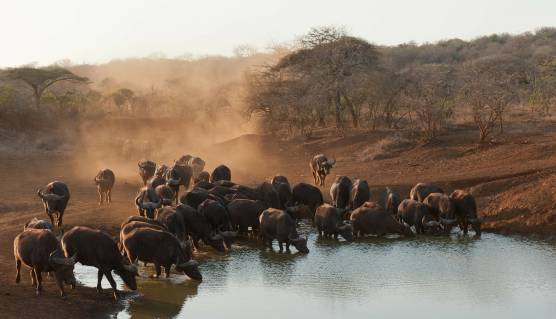 Zimbabwe
Why Zimbabwe?

There are so many reasons why this relatively under-the-radar destination is one of the most enticing destinations for a honeymoon safari. Firstly, its national parks are among some of the finest in Africa; Hwange National Park is teeming with concentrations of big game, including elephant, leopard, lion, buffalo, and cheetah. Another great reason to visit? Zimbabwe offers a diverse range of adventurous activities and one-of-a-kind excursions, from bungee jumping to whitewater rafting beneath the iconic Victoria Falls. Best of all, a safari here guarantees exclusivity — which means you can enjoy a thrilling game viewing experience without the tourist hordes you'll typically find in other safari hotspots.

Perfect for: Budget travellers, privacy, and exclusivity 

When to go: With pleasant temperatures, almost no rainfall, and low malaria risk, the dry winter season (between May and October) is the best time to visit.
 
See all Zimbabwe safaris
Top safari & beach honeymoon destinations
Zanzibar

For a dose of post-safari relaxation, choose a honeymoon package that includes a visit to both Tanzania and Zanzibar — an archipelago dotted with powder-soft beaches and mesmerizing coral reefs.

See all tours

Seychelles

For ultimate relaxation and romance, end your safari and beach honeymoon in the Seychelles, a dreamy destination brimming with exquisite beaches and crystal-clear turquoise waters.

See all tours

Madagascar

Jewel-toned waters, vast stretches of pristine coastline, and palm-fringed beaches make Madagascar an excellent choice for the honeymoon safari of a lifetime.

See all tours
Top honeymoon safari experiences
Go on a hot air balloon ride

A sunrise hot air balloon ride is sure to be one of the most memorable moments of your honeymoon safari, especially if you're taking in the stunning landscape of the Serengeti or the Masai Mara from above.

Explore the Okavango Delta

Turn up the romance notch on your honeymoon and head to Botswana's Okavango Delta, where you can gracefully glide through a maze of intricate waterways on a mokoro (a traditional dugout canoe).

Sleep under the stars

Whether you're in South Africa's Kruger Park or Etosha National Park in Namibia, one of the best ways to experience the bush is to spend a night under the stars, with the sounds of the African night lulling you to sleep.

Fly over Victoria Falls

Looking to add a dose of adrenaline to your honeymoon? Hop in a helicopter or take a microlight flight over Victoria Falls, a spectacular natural wonder that sits on the border of Zimbabwe and Zambia.

Relax on the Seychelles' beaches

Combine the thrill of wildlife viewing with the calm of the ocean for the perfect post-nuptial retreat. When it comes to honeymoon safari and beach holidays, Seychelles' azure coastline won't disappoint.

Try a horseback safari

Whether it's South Africa's Kruger National Park, Mozambique's deserted beaches, or the Masai Mara in Kenya, there's no better way to savour Africa's pristine wilderness than by horseback.
Reasons to go on a honeymoon safari
Make unforgettable memories

Exciting game drives, candle-lit dinners beneath starry skies, and adventurous excursions  — a honeymoon safari is equal parts thrilling and romantic. Whether you choose to explore beautiful Botswana or an iconic national park like Kruger, and you're guaranteed to make memories that will last a lifetime.

Combine adventure with relaxation

A honeymoon safari and beach holiday delivers the best of both worlds. Once you've had your fill of game drives, round off your vacation with a relaxing stay at one of the Seychelles' white-sand beaches or an overwater bungalow in the Maldives.

Experience incredible natural wonders

From the Masai Mara's legendary wildlife to the seemingly endless plains of Tanzania's Serengeti National Park and the towering sand dunes of Sossusvlei in Namibia, you'll be amazed by this continent's world-renowned natural wonders, vast, sweeping landscapes, and remarkable wildlife.
Tips before booking
Do you prefer luxury or adventure?

Do you want to stay in a tented camp in the bush or at a luxurious lodge with plenty of creature comforts? Are you hoping to go on as many game drives as possible, or would you like to explore the African savannah by horseback or hot air balloon? Determining what's most important in terms of accommodation, amenities, and activities will make it easier to find a honeymoon safari that matches your specific preferences.

How much time do you have?

If you have a limited amount of time, you may want to stick to one destination — like Kruger National Park, for example. If you have a generous amount of vacation days, consider visiting multiple safari destinations, or opt for a safari and beach holiday. Even if you don't have several weeks to spare, a bush and beach vacation is still feasible in countries like Tanzania or Kenya as they're relatively close to the Seychelles and Zanzibar.

What's your preferred budget?

Determining your budget will ultimately make it easier to find the perfect honeymoon safari destination. Prices vary wildly depending on where you choose to travel and when, but generally speaking, Botswana, Kenya, and Tanzania are some of the most expensive options. South Africa, Namibia, and Zimbabwe, on the other hand, are better suited to budget travellers.

When do you want to go on your honeymoon safari?

The best time to visit a particular destination varies depending on the time of year. As a general rule, the dry seasons are best for wildlife viewing since vegetation is sparse and animals begin to gather around any remaining waterholes, making them easier to spot.

What animals do you want to see?

Most of Africa's top safari destinations are home to a diverse range of wildlife — including lions, elephants, giraffes, and hippos — but if you have your heart set on seeing a particular species, then we'd advise that you do your research before booking to avoid disappointment.

How many game drives should you do?

It's recommended that you go on at least six game drives to fully experience all your destination has to offer. There are plenty more activities to try besides game drives as well, so be sure to make time for excursions like bush walks, horseback safaris, or hot air balloon safaris.
Contact our Travel Experts
+1 844 311 8331
24/7 Support
Our team of experienced tour specialists have travelled to hundreds of countries around the globe and have decades of first-hand travel experience to share. Contact us now to have all of your tour-related questions answered!
A TRAVEL MAGAZINE BY TOURRADAR