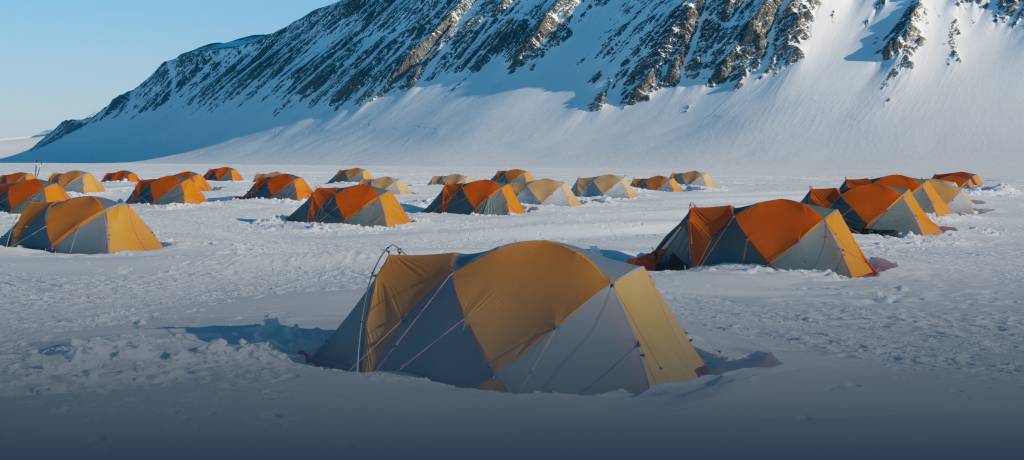 Camping in Antarctica
Abandon the cruise ship for a night and bed down to witness the immaculate white landscape beneath the South Pole's night sky or hear curious penguins and seals coming by to investigate who's crashing on their turf. Plus, it's usually warmer than you'd assume for Antarctica and you'll go home with a tale of how you slept right on the ice. How many people can say they've done that?
FAQ
Is camping included in the price?

Sometimes. Certain operators offer camping as part of their total prices, others don't. If it's not included, prices range from 150 to 300 USD per person.

Can I change my mind after booking?

Yes you can, although a refund is not guaranteed and depends on each operator's cancellation policy.

How and when should I book?

Secure your spot when you book the cruise. With some operators, you can also book when you're on the ship. But remember that places are limited so the earlier you book, the more likely you snag a spot. 

I didn't book camping, is there any way I can still participate?

It depends on the operator and whether or not they have any space left. Some might have standby list (if so, ask to be put on it). 

How cold will it be?

Most agree that with the proper gear, it's not as cold as you'd imagine! Professional camping equipment (either a tent or a bivouac /bivvy) will be provided to ensure the proper insulation. Be sure to wear proper clothing you shouldn't get cold. Keep in mind that it is weather dependent, so if the tour operator decides conditions will make the experience too cold, the activity won't take place.

Do I need to be physically fit or have previous experience?

No, everyone is welcomed to join camping. No previous experience is required and you don't need to be physically fit. The only requirement is to be in generally good health.

What happens in case of emergency?

The crew members that accompany the camping are always in radio contact with the ship and emergency zodiacs can be dispatched asap. There is also emergency gear and food rations brought in case weather conditions change swiftly and you are out in the elements longer than planned. 

Do I need to bring any extra equipment?

No, all camping equipment is provided by the tour operator. Just make sure you bring enough appropriate clothing.
Popular Antarctica cruises
A TRAVEL MAGAZINE BY TOURRADAR