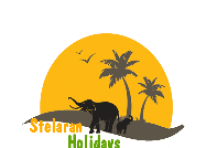 Stelaran Holidays (Pvt) Ltd
Headquarters in Gampaha, Sri Lanka
View all tours
Number of tours

50
Age Range

5-90
Number of reviews

46
Rating

5.0

/5
Response rate

100%
Response time

within 1 day
Madushi

Written on May 30th, 2022

This trip has a fantastic itinerary for getting a really good taste of Sri Lanka. Travelling in a group of solo travellers really helped us get to know each oth…

Read more

Stelaran Holidays (Pvt) Ltd commented on this review

Hi dear Madam, Thank you very much for leaving such a beautiful review on us Thanks, Shani

Mark

Written on October 2nd, 2020

It was great honeymoon tours

Stelaran Holidays (Pvt) Ltd commented on this review

Hi dear madam We sincerely thank you for taking the time to give us your feedback! Thank you so much for traveling with us, Shani

Sean

Written on September 29th, 2020

We are from Ukraine, we are traveling two females first time in srilanka, and really we had great experience. When the traveling time Susana fold down at …

Read more

Stelaran Holidays (Pvt) Ltd commented on this review

Hi dear Susana Thank you very much for leaving such a beautiful review on us Thanks, Shani

Mark

Written on September 6th, 2020

Negombo lovely beach side hotel it was a very pleasure.. A travel specialist who also was amazing as well. The process overall was excellent. Tour guides were…

Read more

Stelaran Holidays (Pvt) Ltd commented on this review

Hi Mark We sincerely thank you for taking the time to give us your feedback! Thank you so much for traveling with us, and we look forward to serving you again! Thanks Chandani

Justin

Written on September 4th, 2020

My honeymoon Tour in Sri Lanka for 8 days.Last year 2019 who arranged the tour and the accommodation was really responsive as she managed to arrange my honeymoo…

Read more

Stelaran Holidays (Pvt) Ltd commented on this review

Hi dear Thank you very much for leaving such a beautiful review on us Thanks Shani

Christopher

Written on September 3rd, 2020

Honey moon Tours experience from stelaranholidays. we will get nice started from Colombo airport to hotel Negombo lovely beach side hotel it was a very pl…

Read more

Stelaran Holidays (Pvt) Ltd commented on this review

Dear Yousria Thank you very much for leaving such a beautiful review on our page today Thanks Shani

Lucy

Written on July 22nd, 2020

Stelaranholidays arranged my honeymoon Exclusive in Sri Lanka for 8 days. Shani the tour consultant, who arranged the tour and the accommodation was really resp…

Read more

Stelaran Holidays (Pvt) Ltd commented on this review

Hi dear Lucy Thank you for your positive feedback and for choosing stelaranholidays Are you safe in your country. we will see you again in Sri Lanka thanks Shani

Written on February 17th, 2020

There is beautiful countryside to be seen, and I'd have been more than happy to have spent another night there. I loved going inside and get a feel of the plant…

Read more

Stelaran Holidays (Pvt) Ltd commented on this review

Dear sir Thanks for your recommendation us Thanks Shani

Written on February 17th, 2020

We booked with Yala safari. Our Guide & Driver Chandana never forget his Name remember it . Picked us up punctually and we were one of the first on yala gate …

Read more

Stelaran Holidays (Pvt) Ltd commented on this review

Hi Dear ranjith Thanks. You are the one regular Client for always visit to srilanka with us Thank you very much for your lovely review shared on our page! Hearing the happy moments of our clients mean everything to us and we sincerely thank you for taking the time to give us your feedback! Thank you so much for traveling with us, and we look forward to serving you again! next time we will offer special rates to you . Thanks Shani

Written on February 17th, 2020

Safari of a lifetime. Highly recommend yala safari. We saw so much in the time we were there.

Stelaran Holidays (Pvt) Ltd commented on this review

Hi, Mr. Michele Thank you so much for traveling with us, and we look forward to serving you again!Thank you very much for your lovely review shared on our page! Thanks Shani
Stelaran Holidays (Pvt) Ltd Tours
Stelaran Holidays (Pvt) Ltd Destinations
Stelaran Holidays (Pvt) Ltd Videos
Questions & Answers
What level of fitness is required for your tours?

Due to the level activity involved on the Stelaran Holiday tours, it is recommended to have a general level of fitness as you will be required to do some walking on the tours. For more details of what is expected on the tour please have a read over the itinerary of the tour you have selected.

Are you able to arrange additional accommodation pre or post tour?

Once you have a confirmed booking you will be able to arrange additional accommodation pre or post tour. To organise the accommodation please contact our team of Travel Experts.

I am a solo traveller, is there a single supplement?

If you are travelling alone there is a mandatory single supplement as it is not possible to share a room on the tour with another solo traveller.

Are you able to book airport transfers?

Some of the tours offered by Stelarn Holidays include an arrival transfer however if this is not the case on the tour you book you will need to make your own arrangements to the starting location of the tour.

I have travelled with Stelaran Holidays before, is there a past traveller discount?

That's fantastic if you have already travelled with Stelaran and looking to book another tour, please contact our team of Travel Experts to find out what discounts are available to you.

What is the average group size?

The group sizes can vary depending on the tour you select however you can expect from 6 to 20 travellers on the tour.

Do you offer any additional optional excursions?

There are many fantastic included activities on the tours however if there any additional optional excursions available to you, they will be stated on your itinerary with your finalised travel documents.

Is travel insurance compulsory on your tours?

Stelaran Holidays requires every traveller to have adequate travel insurance before travelling on one of their tours.
Contact our Travel Experts
+1 844 311 8331
24/7 Support
Our team of experienced tour specialists have travelled to hundreds of countries around the globe and have decades of first-hand travel experience to share. Contact us now to have all of your tour-related questions answered!