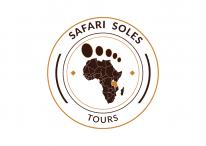 Number of tours

20
Age Range

1-80
Number of reviews

26
Rating

4.8

/5
Response rate

100%
Response time

3 hours
Written on June 30th, 2021

So where do I start... maybe most important in advance: you can feel how these guy change their communication as soon as they got your money. I'm a girl travell…

Read more

STEPHEN

Written on June 9th, 2021

This trips is amazing & should be on the to do list of every traveler coming to arusha or moshi, great vibes at the coffee village, knowledgeable guide & the ho…

Read more

Safari Soles tours commented on this review

Thank you & welcome again

George

Written on March 3rd, 2021

Joined a day trip to Materuni waterfalls, the hike was great, a moderate trail up to the foothills of kilimanjaro i was lucky i had a clear view of the kilimanj…

Read more

Safari Soles tours commented on this review

Thank you, we are glad you enjoyed the trip, Asante sana & karibu tena

Rahel

Written on January 16th, 2021

We did this experience we just myself and my hubby as a christmas gift surprise. I could not have chosen any better as it was everything i was hoping for BUT al…

Read more

Safari Soles tours commented on this review

Thank you, Rahel. We appreciate your feedback, we are happy that you enjoyed the trip & will be looking to go with us again. This gives us even more motivation to keep pushing in the right direction Thank you again & Karibu tena

Written on January 10th, 2021

Saw the big 5 and many others in a quick-fire tour of Serengeti and Ngorongoro. The trip included a guide who pointed out many species and bird names (more back…

Read more

Safari Soles tours commented on this review

Thank you for your feedback Eric, i would like to point out a few things 1st, with this itinerary you can see cheetah's but on a safari it is a game of chances its all down to nature & the animals 2, the permits are valid for 24hrs meaning the check in time is the check out ime for the next day so, the trip is set to check out regardless of seeing the rhino or not (as we cant stay any longer with a budget tour as only 1 permit is paid for) 3. The 1st morning in serengeti our programs opts for coffee/tea then going out for an early morning game drive (sunrise game drive) and coming back for brunch. Why is this, Your chef goes with you to serengeti & head to campsite with you after sunset he prepare meals, waits for you to be done, clean the dishes that mostly almost mid night, so waking up early enough for proper breakfast & still being in time for a sunrise game drive means he gets 3 - 4 hours sleep. I will inform chef to always let clients make the choice between sunrise game drive or to wait a little bit for proper breakfast

Written on December 29th, 2020

My friends and I completed a 7-day hike on Mount Kilimanjaro going up on the Lemosho route and descent through Mweka. Each of the trekking days was different…

Read more

Cars

Written on October 28th, 2020

I took this tour from arusha as part of my holiday, the tour itself was an amazing experience saw plenty of wildlife including all the big 5, the safari crew (m…

Read more

Written on October 19th, 2020

Joined the 3 days hike with a group starting off with a walking safari down the slopes of the mountain before taking this strenuous trail it was really enjoyabl…

Read more

Safari Soles tours commented on this review

Welcome again & thank you for the feedback

clement

Written on October 19th, 2020

it is an amazing tour,any one can enjoy many moments from ngorongoro and serengeti like game drive,sleeping on tents and also i met Douglas as our guide and Act…

Read more

Safari Soles tours commented on this review

karibu tena

Written on March 20th, 2020

Perfect ! The best experience in Safari of my life.
Contact our Travel Experts
+1 844 311 8331
24/7 Support
Our team of experienced tour specialists have travelled to hundreds of countries around the globe and have decades of first-hand travel experience to share. Contact us now to have all of your tour-related questions answered!