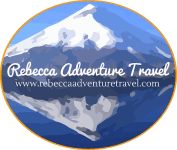 Number of tours

18
Age Range

12-99
Number of reviews

46
Rating

4.5

/5
Response rate

80%
Response time

within 2 days
Written on April 1st, 2021

The Galapagos are incredible and overall the Rebecca Budget Tour was satisfactory. The hotels were clean and most of the provided meals were good. However, some…

Read more

Written on February 19th, 2021

My time at Nicky Lodge in Cuyabeno was excellent. Rom was an expert guide, and provided the experience of a lifetime. Christian and Carlos were an amazing staf…

Read more

Rebecca Adventure Travel commented on this review

Many thanks for your kind review Chad, it is really appreciated. We are glad you had such an amazing time. We hope to have you back soon!

John

Written on March 4th, 2020

the Galapagos Islands tour was spotty. The Islands are fantastic, but not sure this was the best way to see them. Constant switching of tour guides, lack of inf…

Read more

Written on January 22nd, 2020

After reporting an issue on trip, Tourradar failed to recognize the issue and booked us again on vessel in which we had the issue. The issue was further down pl…

Read more

Written on January 17th, 2020

Amazing islands, wildlife and scenery. Highly recommend going there. One drawback far too many guides and no consistency. Very confusing what was going on, tell…

Read more

Hannah

Written on December 8th, 2019

We stayed 4 nights at Jamu Lodge and had the most incredible time. The lodge staff were fantastic, and our guides were knowledgeable and really sharp eyed to sp…

Read more

Written on October 7th, 2019

I was set up with a different tour guide for each day. Some of them were good and some were not. They appear to be independent from the Rebecca Travel and all f…

Read more

Rebecca Adventure Travel commented on this review

Hi Rachel, thanks for your comment. The most guides we work with are independent, but they follow our instructions and travel plans. Some guides can do the tour a bit quicker, but 2 hours earlier than planned is absolutely new for us. But we will contact you to find out what happened exactly. The drivers of your lodge were indeed only Spanish speaking, as mentioned in the itinerary. Because of your comment, we have asked them to introduce themselves better to the pax. So your review was very helpful in this, so thank you very much. Best regards, Willem

Written on October 1st, 2019

The tour isn't really a 'tour' in the classic sense. It is more a coordinator of individual tours. I am not sure if the cost was worth the level of 'coordinat…

Read more

Written on August 18th, 2019

Excellent guides, food, accommodations. I suggest first day Isabella visit Turtle Sanctuary, less time looking for Flamingos, only saw 3. Bay Tour Santa Cruz, …

Read more

Anonymous

Written on July 2nd, 2019

Everything was great but the lodge did mess up the booking. Paid for 3 privatre rooms but the lodge only booked 1 for my group.
Rebecca Adventure Travel Tours
Rebecca Adventure Travel Destinations
Rebecca Adventure Travel Videos
Contact our Travel Experts
+1 844 311 3006
24/7 Support
Our team of experienced tour specialists have travelled to hundreds of countries around the globe and have decades of first-hand travel experience to share. Contact us now to have all of your tour-related questions answered!