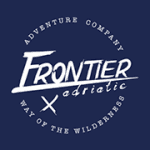 Number of tours

9
Age Range

5-95
Number of reviews

15
Rating

4.8

/5
Response rate

92%
Response time

within 1 day
Written on July 26th, 2019

We've just returned to Australia after an amazing one week gastronomy sailing trip in the Adriatic. Our skipper, Pepi, went above and beyond to make sure we had…

Read more

Frontier Adriatic commented on this review

Christine, thank you very much. We are very happy that Your sailing holidays met the expectations, it was a great pleasure having all 3 generations with us on one tour. Greets from the Frontier Adriatic team

Written on May 29th, 2019

As a novice sailor I was a bit apprehensive about how I would cope being on the open waters. From the moment our 7 day sail adventure began I was made to feel v…

Read more

Frontier Adriatic commented on this review

Hi Muriel. Thank you for a great review. It was great having you and your sailing progress, as well as adoption to the bat, was amazing :) I hope your holidays after sailing were as great as sailing

Written on May 26th, 2019

Uros was professional, approachable, flexible and overall a really nice guy. He accommodated all our wants and needs very well and his extensive sailing experie…

Read more

Frontier Adriatic commented on this review

Hi Brigida, thank you. And congrats for Liverpool beating Barcelona and later winning the finals! :)

Paul

Written on May 26th, 2019

What a fantastic sailing holiday from Split in Croatia. We were extremely well looked after by Uros, our skipper. who after accessing our skills, let us sail as…

Read more

Frontier Adriatic commented on this review

Hey Paul. Thank you very much. I enjoyed sailing with all of you. Thank you for all the gifts/memories and for teaching me so much about Tasmania! See you in Hobart! Uroš

Written on September 30th, 2018

Spectacular sea kayaking tour. Incredible natural landscape — the transparent turquoise Adriatic Sea, cliffs, islands, birds, fish, beaches, forests, sunsets, d…

Read more

Written on September 28th, 2018

Highly recommend, was a really great time!

Written on October 18th, 2017

The sailing was outstanding, taking us to wonderful locations with excellent guidance from our Captain on everything from where to anchor for a swim, to which p…

Read more

Written on September 30th, 2017

Sailing Croatia far exceeded my expectations. Thanks for making this a truly memorable adventure.

Written on August 24th, 2017

We did a private sailing trip with Frontier Adriatic this past summer (2017) and it was an amazing, very memorable and unique trip. There was 11 of us total on…

Read more

Written on August 10th, 2017

The trip was really amazing. Our skipper arranged the boat and our itinerary. If it's any indication of how good they were at planning, we did a trip two years …

Read more
Questions & Answers
How do I travel to the starting point?

We will provide you with all the necessary travel information, including nearest airports, parking spots and other means of travel to and from the starting location. You must make sure that you have the necessary visas and/or other paperwork you might need for your travel, prior to your departure. We are happy to arrange transport for you to and from the nearest airport, however that might include additional fees. Please contact us for more info.

What is Life on a boat like?

Our sailboats are modern and comfortable, though this is very diferent comfort from what you are used to on land. You will share a cabin and usually a double bed. Each boat has multiple heads and showers. Every boat has a full kitchen (galley) and a dining table inside. The boats have full refrigeration, electricity (220V when conected to shore, and 12V when sailing or when on anchor) and other amenities that you would expect in a normal apartment – but although the boats are modern, they are not luxury hotels. Cabins are not as big as in an land apartment, so you only have a small closet and cubbies for your clothes. But when the weather is good (and most of the time it is) you will not want to spend time inside, you will rather be outside on the deck just a meter or so from the sea and the sun. Every day you wake up in a different place and you go to bed each night with a different view and you can swim in crystal clear water just a minute after you wake up. Priceless!

WHAT IF I HAVE NEVER BEEN ON A BOAT BEFORE?

If you don't know how to sail, no problem – that is why you have us. Don't worry, very few of our guests have been on a similar holidays before they met us. Boating is just a different way of travel or spending holidays, it is a mix of luxury and camping – and it is a great way to see the world from a different perspective.

Do I need to take care of travel insurance

Yes. Clients are obliged to take care of their own travel and medical assurance.
Contact our Travel Experts
+1 844 311 8331
24/7 Support
Our team of experienced tour specialists have travelled to hundreds of countries around the globe and have decades of first-hand travel experience to share. Contact us now to have all of your tour-related questions answered!