About
Las Fallas is one of Spain's most unique and popular festivals, celebrated each year from March 15th to 19th in Valencia. This festival is full of energy and spirit, vibrant colours, fire, and plenty of noise and smoke, attracting visitors from every corner of Spain and all over the world. The origins of Las Fallas is somewhat of a mystery, but many believe that it dates back to a pagan tradition during the Middle Ages in which artefacts were burned to celebrate the onset of spring and harvest season. The festival is also a commemoration of Saint Joseph, the patron saint of carpenters, which has evolved over the years into the electrifying celebration it is today. "Las Fallas" translates to "the fires" which is a major component of the festival. Random firework displays erupt all hours of the day and night throughout the city, leading up to the finale on the 19th.
"Many believe that Las Fallas dates back to a pagan tradition during the Middle Ages in which artefacts were burned to celebrate the onset of spring and harvest season."
The 5-day event centers around the creation and imminent destruction of huge puppets named "Ninots" which are crafted all year round out of materials including wood, paper mache, plaster and cardboard. The Ninots often portray current events in a satirical fashion. Many of the Ninots are gigantic, some reaching several stories in height, requiring the aid of cranes to display. The fascinating Ninots are erected on the 15th and can be found all over the city in over 350 parks and popular intersections.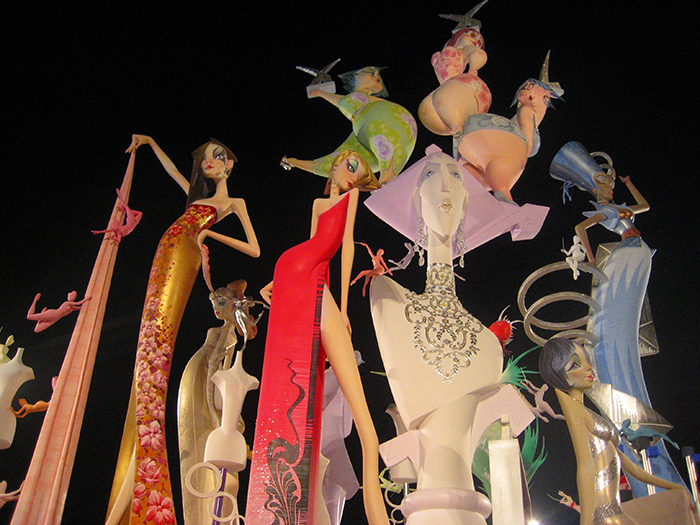 The city is literally on fire with excitement during the entire 5 day extravaganza. Each morning at 8 am, the city is awaken by the La Desperta "wake-up call," where brass bands march up and down the streets playing loud and lively music. There are endless activities to enjoy including bullfights, parades, beauty pageants, and paella contests, just to name a few. Everyday at 2 pm, the daily La Mascletá takes place which features a massive earth-shaking fireworks display. All of the festivities lead up to the final culmination of La Cremá on the 19th, when the Ninots are burned and the city goes wild in celebration.
Las Fallas Must Sees and Dos
La Mascletá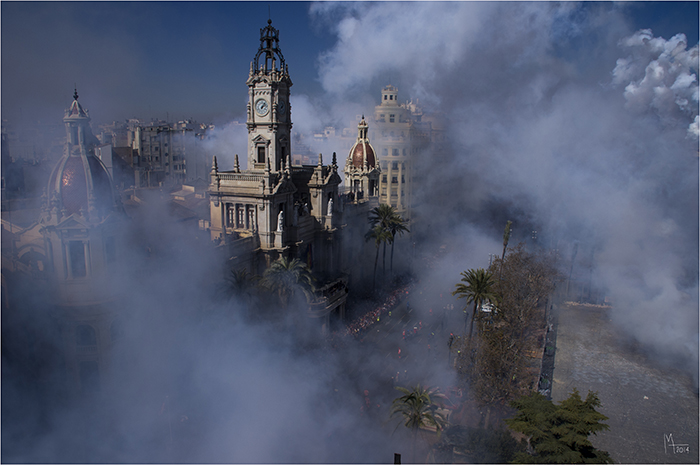 Visiting Plaza Ayuntamiento to see the fantastic La Mascletá firework celebration is a must. Here you will witness an elaborately coordinated firework and firecracker display. Each afternoon when the clock strikes 2 pm, the Fallera Mayor dressed to the Fallas nines, calls from the balcony of City Hall to commence the beginning of the explosive show. If you have sensitive ears, you may want to pack some earplugs! It would also be wise to check which direction the wind is blowing, and bring your sunglasses.
Bullfighting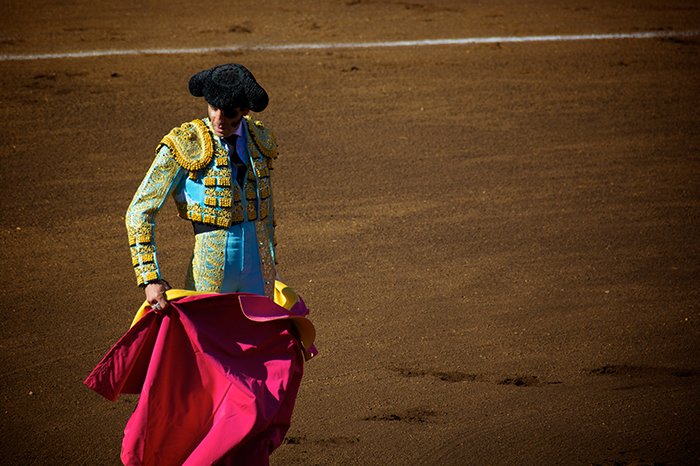 Plaza de Toros of Valencia showcases several bullfights during Las Fallas, which officially kicks off the bullfighting season. Most shows take place at 5 pm and prices can range from €11 to €140, depending on whether you want to sit in the sun or shade. Be prepared to be dazzled by fabulous costumes, colours and music, not to mention the thrilling show itself! While you're there, you can also check out the adjacent Bullfighting Museum.
Ruzafa District Light Show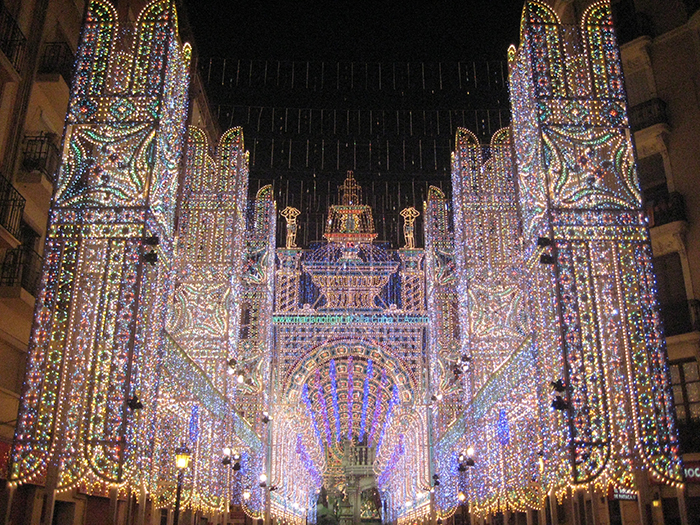 During Las Fallas the entire city is illuminated in displays of bold and colourful lights. The most spectacularly lit neighborhood is the Ruzafa District where over 750,000 light bulbs shine bright along three streets—a spectacle not to be missed! Make sure to come early to grab a bite at one of the many fabulous street food stalls.
Cabalgata del Fuego
While there are numerous outstanding parades during Las Fallas, the highlight is the Cabalgata del Fuego "fire" parade which showcases vibrant costumes, street performances, music, floats, and of course, tons of fire! The parade begins at 7 pm on March 19th along Colon Street and Porta de la Mar Square.
La Cremà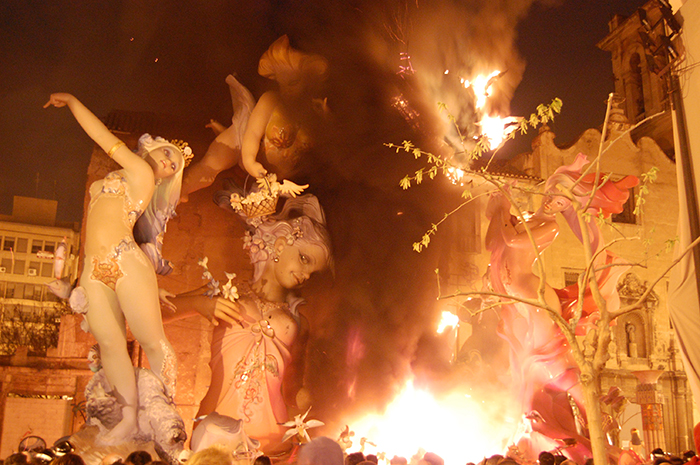 You can't miss the grand La Cremà finale on the 19th. On this evening, the Ninots are stuffed full with fireworks. As the sun sets, the city's lights are turned off, the crowds begin to chant and at midnight the Ninots are set ablaze—all except for one lucky Ninot who is spared and displayed in a local museum. Ninots are burned all over the city, so it's simply not possible to see everything. We recommend scoping out your favourite Ninot during the week, and then go back to that location for the burning celebration. Traditionally the final Ninots are burned at Plaza Ayuntamiento where the daily La Mascletá takes place. Here—just like eveywhere else—you'll find the city frolicing about, singing, dancing and celebrating with glee.
Museo Fallero (Fallas Museum)
For art, culture and puppet lovers, we recommend paying a visit to the Fallas Museum to see the lucky Ninots whose lives have been spared over the years. We suggest roughly one hour for viewing time. The entrance fee is 2 euros and free on Saturdays, Sundays, and holidays.
Street Food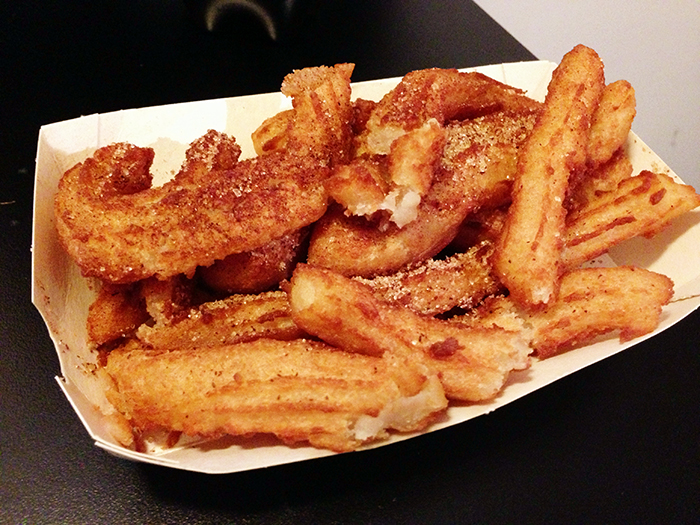 During Las Fallas, the city is overflowing with food stalls selling a wide array of Spanish specialties including roasted chestnuts, calamari bocadillo, fried buñuelos, churros and porras—all for incredibly reasonable prices. Don't hold back, give them all a try!
Useful information
How to Get There
Valencia is a major transportation hub located on the Spanish Mediterranean and can be accessed by several means listed below.
By Plane - The Valencia airport is only 9 km from the city center. Taking a bus to the center costs €2.50 and takes 30 minutes. The metro takes 20 minutes and costs €4.90. A more convenient taxi ride to the city center costs around €19. Valencia City Guide provides up-to-date information on transportation between the airport and city center.
By Train - Valencia can be reached by train from many major cities including Madrid and Barcelona. Travel time from Madrid is 1.5 hours and 3.5 hours from Barcelona. Tickets can be booked online through RENFE.
By Bus - Most large cities in Spain have bus connections to the Valencia region. The main bus station in Valencia is a 15 minute walk from the city center.
By Car - The E-15 is a beautiful, scenic coastal route between Barcelona and Valencia. Note that this is a toll road and travelling by car takes 3.5 hours, depending on traffic.
By Boat - Direct ferry routes travel to Valencia from Mahon, Palma de Mallorca and Ibiza.
Getting Around Town
Exploring the city's center can be done entirely by foot, however if you plan to venture out of the center, you will need to decide on a mode of transportation. The city, surrounding suburbs and beaches are easily accessible by taxi, car, bus, metro, train or bike.
The Valencia Transport guide provides detailed information on transportation within Valencia including info on the bus system, trams, metro/underground, taxis, car hire and tourist buses. Note that you can also invest in a Valencia Tourist Card which gives you discounts on transportation and tourist attractions. Another economical option is to purchase Bonobus and/or Bonometro tickets at kiosks and tobacco shops which allow for up to 10 rides on the bus or metro. Renting bicycles is a popular way to get around Valencia, especially during Las Fallas when public transportation and taxis will be jam packed. Vaelnbisi offers 2,750 bicycles for hire at 275 stations around the city 24/7 and 365 days a year.
Where to Stay
When booking accommodations you'll have to find a balance between peace, quiet and convenience. On one hand we recommend booking accommodations that are central to Las Fallas near Plaza Ayuntamiento. It is difficult to travel via taxi during Las Fallas because they are hugely over booked, so your best bet is booking accommodations which are in walking distance of the festival's events. On the other hand, if you're going to want a break from the party and noise, you may consider booking accommodations a bit further out from the center near a bus line. If you want to stay central and out of the noise, you can try requesting a room that is in the center, inward facing hotel room versus facing the street.
Images courtesy of Carquinyol, Salva Mocholi, Luis Marina, Carquinyol, Joe Calhoun and Karl Barron.