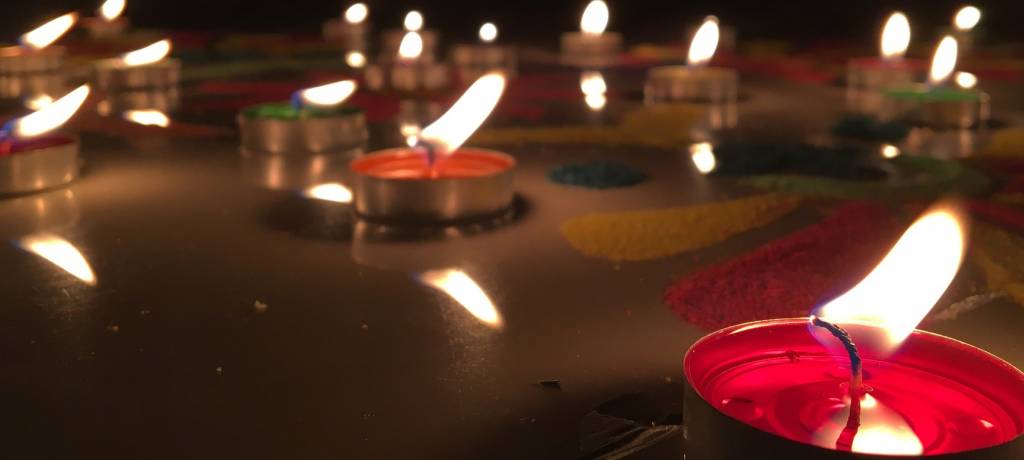 Diwali Tours & Trips
Diwali is India's largest and most widely celebrated Hindu holiday of the year, and is also known as the "festival of lights." The festival gets its name from the rows of clay lamps that locals light outside their homes to protect themselves from spiritual darkness. The festival is celebrated in October or November, alternating from year to year depending on the position of the moon.
What to Do on Diwali
Make a Rangoli

Ragnoli is an ancient art perfected by those who celebrate Diwali. Rangolis are usually made out of rice, flower, coloured sand, or flower petals, and are displayed on the floors of homes and businesses. Specific designs are often passed down between generations, making creating rangolis a special part of Diwali that many people look forward to each year. They are said to provide the gods with a warm welcome, and help to make homes festive, welcoming, and prosperous.

Take Part in Lakshmi Puja

Lakshmi Puja takes place on the third and most widely-celebrated day of Diwali. On this night, it is believed that Lakshmi, the goddess of wealth, roams the earth to bring prosperity. Because of this, it is customary to keep windows and even doors open in order to invite her inside your house. Other ways to celebrate Lakshmi Puja include placing diya lights on windowsills, wearing a new or formal outfit, visiting friends and relatives, and exchanging gifts.

Light Diyas & Candles

A diya is a celebratory lamp, usually made from clay and lit with vegetable oil or ghee. During Diwali, diyas are lit and placed in window sills as a way to welcome the goddess Lakshmi into homes. As it is believed that a visit from Lakshmi will bring happiness and prosperity in the coming year, lighting diyas and other candles are an important part of celebrating Diwali!

Get Mehndi

Dating back to ancient India, Mehndi is a form of body art worn during special Hindu celebrations such as weddings, and, of course, Diwali! Traditional patterns usually resemble the sun, since Mendhi usually represents the "inner and outer sun." If you're lucky, you may even be invited to a Mendhi party, where groups of people gather to help each other apply the intricate patterns on their hands and feet.

Offer Sweets & Gifts

Diwali is also a time for friends and family to gather and appreciate one another! If you find yourself celebrating Diwali, you'll probably be on the receiving end of some festive goodies from friends. As Diwali is associated with prosperity, gift-giving is a major part of Diwali. In fact, it's one of the biggest shopping periods in India! If in doubt about what to give a loved one during this holiday, keep in mind that the purpose of gift-giving during Diwali is to invoke a feeling of love, affection, and appreciation.

Admire the fireworks

One of the most vibrant and exciting parts of Diwali are the fireworks! Since Diwali is the festival of light, thousands  of fireworks are lit in celebration. If you're celebrating Diwali, you absolutely must make a point to experience a firework demonstration. However, note that in some urban areas of India, restrictions on fireworks are increasing in an effort to combat pollution.
Diwali Facts
What is Diwali?

Diwali is India's largest and most widely celebrated Hindu holiday of the year and is also known as the "festival of lights." The festival gets its name from the rows of clay lamps that Indians light outside their homes to protect themselves from spiritual darkness.

Why is Diwali celebrated?

It is believed that on the day of Diwali, the god Rama returned to his people after fourteen years in exile. During his time in exile, he defeated the demon king Ravana. The festival celebrates victory of good over evil and knowledge over ignorance, and is a highlight of the year for many Hindu people in which gifts are exchanged and family time is prioritized.

When is Diwali?

The festival is celebrated in October or November, alternating from year to year (dependent on the position of the moon), and is held over five days.

Who celebrates Diwali?

Diwali is celebrated by people all over the world. While it coincides with the Hindu New Year, not just Hindu people celebrate the festival of lights. You'll also find Sikh, Jain, and Newar Buddhist people celebrating Diwali, but each day holds a different significance for each religion.

Where to celebrate Diwali in India?

Diwali is celebrated all across India but perhaps the most popular site for travellers to flock to is New Delhi. If you do end up staying in another region of India to celebrate, avoid the state of Kerala as they don't celebrate this holy day with the same enthusiasm as other regions of the country.

What to pack for Diwali?

If you're visiting India for Diwali, it is important to consider the culture and dress appropriately. Ensure your shoulders and legs are covered. While cities like Delhi are more westernized, you may still feel more comfortable dressing more conservatively. In addition, consider packing a pair of earplugs and a pollution mask for the fireworks -- your ears and lungs will thank you!
How to Get to Delhi
By Plane

You'll arrive in Delhi at the Indira Gandhi International Airport, and there are two terminals (T3 and T1D) that are over 8 km apart, so make sure to budget time to get around; especially if you have a connecting flight to catch! International flights will arrive at terminal T3.

By Train

The Delhi Metro Airport Express Line connects the airport to the heart of the city, as well as neighbouring suburban towns. The Airport line is fully integrated now with the local Delhi Metro, and the same Smart Card works on both. Once you arrive at a Delhi Metro station in the city, you can use Uber, hail a radio or black and yellow cab, or catch a rickshaw to wherever you've chosen to stay.

By Bus

There are local buses that travel to a few nearby destinations including some major railway stations, bus stops, and suburbs. However, if you don't speak the local language, the bus can be challenging to navigate. Often times you'll find that taxis are your best (and most affordable) option for travel within India.

By Taxi

Prepaid taxis can be booked inside the arrival hall of the airport, and also at another booth outside of T3. Be wary of scam artists who will try and get you in unofficial cabs or take you places other than your requested destination (they have been known to trick tourists by telling them their hotel is full and cannot accommodate them). If you're in India during the summer, you might want to take a metered radio taxi even though it's more expensive. You'll be grateful for the air-conditioning!

Accommodation

Locations to keep in mind include the neighbourhoods of Gulmohar Park, Haus Khaz village, and Saket, New Delhi. That being said, as long as you're close to Delhi's landmarks or bustling city centres, you will never be too far from the action.

Getting around town

Delhi has one of India's largest bus transport systems: there are about 800 bus routes and 2,500 bus stops located around the city, which run from around 5:30am to 11pm, with night buses then running on busy routes. However, due to traffic delays and restrictions, buses are often unreliable. For an authentic Indian experience, auto rickshaws (or motorised rickshaws) are available, though keep in mind many do not run on a meter and instead rely on drivers to quote a price. If you choose to ride an auto rickshaw, make sure to determine the price ahead of time. 
 
Other Adventure Styles You Might Like
Discover the world with our vast selection of private, group and tailor-made tours.
Unearth your world. Get lost in the intricate details of the

Mona Lisa

, sleep under impossibly star-filled skies in a

bedouin tent

, or listen to tales passed down by generations with cultural immersions that capture your heart. You're invited to...

See More

Let your hair down, get out of town and just have fun. When was the last time you could truly say you did that? From the beer-swilling songs of

Oktoberfest

to the world's biggest street party in

Rio

, festival travel guarantees good ol' fashioned...

See More
INDIA TRAVEL INSPIRATION BY TOURRADAR