About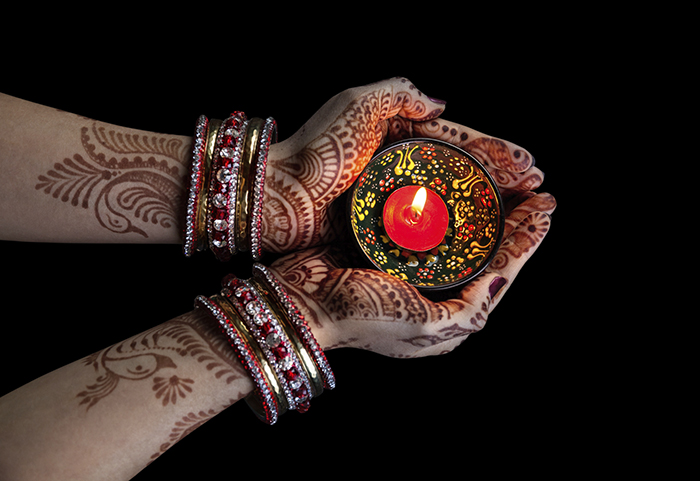 Diwali is India's largest and most widely celebrated Hindu holiday of the year and is also known as the "festival of lights." The festival gets its name from the rows of clay lamps that Indians light outside their homes to protect themselves from spiritual darkness. The festival is celebrated in October or November, alternating from year to year (dependent on the position of the moon), and is held over five days.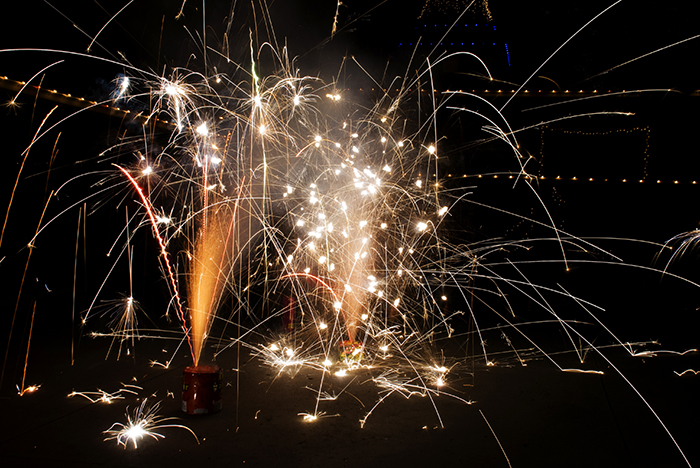 Locals celebrate by holding family gatherings, setting off fireworks, hanging strings of lights, lining up clay lamps, holding bonfires and sharing sweet treats all in honour of Lakshmi, the divine Goddess of Wealth. During Diwali, it's common to see neighbourhoods overrun with beautiful lanterns. Some strong believers even keep their doors and windows open to welcome Lakshmi into their homes.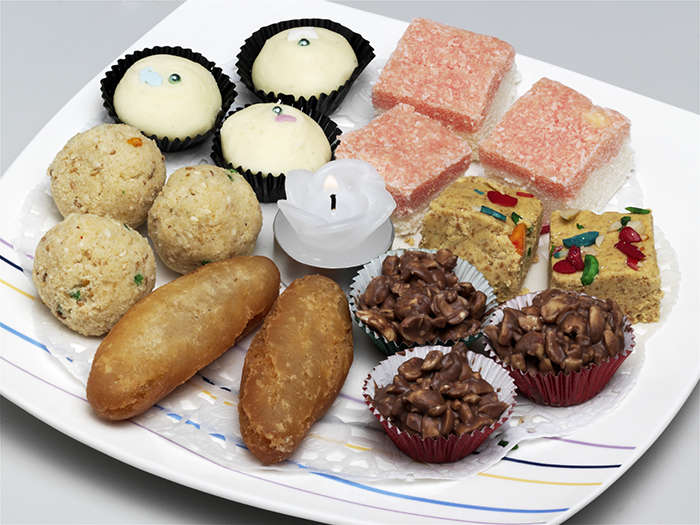 As Diwali takes place over a 5 day period, each of these sacred days has a specific purpose or tradition. Housewives consider the first day of Diwali to be the most opportune time to spring clean their homes and shop for gold materials. On the second day, locals will decorate their homes with clay lamps called diyas and create intricate designs made of coloured powders and sand on the floors of their homes, called rangolis. The third day of Diwali is the main day of festivities in which families come together for Lakshmi puja, a prayer to Lakshmi that is followed by extravagant feasts and fireworks. The fourth day of celebrations is considered the first day of the new year and friends and family will use this opportunity to present their loved ones with gifts and well wishes. The final day of Diwali celebrates brothers and sisters who get together to share amazing meals.
While Diwali is also practiced by those not of the Hindu faith, all interpretations are of one common theme -- the triumph of good over evil.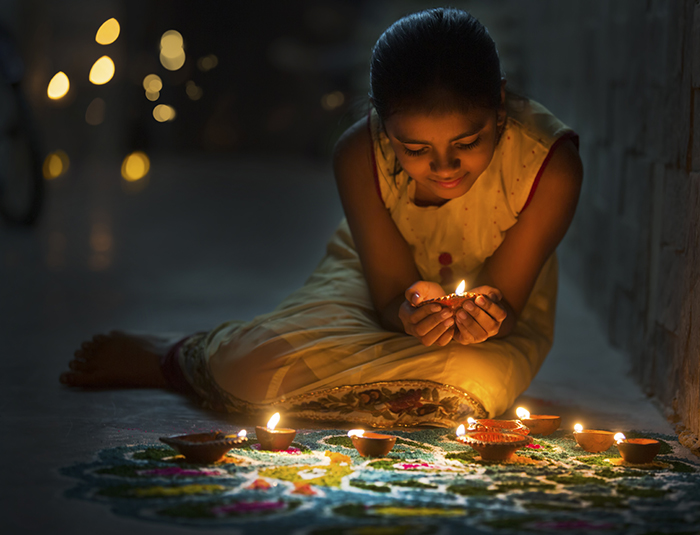 History
The Hindu festival of lights has ancient origins, nearly as old as India itself. Diwali has been celebrated since ancient times and everyone seems to have a different explanation for the events that led to this festival first being held.
Perhaps one of the better known origin stories of Diwali can be found in the story of Lakshmi, the Goddess of Wealth who reportedly rose up from the ocean long ago. Hindu scriptures say that both gods and demons were once mortal and therefore would eventually die, but in their desire to live forever they sought out Amrita, the nectar of immortality. They swirled the waters of the ocean around during their search, and ended up finding several divine objects. One of these sacred finds included Goddess Lakshmi, the daughter of the king of the milky ocean who arose on the new moon day of the Kartik month (the holy month). The Goddess would marry Lord Vishnu the night of her discovery and in celebration people lit lamps to mark the occasion.
However the story of the Goddess Lakshmi is just one of many that claim to be the reason Diwali is celebrated. The origins of this holiday continue to remain a mystery!
Useful Information
How to Get There
By Plane: You'll arrive in Delhi at the Indira Gandhi International Airport and there are two terminals (T3 and T1D) that are over 8 km apart, so make sure to budget time to get around, especially if you have a connecting flight to catch. International arrivals will arrive at terminal T3.
By Train: The Delhi Metro Airport Express Line connects the airport to the heart of the city as well as neighbouring suburban towns. The Airport line is fully integrated now with the local Delhi Metro and the same Smart Card works on both. Once you arrive at a Delhi Metro station in the city, you can use Uber, hail a radio or black and yellow cab or catch a rickshaw to wherever you've chosen to stay. It's a good idea to buy a Delhi Metro Smart Card that you can load with a few hundred rupees to get further discounts and save yourself the time of waiting in lines to charge your card. The card can be purchased at the Airport Express station as you are leaving T3. Note that you can travel far distances for less than a dollar USD!
By Taxi: Prepaid taxis can be booked inside the arrival hall of the airport and also at another booth outside of T3. Be wary of scam artists who will try and get you in unofficial cabs or take you places other than your requested destination (they have been known to trick tourists by telling them their hotel is full and cannot accommodate them). Most fares are fixed from the get go and keep in mind that after 11:00pm cabs will charge an extra 25% for trips. If you're in India during the summer, you might want to take a metered radio taxi even though it's more expensive. You'll be grateful for the air-conditioning!
By Bus: There are local buses that travel to a few nearby destinations including some major railway stations, bus stops and suburbs. If you don't speak the local language, the bus can be a difficult to navigate experience. Often times you'll find that taxis are your best (and most affordable) option for travel within India.
Where to Stay
Diwali is celebrated all across India but perhaps the most popular site for travellers to flock to is New Delhi. If you do end up staying in another region of India to celebrate, avoid the state of Kerala as they don't celebrate this holy day with the same enthusiasm as other regions of the country.
Locations to keep in mind include the neighbourhoods of Gulmohar Park, Haus Khaz village, and Saket, New Delhi. That being said, as long as you're close to Delhi's landmarks or bustling city centres, you will never be too far from the action.