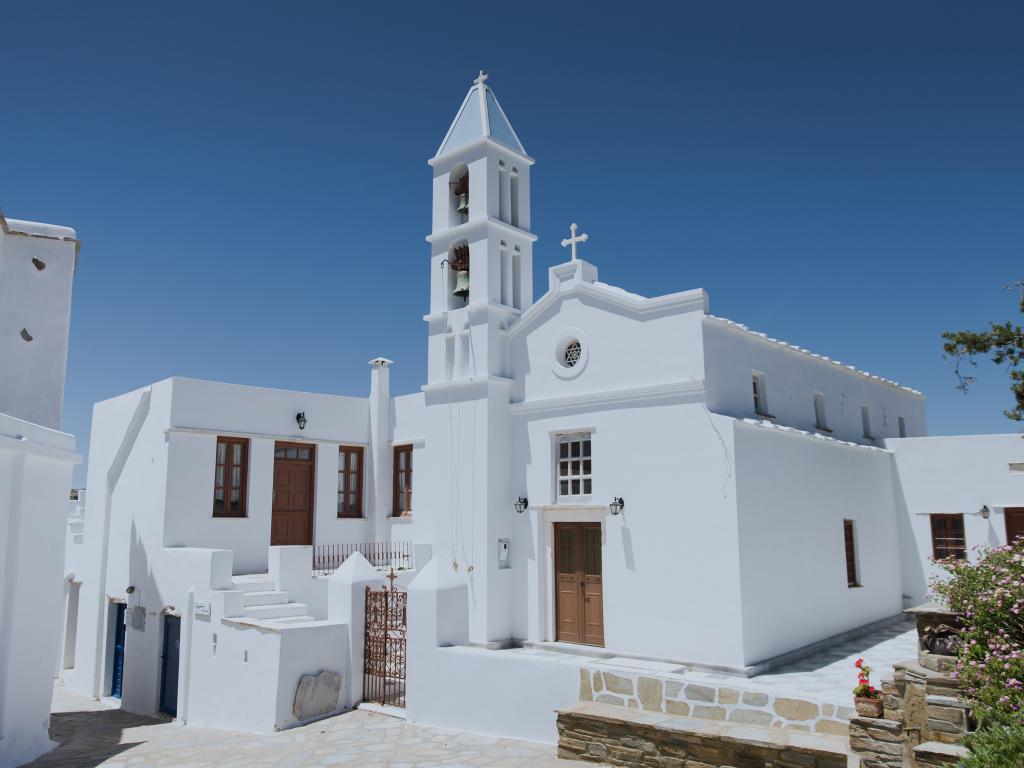 Greece Travel Guide
Under the glow of the Mediterranean sun, Greece sparkles like a mirage in a seemingly endless sea. It's a land of history and impressive sights, where sublime beaches share the spotlight with magnificent ruins, and charming architecture decorates the varied landscape as the rich colours of sunset paint the skies. Greece isn't a trick of the light, but its beauty is surely divine.
The Highlights


Ios

One of Greece's smallest islands is also one of its must-visits. Ios's craggy yet sandy coast is known as the nightlife hub in Greece. Take the trail inland and you'll stumble into the picturesque village of Chora. It's a completely different vibe and is worth exploring. Hike to the Venetian ruins of Palaiokastro, then head to Panaghia Gremiotissa for sunset.

Meteora

Meteora's landscape looks as if it belongs to a Star Wars movie set. Rounded rock outcroppings that are herculean in size pepper the otherwise verdant area it's set in. There are plenty of stunning photo opportunities, especially during the golden hours, so pack your camera. Make sure to carve out some time to visit the monasteries that had sought refuge on the rocks, for a mystical experience.

Ancient Olympia

It's almost impossible to talk about Greece without talking about the Olympic games. It is, after all, the birthplace of the iconic event. So before sailing off into the sunset, tick Ancient Olympia on the Peloponnese peninsula off your list. An exploration in this archaeological site is fiercely elevating, especially if you imagine the many epic competitions that took place here.
Acropolis of Athens

The capital city is worth spending at least a couple days of your time – especially to see its ancient ruins. Perhaps the most magnificent of these is the Acropolis, a citadel set atop a hill, overlooking the modern city. It's home to some of the most important structures from Ancient Greece including the Parthenon.

Delphi

In ancient times, Delphi was a sanctuary and home to a famous oracle. Today, it's one of Greece's major archaeological sites as well as a UNESCO World Heritage Site. The ruins of Delphi, set on a slope on Mount Parnassus, are most incredible, their atmosphere almost ethereal. The Tholos of Delphi and the Temple of Apollo are among the must-sees.

Mycenae

It's no surprise that the once thriving Mycenaean Greek centre, which has become synonymous with Homer's Odyssey and Iliad, is today an essential stop to every Greece trip. Mycenae's hilltop acropolis boasts several points of interests: the towering Treasury of Atreus, the iconic Lion Gate, Agamemnon's Palace, and the royal cemetery, site of one of the most lavish archaeological hauls in history.
The Basics
The Location

Nestled between the Mediterranean, Ionian and Aegean Seas, the peninsula of Greece fringe Albania, Macedonia and Bulgaria in its northern border and Turkey in the east. A nonstop flight from New York is 9h 15m, and from London is 3h 35m.

Capital City

Athens, a city located in the southern end of Mainland Greece facing the Saronic Gulf, is the country's bustling capital. It's one of the oldest cities in the world and is home to two UNESCO World Heritage sites.

Main Airport

Athens International Airport is the main hub for Greece. It serves its capital and largest city of Athens for domestic and international flights. It is around 35 minutes away from Athens by car, and about 1 hour and 25 minutes by train.

Code

AIA

Closest City

Athens

Language Spoken

The official language of Greece is Greek. A little more than half of the population, however, speak English.

Currency

Greece uses the Euro. The currency code is EUR. It is highly recommended to bring cash with you as cash is still king in the country. ATMs may be found all over, but keep in mind that smaller islands and towns will have limited access.

Visas

Citizens of the Schengen states, United States, United Kingdom, Canada and Australia may travel to Greece without a visa. The number of visa-free days depends on the country you're from so be sure to check with Greek embassy or consulate near you.

Electricity

Greece operates on a 230V/50Hz electrical current and uses two plug types –Type C (two round pins) and Type F (two round pins with two earth clips). Electrical power converters and adapters are definitely recommended.

Vaccinations

There's a small chance of contracting Hep A from contaminated water and rabies from bats in Greece, so these vaccinations are necessary. Hepatitis B, measles, mumps and rubella (MMR), tetanus, diphtheria, pertussis (Tdap) are also recommended.

Emergency Calls

The emergency phone number for Greece is 112. Call 166 for an ambulance, 199 in case of fire, and 100 for the police department.
When to Visit
Greece Tours
Visit Responsibly

Travelling responsibly means respecting the communities, culture and environment of the places you visit. Keep these tips in mind when travelling to Greece:

Go green. Be environmentally conscious on the road by taking short showers; turning off the lights in your hotel room when you leave; and resisting the urge to collect any plants, seashells, or other natural flora.
Respect cultural differences. Before travelling, read about the local culture and customs – even just knowing the dress code and a few basic phrases in the local language will go a long way.
Support local businesses. Enjoy a more authentic experience and directly support the local economy by travelling with a local guide, eating in local restaurants, buying from local artisans, and staying in locally-owned and operated accommodations.
Wherever possible, avoid single-use plastics. Pack reusable items such as your own shopping bags, utensils, a water bottle, and a straw. These items are typically lightweight and compact, and will greatly reduce your consumption of plastics.
Be conscious of overtourism. Opt to visit the lesser-known regions of Greece or travel outside the peak season – you'll likely even get a better deal and won't have all the crowds!

Sustainable Tourism in Greece

Fresh, Local, Low Carbon Cuisine
Greek cuisine is not only delicious, but the Mediterannean gem has also been recognized as a top destination for sustainable food. Globally, agriculture is a major contributor to carbon emissions, but Greece embraces what is local and in season when it comes to feeding their residents and visitors. By limiting reliance on imported foods, the food industry in Greece is able to minimize its carbon footprint.

Clean Energy in Greece
Greece's Ministry of the Environment, Energy and Climate have set a clear goal of completely ending the use of energy derived from oil and petrol on the much-visited Greek islands by 2030 and replacing these two sources with renewables. The plan for the rest of the country is to increase its share of renewables to 50% by the same year.

Protected Areas
As one of the cradles of civilzation, the historical richness that lives in Greece is preserved in its awe-inspiring historical landmarks. Greece is home to 18 UNESCO World Heritage Sites, including renowned landmarks like the Acropolis in Athens. In addition, there are many significant landscapes and wetlands that are protected under organizations like the Ramsar Convention on Wetlands of International Importance or the NATURA 2000 network.

 
FAQs about Greece
Do you tip in Greece?

Tipping in Greece is not mandatory. However, it is expected of tourists from the service industry. Besides the cover charges you need to pay at restaurants, you may add a 10% tip in cash. Tip porters and bellhops €1 per bag, housekeepers €1 per day and tour guides €5 per person per day.

What is the internet access like?

Free internet access in Greece is fairly common in restaurants, cafes, squares and malls. Internet cafes also offer access, but for a fee. Hotels also offer WiFi to guests, whether complimentary or for a charge.

Is the tap water safe to drink?

Cities like Athens and Thessaloniki boast excellent tap water for drinking. Natural spring water in parks, along trails and in drinking fountains in small villages are also great and refreshing. However, some islands may not have the best tasting water so it's best to request for bottled water.

Can I use my credit cards?

Visa and MasterCard are the widely accepted cards at big hotels and most shops. However, most restaurants and smaller hotels might not. It's best to keep enough cash and your ATM card handy at all times.

What are the public holidays?

Greece traditionally celebrates their Christmas holiday for 12 days from December 25 through January 6, which is the Feast of the Epiphany. Other holidays include Clean Monday, celebrated after Easter Sunday, Good Friday, Independence Day on March 25, Labour Day on May 1, and Ochi Day on October 28.

What are the toilets like?

The more remote towns and villages in Greece may only have squat toilets available so don't be surprised if you encounter one. The most important thing to keep in mind is that Greece's plumbing is not the most modern so it's good practice to avoid flushing toilet paper or at least use it sparingly.

How do I get around Greece by boat?

Boats are perhaps the most common way to get around the country as it is composed of many islands. There are several ferry companies as well as an intricate network of boats that can ferry you between islands and even to Turkey and Italy. Check the schedule and book tickets in advance.

Is Greece safe for solo women travellers?

Absolutely! Men can be flirty and overly attentive to women, but they are also respectful. Additionally, crime is also low in the country. Women won't encounter any safety concerns when travelling to Greece alone, as long as they practise common sense and general safety precautions.
A TRAVEL MAGAZINE BY TOURRADAR