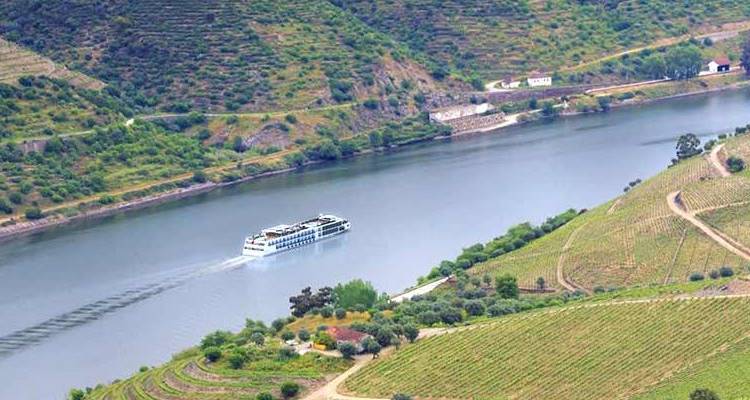 Built

2014

Guests

106
Crew

36

Length

80 m / 262 ft
Gross Tonnage

4000 gt

Beam

12 m / 39 ft
Cruising Speed

15 kn / 28 kph / 17 mph

River
Ship Overview
These intimate ships were custom built to sail Portugal's Douro River, with state-of-the-art engineering, deluxe accommodations and streamlined Scandinavian interiors. Like our Viking Longships, you can choose from a variety of stateroom classes, all with sweeping river views.
An alleged son of the Danish King Harald, Torgil sailed westward to Bretland (Wales and western England), Portugal and Ireland. According to Viking history, he and his brother Frode were the first Northmen to conquer Dublin. Torgil lived to be king of Dublin for many years.
53 outside staterooms with river view (16 Standard Staterooms, 2 French Balcony Staterooms, 24 Veranda Staterooms, 11 Veranda Suites)
All Upper & Middle Deck staterooms feature a full-size veranda or a French balcony
Sun Deck with shaded sitting area; swimming pool; organic herb garden; solar panels; putting green
Aquavit Terrace, a revolutionary outdoor viewing area at the bow of the ship
Lounge & Bar with floor-to-ceiling glass doors
Restaurant with floor-to-ceiling windows for panoramic views
Library & onboard shop
Elevator
Free Wi-Fi (connection speed may vary)
Laundry service
40" flat-screen TV with infotainment system featuring Movies On Demand, plus CNBC, CNN, National Geographic & more
Staterooms / Suites
Standard Stateroom (E, F) (155 ft²)
Stateroom with French Balcony (C) (150 ft²)
Stateroom with French Balcony (D) (150 ft²)
Stateroom with Veranda (A) (185 ft²)
Stateroom with Veranda (B) (185 ft²)
Suite with Veranda (AA) (302 ft²)
Suite with Veranda (AB) (302 ft²)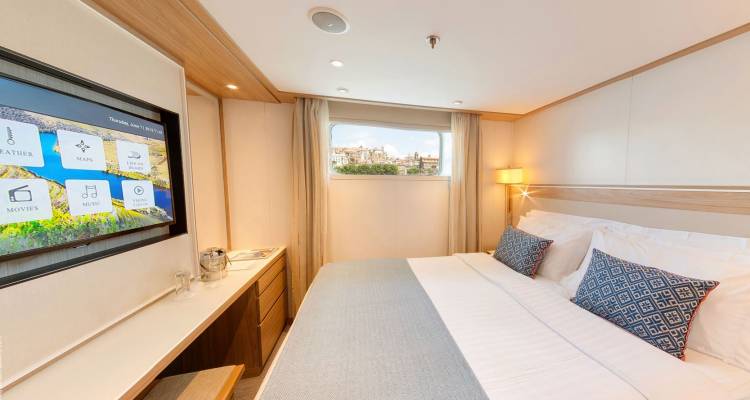 Features
Ensuite Bathroom
Television
Air-conditioning
In-room phone
Double bed
Twin beds
Bathrobe
Slippers
In-room safe
Hair dryer
Luxury bed linen
Toiletries
Storage space
Bottled water
Shower
Wi-Fi
Mini-fridge
USB ports
Maid service
Entertainment system
Butler
Power Outlets
Dining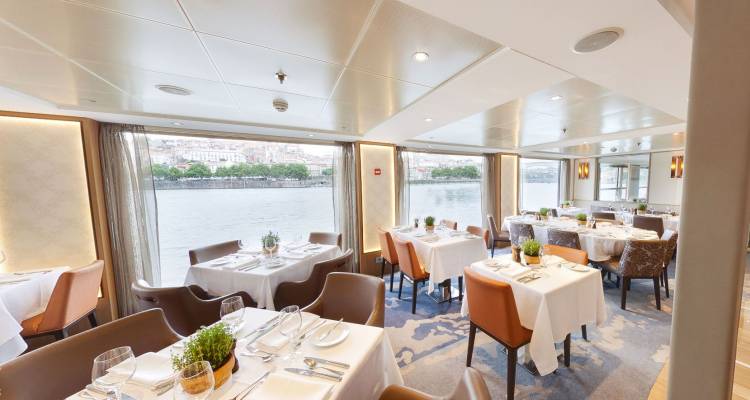 The Restaurant
Our main dining venue, the Restaurant offers gracious service, included wine and beer, and streamlined Scandinavian design. The menu includes regional cuisine and always available classics enhanced with locally sourced ingredients, so you can explore new cultures through food.
Aquavit Terrace®️
Revolutionary in concept and design, the Aquavit Terrace offers the most al fresco dining on Europe's rivers. Get to know new friends over breakfast and lunch as you watch Europe's picturesque riverscapes unfold before you in this relaxing, inviting space.
A Culinary Experience
Our highly trained chefs are passionate about food and committed to providing an enriching culinary experience. With flavors accented from our onboard herb garden and a wide selection of regional wines, you will find that with Viking, dining is part of the journey.
Viking Torgil Tour