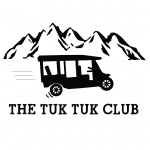 Number of tours

7
Age Range

7-70
Number of reviews

53
Rating

4.9

/5
Response rate

100%
Response time

9 hours
Written on April 14th, 2022

For anyone that wants adventure and a fabulous experience, I would suggest the 11 day Tuk tuk club trip. So much fun. Words cannot express how wonderful the g…

Read more

The Tuk Tuk Club commented on this review

Thanks for taking the time to leave such a lovely review Kathy. It was a real pleasure for us all to meet you on the adventure and delighted that you had such a great time. Many thanks for having chosen to join The Tuk Tuk Club and enjoy some of the very best of Northern Thailand

Nancy

Written on April 6th, 2022

A trip of a lifetime!every detail & top attention from staff. So fortunate to have founder, Bruce Hexton of Tuktuk Tours aboard for our adventure Tony & Big w…

Read more

The Tuk Tuk Club commented on this review

An absolute pleasure to have had you on board Nancy and for us all to meet you and enjoy the adventure together. Delighted you had such a great time and hope we're lucky enough to meet you again one day. Safe travels back home and thanks again for having joined The Tuk Tuk Club

Written on March 24th, 2022

Fantastic. Do it now. Want to see real Thailand beyond Phuket & Chiang Mai? Do this now. Best tour guide ever- Boyz. He is from northern Thailand so knows the f…

Read more

The Tuk Tuk Club commented on this review

Many thanks for having joined The Tuk Tuk Club Greg and I know Boyz's face will be full with a big beaming smile when reading this Fantastic that you enjoyed the 11 Day Adventure so much that you got so much out of it. The real Thailand is out there - it just takes an adventure on three wheels to track it down!

Jason

Written on March 5th, 2022

So good I did it twice! I enjoyed a 5 star tour with my daughter in 2019 and came back in 2022 with my wife. The guides, locations, food, etc are all excellent …

Read more

The Tuk Tuk Club commented on this review

Thanks for taking the time to leave such a lovely review Jason and it was great to have you back for your second Tuk Tuk Adventure. Next time surely it's time for the the whole family to join an 11 Day Trip and become Tuk Tuk driver's extraordinaire!

Nigel

Written on March 1st, 2020

Absolutely awesome experience!! Tony our guide was brilliant- v caring, informative, witty and clever. Mr Win was a great back up guy - so polite and helpful :)…

Read more

The Tuk Tuk Club commented on this review

Thanks for the great review Nigel and Debs and a pleasure to have you travel with us. Delighted you enjoyed the adventure and exploring this fantastic part of the world by bright orange Tuk Tuk!

Written on November 23rd, 2019

We had an excellent adventure into the nature side of Northern Thailand. Both Graham and Boi were really open, friendly and sympathetic guides who took well ca…

Read more

The Tuk Tuk Club commented on this review

Many thanks for the lovely review and we're of course delighted that you had a great time with The Tuk Tuk Club. And thanks for being such great and adventurous travellers - and for the photos below

Written on October 11th, 2019

Just do it!! We were a bit nervous as it was such a new kind of experience for us but we d do it all over again if we could. Fantastic experience. Excellent gui…

Read more

The Tuk Tuk Club commented on this review

Many thanks for your lovely review Debra and thanks again for travelling with us. Hopefully we'll see you back one day for our 11 Day Adventure - even more superb places to explore, by Tuk Tuk of course!

Written on October 9th, 2019

Fabulous- a real adventure with lots of interesting activities.

The Tuk Tuk Club commented on this review

Many thanks for you review and hope we see you again one day - keep your eyes peeled for new adventures!

Written on September 23rd, 2019

DO IT!!! Go for it! It was one of my highlights during my 8 month travel!

The Tuk Tuk Club commented on this review

Thanks for your review Manuela - it was great to meet you and hopefully we'll see you again one day on our 11 day adventure! Have fun on your travels

Written on September 10th, 2019

do it! It was one of the best trips I've taken and such a unique experience driving a tuk tuk.

The Tuk Tuk Club commented on this review

Many thanks for the review Wibke and for choosing to travel with us. Hope we see you again some time and thanks for joining The Tuk Tuk Club
The Tuk Tuk Club Destinations
The Tuk Tuk Club Videos
Driving a Tuk Tuk
Can I really drive a Tuk Tuk?
The simple answer is yes! If you can drive a manual (stickshift) car then you won't have any problems driving a Tuk Tuk. It takes a little bit of practice to get used to things – that's what our training sessions are for – but they're pretty simple beasts and a lot of fun. Just don't think you're Lewis Hamilton and try to take corners too fast……

What happens if I don't want to drive the Tuk Tuk?
Why wouldn't you want to? But seriously, this is no problem at all. If you're travelling with friends you can sit back and let them be your chauffer or if you're travelling solo, the others in your Tuk Tuk are going to love you as they'll get more driving time. Of course you can also take a seat with our lead Tuk Tuk which is driven by one of The Tuk Tuk Club team.

What happens if I don't pass the Tuk Tuk driving training course?
If you drive at home we honestly don't think you'll have a problem with the training course BUT, if you do, don't worry. Our team will work with you throughout the trip until you feel confident and pass any elements of the training course you struggled with (they'll give you extra training when we arrive in new locations and keep working with you as long as you want). Once you've passed the course then you're up and away and will be able to drive on the tour.

What sort of license do I need?
We ask that you make sure you have a driving license from your home country that allows you to drive a manual (stickshift) car. Even better would be for you to get an International Driving Permit before you travel. If you have any problems / questions please don't hesitate to get in touch with us.
Questions & Answers
I'm travelling solo, is there a single supplement charge?

There is no better way to make friends than on an adventure like this when you are travelling alone! If you are an adventurous solo traveller you do not have to pay a compulsory supplement however you will be matched you up with another solo traveller of the same gender on the trip. If there are no other solo travellers of the same gender then you will have the privacy of your own room.

What type of travellers join your tours?

To be honest, literally, everyone can join one of these amazing tours. Their oldest traveller to date was 81 (and one of the best Tuk Tuk drivers they have ever seen) and the youngest driver who participated was 18. You will see adventurers from all over the world and all walks of life – however, what everyone does have in common is a real desire to discover Thailand and, of course, they have an adventurous spirit!

Is there luggage weight/size limits on the Tuk Tuks?

The luggage/weight limitations can vary depending on the tour you select. For example, if you choose a 3-day adventure it is recommended to pack light (1 x overnight bag) and the Tuk Tuk Club will store your larger luggage in their local office before you pick it up again on day 3. On the tours that are 5 or more days in length, there is more scope for larger bags/suitcases. However, it is recommended to limit yourself to one large suitcase/travel bag per person.

Is it possible to adjust the itineraries?

Unfortunately, on the standard tours, it is not possible to change the itineraries as they are a set package however if you do not wish to participate in a certain activity such as trekking etc, this is not a problem.

Will the Tuk Tuks be air-conditioned?

You will find that all the Tuk Tuks have the best air-conditioning possible, the amazing cool breezes provided by mother nature as you ride up and down the roads.

What do I need to bring?

A sense of humour, casual relaxed clothing and some spending money (around GBP 250-300 will be more than fine).
Contact our Travel Experts
+1 844 311 8331
24/7 Support
Our team of experienced tour specialists have travelled to hundreds of countries around the globe and have decades of first-hand travel experience to share. Contact us now to have all of your tour-related questions answered!