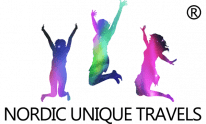 Nordic Unique Travels
Headquarters in Rovaniemi, Finland
View all tours
Number of tours

9
Age Range

14-80
Number of reviews

16
Rating

4.1

/5
Response rate

92%
Response time

within 2 days
Elizabeth

Written on December 8th, 2021

This trip was amazing. It was only partially guided, we were picked up for all our outings and sometimes it was just my friend and I or it might be with fifty o…

Read more

Nordic Unique Travels commented on this review

Dear Elisabeth, Thank you for your positive reviews and all the feedback helps us improve to provide better services to our potential customers in the future. It has been our pleasure to have assisted you for your trip and enjoyed your holidays with you. Looking forward to welcoming you again in Lapland, and wish you everything great back at home as well. Warm regards, Nordic Unique Travels

Written on March 8th, 2020

Our holiday with Nordic unique travels in Finnish Lapland was excellent! In addition to the wonderful place, the tour guides and the staff at the agency made it…

Read more

Written on January 2nd, 2020

Besides the Taxi drivers on pick up and drop off to the airport nothing else went to plan. Day 1 - On arrival to the Office it was heavily over crowded, I wal…

Read more

Nordic Unique Travels commented on this review

Dear Kurt, Thank you very much for your review, it is our pleasure to hear that you spent a successful holiday with us. Besides, we also want to thank you for the improvement advice, that feedback is very much appreciated as it definitely helps us to further optimise our services. Looking forward to welcoming you again very soon in Finnish Lapland! Best wishes, Your Nordic Unique team

Written on December 25th, 2019

The guides were fantastic! Christian, Alessandra, Thomas, Malcolm, Luis, Alex were incredible. Beautiful country. The trip could have easily been cut in hal…

Read more

Nordic Unique Travels commented on this review

Dear Meredith, Thank you very much for your review, it is a great pleasure for us to hear that you enjoyed your trip with Nordic Unique. Looking forward to welcoming you again soon in Finnish Lapland!

Written on December 17th, 2019

My wife and I had a fantastic time in Lapland and Nordic were brilliant! We would like some contact details as we are considering applying for guide jobs next …

Read more

Nordic Unique Travels commented on this review

Dear Mark, Thank you very much for those kind words, it is our pleasure to hear that you had a great time on tour. Looking forward to welcoming you again very soon in Finnish Lapland! Best wishes, Your Nordic Unique team

Anonymous

Written on November 12th, 2019

The whole trip was fantastic and can highly recommend it. We had different guides for our daily activities who were all extremely knowledgeable and genuinely l…

Read more

Nordic Unique Travels commented on this review

Dear Joanne, Thank you so much for taking the time to leave us such a nice comment on your trip. We are delighted to hear that you've enjoyed your stay and we're looking forward to welcoming you again very soon in Finnish Lapland! All the best, Your Nordic Unique team

John

Written on October 7th, 2019

Lorenzo was a fountain of knowledge when it came to the nature (which was 99% of the tour). Super interesting listening to his facts about everything in sight. …

Read more

Nordic Unique Travels commented on this review

Dear John, Thank you very much for leaving us such a positive review of your trip. It is also great to hear that Lorenzo guided you to your full satisfaction. Looking forward to welcoming you again soon in Finnish Lapland! All the best, Your Nordic Unique team

Written on August 15th, 2019

This is a fail attempt to put together a tour... programming is poor... staff nice but incompetent, they don't even speak Finish language, have no idea about Fi…

Read more

Nordic Unique Travels commented on this review

Dear Mehmet, Thank you very much for taking the time to leave us a review of your tour, we greatly value your honest feedback and will use it as a learning opportunity to keep improving our services. Yet, on a side note, let me please highlight that our company caters to an international clientele. The vast majority of our customers is non-Finnish, being the reason why we prefer keeping the language on tour to English. This accommodates best most of our clients. I hope for your understanding and wish you all the best. Greetings from Lapland, Your Nordic Unique team

Karen Joy

Written on July 28th, 2019

Lorenzo was absolutely terrific!!! He is the best guide that we have ever had and we have traveled around the world.Lorenzo provided us with fantastic opportuni…

Read more

Nordic Unique Travels commented on this review

Hi Karen! Thank you very much for those kind words, it is great to hear that you had a fun time on tour. As you say, Lorenzo is terrific as a guide, one of our very best staff. Looking forward to welcoming you again very soon in Finnish Lapland! Best wishes, Your Nordic Unique team

Written on April 4th, 2019

Amazing 4 days , guides are beautiful people , highly recomended

Nordic Unique Travels commented on this review

Hi Mudhaher! Thank you very much for those kind words, it is great to hear that you had a fun time on tour and that you've enjoyed the lovely company of our guides. They are indeed beautiful people bringing that little extra to a tour. Looking forward to welcoming you again very soon in Finnish Lapland! Best wishes, Your Nordic Unique team
Nordic Unique Travels Tours
Nordic Unique Travels Videos
Questions & Answers
What are your protective measures amidst coronavirus outbreak?

Worried to book your trip because of your coronavirus? With our extra flexibility and our protective measures, your trip is safe. 1. Small group guarantee Between 01.06. to 30.11.2020 we guarantee maximum 9 participants per group in all our activities. That means there will be maximum 8 travellers and the guide. We also guarantee this small group size on tours provided solely by our company. If a tour includes subcontracted services, such as reindeer and husky farms, the small group is guaranteed only for the transfers, not on location, e.g. in a husky or reindeer farm. 2. Hygiene measures All our equipment has been and is being continuously disinfected. To increase your safety, we will provide you disposable gloves for free. Hand disinfectant is always available in our offices and our guides will carry one with them also during the tours for their and your use.
Contact our Travel Experts
+1 844 311 8331
24/7 Support
Our team of experienced tour specialists have travelled to hundreds of countries around the globe and have decades of first-hand travel experience to share. Contact us now to have all of your tour-related questions answered!