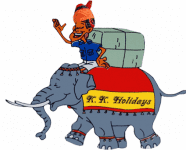 Number of tours

25
Age Range

15-80
Number of reviews

468
Rating

4.9

/5
Response rate

96%
Response time

within 1 day
Written on March 24th, 2022

My wife and I did a tour of Rajasthan with K K holidays . Our whole trip was organised how we wanted it to. Hotels were amazing, we only had one issue with a h…

Read more

Written on March 24th, 2022

We had a memorable trip that was arranged as per our request including sunset and sunrise view of Taj Mahal. Our trip planner, Mr. Arun From K K Holidays was ve…

Read more

Written on March 22nd, 2022

Amazing trip it was . Thanks to driver Hukam & yes of course the company K K holidays to make this trip memorable in every aspect .

Written on March 17th, 2022

K K holidays and their guides / drivers were all great to work with. I spent a great time on this tour. It was a great experience. Really appreciated the servic…

Read more

Ignacio

Written on March 17th, 2020

We had a great time! Our driver Sandeep was really good!

Written on March 4th, 2020

Grt trip, excellent guides & insight into both the main tourist sites, but also upon request, day to day street life. Only small concern was the quality of lunc…

Read more

Written on February 26th, 2020

I'm rating this 5-day Golden Triangle Tour 5 stars not because it was perfect, but because it provided excellent value for money. Please note that none of the…

Read more

K K Holidays N Vacations commented on this review

Thanks for the great review !! We do look forward to serve you in future ..

Khalid

Written on February 21st, 2020

We got scammed by the tour guide in agra. He told us that our children were not free and we had to pay for them, although they were free because both of them ar…

Read more

K K Holidays N Vacations commented on this review

Hello sir Thanks for the review . We checked the whole incident of agra with our guide & found that he told you at agra fort that the kids are free & charged only for 02 adults . Then at taj mahal he charged only for 02 persons . The whole thing was discussed between you & guide when you were in jaipur . If in Delhi , you were facing the problem with room you must have called or mailed us & then if we dont have changed your room or hotel it woyuld have been our fault . The hotel which we provided you is the same hotel which we are using regularly for our tourists & never faced the complaint . But still we have taken a note of this & will try to improve in future . Regards Arun

Written on February 7th, 2020

The driver was reliable, on time and friendly. The tour was alright as far as the sights and hotels go but every single tour ended with at least 1 stop at an ov…

Read more

Ieva

Written on January 29th, 2020

I was traveling solo so I booked this tour cause it said it will be 10-12 people group. And I thought it's kind of high price but i booked it cause I wanted to …

Read more

K K Holidays N Vacations commented on this review

Hi Please note that its a group departure & operates with minimum one person also . Also please note that tipping always depend on the services & its always upto you as its not a compulsion to pay . Regarding Entry fees please note that if you see the Inclusions & exclusions of the trip its clearly mentioned that the entry fees is not included . We appreciate your review & look forward to serve you again Thanks Arun
K K Holidays N Vacations Tours
K K Holidays N Vacations Destinations
K K Holidays N Vacations Videos
Questions & Answers
I arrive the day before the tour starts, are you able to organise an arrival transfer?

If you booked the pre accommodation for the night before with K K Holidays N Vacations then you will be eligible for the complimentary airport transfer. Please contact our team of Travel Experts for further information.

What type of hotels are used on the tour?

On the tours, you will find that all the hotels are of a 3-star standard and all the properties have been checked by the K K Holidays N Vacations team to ensure they are at the highest standard possible.
Contact our Travel Experts
+1 844 311 8331
24/7 Support
Our team of experienced tour specialists have travelled to hundreds of countries around the globe and have decades of first-hand travel experience to share. Contact us now to have all of your tour-related questions answered!