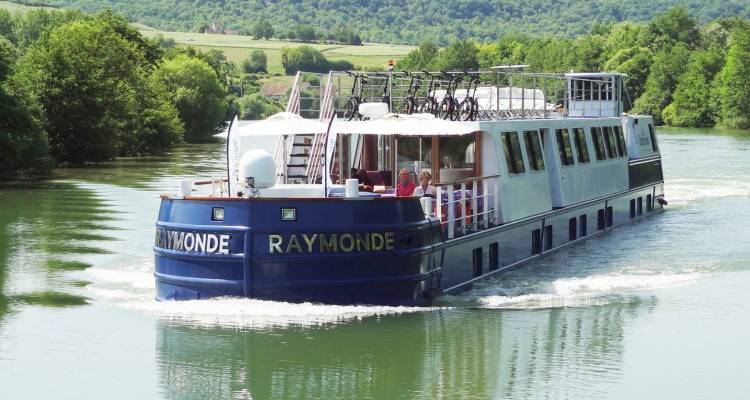 Built

2014

Guests

22
Length

38.5m

Width

5.07m
Staterooms

11

Electricity

220v
Rivers

Country Regions
Ship Overview
Featuring a unique and original concept, Raymonde is two-deck barge which can be often found cruising along the Canal Saint-Martin in the mesmerizing region of Champagne. Recently launched into the French waters, this beautiful vessel is provided with 5 crew members ready to offer their assistance to all the 22 passengers who are to be accommodated in here. The 22 cabins this barge is provided wtih, have a chic design which proves, once again, that simplicity brings everything to a whole new level.
Spacious sundeck provided with chaise longues and umbrellas that can help you hide away from the sun
An impressive lounge area where passengers have the possibility to taste some of the finest drinks provided by the bar
Restaurant with large windows and elegant settings
An area where you can enjoy a barbeque with friends and family
Plenty of bicycles to stay in shape while travelling
Jacuzzi onboard
Wifi
Air-conditioning
The 11 cabins are located on the lower deck.
Reviews
Cruise on the Marne Canal from Paris to Epernay

Written on November 18th, 2018

CroisiEurope River Cruises commented on this review

Dear client, We've taken good note of your message, although it was posted 7 months after your return from your cruise. We regret that the water level has not allowed this cruise to take place as initially planned. We can't predict the water level, which for this cruise rose suddenly, preventing us to realize the initial program. We thought our crew and the services offered on board our barge would make up for the situation. We understand your disappointment but are surprised that you wouldn't recommend CroisiEurope, especially since we offer cruises on every rivers, seas of Europe and the world, 5 French canals and exceptional destinations across the world from Africa to Chili, including Asia and Russia and that on 55 ships. However, if you change your mind, we would be happy to take action and make you discover another destination. In this case, you may contact our partner Tourradar. CroisiEurope - Customer Care Department
Staterooms / Suites
Cabin Main Deck
Cabin Upper Deck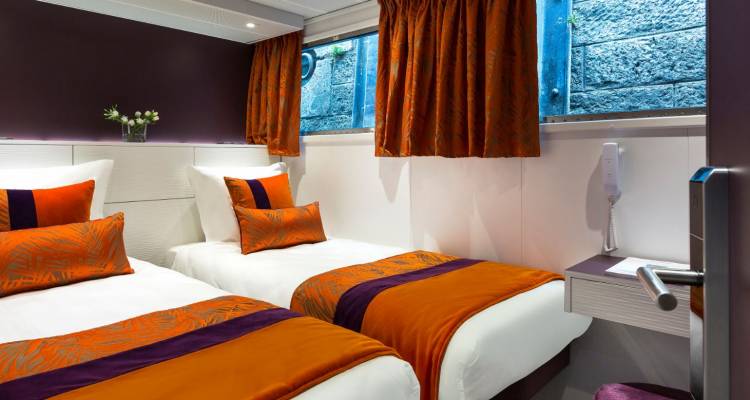 Features
Ensuite Bathroom
Television
Air-conditioning
In-room phone
In-room safe
Shower
Wi-Fi
Towels
Dining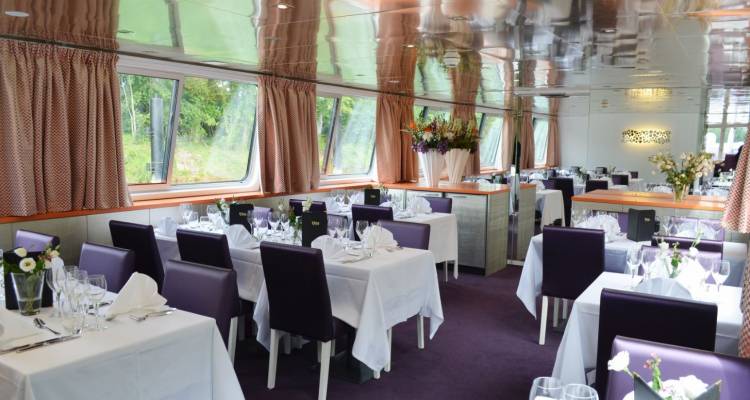 All dishes are inspired from the French culinary tradition, therefore meals will be transformed into pure works of art, cooked by a first-class chef.
Complimentary wines and other soft drinks will be served during every meal
Wide variety of dishes made out from fresh ingredients and served at fixed times.
Breakfast buffet including hot and cold dishes
3 course-lunch and dinner