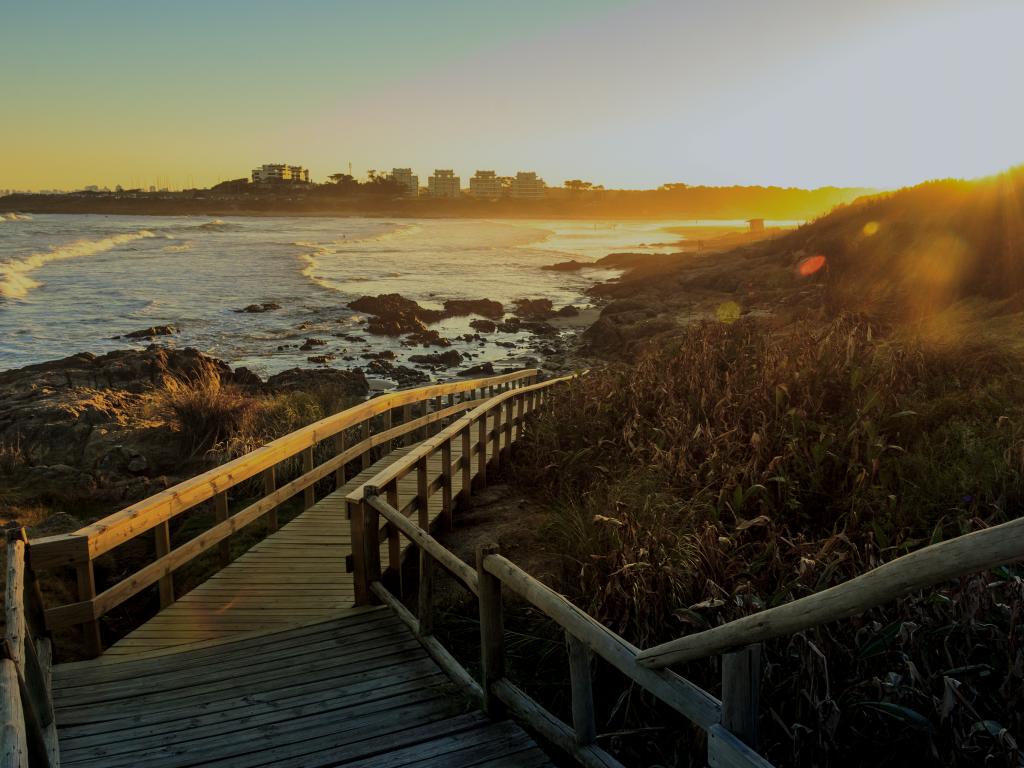 Uruguay Travel Guide
Uruguay is tucked away in South America's sweet spot, hidden beneath the elephantine shadows of this continent's giants. Yet despite its size, this dark horse is not so easily dismissed. Uruguay is epic in its diversions, extraordinary in its chance encounters, extending beyond its beaches and its UNESCO Heritage Sites. Don't believe us? Find out for yourself.
The Highlights


Carmelo

On the eastern bank of the Rio de la Plata is the colonial town of Carmelo, whose biggest draws – alongside its beaches and colonial facades – are its family-run vineyards and wineries including Narbona, Familia Irurtia and Almacén de la Capilla. It is essentially Uruguay's answer to Italy's Tuscany, it's very own wine country, and a bit of wine tasting is certainly obligatory.

Montevideo

Eclectic Montevideo is mesmerising. Here, art deco and neoclassical architecture keep company with high-rises as Miami-style beaches fringe its coast, the unbelievable smell of Asado cooking on parrillas fill the air and the occasional tango dancers draw crowds to the streets. Shop at its markets, go for a nice swim and indulge in some Tannat.

Uruguayan Pampas

Covering most of Uruguay, the gloriously fertile land stretches on for hundreds of kilometres and extends well into Argentina. This is gaucho country, where cowboys tend to the land and take care of cattle and farm animals. Immerse in their life here, which isn't always easy, and learn some gaucho skills. There's fun to be had as well: horseback ride, go fishing and sample the local delicacies.
Punta del Este

Sun-worshippers aren't the only ones that line up the glistening beaches of Punta del Este. Modern resorts, restaurants and clubs do too. There's little wonder that VIPs descend upon this area two hours east of the capital. The vibe is completely different from the rest of the country, but rubbing elbows with celebrities and beautiful people might just be what you need after days of roughing it.

Cabo Polonio

Hire a tour guide or join a guided tour, and take a day trip. Getting to Cabo Polonio might not be easy, but it's well worth the journey. It's a protected region not far from Punta del Diablo, with its captivating residents, the sea lions. Keep an eye out for migrating whales in October, walk on the sand dunes, and take photographs of idyllic, shack-lined shoreline. It'll be a day well spent.

Punta del Diablo

Punta del Diablo, located an hour away from the city of Rocha, seems impeccably designed for backpackers with its hostels, cabañas, hammocks, practically deserted beaches and a boardwalk with the occasional live music. But it's also ideal for surf nuts thanks to its incredible uninterrupted swells. This is the good life at its purest. Kick off your shoes and feel its sand under your bare feet.
The Basics
The Location

Uruguay is a country on the southeast coast of South America bordering Argentina and Brazil. From New York, a flight is 14h 40m with a stopover. From London, a flight is 16h 20m with a stopover.

Capital City

Montevideo, the capital, is situated on Uruguay's southern coast. The eclectic metropolitan area is home to half the country's population.

Main Airport

Montevideo's Carrasco International Airport is the main hub for domestic and international arrivals and departures. It is located in the suburb of Carrasco, 19 kilometres from downtown Montevideo

Code

MVD

Closest City

Montevideo

Language Spoken

The official language is Spanish. English is limited to tourist spots, some restaurants and some highly educated residents of Montevideo and Punta del Este.

Currency

Uruguay uses the Uruguayan Peso. The currency code is UYU. ATMs and credit cards are widely available in Uruguay.

Visas

For Australian, Canadian, UK and US citizens, no prior visa is required and will be issued upon arrival. A 90-day tourist card received upon entry can be extended another 90 days in Uruguay in most cases.

Electricity

Uruguay uses 230V/50hz as well as the two round pin C and F, angled three straight pins I, and three round pin L plugs. You may need a surge adaptor and converter so find out before your trip.

Vaccinations

Typhoid, Hepatitis A, Hepatitis B and Rabies vaccinations are advised. Consult your doctor for your itinerary 4 to 6 weeks before you depart.

Emergency Calls

All emergency services such as police, ambulance or fire can be reached by calling 911 in Montevideo and 02-911 outside of the city. You can also reach them individually by calling 109 for police, 105 for ambulance services and 104 for fire services.
When to Visit
Uruguay Tours
Visit Responsibly

Travelling responsibly means respecting the communities, culture and environment of the places you visit. Keep these tips in mind when travelling to Uruguay:

Go green. Be environmentally conscious on the road by taking short showers; turning off the lights in your hotel room when you leave; and resisting the urge to collect any plants, seashells, or other natural flora.

Respect cultural differences. Before travelling, read about the local culture and customs – even just knowing the dress code and a few basic phrases in the local language will go a long way.

Support local businesses. Enjoy a more authentic experience and directly support the local economy by travelling with a local guide, eating in local restaurants, buying from local artisans, and staying in locally-owned and operated accommodations.

Wherever possible, avoid single-use plastics. Pack reusable items such as your own shopping bags, utensils, a water bottle, and a straw. These items are typically lightweight and compact, and will greatly reduce your consumption of plastics.

Be conscious of overtourism. Opt to visit the lesser-known regions of Uruguay or travel outside the peak season – you'll likely even get a better deal and won't have all the crowds!

Sustainable Tourism in Uruguay

Sustainable Practices
For the past five years, renewable energy sources have been generating over 95% of Uruguay's electricity. Wind farms, hydroelectric plants, and fields of solar panels can be found throughout the beautiful Uruguayan landscape. As of 2019, Uruguay was also ranked as high as number three in the world in terms of wind power generation.

Sustainable Wine
Many Uruguayan winemakers are now focusing on sustainable viticulture. In 2019, a three-year sustainability program and certification was established for wine producers. Developed together with these producers, the sustainability qualification focuses on sustainable and ecological production of high-quality wine grapes. With this new certification, the use of many agrochemicals will be eliminated.

Ecotourism in Uruguay
Due to its numerous nature reserves, Uruguay is a haven for ecotourism. Here, visitors have the choice of exploring caves, hiking, camping, or relaxing by one of the many secluded lakes. In addition, Uruguay is home to many species of breeding and migratory birds and is considered a bird watcher's paradise.
FAQs about Uruguay
Do you tip in Uruguay?

The short answer is yes. Typically, you add a tip of 10% at restaurants, reward taxi drivers and parking attendants UY$5-10, and porters UY$1-2 per bag.

What is the internet access like?

The Internet is pretty much found anywhere in Uruguay's cities and larger towns. Mid to high-end hotels, restaurants, cafes, shopping malls and some buses offer free WiFi. 

Is the tap water safe to drink?

Yes. Scotland boasts exceptionally clean water and is safe to drink. Bottled water is readily available.

Can I use my credit cards?

Visa and MasterCard are commonly accepted by big businesses—hotels, restaurants and shops, in particular. 

What are the public holidays?

Besides Christmas, New Year's Day, and the Easter holidays, Uruguay also celebrates Dia de Los Reyes on January 6, Return of the 33 Exiles on April 19, Labour Day on May 1, Battle of Las Piedras on May 18, Artigas' Birthday on June 19 and Independence Day on August 25.

What are the toilets like?

You might encounter squat toilets in older businesses. However, most have modern facilities of the sit-down kind. Throw your used toilet paper in the rubbish bin.

How do you get around in Uruguay?

Buses are comfortable ways to get from one city or town to another while taxis, local buses and ride-sharing services are great ways to get around the capital.

Is it true that Uruguay is LGTBQ-friendly?

Absolutely! Uruguay is the most welcoming South American destination for LGBTQ travellers. In fact, it was the first Latin American country to legalise same-sex marriage.
A TRAVEL MAGAZINE BY TOURRADAR