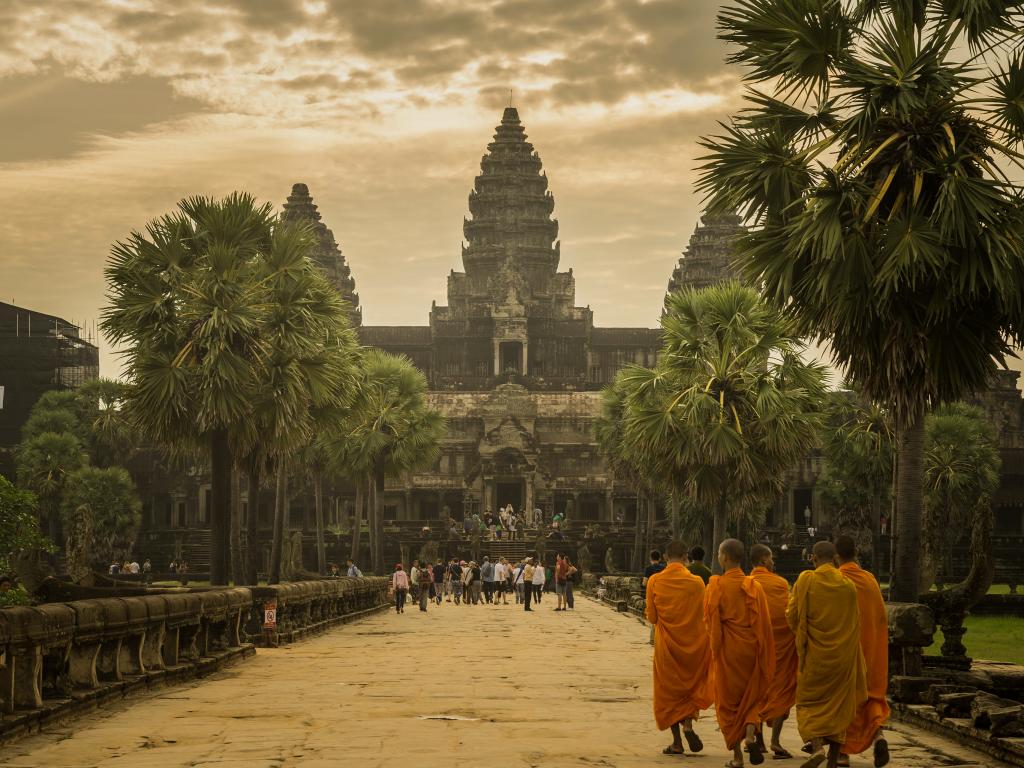 Cambodia Travel Guide
It's time to talk about Cambodia. If it's not already at the top of your must-visit list then you might have some rearranging to do. Embrace the heart-stealing scenery of this Southeast Asian nation as you roam through lively markets, majestic temples and charismatic towns that seem untouched by modern tourism developments. It's time to delve a little bit deeper and get acquainted with Cambodia.  
The Highlights


Kep

One thing you must do while in the coastal province of Kep: sample it's famous crab caught daily from the shores and is best served stir-fried and seasoned with local Kampot pepper. With an entire market dedicated the crustacean, you can watch the fisherman wade through the waters daily in search if their haul. Visitors can also make a trip to the butterfly-filled Kep National Park. 

Battambang

Filled with French colonial architecture and accompanied by many relaxed riverside cafes, it's easy to see why travellers are attracted to Battambang. One of the most notable experiences you can enjoy in Battambang is to take a ride on the famous bamboo train where a wooden pole is used as both the brakes and accelerator while reaching surprising speeds of up to 50 kilometres an hour. 

Siem Reap

There's more to Siem Reap than just being the gateway to the Angkor Wat temple. You can spend your time walking around town or ride a bike. Or, you could explore the floating village of Chong Khneas on the largest freshwater lake in Southeast Asia. Then, you can spend your evening at the lively Pub Street and before heading to the surrounding night markets. 
Kampot

If Kep is known for its fresh crab and seafood, Kampot is equally as famous for its regionally produced pepper along with its world-class salt. Once you've sampled the local pepper and famous salt, nothing compares to relaxing by the mangrove-lined Kampot river with a fresh beverage in your hand to watch the sun dip below the horizon. While you're there, you can also visit Bokor National Park.

Koh Rong Samloem

If you're looking peace and quiet with a dose of tranquillity, you must head to Koh Rong Samloem located just 45-minutes by ferry from mainland Sihanoukville. Picture-perfect, white sand beaches are the main drawcard for this tiny island and similar to Koh Phi Phi island in Thailand, there are no cars, no roads and no traffic – making it a true paradise for travellers. 

Phnom Penh

Make like a local in the glimmering city of Phnom Penh, the capital of Cambodia. The best way to see the city is to explore on two feet or to cruise through the streets in a cyclo and tick off the Royal Palace, the Silver Pagoda and Wat Prohm. Before the day is out, make sure to watch the sun go down along the riverbank before getting your fill of local treats at the popular night markets. 
The Basics
The Location

Cambodia is located in Southeast Asia and shares borders with the Gulf of Thailand, Vietnam, Laos and Thailand. From Dubai, a non-stop flight is 8h 30m, and from Sydney, it is roughly 11h 30m, with a stopover.

Capital City

Phnom Penh is the vibrant bustling capital of Cambodia and is also the most populous city in the country. 

Main Airport

Phnom Penh International Airport is the largest airport in Cambodia containing a land area of 400 hectares. It is located 10 kilometres from the city of Phnom Penh. 

Code

PNH

Closest City

Phnom Penh

Language Spoken

The official language of Cambodia is Khmer, and English is also widely spoken, particularly in tourist hot spots. 

Currency

Cambodia uses the Cambodian Riel. The currency code is KHR. ATMs are widely available and credit cards are accepted by many hotels and restaurants across Cambodia. 

Visas

Most visitors to Cambodia will be granted a one-month visa on arrival for a small fee of USD $30 and you will need to have a passport sized photo on hand. We recommend checking your country's travel advisories in advance of booking a trip.

Electricity

Electrical current is 230V/50hz using three associated plug types, A, C and G. The standard voltage in the US is 110 volts, so you may need a surge adaptor.

Vaccinations

Typhoid, Hepatitis A and B are advised however there are no compulsory vaccinations. Consult your doctor 6 to 8 weeks before you depart.

Emergency Calls

The phone numbers to call in case of emergency when in Cambodia are 117 for the police, 119 for an ambulance and 118 for a fire.
When to Visit
Cambodia Tours
Visit Responsibly

Travelling responsibly means respecting the communities, culture and environment of the places you visit. Keep these tips in mind when travelling to Cambodia:

Go green. Be environmentally conscious on the road by taking short showers; turning off the lights in your hotel room when you leave; and resisting the urge to collect any plants, seashells, or other natural flora.

Respect cultural differences. Before travelling, read about the local culture and customs – even just knowing the dress code and a few basic phrases in the local language will go a long way.

Support local businesses. Enjoy a more authentic experience and directly support the local economy by travelling with a local guide, eating in local restaurants, buying from local artisans, and staying in locally-owned and operated accommodations.

Wherever possible, avoid single-use plastics. Pack reusable items such as your own shopping bags, utensils, a water bottle, and a straw. These items are typically lightweight and compact, and will greatly reduce your consumption of plastics.

Be conscious of overtourism. Opt to visit the lesser-known regions of Cambodia or travel outside the peak season – you'll likely even get a better deal and won't have all the crowds!

 

Sustainable Tourism in Cambodia

Sustainable Cambodia
Sustainable Cambodia is an organization dedicated to helping families of rural Cambodia achieve a sustainable and self-sufficient quality of life via the installation of wells, irrigation systems, quality education for the children, sustainable incomes, and healthy food. The local families learn about a variety of topics: alternative agriculture, the installation of wells, and how to manage community projects and build schools.

Cambodia's Sustainable Development Goals (SDGs)
After endorsing the 17 global SDGs in 2015, the Royal Government of Cambodia adapted the goals to fit their national context and devised a fully localized framework called the Cambodian SDGs (CSDGs). They also added an eighteenth goal which requires the clearance of landmines and unexploded ordnance.

Sustainable Tourism Initiatives
Siem Reap has a number of businesses dedicated to supporting the local community and conserving the environment. Not only do these businesses encourage sustainable tourism, but they also actively help the Cambodian people in need by creating better opportunities within the community. Made in Cambodia Market, Rehash Trash, and the Café Collective are just a few examples.
FAQs about Cambodia
Do you tip in Cambodia?

There isn't much of a tipping culture in Cambodia, but it is recommended to leave a tip of 10% in a restaurant to show gratitude for good service and this will of course, always be appreciated. 

What is the internet access like?

Internet connection can range in quality, but you should have no problem with day-to-day tasks like emailing or surfing the web while in Cambodia. WiFi is available in many cafes, hostels and hotels for free, but outside urban areas, this is not as common.

Is the tap water safe to drink?

Definitely not. Bottled water is available all over the country, even in the most remote parts. Just make sure the seal is still on and unbroken.

Can I use my credit cards?

Yes, credit cards are widely accepted throughout Cambodia. Please check with your bank about any foreign transaction charges.

What are the public holidays?

Some of the major public holidays in Cambodia include New Year's Day on January 1, Victory Over Genocide on January 7, King's Birthday on May 13-15, Constitution Day on September 24 and Independence Day on November 9 among others. 

Is it safe to travel in Cambodia solo as a female?

Definitely! Cambodia is a welcoming and friendly place where solo female travellers should feel comfortable. As always, small precautions like keeping your bag close to you in the city will help to keep you out of trouble.
A TRAVEL MAGAZINE BY TOURRADAR