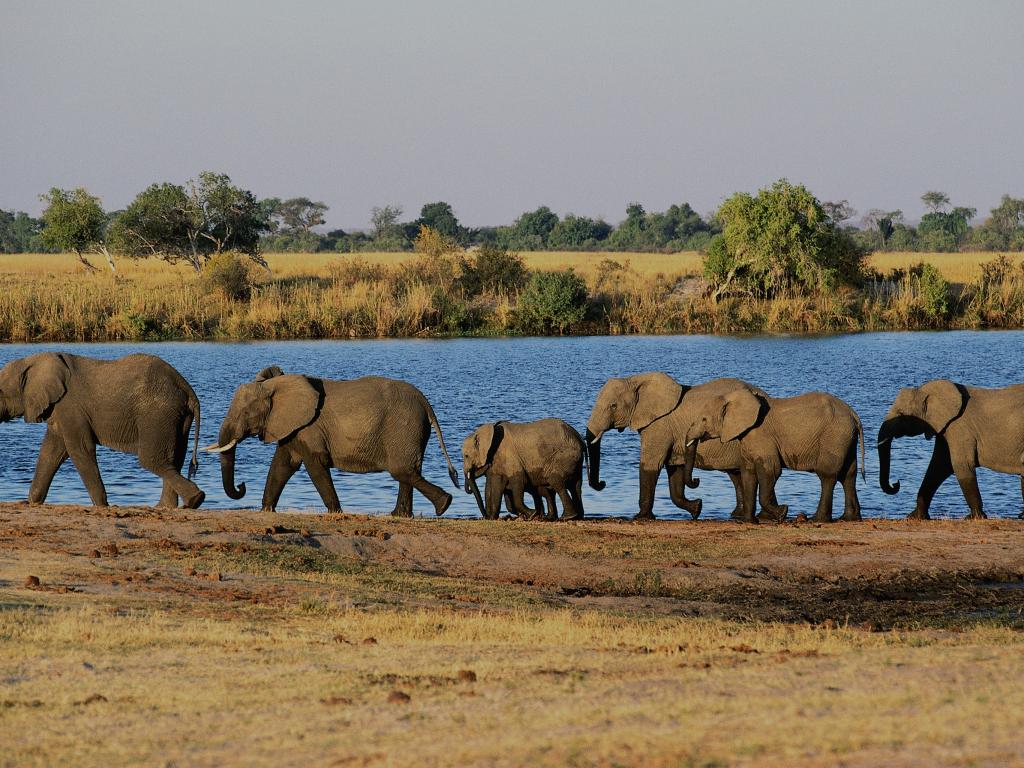 Botswana Travel Guide
Imagine a place where fertile land sits in contrast with a red desert and where fiery sunsets transform into star-studded nights. Or, where magnificent animals roam in the largest numbers. That land is Botswana, and extraordinary adventures await. In the midst of it are visitors just like you seeking a glimpse of its natural splendour. 
The Highlights


Kasane

Whether you're looking to squeeze in another safari and planning on crossing the border at Zimbabwe, a stop in Kasane is a good idea. The town serves as the main jumping point for both Chobe National Park in the south and Victoria Falls in the east. A day or two here to feast on Botswana dishes and to drink with locals and fellow travellers is a good way to take a break between adventures.

Khama Rhino Sanctuary

At the edge of the Kalahari is a former hunting area turned animal sanctuary. True to its name, Khama Rhino Sanctuary is now a conservation area that is home to not just the critically endangered white and black rhinos but also zebras, wildebeest, ostriches and giraffes. It's an essential stop not only to see rhinos but also to learn more about their conservation efforts and how you can help.

Chobe National Park

You mustn't leave Botswana without visiting Chobe National Park, not because it's Botswana's first national park but because it is the most diverse. Herds of elephants gather here in large numbers, some 50,000 strong, and they have a run of the place. Yet rhinoceros, antelopes, wildebeests, warthogs, cheetahs, hippos, kudus, impalas and zebras are also watering hole regulars.
Maun

Set up camp on the outskirts of town, just before or after your Okavango Delta expeditions, and treat yourself to its small luxuries, whether it be having a nice, sit down meal, shopping for some local products to take home or scoring a WiFi connection. Rub elbows with the locals and people watch as they go about their quotidian lives. And even make friends with a donkey or two.

Makgadikgadi Pans

These salt flats in the Kalahari Desert aren't always dried up. Fed by the Nata River, it grows lush and alive with avian guests in the wetter part of the year. It is, however, at its wildly appealing and most photogenic during the dry months when the pans, the largest of which is Sowa, is dried and crusty. Head for the igneous rock island of Kubu and Kukome for even more spectacular photos ops.

Ghanzi

There's no denying that Botswana's appeal is in its wilderness. Yet to really immerse yourself in the local culture, spending a few days in its townships and villages are just the ticket. Make a trip to Ghanzi, nestled in the heart of the Kalahari and learn about the Bushmen people and their culture. Stop by a San shop to purchase some Bushman-made handicrafts and pop into a local supermarket.
The Basics
The Location

Botswana is a country in southern Africa, surrounded by Namibia, South Africa, Zimbabwe, and Zambia. From New York, a flight is 19h 45m with a stopover, and from London, it is 13h 50m with a stopover. 

Capital City

Gaborone is in the southeast portion of the country near the South African border and is Botswana's largest city by population. 

Main Airport

Gaborone's Sir Seretse Khama International Airport is the main hub for domestic and international flights. It is located 15 kilometres north of the city of Gaborone.

Code

GBE

Closest City

Gaborone

Language Spoken

The official languages of Botswana are English and Tswana. English is spoken by many businesses and by many in the urban areas.

Currency

Botswana uses the Botswana Pula. The currency code is BWP. ATMs can be found in the major cities and towns, but they have surcharges. It's best to bring US dollars in cash as most businesses accept it and it can easily be exchanged.
 

Visas

For Australian, Canadian, UK and US citizens, no prior visa is required and will be issued upon arrival. Stays of up to 90 days in Botswana every 12 months are allowed in most cases.

Electricity

Botswana uses 230V/50hz and the three round pin electrical plug Type M, as found in South Africa. Unless your country of origin uses Type M plugs, it's best to bring an adapter. Check if you need a converter.

Vaccinations

Typhoid, Hepatitis A and B, antimalarial tablets and rabies vaccinations are advised. Additionally, you may also need proof of the Yellow Fever vaccination if you're travelling from a country with a risk of Yellow Fever.

Emergency Calls

The phone numbers to call in case of emergency are 999 for the police, 997 for an ambulance and 998 for a fire.
When to Visit
Botswana Tours
FAQs about Botswana
Do you tip in Botswana?

Tipping isn't mandatory but it's very much appreciated, however, it all depends on the quality of service. Tip your safari guide $10 per person per day, your driver $5 per person per day, porters $1 per bag, and the camp/lodge staff $3-5 a day. At restaurants, a 10% tip of the bill is enough.

What is the internet access like?

Internet access is available in the cities and most towns, though most likely at tolerable speeds. WiFi is also available at some cafes and restaurants; however, don't expect access to all the camps and game lodges.

Is the tap water safe to drink?

Yes. Scotland boasts exceptionally clean water and is safe to drink. Bottled water is readily available.

Can I use my credit cards?

Visa and Mastercard are widely accepted in Botswana but more so in the big cities than in the towns and villages. Cash is still king, and you must carry more than enough with you when exploring the bush.

What are the public holidays?

Along with Christmas, New Year's Day and the Easter holidays, Botswana also celebrates Labour Day on May 1, President's Day on 3rd Monday in July, Botswana Day on Sept 30 and Boxing Day on December 26.

What are the toilets like?

Sit down toilets are readily available, though not in rural villages and definitely not in the bush. Public toilet facilities are practically non-existent.

Is it safe to travel solo in Botswana?

Botswana has been named one of the safest countries in Africa, making it ideal for solo travellers especially women. Still, there's safety in numbers so folks going solo should connect with fellow travellers or join a small group tour and also utilise common sense.

What are some do's and dont's travellers should know?

Respect the local laws; maintain a healthy distance between yourself and the wildlife; leave your expensive belongings at home, and protect yourself at all costs from mosquito bites.
A TRAVEL MAGAZINE BY TOURRADAR