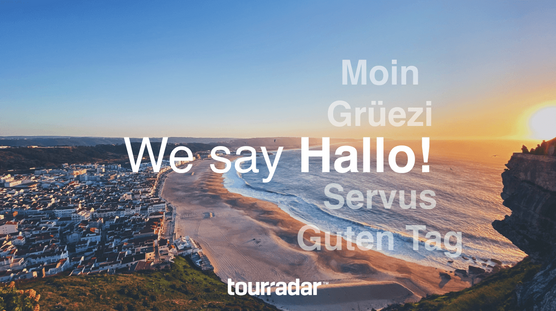 TourRadar Launches German Language Capability, Growing Its Presence Across Europe
The world's largest online marketplace goes bilingual as German speaking travelers can now book multi-day tours on TourRadar in their native language 
TourRadar
, the world's largest online marketplace for multi-day tours, today announced the official launch of its German-language capability in a continued effort to grow its presence in the European market. The new functionality allows customers to find, book, and review multi-day tours in both English and German. Customers based in the DACH region can now visit
www.TourRadar.com/de
to book tours in their native language. 
Founded and headquartered in Vienna, Austria, the German-speaking market is an important part of TourRadar's global presence and future growth. In 2019, Austria and Germany were the company's 5th and 7th ranked source markets, respectively, based on passenger bookings. Over the past ten years, TourRadar has grown into the largest online marketplace for multi-day tours through its English offering and the platform will be the first of its kind in Germany.
"We founded TourRadar in the DACH region, so we're excited to finally offer our unique service to native German speakers," said Travis Pittman, TourRadar CEO and co-founder. "The German language launch is an important first step in our continued growth as a company as we look to localize our offerings across the world."
It's still a tumultuous time for international travel, but in mid-October,
TSA reported
over one million fliers were screened on one day — more than ten times the numbers seen in April. TourRadar has also seen a recent surge in bookings compared to earlier this year. With the recent positive news around a COVID-19 vaccine, the company sees an opportunity to expand its presence heading into 2021.
In response to the pandemic, earlier this year TourRadar launched
flexible booking options
, which means travelers can book a tour today and if plans change, they can postpone their trip and apply a credit to a future tour at no penalty. The platform also released a
list of hygiene measures
tour operators are implementing as well as enhanced, safe
private tour offerings
. 
With the digitalization of booking tours, TourRadar is also in a unique position to help German-based operators whose sales have been affected by the coronavirus COVID-19 pandemic. The platform is already working with operators that offer German speaking tours like Feuer & Eis Touristik, Lueftner Cruises, Eurobike and Eurohike, Nicko Cruises, Paradise Reise Service, sailwithus, and Sunway Safaris. The company will look to expand its partnership roster of over 2,500 operators worldwide throughout 2021.
"The travel industry has been hit hard by the pandemic but we're starting to see signs of a rebound," said Iris Serbanescu, Director of Partnerships at TourRadar. "We want to use this German market launch as an opportunity to help tour operators and destinations be discovered by a new audience of customers."
About TourRadar
TourRadar is the world's largest online travel marketplace for multi-day tours. Revolutionizing how multi-day tours are compared and purchased, TourRadar provides travellers with a trusted online marketplace to find and book life-enriching experiences worldwide. TourRadar works with over 2,500 tour operators to offer more than 40,000 tours in over 200 countries. Founded in 2010, TourRadar was the first to transition multi-day tours to an online marketplace, making them the leader in the industry. TourRadar is headquartered in Vienna, Austria with additional offices across Europe, North America and Australia. For information on TourRadar, visit TourRadar.com or follow @TourRadar on
Twitter
,
Facebook
,
Instagram
,
YouTube
and
Linkedin
.   
Download Release (PDF)