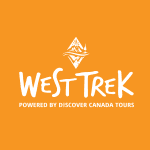 Number of tours

5
Age Range

6-99
Number of reviews

71
Rating

4.6

/5
Response rate

96%
Response time

within 2 days
Laura

Written on January 24th, 2023

I highly recommend this tour company ! I went to the Rockies Mountain with Meghan and Cristina. It was perfect !

West Trek Tours Inc. commented on this review

Hello Laura, Thank you so much for your 5 star review. We are so happy to hear that you had a great time with Meghan and Cristina on our Rockies Winter Explorer Tour. We hope to see you on one of our tours again soon!

Rockies Winter Explorer New Years Eve Tour

Written on January 13th, 2023

The trip was amazing, lots of fun activities, the guides were knowledgeable and shared stories about the history of the places, the group was fun.

West Trek Tours Inc. commented on this review

Thank you so much for your 5 star review Mihaela. We are so happy yo hear that you had a great time in the Rockies.

Stefanie

Rockies Winter Explorer New Years Eve Tour

Written on January 13th, 2023

If you want to get an overview over the Canadian rockies in winter I recommend. Be aware its a lot of time spent on the bus unless you sleep. I was lucky with …

Read more

Ronald

Rockies Winter Explorer New Years Eve Tour

Written on January 3rd, 2023

Each area visited was a bit rushed... however the overall trip was generally good.

West Trek Tours Inc. commented on this review

Thank you for your feedback Ronald. We are happy to hear that you had a great time in the Rockies.

Written on December 18th, 2022

I was able to enjoy my time on this tour immensely thanks to Mara for working tirelessly to coordinate events, Yee for driving everyone everywhere safely, and N…

Read more

West Trek Tours Inc. commented on this review

Thank you for your 5 star review Ania. We are so thrilled to hear that you had a great time with Mara and Nataly in the Rockies. We hope to see you on one of our tours again soon!

Anonymous

Written on November 15th, 2022

The journey of the Canadian Rocky Mountains exceeded our expectations. The landscapes, glacial fields, villages, and ranches we saw were breathtaking.

N

Written on November 15th, 2022

Good tour guide was awesome vacation

haider

Written on October 18th, 2022

William and Mara were great and they are really nice humans. Very informative and well planned.

West Trek Tours Inc. commented on this review

Thank you for your great review. We are glad that you had a great trip and hope to see you on another adventure soon!

Written on October 11th, 2022

Sabio was a great tour guide who was both entertaining and informative.

Written on October 6th, 2022

Great tour, 'really enjoyed the itenary and a lot to fit in to 4 days. Sometimes it felt a bit rushed , especially lunch stop on day 1 wasn't until 3pm although…

Read more

West Trek Tours Inc. commented on this review

Hi Peter, We are glad you enjoyed your trip to the Rockies. You are right. It is a lot to pack into 4 days. Thank you for your suggestions and we will take note of them in our future planning. We will let the guide know to be aware of the volume of the music :)
West Trek Tours Inc. Tours
West Trek Tours Safety Protocols For All Tours
Introduction

With travel restrictions slowly being lifted, West Trek Tours is committed to ensuring that the safety of all our guests is our top priority. We will be implementing a number of safety precautions on all our tours.
Tour Sizes
We are working with the provincial and federal governments to assess the number of passengers that we will be carrying per tour. Be assured that we will be following every regulation that is laid out.
Pre-Departure Checks
Before departing on any tour, we will be taking a number of precautions before guests are allowed to board the bus.
We will be doing a contactless check-in process. Details of the exact check-in process will be given to you on the day of your departure.
You will be required to answer a series of questions:
Do you have a fever or a cough?
Do you have a fever and difficulty breathing?
Have you been refused boarding in the past 14 days due to a medical reason related to COVID-19?
Are you the subject of a provincial/territorial or local public health order?
We will also be using a highly calibrated non-contact temperature gun to measure the temperatures of all guests. If you have a temperature of 37.3 degrees celsius you will not be able to board the bus.
Please adhere to the 6 feet rule when gathering at the departure point.
On-Tour Precautions
We will be taking strict precautions during the tour. All guests will be required to wear cloth and/or non-surgical facemasks for the duration of the tour while on the coach or when it is impossible to maintain the 6-foot distance. There will be ample hand sanitizer available on all our coaches. We encourage all our guests to regularly use this sanitizer, especially after boarding the bus after visiting an attraction. We will be sanitizing the coaches on a daily basis by wiping down all contact surfaces.
We encourage all guests to partake in keeping themselves and others safe. If you need to sneeze or cough, please do so into your elbow, wash your hands regularly, use hand sanitizer after visiting an attraction, keep your distance from other guests, at least 6 feet, and most importantly respect others.
If you or anyone in your group is experiencing symptoms, we will work directly with you to cancel or reschedule your tour.
Our Staff
Employees receive daily wellness checks as well as perform regular self-assessments to ensure they are healthy and symptom-free.
Rooming Precautions
We have also updated our rooming options. You will now be able to book five room types. All rooms require guests from the same party apart from our Share Room option.
Single Room
Double Room
Triple Room
Quad Room
Shared Room with one other solo traveller of the same sex (price is based on Double Occupancy)
The safety and wellbeing of our guests are paramount. We look forward to seeing you on one of our tours soon.
Contact our Travel Experts
+1 844 311 8331
24/7 Support
Our team of experienced tour specialists have travelled to hundreds of countries around the globe and have decades of first-hand travel experience to share. Contact us now to have all of your tour-related questions answered!