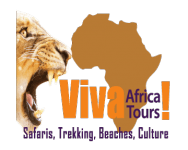 Number of tours

6
Age Range

10-99
Number of reviews

19
Rating

4.5

/5
Response rate

100%
Response time

within 2 days
Questions & Answers
How does Viva Africa Tours choose lodges and tented camps on safari?

Viva Africa Tours matches the type of experience you desire with the most appropriate lodge arrangements. Available lodging ranges from private luxury tented lodges to adventure camping. There are both mid and high-end private lodges so we can accommodate any budget.

Can I request special diet for safari?

Yes, you can. For people with special diet (vegetarian, gluten free etc.) please let us know in advance.

Do I need to bring a water filter?

During safari we provide bottled water and on Kilimanjaro trips, we filter all drinking water. A water filter is therefore not necessary.

What is a typical menu on a camping safari?

During Viva Africa Tours' camping safaris our chef will provide you with three meals (breakfast, packed lunch and dinner). Our food includes everything to make your nutrition varied and healthy. If you need special diary (e.g. vegetarian or gluten free) please inform us with your booking.

What are the Big Five?

The Big Five are term that originates with hunters. The Big Five were the hardest to hunt and also it was believed they hunted humans. They include rhino, elephant, lion, leopard and buffalo. Now-a-days it is a marketing term used by safari companies. Tanzania is home to the Big 5 and on safari with us you can experience them up close and in wild.

What is a game walk?

A game walk is a walking safari inside or near a national park. These walks require an armed guard. One of the national parks, where you can do a game walk is at Arusha National Park.

How should I physically prepare for my climb?

Kilimanjaro is considered by many to be the easiest high mountain to climb. However, the altitude of 5,895 meters (19,340 feet) is still extremely high and proper preparation is essential. It is helpful to engage in aerobic exercise a few times a week for two months prior to the climb. Also, it is absolutely essential that you understand the causes and symptoms of altitude sickness before beginning the trek.

How much experience do Viva Africa Tours' guides have?

Each one of our guides has several years of experience on Kilmanjaro. Our most experienced guide has climbed Kilimanjaro more than 200 times (18 years) while our most junior guide has climbed about 50 times (5 years). Be sure to listen to your guide's advice while on the mountain and remember to go slowly. If you hike slowly, you increase your chances of reaching the top as your body has more chance to acclimatize.

Do Viva Africa Tours' guides carry first aid kits?

Our guides carry first aid kits that contain bandages, over the counter medicines, and some emergency supplies. Viva Africa Tours does not carry any prescription medicines so you will have to bring your own.

What will the porters carry and what will I carry on the climb to Kilimanjaro?

Porters will carry most of your luggage. You will carry a small day pack that contains your drinking water, rain gear, camera and lunch.

How far do we hike each day on the Kilimanjaro tours?

On most days, you will hike about 10 km (6.2 miles). In order to adjust to the change in elevation, you will be hiking the day's distance at a slow pace.

What happens if someone has to descend because of altitude sickness?

You will always hike with several guides/assistant guides. If someone has altitude sickness and can't proceed with the climb, they will descend with an assistant guide.

What is the best time to climb Kilimanjaro?

It is generally believed that the best time to climb Kilimanjaro are August to October. It tends to be drier during these months, but it is also the busiest time on the mountain. People that want to have a quieter experience should consider June. Nonetheless with the right gear Kilimanjaro can be climbed at any time of the year.

What is the best route to climb Kilimanjaro?

Each route is unique and an experience in itself. The most popular routes are Machame and Marangu. If you wish to hike less remote, we recommend you to choose Lemosho or Rongai. The best acclimatisation conditions are on Machame and Lemosho Route.

What precautions should I take to avoid stomach problems in Tanzania?

Wash your hands as often as possible with soap especially before meals. Avoid street food if you have a sensitive stomach. Eat fruit that can be peeled unless you bought it yourself and washed it properly. Only purchase water bottles that are sealed.

What vaccinations are recommended for Tanzania?

Before your trip please check your vaccination document and make sure that all your routine vaccines are up-to-date. These vaccines include measles-mumps-rubella (MMR) vaccine, diphtheria-tetanus-pertussis vaccine and polio vaccine. There are certain vaccinations (hepatitis A + B, thypoid and rabies) recommended, for further details please contact your doctor. Travellers that wish to go to Zanzibar will be required to have Yellow Fever vaccination. Tanzania in general does not require yellow fever vaccination, but if you have a connecting flight within Africa, a yellow fever certificate is required to enter Tanzania. Additionally you want to consider malaria prophylaxis. Please discuss the possibilities with your doctor.

Are airport transfers included?

All our treks and packaged trips include airport transfers. For our safaris the airport transfer can be booked separately for 40 USD per one way. Please provide us with your flight details

What are the visa requirements for Tanzania?

We recommend to check Tanzania's embassy in your home country. Visa rules differ depending on your nationality. The Tanzanian embassy website will always have the latest information about requirements, costs and will provide you with the required forms.

Do you help with visas?

Viva Africa Tours' can not assist in the actual visa application process. You can do this through the Tanzanian embassy in your home country.

Can I store excess luggage during my trek or safari?

Yes, we can store all items you won't need on your trek or safari. We hand them back to you after you return to Moshi.

Will I be able to have internet access?

Yes, internet access is possible. Moshi has a few internet cafés as well as restaurants/bars with wifi access. Most of the hotels offer free wifi. The speed of the internet differs from place to place. Please keep in mind we are still in Africa and the infrastructure is not as good as in the Western world.
Contact our Travel Experts
+1 844 311 8331
24/7 Support
Our team of experienced tour specialists have travelled to hundreds of countries around the globe and have decades of first-hand travel experience to share. Contact us now to have all of your tour-related questions answered!