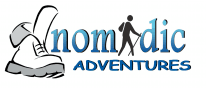 Number of tours

12
Age Range

18-70
Number of reviews

42
Rating

4.8

/5
Response rate

100%
Response time

11 hours
Written on March 14th, 2022

This was on our bucket list many years and we finally decided to do it when covid finally settled. What an experience. A truly fantastic climb, great guide and …

Read more

Nomadic Adventures commented on this review

Thanks for these lovely words Issy. Yes you certainly had to postpone it long enough. Well done again on your summit success.

Written on March 3rd, 2022

One definitely cannot go wrong with Nomadic adventures. We had such a pleasant experience and Debra put in a huge effort to make our trip so much more memorable…

Read more

Nomadic Adventures commented on this review

Hello Jan-Toit Thank you so much for your kind words. It was our pleasure hosting you on the mountain and we look forward to hosting you in the future. Congratulations again on your summit. Regards Debra

Written on August 7th, 2020

This was a trip of a life time. I wanted to do the full base camp tour but just did not have the time and frankly was worried I might not make it all the way:( …

Read more

Nomadic Adventures commented on this review

Thanks Kate and indeed, Gokyo awaits. Nepal is open to travel again so as soon as outbound flights are open for you, Asmid and his team will be waiting.

Written on December 30th, 2019

It's a life changing experience! Wish I could do it again.

Nomadic Adventures commented on this review

Hello Mari. Thank you so much. It is indeed life changing

Written on September 19th, 2019

Go for it! It's an awesome experience.

Nomadic Adventures commented on this review

Thanks so much for your review Raziya. We enjoyed sharing the experience with you

Written on April 15th, 2019

My man Mzui - champion. Loved it. Just got back and loved it - the bug has bitten. Services were fantastic as before and the advise from Debs really good. Defin…

Read more

Nomadic Adventures commented on this review

So great to have your feedback and well done - you said you would. We look forward to hosting you on your next climb...Everest base camp?

Written on March 20th, 2019

An absolutely great experience. Very comforting to know all relevant arrangements pertaining flights, accommodation and most importantly the climbing experienc…

Read more

Nomadic Adventures commented on this review

Thanks so much Robbie - really great to hear. Juma has become a friend to many which means both of your are blessed. We appreciate your great feedback

Anonymous

Best of Vietnam and Cambodia in 12 days

Written on March 16th, 2019

Doing the personalised tour was definitely the way to go and it was just enough time everywhere not to get templed out / scenery out. There was no transfer iss…

Read more

Nomadic Adventures commented on this review

Gida thanks so much for your wonderful review. Very thorough and comprehensive overview of everything. We are pleased we could help turn your trip into a reality and great that it was so special. We hope to host you again in the future.

Written on March 11th, 2019

Loved it. Superb. Mzui a ball of energy. Great start to climbing. Now ready for Kilimanjaro to the top. Thanks guys.

Nomadic Adventures commented on this review

Seeps thank you - yes not long to the big climb now and as you know, Mzui will be guiding you again. We look forward to your photos!

Written on March 8th, 2019

We could not have been more pleased with our tour experience! Our guide, Charles, and all of the porters associated with our group were excellent -- they all t…

Read more

Nomadic Adventures commented on this review

Ann thanks so much for your wonderful review. Charles has sadly stopped guiding but doing well in corporate as expected. We hope to host you both again soon. Keep up the charity work
Nomadic Adventures Destinations
Nomadic Adventures Videos
Questions & Answers
For hiking and trekking tours will I need to bring my own sleeping bag?

Yes you will. Where you are camping we provide sleeping mats. You can also rent a sleeping bag at most destinations to avoid having to travel with one.

What are the tipping recommendations?

In most places tipping is expected. We will advise you in advance what the norm is.

Can I store excess luggage at the starting point hotel for climbs and treks?

Most starting point hotels can store your excess luggage for you.

What happens if I need to abandon my trip part way through?

Unfortunately this is something every traveler has to consider. Anything from a stomach bug to altitude sickness or an illness of someone back home can occur. Any associated expenses to get you back to the main departure point for your flight will be for your expense which is why insurance is required.

Is it possible to book extra nights of hotel accommodation before or after my tour?

Yes it is possible to arrange additional accommodation at the starting or ending hotels. Please contact us for more details and we definitely help you out.

Do we need medical insurance and can you provide it?

We require that you have adequate medical travel insurance on all the tours of around USD$200,000 worth of emergency evacuation and repatriation coverage. We are not insurance brokers but suggest two options here depending on your country of origin. https://www.nomadicadventures.co.za/Insurance.html In the case of a hiking or climbing tour, adequate, means you must be covered for trekking or hiking - this may sound strange, but many insurance list that as an exclusion. altitude up to 6,000 meters. Most travel insurance providers do not include this under their standard cover and often limit it to 3500m or less. 4. Sprains strains and physiotherapy - yes, many insurers exclude this; though ironically, this is what you will most likely need cover for. 5. personal accident and repatriation

Do any of your tours have luggage weight restrictions?

Yes tours like Everest hikes or Kilimanjaro carry weight limitations. We will notify you what it is based on the tour you choose.

Are children allowed on your tours?

Some of our tours such as climbing or hiking are not suitable for children under the age of 12 years old and some tours have an age restriction. Let us know the ages of your children so that we can let you know.

What's the age range of a group trip?

The general age group of most of our tours is 25 to 65. For anyone over 60 on a climbing or trekking tour, we may request additional medical details.

Is it possible to upgrade the hotel options?

Definitely yes. Please contact us for details on accommodation options/ upgrades and we'll be happy to assist you. The only time we cannot is on lodge treks or where mountain huts are used.

Is it possible to have my own room?

Yes you can. To have your own room means you will pay a single supplement fee.

Can we modify our tours?

Yes we can – this tour is about you and we can modify the itinerary to suit you. The only time we cannot is if it is a group tour.
Contact our Travel Experts
+1 844 311 8331
24/7 Support
Our team of experienced tour specialists have travelled to hundreds of countries around the globe and have decades of first-hand travel experience to share. Contact us now to have all of your tour-related questions answered!