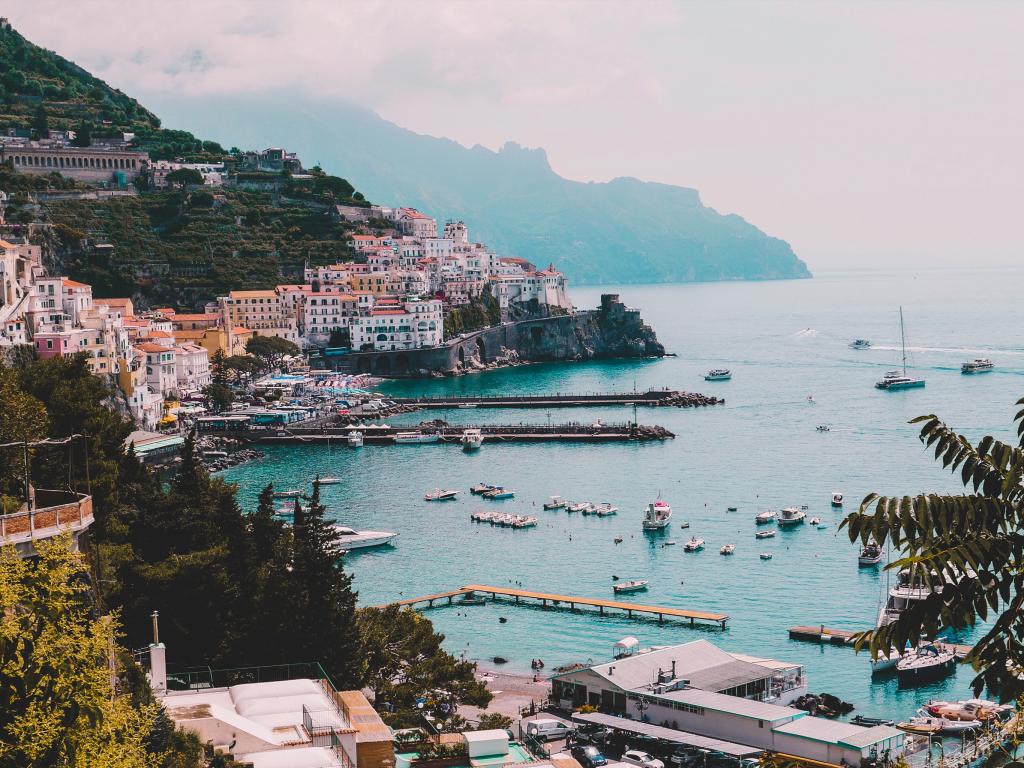 How to Get to the Amalfi Coast
How to Get to the Amalfi Coast
Words can't even begin to describe how beautiful the Amalfi Coast really is. If you've had enough of reading about the famous coastline and want to take the leap to explore the region for yourself, you will need to establish how to get there, and the best mode of transport to suit your itinerary or tour. Travellers flying from the UK, the US, Australia, or Canada and other parts of the world have a few options to explore, but don't be tricked into booking the cheapest flight without considering if there might be a catch; including long layover times, additional visas, or transport arrangements. No matter which mode of transport you select, you'll want to make sure that everything is booked well in advance of your trip – especially during the peak season! 

Each of these options should be carefully considered based on your budget and how much time you have to explore Italy before or after your hiking adventure on the Amalfi Coast. Naples is one of the most popular gateways to the Amalfi Coast, however, there are plenty of options as to how you reach either of these cities. No matter which route you take, though, it's bound to be filled with scenic views. 

Flights to the Amalfi Coast

The closest international airport to the Amalfi coast is in Naples, however, most international travellers will choose to fly into one of the larger airports like Rome, or even Florence. 

Depending on your travel plans prior to reaching the Amalfi Coast, there are plenty of routes from the UK,  all of which seamlessly connect to the Amalfi Coast. Regardless of which city you fly into, you can always book an internal flight onwards to Naples to connect with the Amalfi Coast during your trip. Popular airlines that fly to Italy include British Airways, EasyJet, Jet2, Flybe, and Ryanair, and these may even fly directly to Naples depending on your city of origin. Depending on what your travel plans involve when visiting the Italy or Amalfi Coast, there are many tours that will actually start in Rome then travel with the group towards the Amalfi Coast. If time is on your side, it's recommended that you add an extra day or two to explore Rome or the surrounding towns before your tour starts. 

For travellers looking to fly from the US or Canada, the cheapest fares will most likely fly into Rome or Milan. You would then need to connect to Naples via a short internal flight. Major airlines that service this route include Delta, Alitalia, British Airways, Air Canada, Air Transat, or American Airlines. 

From Australia and New Zealand, it is recommended that travellers book as far in advance as possible as prices will jump during the peak season, and the cheap fares are likely to sell out in advance. Travelling from Australia or New Zealand, the most popular airlines include QANTAS, Emirates, Thai Air, British Airways, and Air Air China. 

Trains to the Amalfi Coast

Known as one of the most relaxing ways to transport yourself from point A to B, if your itinerary allows time for a scenic journey, you should consider travelling by train to Italy. Depending on where you start your trip, you can travel from the UK via France and onwards to Italy, which will eventually connect you with the internal rail network. Trenitalia is Italy's national train company, and there are routes that will connect travellers from across the country to reach Napoli Centrale to Sorrento, which is one of the most direct routes. After you arrive in Sorrento, there are plenty of transport options for you to shuttle your way along this picturesque stretch of coastline in order to reach the hiking trails of your choice. 

Buses to the Amalfi Coast

If you plan on arriving in Naples or Rome, there are plenty of shuttle sharing options, such as the Positano Shuttle that collects travellers from the airport and drops them off in Positano. Some tours will use a mix of local transport and private transfers along the Amalfi Coast, and will be included in the price of your tour. If you are confident in your driving ability, you could always rent a car if you are travelling independently. 
 
A TRAVEL MAGAZINE BY TOURRADAR