About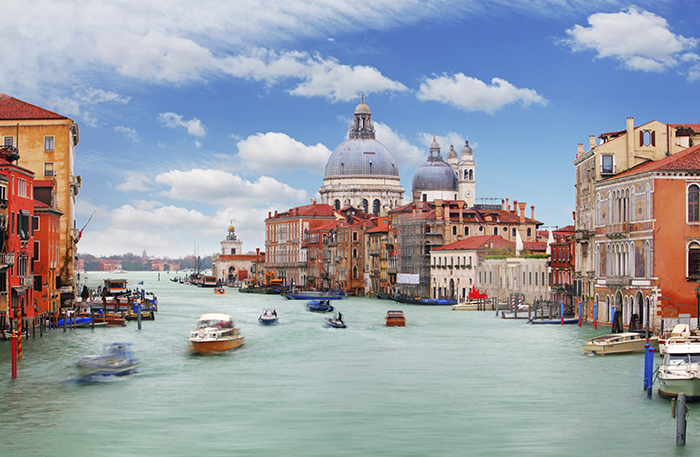 Venice is one of those magical cities that needs to be seen to be believed. Once considered a world superpower and cultural trendsetter, Venice retains its title as one of the most romantic cities in the entire world. Despite its small size there's always something new to discover and perhaps the best time to do so is during the Carnevale di Venezia! If you're intrigued by the idea of playing dressup in one of Italy's most romantic cities, then this carnival is the festival for you!
Everything in Venice has ancient origins and Carnevale is no exception. The very first Carnevale di Venezia was held in 1162 to celebrate a Venetian victory in battle. It would be more than a hundred years before those in charge declared the carnival an official event. Once the declaration was made, Venice was embraced worldwide as Europe's pleasure capital and symbol of hedonism. Of course all good things must come to an end and when Napoleon invaded Venice in the late 1700s he made sure to put a stop to all Carnevale celebrations. Tourism to Venice greatly declined over the next 200 years and it wasn't until 1979 that Italy's most decadent party made its comeback.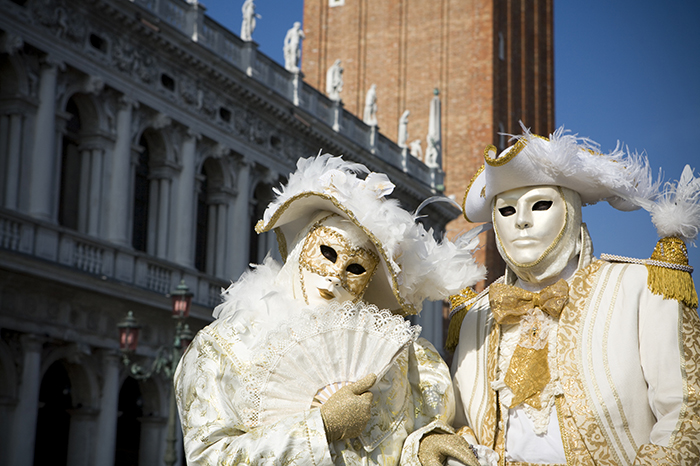 The Carnevale now brings over three million people to Venice every year and the city's winding series of streets and canals fill with countless masked party goers. The act of wearing venetian masks is what separates Carnevale from similar events in New Orleans or Rio. The location, dress code and price tag add a distinct level of luxury that you won't find at any other festival. If you've ever wished to experience the sensation of being someone else, somewhere else, Carnevale will give you the opportunity to live out your most elegant European fantasies.
Before you begin celebrating you will absolutely need to select a mask to dawn throughout the festivities. There are several styles to choose from, each made from different materials that range from glass to leather. Some masks cover your entire face, some cover just half and others obscure only your eyes. If you arrive a few days early you can even commission a local vendor to create a unique mask that's fitted to your face. Choose one that speaks to who you are -- or who you want to be!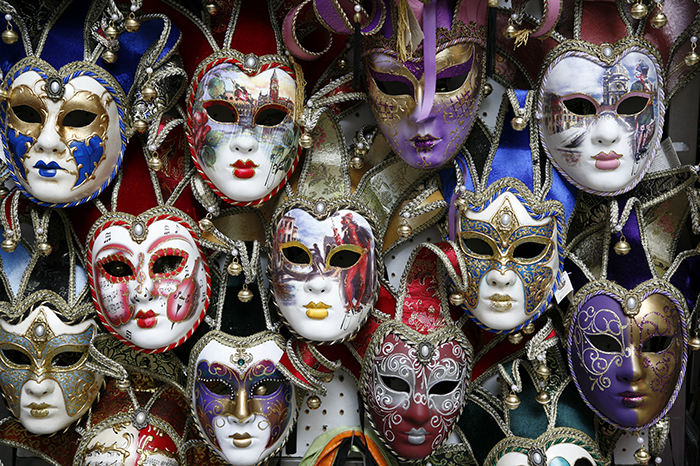 The list of events range in size and extravagance but some of the most popular aspects of Carnevale include the official opening at St. Mark's Square, hub of the festivities. Here you can watch "The Flight of the Angel" which starts at noon and features a performer flying over the square to the music of Vivaldi.
You can watch street performances of all kinds throughout the festival in St. Mark's Square and even compete in daily costume contests. You can also catch spectacular live music shows and theatre in Teatro Goldoni, La Fenice and Malibranl. If you manage to cozy up to the right locals, you may even be invited to one of the many private parties held during Carnevale. There are also public galas that you can attend, but note that tickets can get very expensive.
Other awe-inspiring events include the water parade by candlelight which is always held on Shrove Tuesday. Grab a seat canal side and watch as gondolas and rowboats make their way through the rivers, shrouded in candles and twinkling lights.
Many parties are held throughout the carnival but the grand finale is the Notte de la Taranta, which translates to Night of the Tarantula. Dance the night away with your new Venetian friends and enjoy a festive fireworks show at midnight.
Useful Information
How to Get There
By Train: When taking the train to Venice keep in mind that there are two stops with the name Venice in them. Do not get off at Venezia-Mestre but instead wait until you arrive at Venezia-Stazione Santa Lucia to exit.
By Plane: You will want to arrive at Venice's Marco Polo Airport. From there you can take a public bus or taxi to Piazzale Roma where you will then switch to a water bus which will take you further into the heart of Venice. The trip from the airport will cost you approximately €8.30 or you can take the €15 public Alilaguna traghetto ferry straight to San Marco for the most direct arrival.
By Car: There are no cars allowed in Venice so if you are driving through Italy to make it to Carnvale you'll have to park in the South Giuliano lots in Mestre and take a water bus onto the island. Parking at this location costs about €5 a day. If you want to park even closer then you can drive across the causeway, over the bay and into the only part of Venice that's accessible by car. You will then immediately pull into the first garage on your right side. You can park in the official ASM Venezia car park which costs €24 a day.
Where to Stay
There are plenty of hostels and hotels to choose from and as the whole island is more or less walkable (or accessible by waterboat), you don't have to worry too much about where you stay in Venice. However if you want to be as close to the action as possible, choose accommodations close to St. Mark's Square (which will also increase the price). As this is Venetian's high season for tourism make sure you book very far in advance to save yourself any disappointment!