About
La Tomatina is an epic Spanish festival held every August near Valencia in the quaint town of Buñol. Chances are, you've probably never experienced anything quite like this wild and thrilling event. Buñol's population of 9,000 triples as visitors from across the globe come to join in the world's largest food fight where participants throw over 100 metric tons of overripe tomatoes in the streets. That's over 150,000 tomatoes!
"Visitors from across the globe come to join in the world's largest food fight"
La Tomatina has been celebrated in Bunol since 1945 but the verdict is still out on exactly how the tradition came to be. Different theories include that it originated from a friendly local food fight, a practical joke on a musician, a juvenile class war, and an attack on the city council from disgruntled townspeople. The tradition continued on from that point to the massive food fight extravaganza it is today. Since the 1970s, the event has been run and organised by the Town Hall of Buñol, attracting thousands of revellers each year, all keen on messy fruit-throwing. Before 2013, the festival welcomed up to 50,000 guests, however since 2013 ticket sales have been limited to 20,000 lucky food fighters.
La Tomatina Must Sees and Dos
The Fight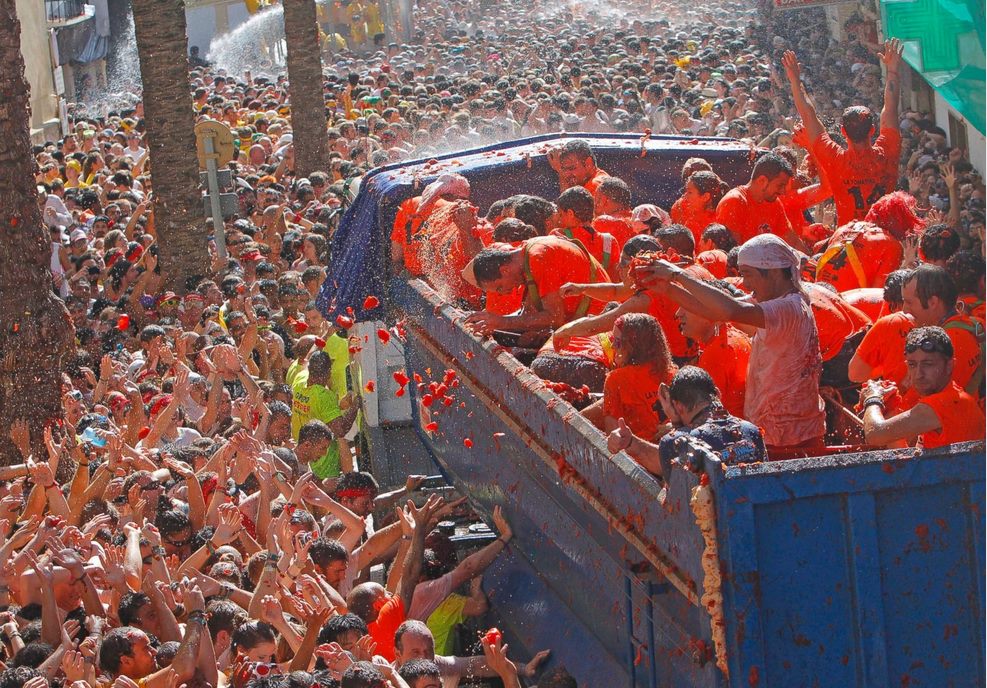 On the morning of La Tomatina tens of thousands of overripe tomatoes are delivered to the Calle del Cid main square via enormous dump trucks. The main drag is lined with plastic sheeting to protect storefronts and apartments. Make sure to arrive early, especially if you plan on checking a bag to retrieve after the event. The line can be painfully long, so we recommend bringing a small waterproof backpack and to pack as light as possible. You don't need much other than a clean change of clothes.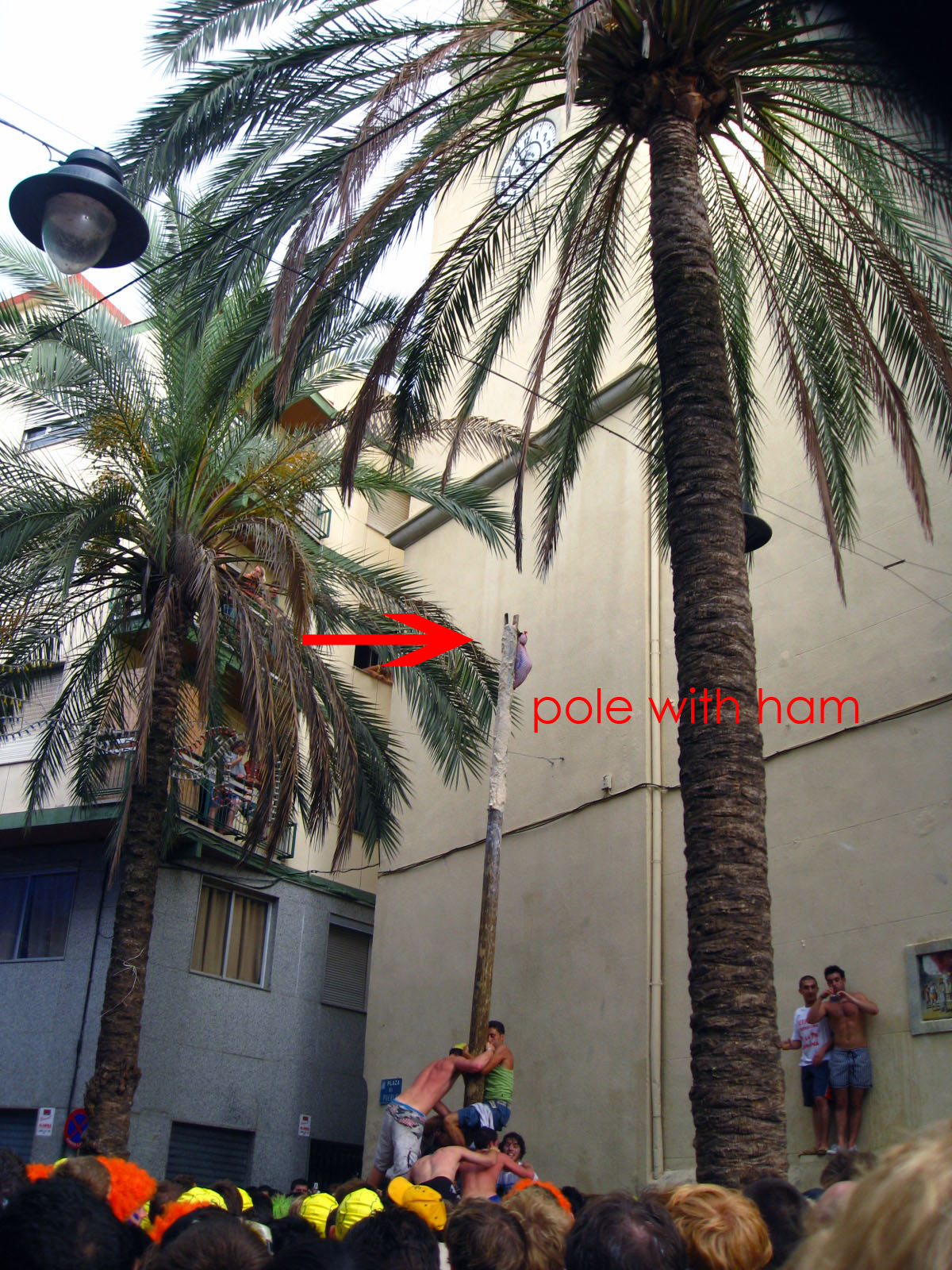 Prior to the food fight, a gigantic ham is placed atop a tall greasy poll in the town center. Locals and tourists alike attempt to climb the pole to claim the giant 'jamon'. Traditionally, the fight cannot commence until the challenge is completed and the ham is claimed.
At 11 am on the dot, a cannon is fired to announce the start of the world's largest food fight and the tomato throwing mayhem begins. The food fight is full of frenzy, cheer, excitement and a hint of anarchy. Some lucky food fighters may even score a position on top of one of the tomato delivery trucks, scoring a prime tomato-throwing position.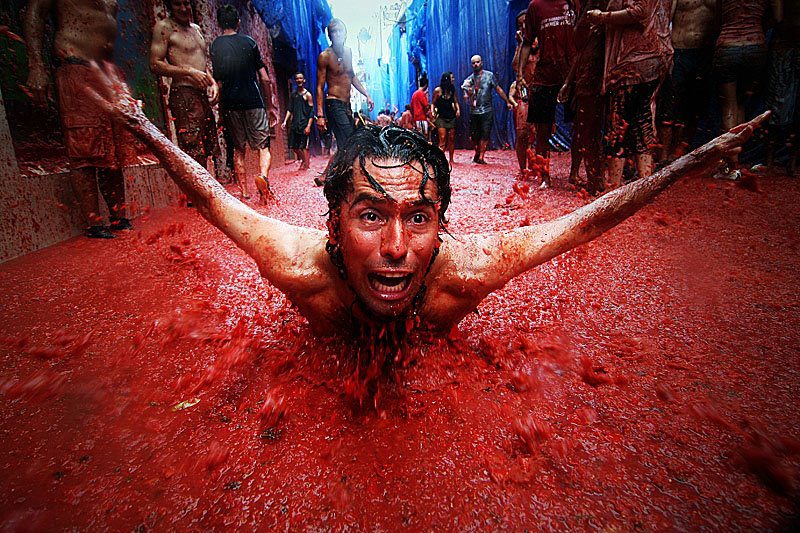 The food fight lasts exactly one hour in the town square which becomes completely saturated in tomatoes. During the fight, locals cheer on combatants from the sidelines. Some observers will stand on rooftops and dump buckets of water onto the food fighters below. According to TourRadar's Head of Community, Carly Hulls, "By the end of it you're filthy, exhilarated, sore and absolutely euphoric from the sheer joy of behaving like a 6 year old in a food fight. What more could you want from a crazy Spanish festival?"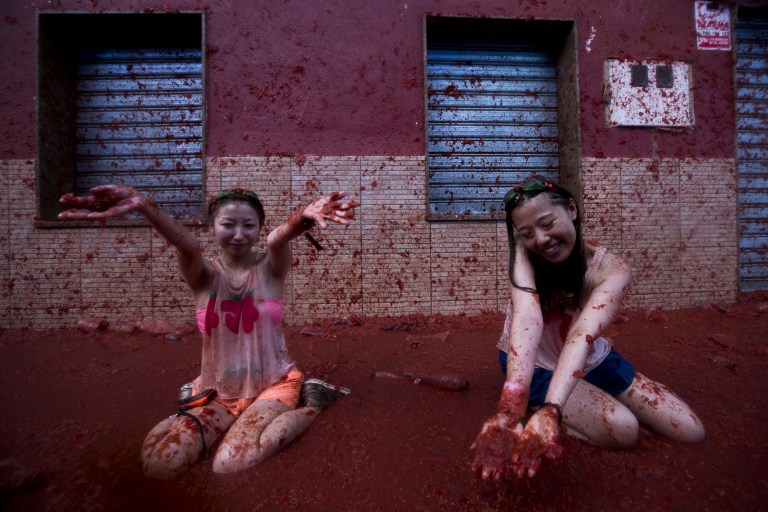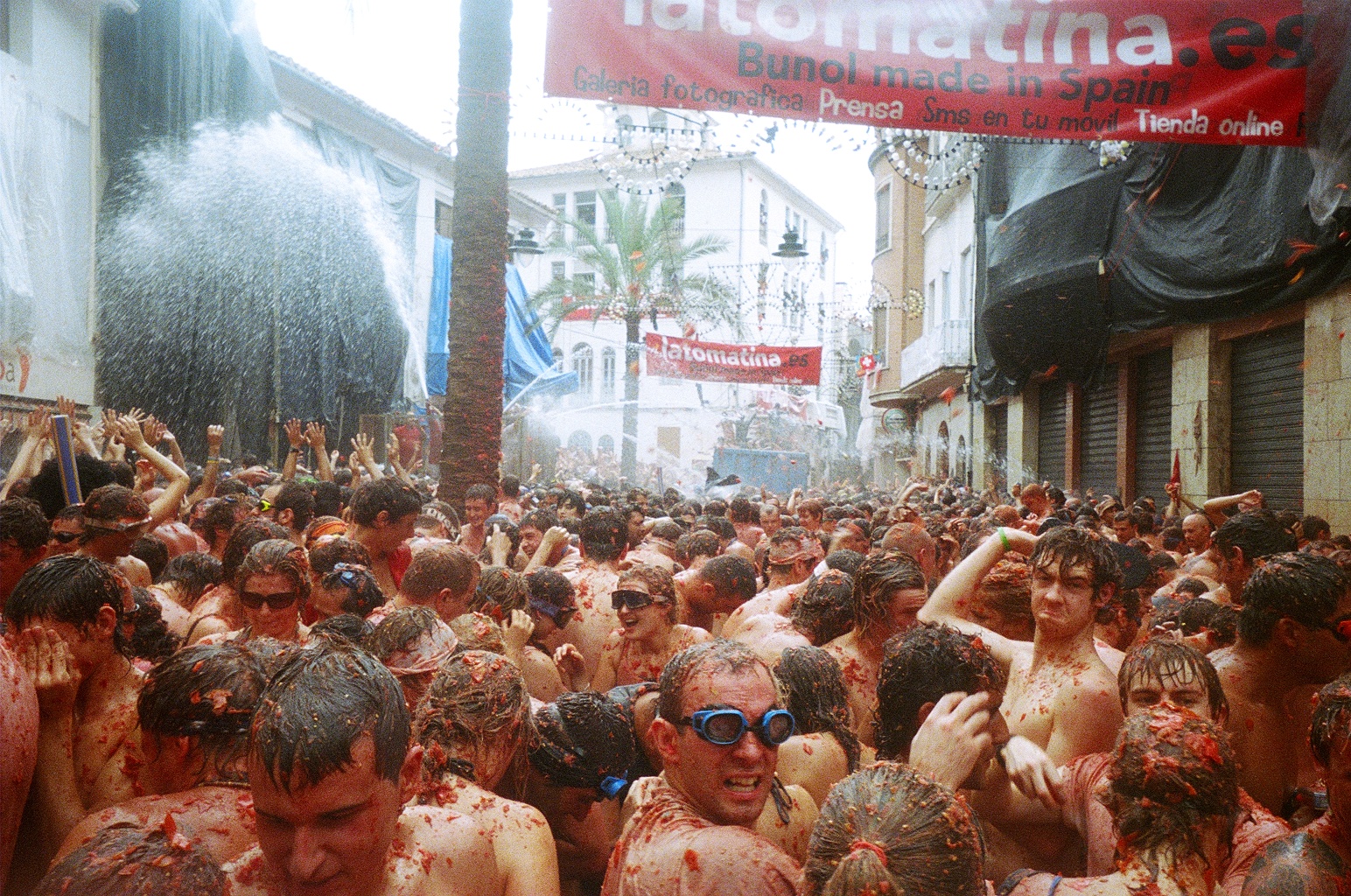 Aftermath & Party
The fight concludes at the sound of the second cannon at noon. Afterwards, local fire trucks hose down the streets. Once the streets have been hosed down they are impeccably clean because the acidic component of the tomatoes act as a natural disinfectant. Participants can wash-up using the designated showers on site, or opt for a quicker clean-up with hoses provided by the locals. You will likely build up an appetite during the commotion, so grab a bite at one of the many restaurants suggested by La Tomatina!
After the fight you may want to head back to the hotel, clean up, rest up and milk your tomato bruises. However, if you're still feeling invigorated, head to the Tomatina After Party in Valencia and dance the night away with your fellow La Tomatina anarchists! Over 4,500 people are expected to attend the 2016 after party which will begin at 6:30 pm at Valencia's Maccao Club. Tickets can be purchased online or at the door and range from €20 to €60. Show up early before the crowds get out of control!
La Tomatina Sound Festival
La Tomatina is now hosting a La Tomatina Sound Festival to keep the energy and party going! Outdoor concerts will be held on August 26th and 27th with performances from top national singers. Keep an eye on their official site for details which will be coming soon.
Buñol
While you're making the trek out to Buñol, plan some time to explore this dynamic village. Buñol combines modern and historic—with beautiful architecture, urban parks, and an ever present music scene. The village is surrounded by mountains and the Mediterranean forest, ideal for those who love hiking, biking and climbing.
Useful information
Festival Cost & Ticket Info
Note that the general ticket costs €29. You can also buy more expensive tickets that include t-shirts and bus transfers from Valencia for €55, from Barcelona for €90 and from Madrid for €90. Check out La Tomatina's official page for ticket options.
How to Get There
The majority of La Tomatina participants stay in Valencia, and travel 40 kilometers from Valencia to Buñol on the day of the event. Valencia is a major transportation hub located on the Spanish Mediterranean and can be accessed by several means listed below.
By Plane - The Valencia airport is only 9 km from the city center. Taking a bus to the center costs €2.50 and takes 30 minutes. The metro takes 20 minutes and costs €4.90. A more convenient taxi ride to the city center costs around €19. Valencia City Guide provides up-to-date information on transportation between the airport and city center.
By Train - Valencia can be reached by train from many major cities including Madrid and Barcelona. Travel time from Madrid is 1.5 hours and 3.5 hours from Barcelona. Tickets can be booked online through RENFE.
By Bus - Most large cities in Spain have bus connections to the Valencia region. The main bus station in Valencia is a 15 minute walk from the city center.
By Car - The E-15 is a beautiful, scenic coastal route between Barcelona and Valencia. Note that this is a toll road and travelling by car takes 3.5 hours, depending on traffic.
By Boat - Direct ferry routes travel to Valencia from Mahon, Palma de Mallorca and Ibiza.
You can travel to Buñol on the day of the event via car, train or bus:
By Car - Follow the A-3 from Valencia's Avenida del Cid in the direction of Madrid. Follow the A-3 for 30 km and take exit 322 for Buñol. Depending on traffic it takes around 30 minutes.
By Subway/Train - Participants can take the subway from 4 stations (Valencia San Isidro, Plaza de España, Bailén or Colón), to San Isidro station. At San Isidro, transfer to Suburban Train Station of Renfe (Valencia Sant Isidre), which will take you to Buñol. Return services are also available.
By Bus - Purchase a La Tomatina combo ticket which includes roundtrip bus fare, or book bus tickets directly. Buses departs Valencia at 7:30 am, returning at 2:00 pm.
Where to Stay
Buñol is a small village with limited accommodation options. Therefore, most participants opt to stay in the nearby coastal city of Valencia and then plan a day trip to Buñol for the big event. Valencia offers plenty of hotels and hostel options. The official La Tomatina event suggests a selection of hotels in Buñol and Valencia, however they book quickly so don't wait. Note that staying in Valencia is more convenient if you plan to attend the La Tomatina after party.