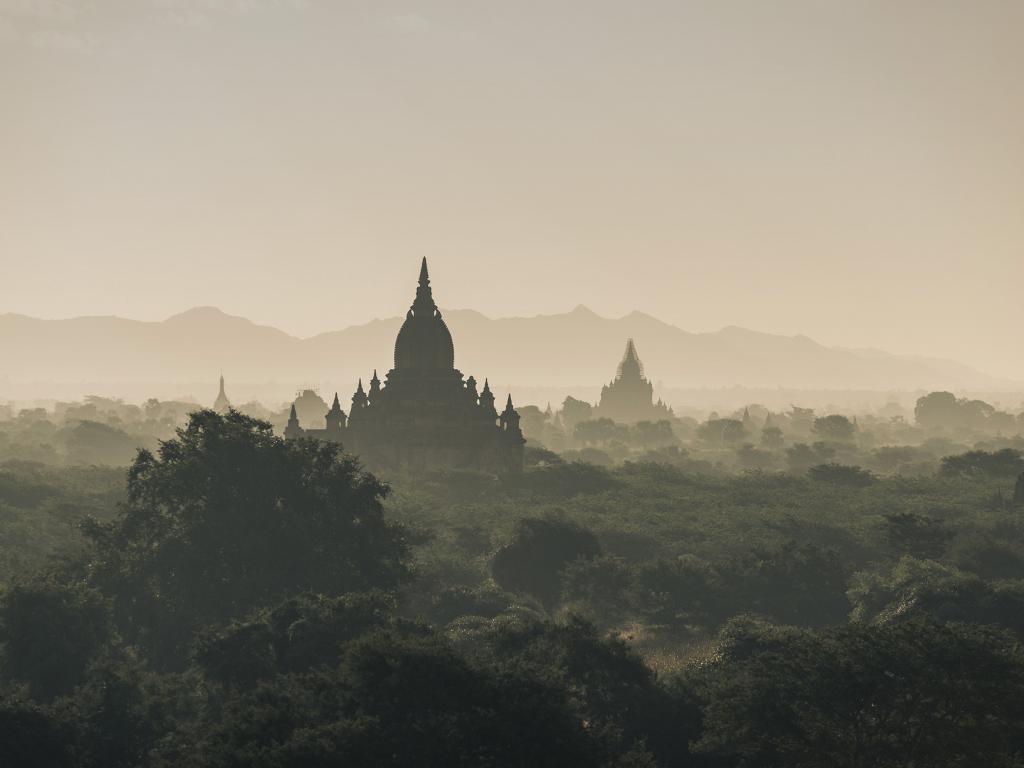 Myanmar Travel Guide
Is Myanmar's appeal in its temple-laden skyline, glittering against the late afternoon sky from a lofty vantage point? Or is it the busy streets where smiling locals go about their daily duties? Though the country only recently opened its gates to tourism, it's no question that it's always been destined for surreal, elevating explorations. This is beguiling Burma, and it's waiting for you.
The Highlights


Inle Lake

It's hard to contest Inle Lake's allure. The freshwater lake is as charming as they come, fringed with floating gardens and stilt houses that witness the constant passing of leg-rowing men on wooden fishing boats. If you're seeking to immerse yourself in Myanmar's local culture and breathe the country air, you've found the right place. Feast on fresh seafood and consider a trek to hilly Kalaw.

Kalaw

Seeking respite from the scorching heat might lead you to Kalaw, one of Myanmar's charming towns in the Shan Hill country and an old colonial village. It serves as a starting point for many hiking and trekking adventures, but stay in town for just a little while. Stay at a guesthouse, meander through the markets and rub elbows with the locals. This is the ideal place to slip into the slow rhythm.

Ngapali

Not many places can rival the unspoilt coast of Ngapali in the Bay of Bengal just outside of Thandwe. Island excursions and watersports are popular here, but it's enough to stay grounded. The white sand beaches are perfect for the more laid-back exploits including lazing on the beach, watching local fishermen bring in their catch, visit local markets, and eat fresh seafood to your heart's content.
Mahamuni Buddha Temple

To the many tourists that roam the grounds of Mahamuni, it's one of Myanmar's most famous pagodas. To the devotees, it's home to one of the only five likenesses of the Buddha. This Buddhist temple, located in Mandalay, is famed for its 13th-foot Buddha image, which is the stuff of legends. It's also home to six large bronze statues that were looted from the Angkor Wat in the 15th-century.

Mingun

Even hard to impress folks will find it difficult not to be roused by Mingun's most famous attraction. This little town outside made its mark on the map thanks to Mingun Pahtodawgyi, an unfinished temple whose remains still stand, albeit in ruin. It's more of a peculiar stop than a religious one. 

Hpa An

From Yangon, head east to Hpa-An, a little village on the bank of Thanlwin River. It serves as a base for many adventures. Visit Saddan Cave, home to a few dozen Buddha statues. Summon a bit of courage and delve deeper until you come out the other side. Next, trek to the top of Mount Zwegabin. The climb is gruelling, but the views are spectacular and a lone monastery is begging to be explored.
The Basics
The Location

This Southeast Asian country borders India in the west, China in the north, and Laos and Thailand in the east. It is a 20h 35m flight from Los Angeles, with a two-hour layover. From London, it's about 13h 40m with an hour and 15 minute stop.

Capital City

Naypyidaw, more than 300 kilometres north of Yangon, serves as Myanmar's official capital. Though Yangon remains to be the more dynamic city, Naypyidaw has that strange, almost too manicured look that is worth glimpsing.

Main Airport

The Yangon International Airport, located in Mingaladon about 11 kilometres from Yangon, is Myanmar's main and busiest domestic and international hub.

Language Spoken

The official language of Myanmar is Burmese, although there are seven regional languages that are recognised. A small percentage of the population speak Myanmar English, however, more people are learning the language.

Currency

Myanmar uses the Kyat. The currency code is MMK. Cash is still king in Myanmar for obvious reasons. It's the main form of payment in most of the country. Carry cash, but no more than you need for a few days, as there are many ATMs.

Visas

Currently, only a few Asian countries hold a 14-day visa exemption to Myanmar. Citizens of most countries must obtain an eVisa for tourism and business. These countries include Australian, the United States, Canada, and the UK.

Electricity

Myanmar uses a 230V current, 50Hz frequency, and type C, D, F and G power sockets. Travellers from the US and Canada will definitely need adapters as well as converters.

Vaccinations

Vaccines recommended for Myanmar are Typhoid, Hepatitis A, Hepatitis B, Cholera, Rabies, Japanese encephalitis, and Influenza. Anti-malarial tablets are highly advised, as is a Dengue Fever vaccine.

Emergency Calls

The emergency phone number for Myanmar differ depending on the area. For Yangon, call 199 for the police, 191 for fire and 192 for an ambulance. In Bagan, it's 95-2-67243 for the police, 95-2-60191 in case of fire, and 95-2-67219 for the hospital.
When to Visit
Myanmar (Burma) Tours
Visit Responsibly

Travelling responsibly means respecting the communities, culture and environment of the places you visit. Keep these tips in mind when travelling to Myanmar:

Go green. Be environmentally conscious on the road by taking short showers; turning off the lights in your hotel room when you leave; and resisting the urge to collect any plants, seashells, or other natural flora.

Respect cultural differences. Before travelling, read about the local culture and customs – even just knowing the dress code and a few basic phrases in the local language will go a long way.

Support local businesses. Enjoy a more authentic experience and directly support the local economy by travelling with a local guide, eating in local restaurants, buying from local artisans, and staying in locally-owned and operated accommodations.

Wherever possible, avoid single-use plastics. Pack reusable items such as your own shopping bags, utensils, a water bottle, and a straw. These items are typically lightweight and compact, and will greatly reduce your consumption of plastics.

Be conscious of overtourism. Opt to visit the lesser-known regions of Myanmar or travel outside the peak season – you'll likely even get a better deal and won't have all the crowds!

Sustainable Tourism in Myanmar

Wildlife Conservation
Myanmar is home to many parks and wildlife sanctuaries including Lawkananda Sanctuary, Popa Mountain National Park, Hukaung Valley Wildlife Conservation, and Hlawga National Park, to name a few. In addition to serving as a haven for flora and fauna, these places also give people the opportunity to learn about animals and observe them in their natural habitat.

Myanmar Start-Up Fights Waste
With a dual focus on preserving the environment and eliminating poverty via global sustainable development, the Italian non-profit organisation Cesvi created Chu Chu Design (Chu Chu means "plastic bag" in Burmese). This green start-up in Myanmar transforms trash into eco-friendly products. In fact, the local artisans who work at Chu Chu Design convert around 20kg of trash each month into wallets, yoga mat bags, and laundry baskets, etc.

Green Lotus
An innovative French/Burmese NGO, Green Lotus promotes sustainable development throughout Asia. In 2013, the NGO's hard work and lobbying about sustainability paid off with the opening of its first office in Yangon, Myanmar. Among other things, Green Lotus supports pilot projects that promote environmental education in the Irrawaddy Delta and waste management in Yangon.
FAQs about Myanmar (Burma)
Do you tip in Myanmar?

Only ever leave a gratuity if you're satisfied with the service. Guides may be tipped 10,000 kyats, drivers 6,000 kyat and housekeepers 1,000. Those are for each day of service. 1,000 kyat per bag for bellhops are appreciated, and loose change from your bill should be enough at restaurants.

What is the internet access like?

Internet connection can range in quality, but you should have no problem with day-to-day tasks like emailing or surfing the web. WiFi is available in many cafes, hostels and hotels for free, but outside urban areas, this is not as common. There are many pay-as-you-go mobile data plans available.

Is the tap water safe to drink?

Absolutely not. Stick to bottled water and the complimentary green tea at restaurants.

Can I use my credit cards?

Visa and Mastercard are widely accepted in Myanmar, although again, cash is still king. Before your trip, call your bank to make sure that your particular card is accepted and so that your bank doesn't flag your charges as fraudulent.

What are the public holidays?

Public holidays include Independence Day on January 4, Union Day on February 12, Maka Bucha on the day of the full moon of the third lunar month, and Peasants' Day on March 2. There's also Thingyan on April 13, 14 and 15.

What are the toilets like?

Be prepared to squat and use water in lieu of toilet paper. While many of Myanmar's toilets and restaurants offer Western-style toilet facilities, the rest of the country still use squat toilets and outhouses. Carry toilet paper with you at all times and throw them in the bin instead.

What is the dress code for tourists in Myanmar?

Myanmar does give travellers a bit of leeway when it comes to the dress code but it's important to note that it is still a conservative country. Longer bottoms and less revealing tops are preferable. Women should have their shoulders and knees covered when visiting religious sites.

Is it easy to get a visa to Myanmar?

Thanks to its electronic visa system, it's really easy for citizens of most countries to obtain a visa for Myanmar. It will only take about three days to process and set you back the US $50.
A TRAVEL MAGAZINE BY TOURRADAR