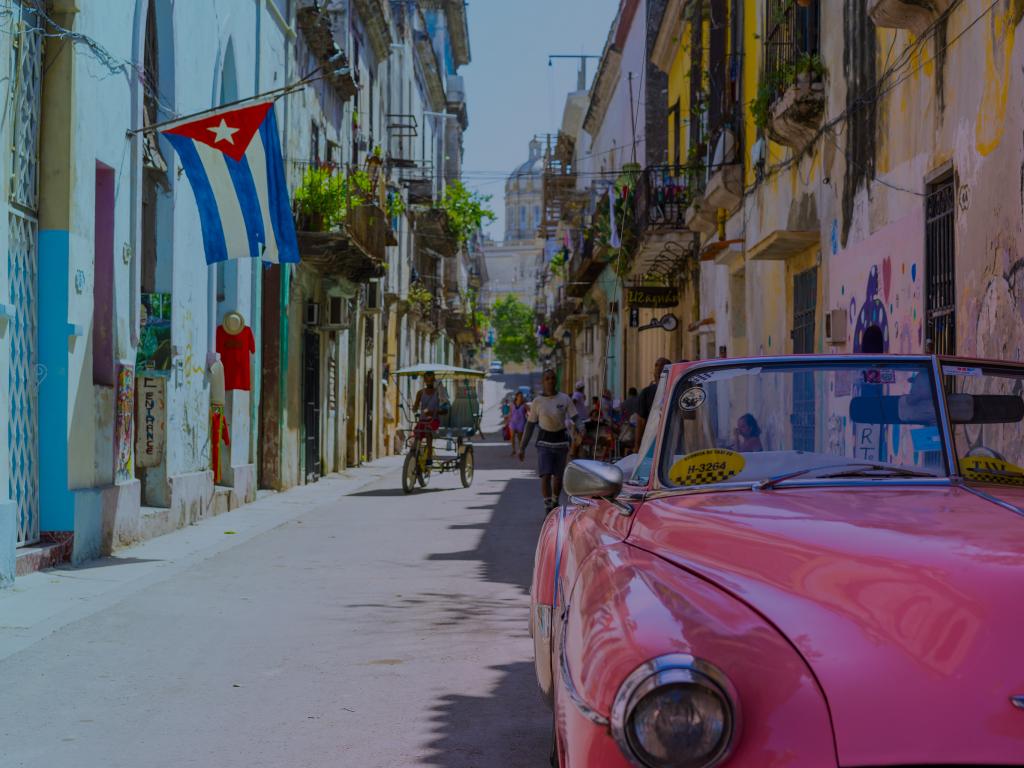 Cuba Travel Guide
It's time to scratch below the surface of Cuba where salsa dancing, vintage cars, rum and cigars and sun-kissed beaches capture the attention of travellers from around the world. In a country where you should expect the unexpected, Cuba will leave you pleasantly surprised by its cultural experiences on offer, and despite the increase in visitors annually, it still retains its charismatic charm. 
The Highlights


Havana

The grand avenues, pastel colours and the time-warped feel of Havana will cause you to fall head over heels. Possibly one of the biggest surprises in Havana is the burgeoning art scene, along with the many bohemian cafes and bars. Top sights include Fusterlandia, the Malecon, Necropolis Cristobal Colon and the Museum of the Revolution. 

Trinidad

As with many, if not all UNESCO World Heritage Sites – such as Trinidad – the listing is for good reason because it is a site worth protecting. This beautiful former Spanish colonial city should not be skipped when planning your adventures in Cuba. Spend your time at the many galleries, relax at Playa Ancon or roam on foot through the old town past pastel-hued houses. 

Baracoa

Many would skip Baracoa during their travels, but that would be a real shame. Claiming the title as the oldest city in the country (founded in 1511), Baracoa is far enough off-the-beaten-track to enjoy a sense of peace and quiet, but not far enough that you're in the middle of nowhere with nothing to see, or do. Spend a few days here as you'll need time to explore the many natural sights. 
Cienfuegos

Taking a slightly quieter approach compared to the likes of Trinidad or Havana, Cienfuegos is where you can go to experience traces of French influence, and its architecture boasts a fusion of both Boston and Paris-inspired styles (an odd mix, but charming nonetheless) and the city itself was named after Camilo Cienfuegos, a revolutionary that stood alongside Che Guevara and Fidel Castro.

Santa Clara

While not officially the birthplace of Che Guevara (as he was born in Argentina) however Santa Clara is considered the home Che Guevara in Cuba. If you're hoping to visit the sites related to the revolution, you can visit the Che Guevara Mausoleum Square and Tren Blindado – a national monument and museum of the Cuban Revolution.

Varadero

Not too far from Havana is Varadero, a popular resort town on the peninsula and ultimately, this is where you need to stay for one thing only: relaxation. The white sandy beaches and blue warm waters are a breathtaking sight to behold, but if you feel so inclined to rise from your pool bed, you can hike through the Parque Josone or visit the Bellamar Cave.
The Basics
The Location

Cuba is an island located in the Caribbean and can be found south of the US, west of Haiti and above Jamaica to the north. From Mexico, a non-stop flight is 2h 30m, and from Toronto, it is roughly 3h 25m. 

Capital City

Havana is Cuba's capital city and has a population of over 2 million people. 

Main Airport

José Martí International, located only 18 kilometres away from Havana, is Cuba's principal airport.

Code

HAV

Closest City

Havana

Language Spoken

The official language of Cuba is Spanish, and most people in Cuba understand and speak English to a varying degree. Learning a few Spanish phrases will go a long way, and will be much appreciated. 

Currency

Cuba uses two currencies; convertibles (CUC$) and pesos (MN$). ATMs are available, but it is best to withdraw cash from a CADECA. Some hotels will have CADECAS on site. Banks tied to the US will have issues withdrawing cash. Exchange Cuba-friendly currencies like euros, Canadian dollars and the pound for an easier time getting cash.

Visas

You will need a Tarjeta de Turista (tourist card) valid for 30 days, however, you are not permitted entry to Cuba without an onward ticket. Entry requirements will vary for US citizens and must fit certain criteria, so best to check before you travel. 

Electricity

The electrical current in Cuba is 110V with 220V in many tourist hotels and resorts. The standard voltage in the US is 110 volts, so you may need a surge adaptor. 

Vaccinations

Typhoid, Hepatitis A and B are recommended, however, these are not compulsory. Consult your doctor 6 to 8 weeks before you depart. 

Emergency Calls

The phone numbers to call in case of emergency are 106 for the police or ambulance, and 105 for a fire.
When to Visit

FAQs about Cuba
Do you tip in Cuba?

Absolutely! Most people in Cuba rely on tips, and leaving a small gratuity can make a large difference. For restaurants, it is best to leave 10-15% of your total bill, and for taxis, 10% would be recommended and make sure you carry a few small notes for musicians busking or in restaurants. 

What is the internet access like?

As you may be aware, internet access is limited in Cuba, but it is accessible. In most of the larger towns, you can buy one-hour user cards for use at public Wi-Fi hotspots. Just don't expect to be able to spend hours powering through emails or updating your social feeds.

Is the tape water safe to drink?

No. Buy bottled water, or you can boil the tap water or use water purification pills. 

Can I use my credit cards?

No US-based credit cards or debit cards can be used in Cuba, and it is best to withdraw cash before you travel. As a general rule, even if you aren't American, do not rely on credit cards.

What are the public holidays?

The official public holidays of Cuba include Liberation Day on January 1, Victory of the Armed Forces on January 2, International Workers Day on May 1, Commemoration of the Moncada Attack July 25-27, Independence Day October 10 and Christmas Day December 25. 

What is a casa particular?

In Spanish, casa particular literally means "private home", and exists as a unique accommodation style where visitors can stay with a local family. Many times, there is an entirely separate home, or at least section of the home, for visitors to stay in and each will vary slightly.

Can Americans travel to Cuba?

Travel to Cuba for US citizens depends on the current government regulations, please consult your embassy for the latest travel advice. Learn More

Can I book a Cuban adventure on TourRadar?

As a global website, TourRadar is often having to make adjustments to our policies to ensure compliance with government rulings all around the world - and as such, we are no longer able to list, sell or facilitate Cuba tours. However, there are many trusted operators running great travel experiences to Cuba you're sure to love!
A TRAVEL MAGAZINE BY TOURRADAR